Message Board (open 24 hours!)
Twitter - @andredursin (for everything else!)
Growing up in the '80s, The Cannon Group was a frequent part of Friday night video rentals, birthday parties and sleepovers in my life. Those wild and wacky Israeli filmmakers, Menahem Golan and Yoram Globus, gave us countless movies to hoot and hiss at, and the legacy of their Cannon label remains (almost) untouched in the annals of B-grade cinema over the last few decades. This month brings us new Kino Lorber releases of films from two of Cannon's biggest '80s collaborators – stars Chuck Norris and Charles Bronson, who if not quite dominating the box-office with these films at the time, became reliable home video performers afterwards.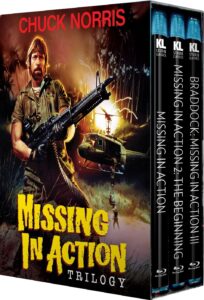 Shot in the wake (or possibly even the mere announcement) of Sylvester Stallone's Rambo movies was Norris' MISSING IN ACTION TRILOGY, three of Cannon's most successful features that were written off by most critics of the day as B-level Rambo ripoffs. That they are – for better or worse – though the biggest surprise is how good the movie's third and final entry actually is.
Shot back-to-back, MISSING IN ACTION (101 mins., 1984, R) and MISSING IN ACTION 2: THE BEGINNING (95 mins., 1985, R) star Norris as the appropriately Rambo-like Colonel James Braddock, who heads back to Vietnam in order to rescue his missing brothers in the "original" film, while the "prequel" chronicles the sadism and torture Braddock earlier endured while being a POW.
While the two movies were shot back-to-back, Part 2 is really Part 1 – and not just because of its title. The original "Missing In Action" boasts the unusual writing credit "Based on Characters Created By…," since the film was really the second half of a two-picture deal. However, after having seen both movies, and realizing that the first part was the weaker installment (plus, they could get a head start on the similarly-themed "Rambo II"), Golan-Globus made the wise decision to release what would've been the sequel first….then issue the inferior original movie as a prequel the following year.
Neither film is great but the mojo is certainly stronger with the numerically titled first film, which offers a reasonable recycling of Rambo tropes with decent action under the direction of reliable Cannon helmer Joseph Zito. On the other end of the spectrum, the Lance Hool-directed "The Beginning" certainly isn't much fun, filled with violence and a depressing tone that makes it something less of a "Rambo" clone and more of a poor man's "Deer Hunter" Vietnam sequence, extended out to feature length. If you're new to the movies, watch "The Beginning" first (or not at all), then "Missing in Action," which is more consistently entertaining and action-packed in the traditional "Cannon style."
Though not a Stallone-sized blockbuster, "Missing in Action" pulled in a solid amount for Cannon in November 1984 with the "second" movie grossing less than half some six months later. Cannon was on a downward trajectory when it came time to hash out BRADDOCK: MISSING IN ACTION III (103 mins., 1988, R), yet in spite of its meager box-office, this is very solid for a Cannon-era Norris adventure.
It's not hyperbole to say "Braddock" was one of the last gasps of the old "Cannon Group," which basically ceased to exist as it once operated after the early '88 release of this third and final entry in the MIA series. Despite that dubious distinction, "Braddock" is choice Norris, following his stone-faced American vet as he travels back to Vietnam to find the wife and child he left behind. Under the direction of Norris' brother Aaron, "Braddock" boasts the requisite explosions and killings you'd anticipate, but also a surprisingly softer underbelly. I'll admit the climactic confrontation generates a tad of emotion too, making for one of the more underrated productions in the Cannon canon, and a solidly satisfying conclusion in the trilogy.
All three "Missing in Action" films previously were released on Blu-Ray by either MGM and/or Shout! Factory. Kino Lorber's new Blu-Rays offer superior, fresh scans (4K for the first two films, a 2K remaster for the third) in 1.85 with DTS MA 2.0 sound (mono except for "Braddock," presented in its original "Ultra Stereo" mix).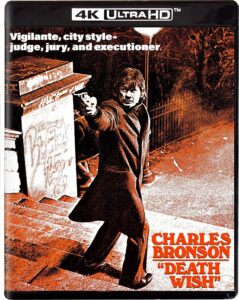 Extra features offer two new commentaries: one on "The Beginning" from director Lance Hool and moderator Daniel Kremer, and an even better, engaging chat from action movie experts Mike Leeder and Arne Venema on "Braddock." Brought over from Shout's discs are a commentary on the original by director Joseph Zito and moderator Michael Felsher, plus an interview with screenwriter James Bruner.
A year shy of its 50th anniversary, the original DEATH WISH (93 mins., 1974, R) became a box-office smash back in the summer of '74 and generated one of the most popular roles for its 50-year-old star Charles Bronson, who exclusively shot movies only for Cannon – including a handful of cult-fave "Death Wish" sequels – late in his career.
After his wife and daughter are brutally stalked and attacked returning to their New York City apartment, architect – and conscientious objector – Paul Kersey dashes to a local hospital, only to find out his wife is dead and his daughter psychologically scarred from the trauma. The police have no leads, and Kersey stands by idly one night after the attack watching a gang trash a car in his upper Manhattan neighborhood. No longer wanting to stand pat, Kersey is compelled to take up firearms after flying out to Arizona for a new job, and comes to embrace a lifestyle of vigilantism – removing the societal trash from the streets of a New York City at the height of '70s urban decay.
The original "Death Wish" – a Dino DeLaurentiis production – is quite a bit removed from the entertaining, if decidedly more outlandish, Cannon sequels that belatedly followed in the '80s. Director Michael Winner, shooting one of his many pictures with Bronson, knows he's making an exploitation piece but the film has a measured script by Wendell Mayes, who adapted Brian Garfield's novel after director Sidney Lumet bowed out (Lumet was supposed to direct the picture with Jack Lemmon starring as Kersey – what a different movie that would've been!). Bronson's effective, cool performance anchors the film as Kersey believably makes the transition from urban liberal to gun-trotting purveyor of justice, though there's no question which side of the fence the movie comes down on in terms of justifying Kersey's actions. It's also interesting to see the film's debate over the use of guns, which is just as timely today, as is the issue of self-defense – and self-preservation – given the rise in crime in major cities like New York over the last couple of years.
Authentically shot on location, the movie makes a perfect companion piece with "The Taking of Pelham 1-2-3″ in terms of showing the Big Apple at the height of the city's grimy, violent '70s trappings. Authentic atmosphere permeates the picture, while familiar faces abound in supporting roles: Jeff Goldblum is one of the thugs who violently attacks Kersey's family, and the supermarket clerk he quickly bats his eyes at is Sonya Manzano, best known as Maria on "Sesame Street." An almost unrecognizable Denzel Washington and Laurence Hilton-Jacobs ("Welcome Back, Kotter") briefly appear as thugs, while Christopher Guest and Olympia Dukakis have early roles as a pair of cops working with detective Vincent Gardenia, who's terrific in the movie's second half.
Ultimately, the original "Death Wish" doesn't have the gleeful, almost comic-book like fun of the later Cannon sequels (the ridiculous "Death Wish 3″ is a personal guilty pleasure that only seems to get better with age), but it's nevertheless an effective, nasty little picture that captures a time and place – and its corresponding cultural mood – memorably.
Kino Lorber's new 4K restoration of "Death Wish" (1.85) debuts here on 4K UHD with Dolby Vision HDR as well as an accompanying Blu-Ray. Both offer a fresher presentation than Paramount's own Blu-Ray from 2014, with the original mono sound here joined by an "all channel" 5.1 DTS MA mix (I preferred the mono myself). An interview with actor John Herzfeld debuts here along with a welcome commentary from Paul Talbot, the Charles Bronson authority who recorded commentaries for other films in the franchise previously.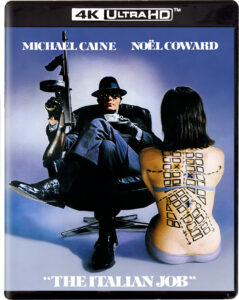 Also new on 4K UHD from Kino Lorber this month is a picture that takes us back to an earlier time and place. The late '60s were a colorful time in cinema, and the 1969 caper comedy THE ITALIAN JOB (99 mins., G) perfectly embodied the style of its era. In Troy Kennedy Martin's original story, Michael Caine plays a con man who recruits a gang of thieves to knock over a shipment of gold bullion in Turin, causing what's sure to be a massive traffic jam.
While the plot sounds traditional, the movie itself is wild and woolly in its execution. With warm colors, a groovy score by Quincy Jones, and a certainly offbeat cast (including Caine, Benny Hill, and Noel Coward), the original "Italian Job" became a huge hit in England and, over the years, a much-revered picture in its native territory. The outlandish, comical chases and stereotypical supporting roles date the movie as a product of its time – along with its "cliffhanger" ending – but those who love the old "Italian Job" enjoy it for the lead performances, the slapstick hyjinks and riveting car chases, all superbly helmed by Peter Collinson and dryly performed by the cast.
A vivid 4K UHD (2.35) Dolby Vision HDR presentation accentuates all the color of this over-the-top period piece, presented here by Kino Lorber from the original 35mm original camera negative. Audio options include the original mono plus the previous 5.1 remix, superior to most soundtracks that date from the era, while an array of previously-released supplementary features include an engaging, informative commentary by producer Michael Deeley and "Italian Job" expert Matthew Field, an additional commentary from Field and writer Troy Kennedy Martin, three Making Of documentaries offering interviews and insights, multiple trailers, and deleted scenes with Field's intros. Highly recommended for fans.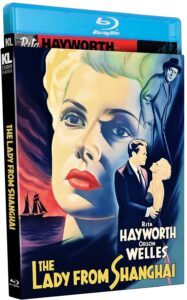 Action & Suspense
Orson Welles' sensational film noir THE LADY FROM SHANGHAI (87 mins., 1947) has already been released on Blu-Ray a bunch of times, from an early TCM Vault Collection disc (pressed twice, each with its own set of issues) to a Mill Creek release that corrected the issues of its predecessor. Kino Lorber's effort works from the same 4K restoration included in Powerhouse Indicator's UK release, which was the best looking of the bunch by far, while introducing two new, insightful commentary tracks.
Welles' problematic yet undeniably compelling – and highly repeatable – film coupling him and soon-to-be-ex wife Rita Hayworth has long been a fan favorite, the movie offering a seemingly compromised, hacked-up presentation of a linear story – even though, in some ways, the movie benefits from its off-kilter mood.
Kino Lorber's Blu-Ray preserves the crisp B&W cinematography of Charles Lawson (1.37 B&W) and mono sound from Sony's 4K remaster. Old extras include a commentary from, and interview with, Peter Bogdanovich, while new commentaries are provided by Tim Lucas and Imogen Sara Smith, respectively. The Lucas track, as you might expect, is the best researched and satisfyingly analytical of the batch – you always learn something from one of his commentaries, and his insights aid in one's appreciation of the film he's discussing.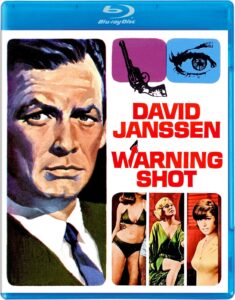 WARNING SHOT Blu-Ray (100 mins., 1967): After pulling the trigger on a mysterious man with a gun who turns out to be a seemingly benevolent L.A. doctor, cop David Janssen is suspended from the force. The District Attorney (Sam Wanamaker) wants him to hang for his reckless behavior, but Janssen believes there's more to the mystery of the doctor's whereabouts than initially appears.
One of several late '60s attempts at updating a '40s "film noir," "Warning Shot" boasts a number of "Guest Star" supporting turns, including Joan Collins (as Janssen's soon-to-be ex-wife), Carroll O'Connor (the judge), Eleanor Parker (the late doctor's floozy of a bride), Ed Begley (Janssen's boss at the precinct), Stefanie Powers (the doctor's office nurse), Steve Allen (a local talk show host), Lillian Gish (a possible witness), and George Grizzard (playboy pilot) among them. Producer-director Buzz Kulik was never particularly renowned for his artistry, but "Warning Shot" is an effective, no-frills action-thriller. TV veterans Kulik and writer Mann Rubin (adapting a Whit Masterson novel) fashion a taut late '60s piece with a solid performance from Janssen and a swingin' jazz score by Jerry Goldsmith that's infectious at every turn.
Debuting on Blu-Ray from Paramount, "Warning Shot" looks superb in this Paramount HD catalog master (1.78, mono), the source looking in good shape while the mono soundtrack swells with Goldsmith's memorable soundtrack. A newly recorded commentary is on-hand with Steve Mitchell and Howard S. Berger.
NO MERCY Blu-Ray (106 mins., 1986, R): "No Mercy" is kind of a nasty and formulaic – yet watchable – Tri-Star thriller from Christmas '86 that paired Richard Gere – a Chicago cop looking to avenge his partner's murder – and Kim Basinger as a Bayou mob witness whom he has an affair with while on the run from a ruthless crime boss (Jeroen Krabbe from "The Fugitive"). Gere and Basinger later worked together on the Phil Joanou thriller "Final Analysis" but apparently didn't get along while making this film – who could blame them with all the muck they wade through – yet the grittiness of director Richard Pearce's picture is one of its selling points. Though still derived from an aged Sony master, Kino Lorber's Blu-Ray (1.78, 2.0 stereo) is an improvement in terms of encoding over Mill Creek's previous format release, more capable of handling the movie's grainy appearance, with a similarly "wavy" soundtrack preserving Alan Silvestri's electronic score. A new 11-minute "remotely conducted" interview with Krabbe is a nice addition while the trailer rounds out the slipcover-adorned disc.
SERGEANT RYKER Blu-Ray (85 mins., 1968 [1963]): Taut courtroom drama stars Lee Marvin as a Korean War vet who's charged with helping the enemy, though he claims it was part of a top-secret mission so covert there's nobody left who can vouch for him. Bradford Dillman is the Army prosecutor also with an eye on Ryker's daughter (Vera Miles) in a well-cast if decidedly small-scale character drama boasting an early score by John Williams. Universal released this film to theaters in 1968 after "The Dirty Dozen" became a box-office smash for Marvin, with most audiences not realizing it was actually shot in 1963 – for television! — as a two-part broadcast of the "Kraft Suspense Theater"! That would explain the decidedly low-key film which plays completely at odds with the elaborate, action-oriented poster sold as part of Universal's promotional artwork. Kino Lorber's Blu-Ray includes a good-looking 1080p (1.85) 2K master with the trailer and a new commentary from Daniel Kremer.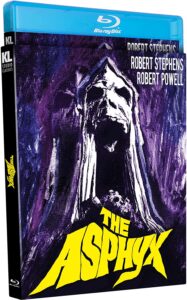 Genre Thrills
THE ASPHYX Blu-Ray (86/99 mins., 1972, PG): Offbeat early '70s British horror finds scientist Robert Stephens utilizing turn of the century photographic technology to capture the "Asphyx" – the Greek spirit of the dead. No sooner does he involve son Robert Powell in his work than Stephens decides to find a way to hold the Asphyx, making one immortal – but with dire consequences. Freddie Young's widescreen Todd-Ao 35 lensing is the strongest asset of this leisurely thriller marked with good performances. Sadly, neither writer Brian Comport nor director Peter Newbrook know what to do with the concept as the film progresses towards an underwhelming finale. Kino Lorber's Blu-Ray (2.35) boasts the original 86-minute version as well as a 99-minute extended version with some inserts captured in standard-def, while Kim Newman and Stephen Jones offer an enjoyable commentary.
One of the better productions to spring from Charles and Albert Band's Empire Pictures, GHOST WARRIOR (81 mins., 1986, R) features a plot involving a 400-year-old samurai (Hiroshi Fujioka), thawed out from ice, who tries to adjust in the modern world. Unusually thoughtful for an Empire release, "Ghost Warrior" offers a variation on 1984's "Iceman" and is fairly watchable and decently made, considering its B-origins, and boasts the lovely Janet Julian in a co-starring turn. Previously available on an extras-free Shout double-feature disc, Kino Lorber's Blu (1080p 1.85) boasts a new interview with makeup artist Robert Short and, even better, a fun commentary from genre enthusiasts Mike Leeder and Brandon Bentley.
PROGRAMMED TO KILL Blu-Ray (91 mins., 1987, R): Minor-league "Terminator" riff from Trans World Entertainment stars Robert Ginty (best known as star of the low-budget action hit "The Exterminator") as a grizzled CIA agent who stages a daring rescue of several American kids being held hostage by terrorist Sandahl Bergman. After bringing her back to the U.S., Bergman becomes a cyborg-enhanced killing machine trained to wipe out her old terrorist pals…at least until she taps back into her old memories and starts attacking her CIA compatriots instead. It sounds fun but "Programmed to Kill" (also known as "The Retaliator") is really dry and slow-going, offering a long lead up to its formulaic final stages. Still, fans might enjoy seeing a young Paul Walker here, while "Jerry" (Jerrold) Immel and Craig Huxley provide the score. Kino Lorber's Blu-Ray offers a 2K scan of the 35mm interpositive (1.85) with extras including commentary from director Allan Holzman, an interview with screenwriter Robert Short, the trailer, and an alternate opening credit run under its original title.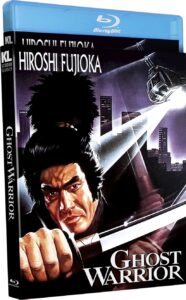 New & Noteworthy From Kino Lorber
Kino Classics premieres a fascinating four-disc Blu-Ray set this month: CINEMA'S FIRST NASTY WOMEN (875 mins.) is billed as "an irreverent four-disc collection" and certainly ranks as a compelling compilation of over 14 hours of rarely seen silent films. Produced between 1898-1926, these shorts look at women being involved with labor strikes, daily chores, and sex – a surprising amount of it at that – in genres ranging from the melodramatic to comedic with a number of specialty items included within. In total, Kino's set includes 99 films from the U.S. and Europe, boasting brand new musical scores, commentaries and introductions from the likes of Liza Black, Macinan Jean Cuthand and curators Laura Horak, Maggie Hennefeld and Elif Rongen-Kaynakci. An 116-page booklet is packed with essays and background information while video intros and commentaries are included in this fascinating anthology, culled from over a dozen archival libraries across the globe.
Back on Blu-Ray is MAIGRET: Season 2 (715 mins., 1961-62), the vintage early '60s BBC TV adaptation of author Georges Simenon's internationalbestsellers. Rupert Davies returns here as Simenon's stalwart French detective Jules Maigret though 13 second-season episodes of the series, which hasn't been seen in decades and was recently remastered in HD by Network from original film elements (1.33 B&W), resulting in clear, crisp transfers. Canadian Christmas intros are included here in Kino Lorber's Season 2 Blu-Ray along with the trailer.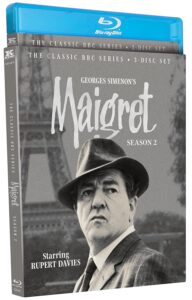 Raro Video Releases: A VIOLENT LIFE [Una Vida Violenta] (107 mins., 1962) is an early '60s Italian drama based on Pier Paolo Pasolini's novel. Set in some of Rome's toughest neighborhoods at the end of WWII, the story – and the ensuing film from Paolo Heusch and Brunell Rondi – follows a young man with a rough upbringing whose outlook changes after he spends time in prison. Interviews with director Luicano Emmer, historian Stefania Parigi, and critic Umberto Rondi are included in the Raro Blu-Ray (1.66, Italian mono with English subtitles) which debuts January 31st…Known as "I Cento Passi" in its native Italy, ONE HUNDRED STEPS (111 mins., 2000) is a docudrama about Peppi Impasto, a left-wing activist who crusaded against the mafia during the 1970s and paid the price as a result. Writer Andrea Purgatori provides a commentary in Raro's Blu-Ray (1.85, 2.0 Italian stereo with English subs).
Cohen New Releases: Fernando Trueba, director of "Belle Epoque," helmed MEMORIES OF MY FATHER (136 mins., 2020), a film about Colombian doctor Hector Abad Gomez, who raised his children while fighting injustice in 1970s Medellin. Based on his son's memoir "Oblivion: A Memoir," this acclaimed film was Colombia's 2020 submission for the Oscars and comes to Blu-Ray from Cohen with a 1080p (2.39) transfer and 5.1/2.0 audio in Spanish with English subtitles. Extras include an interview between Annette Insdorf and Trueba plus a Making Of featurette…Jacques Rivette's THE GANG OF FOUR (162 mins., 1988) is one of the more unheralded films from the New Wave director – a character-driven story of four young acting students who are questioned by an investigator looking for a former roommate who they claim is involved in criminal activity. Cohen's Blu-Ray (1.85, French stereo with English subtitles) is now available featuring a commentary from professor Richard Pena.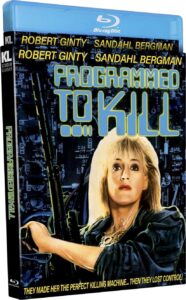 Also on Blu-Ray: Alejandro Loayza Grisi's UTAMA (87 mins., 2022) is set in the Bolivian mountains where an aging Quechua couple faces tending to the farm they've known – in the face of a drought – or a move to the city with other family members. Impressive visuals color "Utama," which looks appropriately vivid in Kino Lorber's Blu-Ray (2.39, 5.1 Spanish with English subtitles). Extras include a photo gallery…From Kino Lorber and Menemsha Films, PLAN A (109 mins., 2022) looks at the true story of Jewish Holocaust survivors who join the "Jewish Brigade" to find and track down Nazis in high-ranking positions. Menemsha's Blu-Ray includes a 2.35 transfer and 5.1/2.0 sound.
The indie horror outing SHE DIED (101 mins., 2022) follows a teen whose mother recently died, and whose father's new girlfriend…looks exactly like her. Liliana Ritchie sytars in Jack Dignan's film, preserved here on Blu-Ray (2.39, 5.1/2.0) with extras including director commentary, deleted scenes, and Dignan's 2019 short "It Feels Like Spring"…Another genre exercise, ASHGROVE (92 mins., 2021), is Jeremy Lalonde's picture about a couple who head for a quiet farmhouse to reconnect while the world's water supply has become infected. An unusual blending of story lines infect (no pun intended) "Ashgrove" with several featurettes, a 1080p (2.35, 5.1/2.0) transfer and the trailer included on the now-available Blu-Ray…BRAINWASHED (107 mins., 2022) is an intriguing documentary by Nina Menkes that looks at cinematic shot design from the perspective of female politics and women directors including Julie Dash, Catherine Hardwicke, Charlyne Yi and others. Kino Lorber's Blu-Ray is now available (1.78, 5.1/2.0) with commentary and multiple featurettes.
New on DVD: From Greenwich Entertainment come two new documentaries this month. LOWNDES COUNTY AND THE ROAD TO BLACK POWER (90 mins., 2022) is a look at the struggle for voting rights and Black Power in the rural Alabama community (5.1/2.0, 16:9), while LOUDMOUTH: THE LIFE AND BATTLES OF REVEREND AL SHARPTON (123 mins., 2022) is a feature-length documentary on the controversial figure from executive producer John Legend (16:9, 5.1/2.0)….First Run Features has released THE CELLULOID BORDELLO (86 mins., 2021), a look at the history of sex workers on-screen, using real hustlers, escorts and others to pinpoint which movie they think is on-target in terms of the industry's depiction (16:9, stereo).
---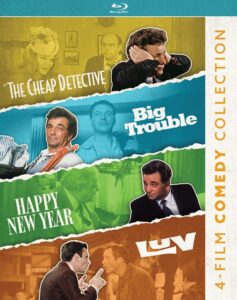 Quick Takes
Mill Creek continues to dabble in fascinating catalog anthologies on Blu-Ray, bringing some older films to the format for the first time.
Case in point this month is the PETER FALK 4-FILM COMEDY COLLECTION, which offers the high-def premieres of no less than four movies starring Falk, albeit one in a supporting turn. That movie is LUV (96 mins., 1967), a noted flop for star Jack Lemmon in an adaptation of Murray Schisgal's play about a suicidal man who bumps into an old friend (Falk) who, in turn, attempts to hook him up with his wife (Elaine May). Also included is BIG TROUBLE (93 mins., 1985, R), which was John Cassavetes' final film and a notoriously troubled picture, as writer Andrew Bergman took a pseudonym ("Warren Bogle") after Columbia re-edited the final product. Falk also appeared in John G. Avildsen's comedy-drama HAPPY NEW YEAR (85 mins., 1986, PG), which like "Big Trouble," was scored by Bill Conti, while the set is capped by its most agreeable inclusion: the gumshoe spoof THE CHEAP DETECTIVE (92 mins., 1978, PG), Neil Simon's enjoyable comic confection with Falk reprising his role from "Murder By Death," backed by an all-star supporting cast. Widescreen transfers are all solid (2.35 scope for "Cheap Detective" and "Luv"; 1.85 for the others) in this affordable two-disc set.
New on DVD this month from Mill Creek is ULTRAMAN MAX: COMPLETE SERIES (16 hours). This 2005 series finds Kaito as the newest recipient of extraterrestrial technology, giving him the ability to become the 40-meters tall super-hero in order to combat giant monsters and other evil forces trying to take over the Earth. Mill Creek's DVD (1.33, 2.0) offers all 39 episodes of "Ultraman Max," in Japanese with English subtitles.
Also on Blu-Ray is the format premiere of REQUIEM FOR A HEAVYWEIGHT (86 mins., 1962), the filmed adaptation of Rod Serling's teleplay, again scripted by Serling and directed by Ralph Nelson. Anthony Quinn plays the veteran fighter on his last legs with Mickey Rooney as Quinn's trainer and Jackie Gleason his conniving manager in a taut film version brought here to HD in a capable Sony licensed HD master (1.85, DTS MA mono), complete with a collectible slipcover.
BONES AND ALL Blu-Ray (131 mins., 2022, R; MGM/Warner): Talented young star Timothee Chalamet typically chooses interesting projects but this adaptation of Camille DeAngelis' book about "hot young cannibals" is an arty misfire under the direction of Luca Guadaginino. David Kajganich's script tries to move off the horror and favor moody character scenes between Chalamet's drifter and a young girl (Taylor Russell) abandoned by her father, but the movie's bursts of grizzly blood 'n guts play at odds with the storytelling approach, making for an attractively lensed but otherwise unsuccessful effort. Warner's Blu-Ray (1080p, Dolby Atmos) of the MGM production includes a number of featurettes and hits stores on the 31st.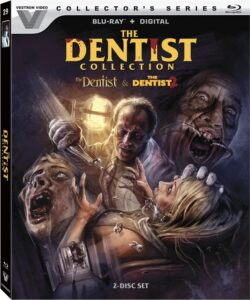 New From Lionsgate: Two new History/Biography DVDs are out this month from Lionsgate. COLOSSEUM (6 hours, 2022) is a lengthy look at the rise and fall of the Roman Empire, as told through eight episodes in a two-disc set (1.78, 2.0); while WWE LEGENDS Vol. 3 (13 hours, 2022) is a collaboration between A&E and WWE Studios, offering an in-depth look at wrestling stars The Undertaker, Goldberg, Lex Luger and even WrestleMania itself (1.78, 2.0, on two discs).
New from Lionsgate's Vestron Video Collector's Series is a Blu-Ray double-feature, THE DENTIST COLLECTION, sporting two Canadian-lensed Trimark Pictures efforts: THE DENTIST (1996, R) and THE DENTIST 2 (1998, R). Both feature former "L.A. Law" litigator Corbin Bernsen as a Beverly Hills dentist whose wife's (Linda Hoffman) affair sends him into a "Dr. Giggles"-esque frenzy. That's the point of comparison for these two direct-to-vid outings from director Brian Yuzna, which offer much lower-rent comedy and a heavier emphasis on gore compared to that far superior Larry Drake feature. Lionsgate's Blu-Ray (1.78/1.85, 2.0) goes above and beyond in terms of extras at least, from commentary by Yuzna and make-up supervisor (and former magazine guru) Anthony C. Ferrante to isolated score segments and comments from Alan Howarth; numerous interviews; trailers and a stills gallery.
SHEPHERD: THE STORY OF A HERO DOG Blu-Ray (93 mins., 2020, Not Rated; Shout!): Inspired by a true story, this WWII tale of a young Jewish boy (August Maturo) who becomes separated from his German Shepherd, Kaleb, only to be reunited with him after he's adopted and trained by an SS dog trainer (Ken Duken) in a concentration camp makes for an emotional viewing experience. Lynn Roth adapted Asher Kavitz's book "The Jewish Dog" for this independent production well worth seeing for older kids and adults – especially if you're a parent and are introducing a discussion of the Holocaust to children. The disc debuts on Blu-Ray February 14th from Shout (1.85, 5.1/2.0 DTS MA).
ELMO AND TANGO: FURRY FRIENDS FOREVER DVD (122 mins., 2023; Shout! Kids): Sesame Street's beloved red furry muppet joins up with his dog Tango in a special DVD compilation offering several, similarly-themed episodes from the kids' series. Special guests include Kacey Musgraves, Keke Palmer and Jon Batiste in the single-disc DVD.
NEXT TIME: More of the latest discs! Until then, don't forget to drop in on the official Aisle Seat Message Boards and direct any emails to our email address. Cheers everyone!