Message Board (open 24 hours!)
Twitter - @andredursin (for everything else!)
The "Golden Age" of Italian director Dario Argento has become well represented on 4K UHD over the last couple of years thanks to the collective efforts of labels like Arrow and Synapse Films. The latter's superlative edition of his classic "Suspiria" remains one of the top catalog discs in the UHD format, and this month brings fans a newly restored release of a later Argento title that's offbeat even by the director's standards: PHENOMENA (116/110/83 mins., 1985; Synapse), which was released in the mid '80s by New Line in a butchered form as "Creepers."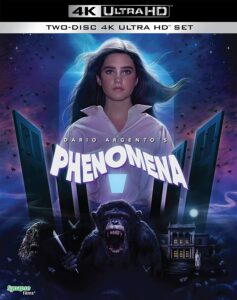 Argento's dreamy and weird – yet oddly appealing – mix of gaillo elements and the supernatural stars 13-year old Jennifer Connelly as "Jennifer Corvino," a student at a Swiss boarding school with a special connection with insects. This mystical power serves her well once Doc Donald Pleasence sends Jen out to stop a killer murdering poor innocent girls in the nearby Alps countryside.
It goes without saying that "Phenomena" will be best appreciated by the director's devotees, yet even the casual thriller fan might get a kick out of this grab-bag of components cobbled together from other Argento works, "Carrie," and standard suspense-thrillers. The location shooting and Argento's use of color are in full effect, there's a goofy score by Goblin, trademark Argento kill sequences, and Connelly's first lead role. It's cracked, in a good way.
Synapse's 4K UHD debuts all four cuts of "Phenomena," each one in a 4K restoration (1.66) with Dolby Vision HDR that – as you would expect with Argento – enables all the colors of his work to come across in vivid detail, surpassing any prior release of the picture.
The different cuts include the full 116-minute Italian version, which is in English (5.1/2.0 DTS MA, derived from original 4-channel Dolby Stereo elements) outside a few minutes of scenes where only the Italian soundtrack exists; the brief bits of native dialogue exclusive to this cut are accordingly subtitled in English. The 110-minute International version will be more familiar to fans who may have owned earlier home video releases of the picture, though even here, two different soundtracks are included – the formal soundtrack (5.1/2.0) plus an alternate stereo soundtrack (2.0) with variances in some music cues and sound effects. Finally, the U.S. theatrical cut – "Creepers" – is included, a failed attempt to sell the movie to the domestic market by cutting out over 30 minutes of material. This version in presented in either mono or, again, an alternate 2.0 stereo soundtrack, mastered from 3-track DME magnetic mix elements.
Extra features in Synapse's two-disc set are common to the Arrow European UHD release, including a commentary on the Italian cut by Troy Howarth; a 2017 documentary with cast and crew; Italian and international trailers; a Japanese pressbook gallery; "Jennifer" music video directed by Argento; commentary on the international cut by Derek Botelho and David Del Valle; a visual essay by Michael Mackenzie comparing the different cuts of the film; the U.S. trailer and radio spots.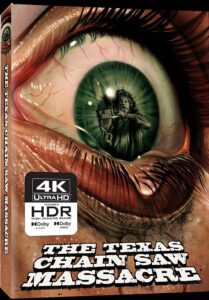 Recently released is a dynamic new 4K UHD edition of TEXAS CHAINSAW MASSACRE (83 mins., 1974, R; Dark Sky), a year shy of its 50th Anniversary, from Dark Sky and MPI.
This terrific package offers a UHD edition of the label's 2016 4K restoration, which was released on Blu-Ray at the time. Now graded with Dolby Vision HDR and sporting a Dolby Atmos mix, "The Texas Chainsaw Massacre" offers gains in its detail level and contrast on UHD, though, naturally, the source elements of the production will always limit its visual potential (not necessarily a bad thing given the picture's gritty texture and subject matter). The Atmos mix is a good option for those seeking a broader soundstage than its original mono, which is also offered here (1.0) alongside a 2.0 track.
Supplements have been carried over from the 2016 Blu-Ray and are bountiful, starting off with four different commentaries: one from director Tobe Hooper, "Leatherface" himself Gunnar Hansen and cinematographer Daniel Pearl; a cast commentary featuring Marilyn Burns; and two 2016 commentaries with Hooper and another with cinematographer Daniel Pearl, editor J. Larry Carroll and sound recordist (and later Full Moon filmmaker) Ted Nicolaou. The included Blu-Ray bonus disc also offers multiple documentaries; the "Friedkin/Hooper" conversation between Tobe Hooper and William Friedkin; deleted scenes and outtakes; bloopers; a Horror's Hallowed Grounds featurette; 40th anniversary trailer; radio, TV and trailers.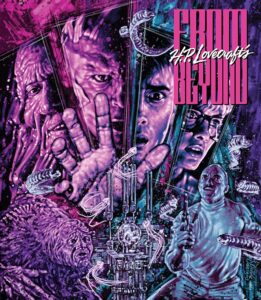 Highly recommended for horror fans, with Dark Sky offering their UHD on both a standard edition as well as a Limited Edition collectible Steelbook.
Vinegar Syndrome's newest 4K UHD release celebrates and restores FROM BEYOND (86 mins., 1986, Unrated), director Stuart Gordon's follow-up to his hit 1985 H.P. Lovecraft adaptation "Re-Animator." Using much of the same crew (writer Dennis Paoli, producer Brian Yuzna, composer Richard Band) and shared cast members (Jeffrey Combs, Barbara Crampton), this grizzly and demented take on H.P. Lovecraft's book was a likewise fan favorite among genre fans, sporting loads of gore, slimy creatures from the beyond and a nutty sense of humor.
Vinegar Syndrome has remastered the Unrated Director's Cut (1.85) of the movie for 4K UHD with HDR10, restored from its 35mm original camera negative, and the results are a quantum leap over the previous MGM master seen in the 2013 Scream Factory Blu-Ray. Audio options include 5.1 and 2.0 DTS MA tracks while extras include the freewheeling, archival Gordon/cast commentary and, spread across two Blu-Rays, a brand new 97-minute Making of documentary and archival supplements culled from previous home video releases.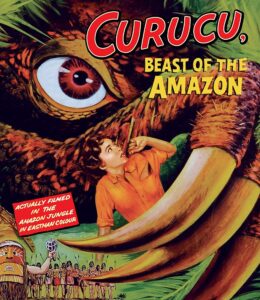 Vinegar Syndrome Labs – First Releases!
We always welcome a new source for more obscure catalog titles debuting in high-definition, and Vinegar Syndrome has delightfully conjured up a new imprint to take care of just that: Vinegar Syndrome Labs, which brings us a pair of archival Universal offerings from the '40s and '50s – one that debuted to solid acclaim but never generated a Blu-Ray release until now, and the other a rarely-screened full-color thriller that was never released on home video at all.
The latter is CURUCU, BEAST OF THE AMAZON (75 mins., 1956), a movie whose poster I've run across many times before but which has been out of circulation completely for decades. Its premise is tremendous: an American man named "Rock Dean" (John Bromfield) is sent to the Amazon to find out why a Brazilian plantation's workers have been fleeing their jobs. There, he sets out through the jungle along with a brave doctor (Beverly Garland) to find out the source of the terror – a horribly deformed parrot-looking creature the locals call the Curucu…and whose actual identity is a lot less supernatural, sadly, than expected.
"Curucu" was savaged by critics and apparently dissed by genre fans hoping for a "Creature From the Black Lagoon"-styled genre outing from Universal – and who couldn't blame them, as the opportunity to create a Universal Monsters hit for the '50s was lost here. Most of "Curucu" is comprised of our heroes trudging through the jungle (at least it's actual location footage and not a blue screen) and then talking about it afterwards – the excitement level in writer-director Curt Siodmak's film doesn't come close to matching his genre hits ("The Wolf Man," the Val Lewton quasi-classic "I Walked With a Zombie"), but at least fans can now say they've had a legit chance to see this film at long last.
Vinegar Syndrome's Blu-Ray houses a 2K scan (2:1) from a 35mm dupe negative, offering some aged elements but a gorgeously natural presentation at every turn. The clear mono sound highlights Raoul Kaushaar's score, while extras include a fun commentary with Kim Newman and Barry Forshaw, the trailer, still gallery, and brief archival featurette spotlighting Siodmak.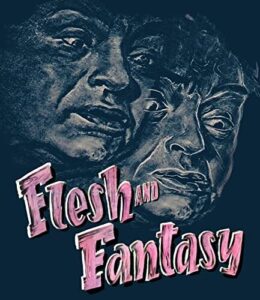 The critical rep of FLESH AND FANTASY (94 mins., 1943) is much higher despite this film also having been left off home video – at least until a DVD release a decade ago. Premiering here in high-def for the first time, "Flesh and Fantasy" was a movie I ran into on AMC years ago, finding it an entertaining if not quite classic trio of supernatural tales – one featuring a Mardi Gras setting with Betty Field and Robert Cumming; another involving Edward G. Robinson in the story of a lawyer foretold that he's going to kill someone; and a finale starring Charles Boyer as a high-wire artist and Barbara Stanwyck the mysterious woman who haunts his dreams.
Atmospherically filmed by director Julien Duvivier, "Flesh and Fantasy" is superior genre entertainment from its time, a cut above the usual for Universal and its monster rallies of the era. Interestingly, a fourth segment was filmed but eventually expanded into its own separate feature, "Destiny" (1944), albeit with a new "happy" ending and no credit for Duvivier whose artistry outshined new scenes shot by its credited director, Reginald LeBorg, in the finished product.
Though not on the level of England's later import "Dead of Night," "Flesh and Fantasy" is something of a groundbreaking picture for its "horror anthology" component, even if the material really is more along the lines of an entertaining suspense thriller. Vinegar Syndrome's Blu-Ray has been derived from a 2K transfer (1.37 B&W) of its dupe negative with another superb commentary by Barry Forshaw and Kim Newman, a featurette on Duvivier's work by Christophe Gans, the still gallery, and the trailer.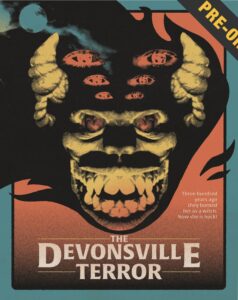 Also New From Vinegar Syndrome
THE DEVONSVILLE TERROR Blu-Ray (82 mins., 1983, Unrated; Vinegar Syndrome): Uli Lommel's barely-released 1983 chiller offers then-wife Suzanna Love as a schoolteacher who finds out — after taking a job in a Massachusetts town entrenched in its historical connection to witchcraft — that she may be the reincarnation of one of those women unjustly burned at the stake. The director's typical blend of erratic performances and gooey make-up is compensated for a little here by a fairly compelling story and a mercifully brief run time, though this still went straight to an Embassy VHS release back in the day. Vinegar Syndrome's Blu-Ray (1.85, mono) looks terrific, newly scanned and restored in 2K from its 35mm internegative, with extras including interviews featuring Love, FX artists and crew members, an archival conversation with Lommel and a still gallery.
GOODBYE 20th CENTURY Blu-Ray (85 mins., 1998; Vinegar Syndrome): Insane doesn't even begin to describe Aleksandar Popovski and Darko Mtrevksi's off the wall look at a dystopian wasteland in 2019 through the lens of then war-torn Macedonian filmmakers about to enter into the Y2K era, also reflecting back on the century that was. Unflinchingly brutal with surrealistic images and liberal doses of "Mad Max" thrown in, "Goodbye 20th Century" is the kind of movie that isn't going to click with most viewers, but the ones who gravitate towards it will proclaim it to be some kind of wild underground masterpiece. You be the judge! Vinegar Syndrome's Blu has been scanned in 4K from the original 35mm camera negative (1.85, 2.0 stereo) with interviews featuring Popovski, art director Bujar Muca, actor Nikola Ristanovski and music videos.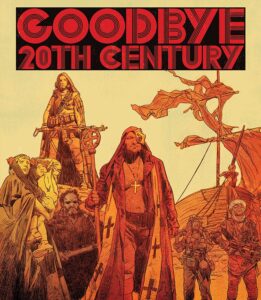 INFERNAL RAPIST Blu-Ray (84 mins., 1988; Vinegar Syndrome): Raucous, gory Mexican import from directors Damian Acosta Esparza and Jose Medina stars Noe Murayama as a rapist who's executed at the electric chair – but on his way to whereever, he's approached by a Satanic spirit (Princesa Lea) who enables him to continue his spree of murder and mayhem, so long as he leaves a "666" inscribed on the body of his victims. This one's way over the top but comes recommended for hardcore genre fans, with Vinegar Syndrome's disc offering a new 4K scan (1.85, mono) of the original 35mm camera negative, Spanish sound, an audio essay by Alexandra Heller-Nicholas and interviews with cast members Juan Moro, Fidel Abrego and Arturo Mason.
FROSTBITER: WRATH OF THE WENDIGO Blu-Ray (83 mins., 1995; Vinegar Syndrome): Resourceful little indie horror utilizes stop-motion animation to bring the infamous Wendigo of its title to life – which a pair of Michigan hunters inadvertently are responsible for. Shot on-location, "Frosbiter" was filmed in the late '80s but languished on the shelf for years until it was picked up for distribution by Troma in the mid '90s. It's a not-bad cash-in on "The Evil Dead" that horror buffs should appreciate; Vinegar Syndrome's Blu includes a 1080p (1.33, 2.0 stereo) transfer restored in 2K from the 16mm OCN with new commentary, interviews with director Tom Chaney and other cast/crew, promo video and copious amounts of archival supplements.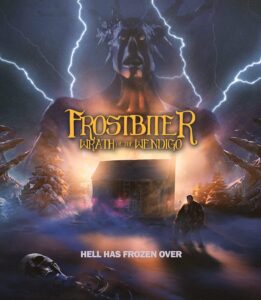 MADE IN HONG KONG Volume One Blu-Ray (Vinegar Syndrome): More horror insanity, this time out of the Hong Kong market, offers a trio of "Cat III" films that earned HK's ratings classification for movies with "extreme content." That pertains to all three pictures housed within here: "The Demon's Baby" (86 mins., 1998); "Erotic Nightmare" (86 mins;, 1999); and "The Deadly Camp" (84 mins., 1999), each film in a new 2K restoration (1.85, 2.0 stereo) from their original camera negatives. Extras include commentaries on "Erotic Nightmare" by Samm Deighan and "The Deadly Camp" with The Hysteria Continues!; a doc on these "Category III" films with Deighan and Charles Park; and a visual essay on "The Demon's Baby" with Alexandra Heller-Nicholas.
BIO ZOMBIE Blu-Ray (94 mins., 1998; Vinegar Syndrome): Hong Kong zombie fun from director Wilson Yip ("Ip Man") about two low-level hoods who push bootleg DVDs and end up starting a mini-zombie apocalypse after they run over an infected victim. Laughs and gore with colorful characters anchor this recommended import for HK cinema fans, with Vinegar Syndrome here offering a 1080p (1.85) transfer restored partially by VS in-house, along with Cantonese and Mandarin audio, commentary from HK authority Frank Djeng, an alternate ending, 20-page booklet and more.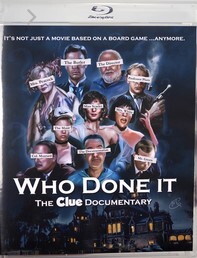 Vinegar Syndrome Partner Label Wrap
New from ETR this month is WHO DONE IT: THE CLUE DOCUMENTARY (108 mins., 2022), which is not a documentary about the popular Parker Brothers board game but rather – yes – the 1985 movie based upon it. Who knew there were that many fans of "Clue," which mined slapstick laughs in a period setting thanks to its talented ensemble cast led by Tim Curry – yet the film underperformed at the box-office and was badly reviewed. That didn't deter producer-director-host Jeff C. Smith, who opted to spend the better part of five-plus years tirelessly tracking down surviving cast and crew for this genial if overlong doc. Among the interviewees are director Jonathan Lynn and cast members Michael McKean, Lesley Ann Warren, Colleen Camp and Lee Ving among others, recounting the production of the movie as a John Landis project before moving on to the future director of "My Cousin Vinny."
The documentary is straightforward and relaxed, providing fans with answers to every question they could possibly ask about the film – though the last half-hour feels overly extended, venturing into "fan territory" that touches upon the movie's soundtrack releases and LBGT screenings among other topics which have nothing to do with the film's actual production. It also would've helped many of the interviews if Smith used a microphone and not just his phone's camera (or whatever he used) to capture audio. ETR's Blu-Ray (1080p, 2.0) includes a podcast interview with Smith, additional interview footage and more.
THE FIRST VCR/CASSETTES GO HI-FI Blu-Ray (41/61 mins., 2019; ETR Media): A pair of documentaries focus on the VCR's invention during the mid '50s and gradual rollout to becoming a staple in the American home; and a look at the cassette tape, which for a time supplanted the LP as the home audio format of choice. These fairly dry docs seem like something you'd come across on Youtube and appear to be well researched in spite of their no-frills production. ETR's now-available Blu-Ray (1.78, 2.0) offers nearly 30 minutes of "associated trailers, commercials and promotional videos."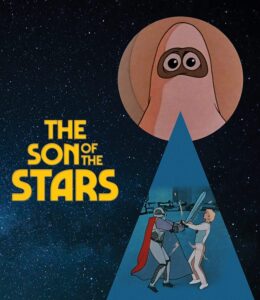 Chances are you've never heard of, much less seen, the '80s animated sci-fi adventure THE SON OF THE STARS (80 mins., 1988; Deaf Crocodile), an intriguing Romanian import that mixes together all sorts of genre elements from "Star Wars" to "Tarzan" in its story of intergalactic explorers who leave their young son onboard a ship where he grows up into a suitable hero, searching for a missing cosmonaut as well as his absent parents. A fresh 4K scan from the original 35mm negative and sound elements awaits curious genre fans in this eclectic offering (1.33) making its worldwide HD debut, complete with a score by synth specialist Stefan Elefteriu. Extras include a video interview with co-director Calin Cazan, a commentary from Samm Deighan and booklet notes by Stephen R. Bissette.
WHEN I CONSUME YOU Blu-Ray (90 mins., 2021; Yellow Veil Pictures): Weird mix of horror and some social commentary comprise director Perry Blackshear's movie, wherein two siblings (Evan Dumouchel, Libby Ewing) find themselves hunting down one's stalker in a desolate Brooklyn shot by Blackshear himself, who also wrote, edited and produced the film. There's no denying the atmosphere Blackshear generates here, even though the story doesn't quite satisfy at the end. Yellow Veil's Blu-Ray (2.39) is out sporting two commentaries, Blackshear's intro, deleted scenes, a Fantasia Film Festival Q&A, the trailer, behind-the-scenes content and more.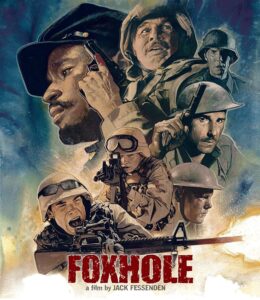 FOXHOLE Blu-Ray (95 mins., 2021; Yellow Veil Pictures): Well-acted and compellingly told character drama examines the claustrophobic confines of three groups of soldiers, trapped and dealing with their own mortality in three respective wars: the Civil War, WWI and Iraq. Jack Fessenden's film makes its point and doesn't overstay its welcome, making it an indie film worth seeing. Yellow Veil's Blu-Ray (2.39, stereo) offers Fessenden's intro and commentary, music videos, MOMA Q&A, the short "All For One," a music video, behind the scenes documentary and an animation diary.
KANEHSATAKE: 270 Years of Resistance Blu-Ray (119 mins., 1993; Canadian International Pictures): Award-winning documentary from Alanis Obomsawim captures the 1990 dispute over a proposed golf course on Mohawk lands in Oka, Quebec. The 78-day standoff between protesters and increased police/military forces is captured in "Kanehsatake," which celebrates its 30th anniversary with a new 2K scan (1.33) from the Interpositive in CIP's Blu-Ray. Extras include a commentary as well as Obomsawin's three follow-up works in the "Oka Crisis" quartet and a booklet with background information…Coming later in March from CIP is the 1998 documentary HITMAN HART: WRESTLING WITH SHADOWS (94 mins.), a look at Bret Hart, aka the WWF fighter who jumped ship to Ted Turner's competing WCW after Vince McMahon reneged on a 20-year contract. A must for any wrestling buff, this well-received feature debuts on Blu-Ray (1.33) in a Betacam-restored HD master with commentary featuring Hart and wrestling writer Dave Meltzer and a wealth of new and archival interviews, plus Paul Jay's 47-minute 1999 feature "The Life and Death of Owen Hart."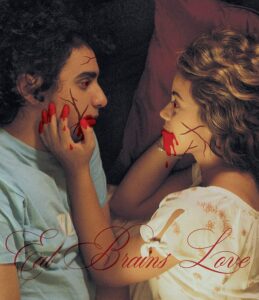 UNDEAD Blu-Ray (98 mins., 2023; Umbrella Entertainment): Director-siblings Peter and Michael Spierig, who have since gone onto moderate genre fame with the decent "Daybreakers" and "Saw" entry "Jigsaw" (to say nothing of the insane Ethan Hawke gender-bender "Predestination"), kicked off their careers with this low-budget tale of the undead – here brought to "life" after meteorites slam the small Aussie town of Berkeley. Comedy and action are successfully (more or less) mixed together in the Spierigs' resourceful feature debut, captured here in an Umbrella Blu-Ray special edition (1.77, DTS MA 5.1) with plenty of extras: commentary from the Spierigs and DP Andy Strahorn, the short "Attack of the Undead," still gallery, make-up tests, and behind-the-scenes featurettes.
INBETWEEN GIRL Blu-Ray (90 mins., 2019; Utopia): Coming-of-age tale effectively told by writer-director Mei Makino looks at a shellshocked 16-year-old (Emma Galbraith) who doesn't see her parents' divorce coming – and reacts by hooking up with a popular, and attached, classmate (William Magnuson) behind his girlfriend's back. A warm and richly observed piece that earned solid reviews on the festival circuit, Utopia brings "Inbetween Girl" to Blu-Ray this month sporting a 1080p (1.9) transfer with two deleted scenes, auditions, and cast/crew interviews from the Austin Film Society…Due out later in March from Utopia is AMERICAN RAPSTAR (81 mns., 2022), a look at the "lo-fi young rappers [who have] emerged from Trump's America." Justin Staple's SXSW Film Festival premiere hits Blu-Ray (1.78, 5.1 DTS MA) with the director's commentary on-hand.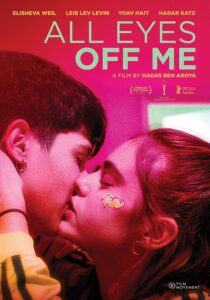 Kit Zauhar's ACTUAL PEOPLE (84 mins., 2023; Factory 25) is a throwback to '90s independent cinema, with Zauhar starring as a Gen-Z'er who pursues a boy from Philly in response to her classmates' professional success. An interesting film with personal experience and humor perceptively utilized by Zauhar throughout, "Actual People"'s Blu-Ray (1.78) offers her commentary plus a 20-page booklet and two shorts…Bingham Bryant and Kyle Molzan's FOR THE PLASMA (94 mins., 2016; Factory 25) is an odd and unique picture about a woman who discovers she can sense financial market shifts through her regular job – of using CCTV footage to look out for forest fires in Maine! Shot in 16mm, this well-reviewed arthouse offering premieres on Blu-Ray from Factory 25 sporting a 1080p (1.33) transfer, 24 page booklet, commentary from the filkmmakers, and Bryant's short "Foreign Powers."
AMIGO Blu-Ray (83 mins., 2019; Dekanalog): Creepy psychological thriller features David Pareja as a man who survives a car crash with no damage while his best friend (Javier Botet) ends up paralyzed and with his wife dead. From there, David decides to care for his friend Javi but finds out things may not be what they seem in Oscar Martin's suspenseful 2019 feature here on Blu from Dekanalog (2.39, 5.1 DTS MA) sporting interviews and plenty of additional archival features.
THRUSH Blu-Ray (119 mins., 2022; Culture Shock): Off-the-wall punk piece from director Victor Bonacore adapted Hannah Neurotica's short story about lovers trying to navigate their way through a drug-ravaged, female-dominated dystopian world. Culture Shock's Blu-Ray (1.78, 2.0) includes Allison Egan and Erin Brown's commentary, over three hours (!) of behind-the-scenes footage, Bonacore's short "Triangle" and more.
EAT BRAINS LOVE Blu-Ray (86 mins., 2019; Gunpowder & Sky): "Idle Hands" director Rodman Flender attempts another horror comedy with this story of mismatched high school students – stoner Jake Cannavale and cheerleader Angelique Rivera – contracting a zombie virus that sends them both off to find sex offenders to "morally" eat their way through. Jeff Hart's novel becomes a pretty funny genre mash-up that's actually far superior to "Idle Hands" (faint praise as that may be) with Gunpowder & Sky's Blu (2.40, 5.1 DTS MA) offering interviews with the director and stars, commentary with the director, a booklet essay from Kim Newman, video piece by Samm Deighan and behind-the-scenes material.
---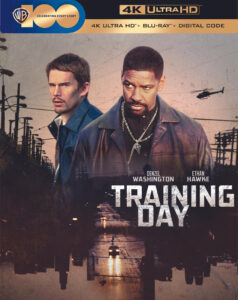 Also New on 4K UHD
TRAINING DAY 4K Ultra HD/Blu-Ray (122 mins., 2001, R; Warner): Denzel Washington's outstanding performance as an undercover L.A. cop who twists all kinds of laws in his work – much to the shock of rookie partner Ethan Hawke – earned him his second Oscar, and remains the highlight of Antoine Fuqua's 2001 box-office hit. A satisfying mix of action-thriller and character drama, "Training Day" is one of numerous Warner catalog titles debuting in 4K UHD this year, and this HDR10 enhanced transfer (2.39) does not disappoint, surpassing the old format Blu-Ray with a wider contrast and color range – the movie's still gritty but detail is sharper throughout. Warner's disc also debuts a new Dolby Atmos track along with Fuqua's commentary, alternate/additional scenes, music videos and a featurette from previous video releases. A Digital HD copy is also included.
THE REMAINS OF THE DAY 4K Ultra HD/Blu-Ray (134 mins., 1993, PG; Sony): Acclaimed, stately 1993 adaptation of Kazuo Ishiguro's book from the Merchant Ivory team – specifically, writer Ruth Prawer Khabvala and director James Ivory – provides a showcase for Anthony Hopkins, as a butler at an English manor presided over by a British Lord (James Fox) who becomes a Nazi sympathizer. Emma Thompson is superb as a housekeeper who tries to ignite any passion inside Hopkins' fastidious, detached "Stevens" in this acclaimed picture, which earned eight Oscar nominations. Debuting in 4K UHD this month from Sony (2.35), "Remains of the Day" bows a superlative Dolby Vision HDR-enhanced transfer giving a regal appearance to Ivory's film. Dolby Atmos and corresponding 5.1/2.0 DTS MA options are included plus extras from the DVD release (featurettes, commentary, deleted scenes).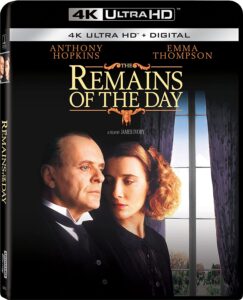 PUSS IN BOOTS: THE LAST WISH 4K Ultra HD/Blu-Ray (103 mins., 2022, PG; Universal): Surprisingly robust spin-off from the "Shrek" franchise is a good deal better than the first "Puss in Boots" movie, with Antonio Banderas returning to voice the head feline, who here finds out he's run through 8 of his 9 lives. An air of poignancy flows underneath this Dreamworks feature which is interestingly animated in a more stylized manner than prior CGI'd efforts from the studio, and offers a well-balanced script that should entertain both kids and adults alike. Universal's gorgeous 4K UHD (2.39) includes HDR10 and Dolby Atmos audio in a brilliant display for your home 4K system; extras include the Blu-Ray, a Digital HD copy, deleted scenes, featurettes, and the all-new short "The Trident."
DEVOTION 4K Ultra HD (139 mins., 2022, PG-13; Paramount): The real story of African-American pilot Jesse Brown and his struggles in the air and battling prejudice in the Korean War conflict has all the stuff for a great movie and becomes a solid – if not quite remarkable – film from writers Jake Crane and Jonathan A.H. Stewart, capably handled by director Jo Dillard. Certainly no fault can be laid with the performances of Jonathan Majors, playing the stoic Brown, and Glen Powell, the "Top Gun: Maverick" co-star who takes to the skies again here as Brown's pal Tom Hudner. The aerial sequences gain the most from Paramount's 4K UHD (Dolby Vision, 5.1 DTS MA), which also includes two featurettes and a Digital code. Recommended!
JOHN WICK: CHAPTERS 1-3 Stash Book Collection 4K UHD Steelbook (Best Buy Exclusive; Lionsgate): Gorgeous collector's packaging is the main draw in Lionsgate's spectacular box-set of the first three "John Wick" movies, timed perfectly for the release of the 3-hour (!) "John Wick 4" coming later next month.
In terms of the movies, fans know what to expect. JOHN WICK (101 mins., 2014, R) staged an initially quiet release in 2014, offering Keanu Reeves something of a comeback role as a hitman trying to leave the criminal underworld behind. Naturally, Reeves' John Wick is brought back to his profession after thugs beat him and his new puppy, who was a gift from his late wife (Bridget Moynahan). A series of encounters with relentless assassins fuels Wick's quest for vengeance, which makes for a straightforward, impressive visceral ride from writer Derek Kolstad and director Chad Stahelski.
A bigger/better sequel that's not necessarily any more cultivated narratively than its predecessor (despite an additional half-hour running time), JOHN WICK – CHAPTER 2 (122 mins., 2017, R) finds our native gunslinger caught in the middle of an assassination plot that takes him back and forth to Rome and New York City. Along the way, "John Wick – Chapter 2" offers one of the largest body counts in film history, plus some choice bits of humor to break up its bombastic, blazing gun battles.
That said, at two full hours, director Chad Stahelski's movie does become somewhat repetitious, and boasts precious little character development, story or dramatic engagement. It's basically just cool, well-choreographed fight sequences strung out with a throbbing musical score – yet if you're into it, the movie is undeniably exciting for what it is, not so much ending but rather stopping as the door is left fully ajar for Chapter 3.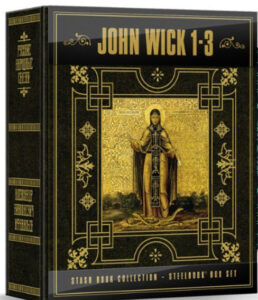 When that sequel arrived, things fell into a further diminishing returns pattern – despite the increased box-office – in JOHN WICK CHAPTER 3: PARABELLUM (130 mins., 2019, R).
Despite its polished visual scheme, this more-of-the-same third installment brings nothing new to the table — it's just another stylish assembly of fight sequences and bone-crunching deaths, laid out with a longer running time than its predecessors and a bit of "down time" in its mid-section. That extended time doesn't translate into anything meaningful in terms of story or additional emotional engagement for Keanu Reeves' badass hitman — like the first two movies, Part 3 of the John Wick "saga" is less interested in character than a few amusing quips here and there and lots, and lots, and lots, of action. All of it is well-choreographed but grows increasingly repetitious, much as it was in the second outing.
Though still fun and well-executed — for a while — I have to say you could feel the collective groan from an otherwise engaged audience when this sequel ended…exactly the same way as the second film concluded. One hopes the upcoming fourth film gives audiences a little more than all the same notes being played again.
This "John Wick" Stash Book Steelbook 4K UHD set from Lionsgate, being sold exclusively at Best Buy right now, is a gorgeous collector's edition. All three movies are included in the same 4K UHD presentations (2.40, Dolby Atmos, HDR10 on 1 and 2, Dolby Vision on 3) as their previous releases (check the highlighted links above for the full reviews of those discs), with all the corresponding special features on Blu-Ray and a Digital HD copy rounding out a release with Steelbook packaging and a replica of Wick's "deadly Stash Book" in an oversized cardboard case.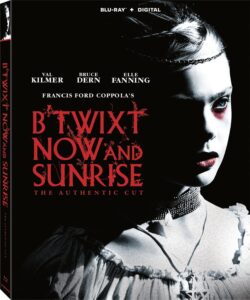 Also New From Lionsgate
B'TWIXT NOW AND SUNRISE: The Authentic Cut Blu-Ray (79 mins., 2023, Unrated; Lionsgate): Francis Ford Coppola attempts to rework his poorly-received 2011 film in this even shorter "authentic cut" which is basically just as disappointing as his first effort. After electric offerings "Tetro" and "Youth Without Youth," Coppola hit rock bottom with "Twixt," an incomprehensible tale of a Stephen King-like writer (Val Kilmer) whose trip to a small town reveals a corpse with a steak through its heart, the ghost of a young girl (Elle Fanning), and other assorted mysteries. Coppola's film was supposed to have been something of an "interactive road show" but the finished film – which Fox sat on for the better part of two years before releasing it straight to video in 2013, and now taken in by Lionsgate – is just a mess that even Coppola devotees will be hard pressed to appreciate. This new cut is nine minutes shorter but not nine minutes better, and includes the same Gia Coppola documentary as was seen on the prior Blu-Ray (1080p transfer, 5.1 Dolby TrueHD sound and a Digital HD soundtrack are also on-hand).
ORANGE IS THE NEW BLACK – The Complete Series DVD (2013-18, Walmart Exclusive; Lionsgate): Complete DVD anthology of the award-winning Netflix series based on Piper Kerman's best-selling, autobiographical tome is currently exclusive to Walmart. Through seven seasons the Litchfield girls struggled to make it through prison life with various racial and economic issues – plus the arrival of new inmates and guards often in over their heads – dominating the day. Taylor Schilling, Natasha Lyonne, and Uzo Aduba lead the terrific ensemble cast in this alternately funny and heartbreaking series with occasionally horrific moments, which copped numerous awards over the course of its run. Lionsgate's DVD anthology offers all seven seasons with their corresponding special features in an oversized clamshell container.
THE INSPECTION Blu-Ray (95 mins., 2022, R; Lionsgate): Elegance Bratton wrote and directed this autobiographical story of a young gay African-American man (Jeremy Pope) who decides, after being spurned by his mother, to join the Marines. His journey to self-discovery through basic training informs this well-acted A24 release, now on Blu-Ray (2.39, 5.1 DTS MA) with a Digital HD copy, deleted scenes, a featurette and commentary by Bratton.
---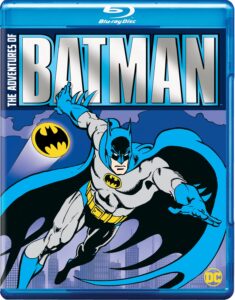 Also New & Noteworthy
THE ADVENTURES OF BATMAN Blu-Ray (378 mins., 1968-69; Warner): Anyone who grew up in the late '60s, '70s or even '80s was likely exposed to Filmation's cavalcade of Saturday morning cartoons which ran the gamut from "Tarzan" and "Zorro" to "Shazam!" and a number of DC adaptations. Chief among those were Filmation's animated adventures of Superman and Batman, the latter receiving his own solo series of Caped Crusader exploits with Robin tagging alongside, fighting Gotham crime against classic villains Mr. Freeze, The Joker, The Riddler, Scarecrow and others.
It's a simple yet nostalgic show – based off the general vibe of the live-action Adam West series, minus its wit – with Casey Kasem voicing Robin and Olan Soule as Batman/Bruce Wayne. The overall design is typical of the Filmation stable but with fairly engaging story lines that make it a breezy view from a time when super-heroes simply didn't have as much psychological baggage as they do today. Filmation fans and (very) young kids are likely to get the most mileage out of it.
Warner Home Video brings fans a superb Blu-Ray edition of "The Adventures of Batman" which preserves all 34 adventures (17 episodes) from the series in crystal clear, colorful 1080p (1.33) transfers and 2.0 DTS MA mono soundtracks. This is a gorgeous presentation with the two discs filling up the series' entire 1968-69 run, which would be split up into an assorted array of other Filmation anthologies throughout the following decade(s).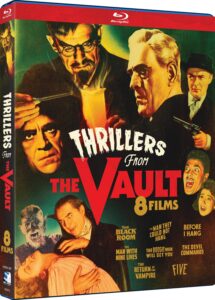 THRILLERS FROM THE VAULT Blu-Ray (Mill Creek): Excellent multi-disc Blu-Ray anthology houses Sony-licensed Boris Karloff '30s and '40s chillers including his full "Mad Scientist" run. These include "The Man They Could Not Hang," "Before I Hang," "The Man With Nine Lives," and "The Devil Commands" (produced between 1939-41). Also on-tap is the well-reviewed 1935 release "The Black Room" and a delightful comic pairing with Peter Lorre in 1942's "The Boogie Man Will Get You." The set is capped with two other Sony licensed catalog titles bearing less of a thematic connection: the Bela Lugosi vehicle "The Return of the Vampire" (1943, previously available in an Olive release) and the nuclear thriller "Five," making its domestic Blu-Ray premiere after Imprint's deluxe BD edition. Transfers are capable, the compression is just okay, but at least all-new extras have been included from a run of historian commentaries to the featurette "Madness and Mayhem: Horror in the '30s and '40s."
Also New From Mill Creek are two new entries in the label's popular Retro VHS slipcover Blu-Rays. THE FAN (116 mins., 1996, R) was a disappointing Tony Scott production with Robert DeNiro recycling "Taxi Driver" as a psycho fan who's grafted onto baseball star Wesley Snipes. PROBLEM CHILD (81 mins., 1990, PG), on the other hand, was one of the surprise hits of the Summer '90 box-office season, starring John Ritter as a yuppie whose seven-year-old adopted son (Michael Oliver) brings about a comedic variation on "The Bad Seed." Both movies include 1080p (2.35/1.85) transfers, DTS MA sound and those fun throwback slipcovers.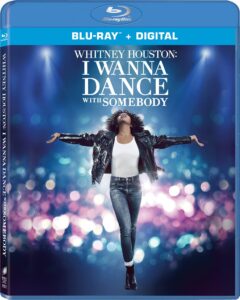 WHITNEY HOUSTON: I WANNA DANCE WITH SOMEBODY Blu-Ray (144 mins., 2022, PG-13; Sony): Agreeable if standard-issue biopic of the late superstar songstress Whitney Houston from director Kasi Lemmons and writer Anthony McCarten hits most of the same narrative notes as McCarten's "Bohemian Rhapsody," charting the peaks and valleys of Houston's career with ample music from her storied discography. Naomi Ackie does a good job as Houston with Stanley Tucci as Arista record label head Clive Davis, but the movie being "authorized" by Houston's family means the end result doesn't dive nearly as deep into her troubled home life and substance abuse issues as it ought to – especially at that running time. Sony's Blu-Ray (2.39, 5.1 DTS MA) looks and sounds great with format-exclusive deleted scenes and featurettes included alongside a Digital HD copy.
WOMEN TALKING Blu-Ray (104 mins., 2022, PG-13; Orion/Universal): Miriam Toews' acclaimed novel was brought to the screen by writer-director Sarah Polley, who in turn receives a number of fine ensemble performances from the likes of Rooney Mara, Claire Foy, and veterans Judith Ivey and Frances McDormand. The film itself, though, is a little bit of a slow burn – a really slow burn – focusing on a scandal that occurred in a Bolivian community of Mennonites over a decade ago, unfolding at a languid pace with often preachy, unconvincing dialogue. Universal's Blu-Ray (2.76:1, 5.1 DTS MA) is out this week featuring a DVD and Digital HD copy.
NOTHING IS IMPOSSIBLE DVD (106 mins., 2022, Not Rated; Sony): David A.R. White plays Scott Beck, a former promising basketball star dealing with his ill father and a tough job as a janitor at the school he once attended. Upon hearing the girl (Nadia Bjorlin) he once loved is now the owner of a local semi-pro basketball team, Scott decides to give both his lifelong dream – and the girl he lost – another chance. This inspiring faith-based film debuts on DVD this month from Sony (16:9, 5.1).
---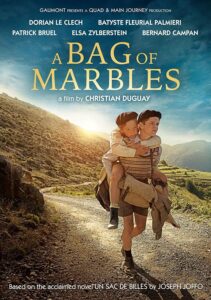 Quick Takes
THE RETALIATORS Blu-Ray (96 mins., 2022; Quiver Distribution): Indie horror movie features Michael Lombardi as a pastor trying to piece together the circumstances surrounding his daughter's brutal death – he ends up heading into an underworld he never knew existed in a stylish affair from directors Bridget Smith and Samuel Gonzalez, Jr. Boasting a score by "Stranger Things"' Kyle Dixon and Michael Stein, "The Retaliators" should get some mileage out of genre fans, with Quiver's now-available Blu-Ray offering a 1080p (2.39) transfer and 5.1 DTS MA sound.
THE ADVENTURES OF OZZIE AND HARRIET – Seasons 9 and 10 DVD (aprx. 14/11 hours, 1960-62; MPI): One of the seminal sitcoms of the early days of television, "Ozzie and Harriet" ran for some 14 seasons on ABC, broadcast from the early '50s through the birth of the "mod" era of the mid-late '60s. With husband and wife Ozzie and Harriet Nelson playing themselves along with sons David and Rick, this situation comedy managed to showcase the clan – and the on-screen adolescence of the Nelson kids – in gently amusing, conventional story lines that laid the groundwork for many, many family shows to follow.
Even though the series ran for some 435 (!) episodes, it was never as visible in syndicated reruns as the likes of "Leave It to Beaver." Authorized by the Nelson estate, MPI has completely remastered the series from the original film negatives here and given those of us who never really latched onto the show a new chance to enjoy its amusing comedic antics. Separate Season 9 and 10 DVDs are now available from MPI, each offering, plenty of family-friendly entertainment to spare from the series' 1960-62 seasons.
Film Movement New Releases: Christian Duguay's A BAG OF MARBLES (113 mins., 2017) is a well-received adaptation of Joseph Joffo's autobiographical book of the same name, following a pair of young Jewish brothers who head into the French "free zone" to try and reunite with their brothers after the Nazis invade Paris. A moving and poignant film that debuts on DVD in the U.S. from Film Movement featuring a 16:9 (2.39) transfer and 5.1/2.0 French soundtracks, subtitled in English…Hadas Ben Aroya's ALL EYES OFF ME (89 mins., 2023) is a character-driven Israeli drama focusing on a number of young characters and their sexual/interpersonal relationships with each other. Film Movement's DVD offers a 16:9 (1.85) transfer, 5.1/2.0 Hebrew audio and English subtitles, and Lena Hudson's short movie "Daddy's Girl."
HOUSE PARTY DVD (100 mins., 2023, R; Warner): Feeble attempt to revive the '90s comedy series with a new cast as Tosin Cole and Jacob Latimore work as house cleaners at the same time they hope to open their own club. After finding out the mansion they're cleaning belongs to LeBron James, the duo opt to stage a secret party in a film produced by James which, under the direction of "Calmatic," results in tepid laughs and a concept that isn't as much fun as the New Line Kid 'N Play comedies that preceded it. Warner's DVD (16:9, 5.1) is out now.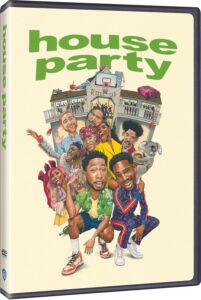 LEGEND OF GATOTKACA Blu-Ray (120 mins.; Well Go USA): Hi-Yah! Original debuts on Blu-Ray March 21st from Well Go. In this Indonesian import, a college student discovers he may be the key player in a long-standing, secret battle between Good and Evil – this after watching his best friend murdered by a mysterious individual with supernatural powers. This interesting foreign variation on standard super-hero tropes includes a good-looking 1080p transfer here with Indonesian DTS MA audio and English subs, or an English dub track…Coming March 28th from Well Go is a Hong Kong import, CODE OF THE ASSASSINS (119 mins., 2023), a period adventure about a young assassin quickly embroiled in a conspiracy after he's sent out on his first mission. Stylish action marks this production from the director of "14 Blades" and "Dragon Blade," as Well Go unleashes a Blu-Ray later month sporting a 1080p transfer and DTS MA Mandarin sound with English subtitles.
LEONOR WILL NEVER DIE Blu-Ray (99 mins., 2022; Music Box): Shades of "Everything Everywhere All At Once" in Martika Ramirez Escobar's picture about a former Filipino actress who's thrown into a coma while reading an unfinished script, leading to her blending fantasy and reality as elements from the story and her own life intertwine. Well-intentioned but not entirely successful, "Leonor Will Never Die" hits Blu-Ray (1.85, 5.1 DTS MA Filipino with English subtitles) this week sporting commentary from the director, a Making Of video journal, featurette and more.
---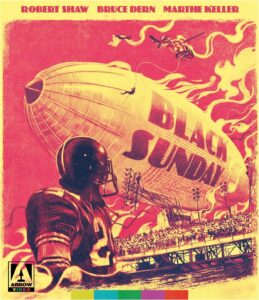 New From Arrow
BLACK SUNDAY Blu-Ray (143 mins., 1977, R; Arrow): Long-overdue U.S. Blu-Ray release of John Frankenheimer's suspenseful (if slightly overlong) 1977 thriller delivers the goods for fans who have been eagerly awaiting the movie's HD debut. Based on the novel by Thomas Harris (best known for "Silence of the Lambs"), "Black Sunday" is sometimes erroneously grouped into the '70s disaster genre, and occasionally confused with the tepid Charlton Heston flick "Two Minute Warning." While that picture focused on sniper attacks at a football game, "Black Sunday" sports a plot by terrorists Bruce Dern and Marthe Keller to crash a blimp filled with a deadly gas into the Super Bowl. Robert Shaw plays the Israeli commando who uncovers the plot and comes to America to prevent it from happening, in an entertaining picture that has very little in common with most of the all-star Irwin Allen spectacles being cranked out at that time.
For starters, "Black Sunday" benefits enormously from Frankenheimer's no-frills, realistic direction: the movie has moments of violent action alternating with a documentary-like approach to the story. None of the movie feels overly programmed or dated (save for the finale's poor special effects), with the director's fresh approach separating it from similarly-themed fare like "Two Minute Warning." The performances are equally no-nonsense (Dern is appropriately deranged in a low-key manner), and John Williams' score becomes a major asset as the film progresses to its memorable climax, which was mostly shot at the Orange Bowl during Super Bowl X.
Arrow's Blu-Ray has a high bit-rate encoding (2.35) and is superbly encoded as per the label's typical releases. This is an older but respectable Paramount catalog master and offers the original mono audio, though unless you're just a purist, Paramount's outstanding 5.1/2.0 stereo remixes, which open up Williams' score, are infinitely preferable. Light extras include a commentary by Josh Nelson, a half-hour video essay on the film, and the enjoyable 2003 vintage doc "The Directors" on Frankenheimer's career (Imprint's limited-edition Blu-Ray includes a different commentary and extras including Daniel Schweiger's retrospective on Williams' score).
NEXT TIME: Imprint's latest! Until then, don't forget to drop in on the official Aisle Seat Message Boards and direct any emails to our email address. Cheers everyone!