One of director Roman Polanski's most satisfying and lyrical films, TESS (***½, 171 mins., 1979, PG) has been brilliantly restored in a gorgeous Criterion Collection Blu-Ray/DVD edition available February 25th.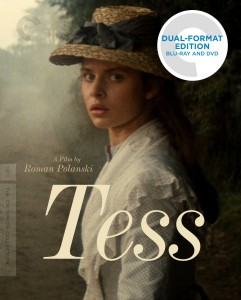 Nastassja Kinski stars as Tess of the "D'Urbervilles" – a British peasant family trying in vain to reclaim the lost aristocracy of their lineage – in this adaptation of the Thomas Hardy novel, which is blessed by a gorgeous Philippe Sarde score and Oscar-winning Geoffrey Unsworth/Ghislain Cloquet cinematography that's something out of a storybook. The presentation is so romantic and cinematic that the viewer is likely to be swept up in the melodramatic story, which is further enhanced by solid performances across the board, particularly by Peter Firth as Angel, Tess' eventual husband and true love – but even he, like other men Tess encounters in the 19th century English countryside, ultimately shuns her for the sins of her unfortunate past.
"Tess" has always been regarded as one of Polanski's best films, and with good reason: its sense of time and place, even with French locales standing in for Hardy's rural England, is breathtaking and inspiring to behold. Unsworth died during shooting, necessitating Cloquet to come in and finish the picture, but it's hard to detect a difference between their shooting styles, where every scene seems to be framed like a painting. It's a stark contrast to the miserable arc of Tess' life, which finds her trapped in both an economic system about to change – with machines taking over for the poor farmers by the film's end – and a class system driven by men who constantly take advantage of her. Kinski is luminous in a movie that looks and feels "lived in," and is as exuberant a film as can be made from source material that is unrelentingly depressing.
It took years for "Tess" to be released on home video in North America in its original Panavision widescreen format – something that's absolutely essential to appreciating the film's artistry. Sony's DVD was released in 2004, bringing with it a series of excellent supplements but a fairly disappointing transfer. Since then, Pathe in France restored the picture in 4K, leading to Blu-Ray releases in several European territories over the last couple of years.
Criterion's Blu-Ray/DVD dual-format release is culled from Pathe's restoration, and it's just spectacular to behold. The image is perfectly rendered with fine detail, black levels and colors – far surpassing any prior U.S. home video release. Interestingly, this Polanski-approved transfer is a bit different than the UK Blu-Ray release from the BFI, which is a bit brighter. The Criterion release, by comparison, seems better balanced visually and also trumps the BFI disc in terms of audio: the 5.1 DTS MA soundtrack here boasts a bolder sound stage than the BFI's PCM stereo audio and vanilla 5.1 Dolby Digital mix.
The Criterion release also bests the competition in terms of extras, including an hour-long vintage episode of England's "The South Bank Show" interviewing Polanski; a 45-minute French TV documentary on the making of picture; and a 2006 documentary, "Once Upon a Time…Tess," all of which include a bevy of behind-the-scenes footage.
The disc also carries over the three-part 2004 DVD documentary by Laurent Bouzereau that covers all facets of the film's production. Incorporating then-recent interviews with Polanski, Kinski, producer Claude Berri, and other crew members, this 75-minute featurette is an excellent "Making Of" that deftly dissects the production and should be essential for all aficionados of the picture. Bouzereau's effort covers the film from pre-production through its American release, which at one point was supposed to have been in a specially re-cut version co-supervised by Francis Ford Coppola (both proposed attempts at shortening the film for the American market were ultimately, and thankfully, discarded).
Criterion's dual-format package also offers the same extras spread across two DVDs – a marvelous presentation of a supremely memorable, haunting film.
---
GRAVITY Blu-Ray Combo Pack (***½, 91 mins., 2013, PG-13; Warner): Now here's a movie.
Alfonso Cauron's captivating "Gravity" chronicles the life-or-death struggle of a female astronaut (Sandra Bullock) who has to fend for herself after an accident destroys the space shuttle, leaving her stranded in space with no help and a rotating storm of rubble about to clock her position every 90 minutes.
There's not a lot to talk about here in terms of story – "Gravity" is a tidy, 90-minute tale of survival, one that demands to be seen on as large a screen as possible, just so one can appreciate the amazing level of detail in the cinematography and special effects. Cauron balances tension with humanity brilliantly, but there's no overdosing on cerebral thought (don't worry, this isn't George Clooney's "Solaris," despite the actor's second-billed supporting turn here) — just a straight-ahead, white-knuckle thriller with an ending that's just spectacular and perfect in every sense. A real, genuine cinematic experience that's unquestionably one of 2013′s best films.
Warner brings "Gravity" to Blu-Ray next week. I saw the film in 3-D theatrically and would recommend that version over the studio's standard Blu-Ray/DVD combo pack, as "Gravity" was actually designed for the 3-D format and plays most effectively in stereo. The 2D transfer is still outstanding but lacks the depth, naturally, of the 3-D print. On the supplemental side, Warner has included more extras than usual – nearly three hours of content detailing the meticulous production of the film. The 5.1 DTS MA audio is brilliantly engineered and constantly active, placing you into the midst of Bullock's plight and never letting up.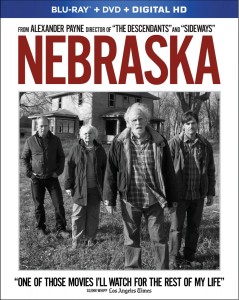 NEBRASKA Blu-Ray Combo Pack (***½, 114 mins., 2013, R; Paramount): In a role originally intended for Gene Hackman, Bruce Dern gives a superb performance as an 80-something who believes he has won a million dollars and – come hell or high water – intends on traveling to Lincoln, Nebraska to collect it…even if it means walking from his home in Billings, Montana. His stubborn refusal to listen to his frustrated wife (June Squibb) and long suffering son David (Will Forte) is a constant irritation to the family, though an eventual road trip between David and his father – with a stop in his rural, rundown Nebraska hometown – does open the son's eyes to who his father was and is, where he came from and the people who colored his world.
With a wistful script by Bob Nelson that never succumbs to melodrama, "Nebraska" is one of the best movies of last year — funny but not cynical, moody but not maudlin, realistic and well-acted, it's yet another terrific film from director Alexander Payne. The "Descendants" director once again is able to show "real people" in a non-judgmental way and tackle adult issues (in this case, aging, family dysfunction, relationships and the past) without becoming preachy or obvious. His gift of understatement serves him well in a memorable film that's quietly poignant and filled with wry observations – both comic and bittersweet. Accentuating the picture is Phedon Papamichael's stark black-and-white scope cinematography, which brilliantly captures harsh yet oddly comforting small towns of the rural midwest that have seen better days.
Paramount's Blu-Ray of "Nebraska" streets on February 25th and offers a gorgeous 1080p AVC encoded transfer with 5.1 DTS MA audio, the latter highlighted by a suitable Mark Orton score. Extras include an insightful half-hour featurette with a DVD and digital copy rounding out the release.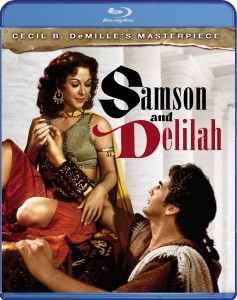 SAMSON AND DELILAH Blu-Ray (***, 133 mins., 1949; Paramount): Paramount's lavish 4K restoration of Cecil B. DeMille's Biblical epic with Hedy Lamarr and Victor Mature was released on DVD a year ago, looking exceptionally detailed for standard-definition but leaving high-def owners hungering for a Blu-Ray edition. That BD belatedly hits stores March 11th from Paramount, offering even stronger evidence of the outstanding HD restoration that was performed on DeMille's 1949 production. The Dolby TrueHD mono audio replicates the original theatrical soundtrack without any added 5.1 bells and whistles, though regrettably, the disc is as barebones as its DVD counterpart when it comes to supplements.
OLDBOY Blu-Ray (*½, 104 mins., 2013, R; Sony): Tepid American remake of the South Korean smash stars Josh Brolin as Joe Doucett, a man kidnapped and framed for the murder of his ex-wife. With his young daughter left to be adopted, Joe is imprisoned for years, driven by revenge and eventually waking up in a field – where he proceeds to rise from the grave, just in time to track down those he believes are responsible for the crime.
Spike Lee directed "Oldboy," which is stylishly filmed but, ultimately, a hollow re-do of its predecessor. Mark Protosevich's script rehashes the major points of Park Chan-wook's original film, but the story – bonkers as it is – feels out of place in its contemporary Louisiana setting (surely chosen for its filmmaking tax incentives more than any creative reason). Perhaps some of that was due to Filmdistrict having re-edited Lee's reported 140-minute cut down to 105 minutes, leaving chunks of character development on the cutting room floor (note this one is just a Spike Lee "film" and not a "joint"). Either way, "Oldboy" – which failed to generate any kind of audience upon its release last November – is just another remake that didn't need to exist in the first place.
Sony's Blu-Ray of "Oldboy," out March 4th, includes Blu-Ray exclusive deleted/alternate scenes and a couple of featurettes, plus a Making Of, 1080p transfer, DTS MA 5.1 soundtrack and Ultraviolet copy.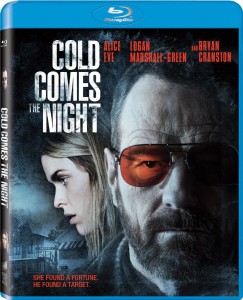 COLD COMES THE NIGHT Blu-Ray (**, 90 mins., 2013, R; Sony): Competent if unremarkable thriller wastes the considerable talents of Bryan Cranston as a bank robber who takes the proprietor (Alice Eve) of a small roadside hotel hostage along with her young daughter (Ursula Parker), in the hopes of retrieving his loot from a corrupt cop (Logan Marshall-Green) who's engaged in an abusive relationship with Eve's single mom.
Director Tze Chun invests "Cold Comes the Night" with some visual panache considering the project's low-budget trappings. His script, written with Osgood Perkins and Nick Simon, seems a bit abrupt, though, leaving Cranston and Eve to do what they can with mostly thinly-rendered characters. It's all watchable but instantly forgettable.
Available March 4th, "Cold Comes the Night" comes to Blu-Ray in a 1080p transfer sporting a few deleted scenes and DTS MA 5.1 audio.
THE SWAN PRINCESS: A ROYAL FAMILY TALE Blu-Ray/DVD (83 mins., 2014, G; Sony): Animator Richard Rich generated one of his biggest successes with the '90s animated film "The Swan Princess," which has spawned so many home-video sequels that everyone (including the producers) seems to have lost count. This latest upbeat, colorful tale for kids brings back Princess Odette and Derek, who here adopt a young girl named Alise. The kingdom falls head over heels for the young princess but a group of squirrels believe she might be part of an old prophecy in "A Royal Family Tale," requiring old friends Jean-Bob and Speed to help track her down. Sadly rendered with pedestrian CGI instead of the hand-drawn animation of the original, this Rich-directed production is likely to appeal only to (very) young children, who won't mind the visual shortcomings of the piece. Sony's Blu-Ray combo pack includes two sing-along songs, an Ultraviolet copy, DVD, 1080p AVC encoded transfer and 5.1 DTS MA audio.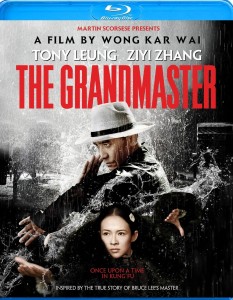 THE GRANDMASTER Blu-Ray (**½, 108 mins., 2013, PG-13; Weinstein/Anchor Bay): The true story of "Ip Man," the influential martial arts master, Wing Chun grandmaster and mentor (Bruce Lee was one of his pupils) – whose martial arts expertise was put to the test when the Japanese occupied China during the late '30s – has already been rendered on-screen several times, most recently in several Hong Kong films starring Donnie Yen.
This expensive new HK/Chinese co-production treads over similar ground with grander visuals and a cast including Tony Leung as Ip Man and Ziyi Zhang as Gong Er, the daughter of a rival Chinese martial arts master. However, the film is a bit choppy, something that can be attributed to the 130-minute Hong Kong version having been re-edited by the Weinstein Company for the U.S. This Americanized cut apparently isn't just shorter but also offers several sequences not contained in the HK print, as well as a number of differences in scoring (Nathaniel Mechaly is credited along with Shigeru Umebayashi with the music). Having never seen the original version, I can only say that while martial arts fans may be captivated by the oft-told tale of Ip Man, the movie dramatically doesn't pack the same punch as the Yen version, despite having a grander budget at its disposal.
Anchor Bay's Blu-Ray includes several behind the scenes featurettes – a conversation with Bruce Lee's daughter Shannon among them – plus a 1080p transfer and 5.1 DTS MA soundtrack.
LOST IN THAILAND Blu-Ray (106 mins., 2012, Not Rated; Well Go): Billed as China's answer to "The Hangover," this highest-grossing film in Chinese box-office history stars Xu Zheng and Huang Bo as businessmen vying for a fuel patent, when Zheng is delayed in Bangkok and ends up traveling with Wang (Wang Baogjang), this version's resident John Candy/Zach Galifinakis, in order to find his boss. Not a lot of surprises are on-hand in "Lost in Thailand," but this goofy film crashes through the language barrier with an infectious energy just the same. Well Go's Blu-Ray, out this week, includes a Making Of, the trailer, 1080p transfer, and DTS MA audio in Mandarin with English subtitles.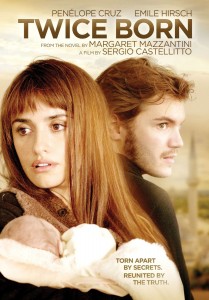 TWICE BORN DVD (127 mins., 2013, R; E One): Margaret Mazzantini's Italian novel becomes an epic feature under the guidance of Sergio Castellitto. Penelope Cruz stars as an Italian professor who heads to war-ravaged Sarajevo with her son, in order to better understand the tragic circumstances surrounding her late husband's death during the Bosnian crisis. Emile Hirsch plays her husband during flashback sequences in this sprawling, well-acted Italian production, newly released on DVD by E One. The label's disc includes interviews with Castellito and Cruz, a 16:9 transfer and 5.1 soundtrack.
YOU WILL BE MY SON Blu-Ray (102 mins., 2012, R; Cohen Film Collection): In Gilles Legrand's operatic drama, Niels Arestrup plays Paul de Marseul, the aging proprietor of his family's vineyard, wanting to leave it to his son Martin (Lorant Deutsch) – but crestfallen by his general incompetence at the family business. Looking for a replacement, Paul meets Philippe (Nicolas Bridet), the son of his ailing estate manager, and seeks to make him his replacement. There's little subtlety in "You Will Be My Son," a French drama set in the present day but with almost Shakesperian themes of family conflict and tragedy worked into the mix. Cohen's Blu-Ray edition, out February 25th, includes deleted scenes, interviews with Deutsch and Legrand, the trailer, a DTS MA soundtrack and 1080p transfer, in French with English subtitles.
---
RAWHIDE: The Seventh Season Volumes 1 (aprx. 13 hours, 1964-65) and 2 (aprx. 13 hours, 1965; CBS): Eric Fleming returns as trail boss Gil Favor with Clint Eastwood as Rowdy Yates in the seventh season of the seminal TV western. Season 7 of "Rawhide" finds Favor, Rowdy and the gang saddling up for all kinds of adventures: Favor being kidnapped by some of the west's most wanted outlaws, Rowdy becoming a gunslinger's protege, and Favor arrested for a crime he didn't commit. It's the Old West in the 1860s – sanitized, obviously – in a series that's remained one of the most beloved of its genre. CBS brings "Rawhide"'s seventh season to DVD on March 4th in two separate volumes, each including four discs of old-time B&W entertainment and nearly 13 hours of action in each.
MAMA'S FAMILY Season 3 DVD (608 mins., 1986-87; Starvista/Time Life): Third season of the '80s hit sitcom offered big changes to the series. Canceled by NBC in 1985, the series moved (like fellow sitcoms "Charles in Charge" and "Too Close For Comfort") to first-run syndication in the fall of 1986, where "Mama's Family" would enjoy an even longer run. These later episodes found Mama, Vint and Naomi moving to Florida after Fran's passing (Rue McClanahan had taken up residence on "The Golden Girls" after the NBC run concluded) but with more of the same kind of "rural" laughs involved. Guest stars include Betty White, Dr. Joyce Brothers, Brent Spiner, Bobi Osterwald, Lewis Arquette and Jack Dodson.
Starvista's Season 3 edition of "Mama's Family" boasts a number of special features, including "Family History," a classic sketch from "The Carol Burnett Show" that inspired "Mama's Family"; a featurette, "Mama's Family Tree: The Sprouts"; "Mama Knows Best: A Mama's Family" Cast Reunion; and an interview with Allan Kayser.
LEGIT Season 1 DVD (286 mins., 2013; Fox): FX series stars Australian comic Jim Jefferies as a rough stand-up performer trying to make a go of it in Los Angeles. Along with his wheelchair-bound brother (DJ Qualls) and best-friend/roommate (Dan Bakkedahl), Jim attempts to do the right thing but is constantly undercut by his inability to stay out of trouble. Politically incorrect in its various episodes (Jim tries to pick up women at a gay bar in one show, parties with the mentally challenged in another), "Legit" is pretty funny nevertheless, even if it strains to be "outrageous" like many cable comedies. Fox's two-disc DVD set boasts the complete first season of "Legit" in 16:9 transfers with 5.1 audio. Extras include a Director's Cut of the pilot; episode commentaries; deleted scenes; a gag reel; and other goodies.
---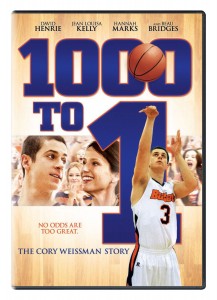 Cinedigm New & Upcoming Releases
1000 TO 1: THE CORY WEISSMAN STORY DVD (98 mins., 2013, Not Rated; Cinedigm, Available March 4th):Inspirational story of Corey Weissman, a high school basketball star who suffered a stroke at the end of his freshman year at Gettysburg College. Michael Levine's film recounts Weissman's struggles and triumphs to recover spiritually and physically, with a fine performance from Luke Kleintank as Weissman grounding the picture. Cinedigm's DVD includes a 16:9 transfer and stereo soundtrack.
GIRL RISING DVD (103 mins., 2012, PG-13; Cinedigm, available March 4th): Documentary from director Richard E. Robbins follows the lives of nine different girls in various countries around the world, and their efforts to overcome their struggles in their respective geographic surroundings. Cate Blanchett, Anne Hathaway and Meryl Streep narrate several of these individual stories, which are collected into an inspirational piece coming to DVD on March 4th from Cinedigm. The label's DVD includes a welcome from Robbins, outtakes and two featurettes, plus a 16:9 transfer and stereo soundtrack. Now available from Cinedigm is a double feature of RED FLAG and RUBBERNECK, two indie films from director/star Alex Karpovsky, presented in 16:9 transfers and 2.0 stereo soundtracks.
Coming from Cinedigm next month are THE BROKEN CIRCLE BREAKDOWN (70 mins., 2012), a Finnish drama about a couple (Veerie Baetens and Johan Heldenbergh) who fall in love in part through their shared love of American music and pop culture. Cinedigm's DVD includes an interview with director Felix van Groeningen, a 16:9 transfer and 5.1 soundtrack in Finnish with English subtitles…Wes Bentley and Frank Langella star in THE TIME BEING (88 mins., 2012), Nenad Cicin-Sain's well-shot drama about a millionaire (Langella) who purchases several paintings from struggling artist Bentley, sending him on a series of unusual surveillance assignments thereafter. Cinedigm's DVD includes an interview with the director, 16:9 transfer and 5.1 soundtrack…available March 4th, THE KNOT (92 mins., 2011, Not Rated) is an ensemble comedy staring Matthew McNulty, Telulah Riley and Mena Suvari. Cinedigm's DVD includes a 16:9 transfer and 5.1 Dolby Digital soundtrack.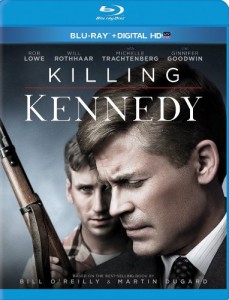 JFK: THE SMOKING GUN DVD (86 mins., 2013, Not Rated; Cinedigm): Documentary from director Malcolm McDonald attempts to "break new ground" in the assassination of JFK by examining evidence presented by experts culled from a multi-year investigation. Some reenactments are used to spice up this Canadian/Australian co-production based on Colin McLaren's book. Cinedigm's DVD, out March 11th, includes a forensic evidence gallery, behind-the-scenes clips, a 16:9 transfer and 5.1 soundtrack.
More viewers are likely aware of KILLING KENNEDY (87 mins., 2013, Not Rated; Fox), the National Geographic Channel's dramatization of Bill O'Reilly and Martin Dugard's nonfiction bestseller. Rob Lowe does a commendable job here as JFK with Michelle Trachtenberg a standout as Oswald's wife, though Ginnifer Goodwin seems like she wandered in off the wrong set as Jackie O. The telefilm is breezy and watchable but, at only 87 minutes, doesn't make much of an overall impact. Fox's Blu-Ray includes an extended version of the picture plus a handful of behind-the-scenes featurettes, a 1080p transfer and 5.1 DTS MA soundtrack, with Geoff Zanelli scoring the film for producer Ridley Scott. Also new from Fox is STRAWBERRY SHORTCAKE: BERRY BIG HELP (66 mins., 2013), a DVD compiling three episodes from the TV series: Babysitter Blues, A Stitch in Time, and Fish Out of Water. Bonus coloring pages and an Ultraviolet copy are also included in Fox's DVD.
New From Lionsgate: POMPEII: THE DOOMED CITY (aprx. 135 mins., 2005-2007) is comprised of three programs from the History Channel: "Digging For the Truth: Pompeii Secrets Revealed," "History's Mysteries: Pompeii," and "Mega Disasters: The Next Pompeii?", in full-screen (1.33:1) and stereo soundtracks. The DVD is obviously timed to coincide with the release of Paul W.S. Anderson's "Pompeii" picture...Robin Shou and Verdy Bhawanta star in MORTAL ENEMIES (103 mins., 2013, R), a thriller about a pair or orphans who find themselves, years later, on opposite ends of the fence when his fiancee is kidnapped, on vacation, by pirates. Lionsgate's DVD includes a 16:9 (2.35) transfer, 5.1 Dolby Digital soundtrack and an Ultraviolet copy...SNOWFLAKE THE WHITE GORILLA (86 mins., 2013, PG) is a kids' animated flick from France, poorly voiced by an American cast including David Spade, Christopher Lloyd, Ariana Grande and Jennette McCurdy. That said, youngsters aren't likely to mind the techical issues, with Lionsgate's DVD including a cast recording featuette, four bonus episodes, trailer gallery, 16:9 transfer and 5.1 soundtrack.
PULLING STRINGS (118 mins., 2013, PG) is a mostly-Spanish language picture starring Jaime Camil and Omar Chaparro as mariachi singers looking for fame and fortune in Mexico City. Laura Ramsey co-stars along with Tom Arnold and Stockard Channing. Lionsgate's DVD includes a 16:9 transfer and 5.1 soundtrack...One of Paul Walker's last films, HOURS (97 mins., 2013, PG-13) finds the late star as an expectant father who has to find a ventilator in order to keep his newborn alive, just as hurricane Katrina hits, in Eric Heissrer's film, co-starring Genesis Rodriguez. Walker also produced this independent drama which Lionsgate brings to DVD March 4th featuring a bonus music video, Ultraviolet copy, 16:9 transfer and 5.1 soundtrack...LAST STAND OF THE 300 & OTHER FAMOUS GREEK BATTLES (266 mins., 2004-09) is a two-disc DVD compilation of History Channel specials "Last Stand of the 300," "Decisive Battles: Marathon," "Decisive Battles: Thermoplyae," "Troy: The Passion of Helen," "Battles BC: Judgement Day at Marathon," and "Battles BC: Alexander, Lord of War," all presented in full-screen transfers with 2.0 stereo audio...BIBLE SECRETS REVEALED (270 mins., 2013) includes six History Channel specials: Lost in Translation, The Promised Land, The Forbidden Scriptures, The Real Jesus, Mysterious Prophecies, and Sex and the Scriptures. 16:9 transfers and 2.0 stereo soundtracks comprise Lionsgate's two-DVD set.
NEXT TIME: The latest from Twilight Time, including a pair of Woody Allen titles and THUNDERBOLT AND LIGHTFOOT. Until then, don't forget to drop in on the official Aisle Seat Message Boards and direct any emails to our email address. Cheers everyone!