Message Board - Come and Discuss The Latest Videos, Movies & Anything Else!
Soon after George Miller's "Mad Max" and "The Road Warrior" burst onto the cinematic landscape in the early '80s, a whole new genre was born where warring gangs ruled the roads, fighting for gasoline and whatever scraps of food were left behind by scavengers. Many of those imitators have been (deservedly) forgotten as the years have passed, yet the MAD MAX TRILOGY itself remains a favorite of fans, with Miller's brilliantly edited set-pieces keeping viewers enthralled despite the familiar settings of its post-apocalyptic wasteland.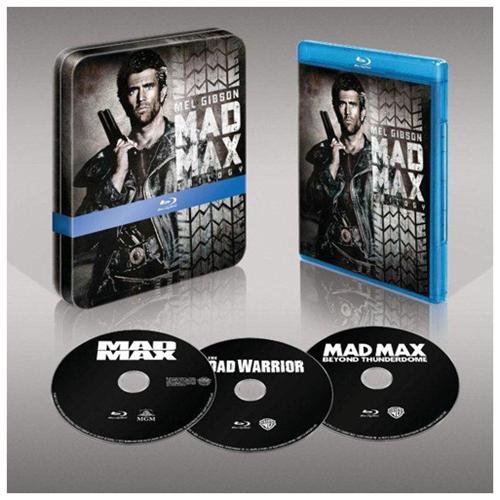 Warner Home Video's newly-released Blu-Ray box-set of the "Mad Max Trilogy" offers – in a single, three-disc Blu-Ray case (housed inside a slightly unattractive oversized tin) – a reprise of MGM's original "Mad Max" BD; a new AVC encode of "The Road Warrior," premiering here with a DTS MA soundtrack; and the HD debut of the third film in the series, "Mad Max Beyond Thunderdome."
The original MAD MAX (***½, 88 mins., 1979, R) finds Mel Gibson launching his career as a tough cop in a world where unhinged loonies – including Hugh Keays-Byrne as the nefarious "Toecutter" – attack unsuspecting motorists and innocent civilians. Max's battles with his own bosses – desperately hoping to keep "heroes" on the road – are contrasted with the violent attacks of the gangs, and once Max's partner is killed and his wife and child targeted by the thugs, Max turns from desperation to anger in a soon-to-be-post-apocalyptic society quickly spiraling out of control.
Though "Mad Max"'s world is only semi-futuristic compared to the films that followed, it's still a bleak, and captivating, environment that Miller captured on-screen – particularly considering the era in which the movie was originally released. The various car chases and action sequences deliver the goods, and while the picture – penned by Miller and producer Byron Kennedy from James McCausland's original story – isn't as compelling or tightly packaged as the film's immediate sequel, the original "Mad Max" remains one of the most important productions to originate Down Under. The picture ignited Gibson and Miller's respective careers, single-handedly ushered in a whole genre of similarly-themed cash-ins, and along with the works of Peter Weir, announced the Aussie film industry as a major player in world cinema.
It's also a movie that's perpetually had to shake off a nagging reputation that it's inferior to its sequel – something not helped by the fact that many of us originally saw the film second, after "The Road Warrior" was released, and usually in lousy TV prints at that. With its widescreen Todd-AO dimensions cropped, and its original Aussie dialogue dubbed by Samuel Arkoff's American-International, it's no wonder "Mad Max" came off for many years as the weaker sibling compared to "The Road Warrior." Still, taken on its own terms as an appetizer before the main course, and with its technical trappings restored, it's an involving, memorable picture with striking directorial choices.
MGM's Blu-Ray here boasts the same exact presentation as its prior BD release. The 1080p AVC encoded transfer offers an appreciable enhancement over its decade-old Special Edition DVD, limited only by the occasional griminess of its source materials, while most of the potent extras from that release have been carried over, including a 25-minute retrospective documentary and an insightful audio commentary featuring cinematographer David Eggby, Jon Dowding, Tim Ridge and Chris Murray. These extras, along with the U.S. trailers, are on-hand, plus a remixed DTS MA soundtrack of the original Aussie dialogue and Brian May's occasionally bombastic score (the American-International U.S. dubbed track is also included in its original mono).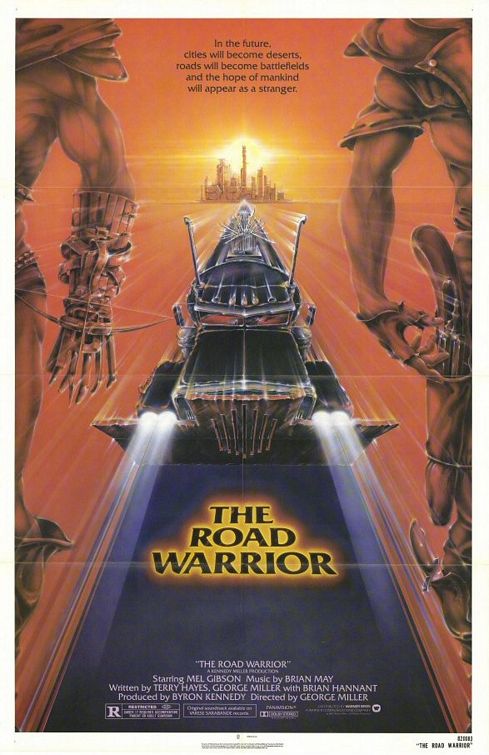 One of the best looking Blu-Ray catalog releases, "Max"'s sequel, THE ROAD WARRIOR (****, 94 mins., 1981, R), has now been surpassed by a remastered Warner Blu-Ray that's even better than its predecessor, though more so for an augmented audio track than its slightly enhanced visuals.
Gibson returns here as a more haunted, grizzled Max, with the world now completely dominated by punks while bands of humanity attempt to survive in the wasteland. Miller, Terry Hayes and Brian Hannant's script works in elements of classic westerns like "Shane" as Max reluctantly bands together with the survivors – including Bruce Spence's Gyro Captain – to ward off the villains.
"The Road Warrior" has always been one of my favorite films of the early '80s – an improvement on the original "Mad Max" in every way (from Miller's direction to Gibson's performance and Brian May's more sophisticated, richer score) and a driving, thrilling piece of sci-fi action that's never been duplicated in its genre. Its straightforward story, lack of extraneous dialogue and subplots, emphasis on the pursuit and energy of its chase sequences, and the brilliant editing and choreography of those set-pieces makes it an all-time classic – a movie that stands alone from its bookending pictures as a spectacular piece of filmmaking.
Working from the original negative, "The Road Warrior" looked great on the prior Blu-Ray and has been improved by superior AVC encoding here, though in general, the two transfers look roughly the same. As with before, Dean Semler's rugged, atmospheric cinematography is enhanced by high-def, with eye-popping colors and detailed textures on-hand at every turn; it's a dazzling transfer of a film that demands to be seen this way, or not at all. The audio here also receives an upgrade with a lossless DTS MA mix (the prior Blu-Ray's audio was rendered as a basic 5.1 Dolby Digital track) that rumbles with bass and a superb soundstage for May's musical output.
The disc otherwise is identical to the original Blu-Ray, with a pair of exclusive-to-HD extras included: a commentary track with George Miller and Dean Semler, along with a brief introduction from Leonard Maltin that puts the movie into the context of its other series films, plus the original trailer.
The worldwide success of "The Road Warrior" – and in particular its breakthrough performance at the U.S. box-office in 1982 – lead to another sequel, this time augmented by a larger budget afforded by its predecessor's commercial success.
Deciding to go in something of a different direction, George Miller opted to turn MAD MAX BEYOND THUNDERDOME (**½, 107 mins., 1985, PG-13) into something of a more "emotional" piece less driven by violence and high-octane set-pieces. Miller and writer Terry Hayes took a cue from Max's arc in "The Road Warrior" and turned him into a slightly more charismatic, "Man With No Name" sort here, with Max stumbling into a post-apocalyptic village named "Bartertown." There, a political struggle ensues between leader Aunty Entity (Tina Turner) and the diminutive "Master" (Angelo Rossitto), who's the only one (apparently) who understands how to produce methane to power the town. Aunty strikes a deal with Max to knock off Master's physical bodyguard "Blaster," but circumstances eventually send Max off into the wasteland again, where he finds a "Lord of the Flies" type community of youngsters waiting for the messianic "Captain Walker" to return.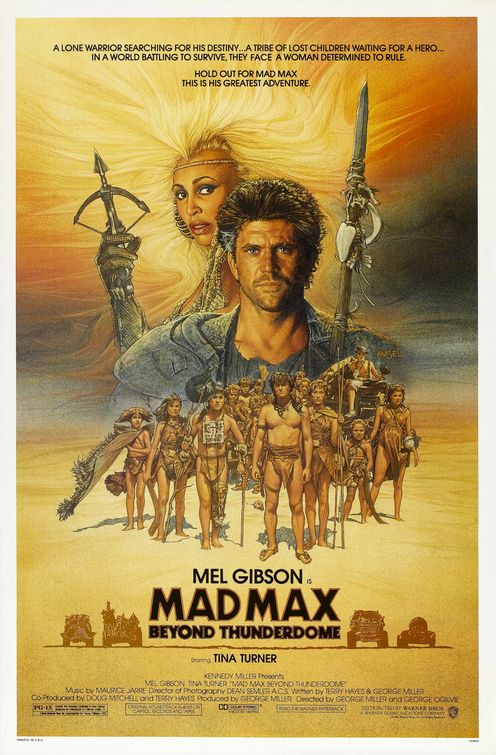 Miller co-directed "Thunderdome" with associate George Ogilvie, something that might explain the uneven pacing of this more ambitious, though decidedly least successful, of the "Mad Max" series. There are a pair of dynamite set-pieces on-hand when Max takes to the Thunderdome to battle the hulking Blaster, and Miller caps the film with one last, stirring chase with Max and the young refugees trying to escape from Aunty's gang on a train. As potent as these moments are, however, they're surrounded by a meandering mid-section where Max finds the castoff children, who look as if they've come out of the William Golding novel by way of the Ewoks in "Return of the Jedi." Their society isn't nearly as developed as it should've been, and for a group of naive youngsters who presumably haven't encountered anything of the punk-driven outside world, why one of them actually drops an f-bomb when they re-enter Bartertown is patently nonsensical.
There's also an obvious lack of energy in "Mad Max Beyond Thunderdome" at times. The thrilling, fast-paced intensity of the earlier films is replaced here with a more deliberately paced fantasy approach, and for fans of "The Road Warrior," this PG-13 rated, decidedly less violent picture can be (and has often been written off as) a shock to the system. Even the production design of Bartertown seems uninspired, employing a "Temple of Doom"-like aesthetic that makes you think Mola Ram is going to pop out at any second.
Still, there are assorted pleasures to be found: Gibson exudes more of his natural charisma here, and this decidedly "looser" Max feels like a natural progression of the hardened warrior who rediscovered his humanity at the end of "The Road Warrior." Dean Semler's wide scope cinematography is once again stylish, and Turner brings sufficient life to her scenes as a scavenger who's recreated herself as the leader of Bartertown ("he's just a raggedy man!"). What's more, Maurice Jarre's glorious orchestral score helps to smooth over some of the picture's rough passages – with its sweeping scale and melodic interludes, "Thunderdome" is one of Jarre's strongest efforts from one of his most prolific periods (his marvelous "Enemy Mine" score would follow just a few months later). In fact, the climactic, 12-minute chase cue has to rank as one of Jarre's greatest in his esteemed career.
Although it's a definite comedown from "The Road Warrior," "Mad Max Beyond Thunderdome" is an admirable attempt at tweaking the formula established by its predecessors. Miller even manages to craft a surprisingly moving epilogue for the film as well, paying tribute to his late associate – producer Byron Kennedy – as the movie fades out and brings the original "Mad Max" trilogy to an emotionally satisfying close.
With only the theatrical trailer as an extra, "Mad Max Beyond Thunderdome"'s Blu-Ray debut comes in the form of a highly detailed 1080p AVC encoded transfer. The DTS MA soundtrack packs an impressive punch when Jarre's score takes center stage, though it's unfortunate his final cue was dialed in so low in the original mix.
With Miller having completed filming on "Mad Max: Fury Road" (apparently due for release sometime in 2014), it'll be interesting to see how the eclectic filmmaker – who hasn't directed a live-action film not aimed at children in 20 years – returns to the film series he's most remembered for.
---
Also New on Blu-Ray
OZ: THE GREAT AND POWERFUL 3D Blu-Ray Combo Pack (***, 130 mins., 2013, PG; Disney): From the opening credits that beautifully unfold in B&W to a colorful array of backdrops, director Sam Raimi gives you something to marvel at, visually, throughout, in this fanciful prequel to "The Wizard Of Oz."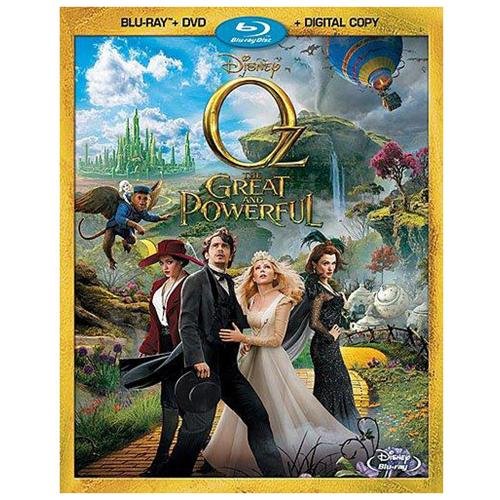 Adapted by Mitchell Kapner and David Lindsay-Abaire from L. Frank Baum's books, this "Oz" is more of a traditional quest-fantasy as opposed to the classic 1939 MGM musical. While it doesn't resonate on the dramatic level of the Judy Garland film (or even, in its own way, Disney's criminally underrated 1985 flop "Return to Oz"), Raimi's picture nevertheless is an enjoyable, candy-coated picture with James Franco's Wizard – just a carnival showman, of course – crashlanding in the magical kingdom after being swept up in a Kansas tornado. There, he meets a dark-haired beauty (Mila Kunis) and her scheming sister (Rachel Weisz) who want to rid Oz of the "Wicked Witch." Along with a talking simian companion (voiced by Zach Braff), Franco's Oscar Diggs sets off on a quest to destroy the wicked witch's wand, only to find out the so-called vile sorceress is really Glinda (Michelle Williams) the Good, thereby setting off a battle for rule of Munchkin Land.
With some of the best 3D effects of this generation, "Oz: The Great and Powerful" is worth recommending for its visuals alone. The movie offers plenty of depth of field 3D effects, and Raimi establishes numerous shots to take advantage of the medium. Add in the natural special effects provided by the collective beauty of leading ladies Kunis, Williams and Weisz, and it's easy to see why the film did so well theatrically this spring, appealing to kids and adults alike.
The cast, while something of a mixed bag, acquits itself fairly well: Franco handles the cental role of the would-be Wizard as well as can be expected, particularly considering Raimi initially eyed Robert Downey, Jr. in the part. Kunis looks gorgeous in a role that's not as well-developed as it could've been, while Weisz effectively conveys the more devious of the sisters and Williams is luminous as Glinda. Even Raimi's pal Bruce Campbell chips in a small role along the way.
Raimi's playful directorial hand is ideal for the material, and for the most part, he gets Oz right where Tim Burton and Disney failed with "Alice in Wonderland" (its stellar box-office receipts notwithstanding, that film was pretty lousy across the board). Granted, this script could've used a bit more magic, and perhaps some more humor, but "Oz: The Great and Powerful" is nevertheless an entertaining picture that should enchant Oz-philes, genre buffs and children in good measure.
Disney has configured "Oz" in a couple of different Blu-Ray packages. The standard Blu-Ray combo pack includes a DVD, digital copy, and several featurettes (a conversation with Danny Elfman; a Franco-produced "Journey in Oz" segment; visual effects profiles and a look at the "Wicked Witch"'s make-up), along with a lovely 1080p AVC encoded transfer and DTS MA soundtrack. The 3D Blu-Ray, which includes a dynamite 3D transfer, includes a digital copy but does NOT include a copy of the 2D Blu-Ray. If you want a copy of the standard Blu-Ray, there's a $5.99 voucher included for consumers to purchase the disc via the Disney Movie Rewards website (likewise, if you buy the 2D combo pack, you can purchase a copy of the 3D disc for $5.99 through the DMR site). I'm not sure why Disney didn't just – as they've done before – include a copy of the 2D Blu-Ray in the 3D combo pack, but perhaps this is a new marketing test for the studio. Either way, it's unfortunate there wasn't just a single release offering consumers every option, particularly when you consider the high price tag of the 3D release.
HANSEL & GRETEL WITCH HUNTERS 3D Blu-Ray Combo Pack (**, 97/87 mins., 2013, Unrated/R; Paramount): The recent glut of fairy tale movies has given us everything from the respectful ("Oz") to the irreverent (Burton's "Alice"), the mundane ("Mirror Mirror") and the genre-bending ("Snow White and the Huntsman"). This wild and woolly effort from "Dead Snow"'s Tommy Wirkola is fun for a few minutes, but hasn't nearly enough gas to keep the fleeting fun going for feature length.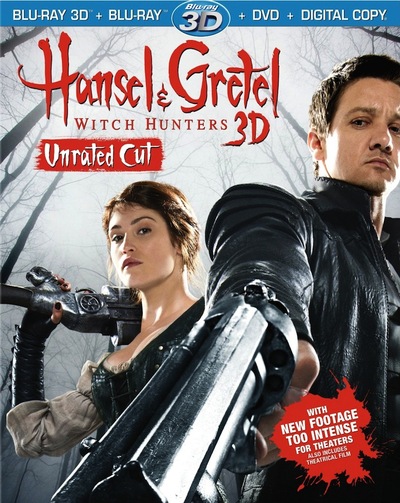 Jeremy Renner and Gemma Arterton star as the non-grown mythic figures, here drawn to fighting a witch (Famke Janssen) while meeting some unlikely allies – including a kind-hearted troll working for the bad guys – along the way.
Wirkola's noisy film isn't nearly as humorous as you'd anticipate from this premise, or from Will Ferrell and Adam McKay having produced it. "Hansel & Gretel Witch Hunters" is fairly leaden, in fact, for most of its duration, with a couple of neat touches and interesting creatures – I loved the animatronic "Edward," for example – mixed in with bland CGI that looks and feels overly familiar, and a script that's pretty much DOA from the get-go.
Paramount's Blu-Ray combo pack includes a sterling 3D transfer of the movie's theatrical version, and with a fair amount of the film having been shot in actual 3D (and not converted), the visuals are one of the picture's more compelling elements. The 2D Blu-Ray (available separately, or as part of this combo pack) only includes a 97-minute unrated version of the film, offering 10 minutes of unused footage. Other extras on the 2D version include three brief featurettes along with a DTS MA soundtrack, DVD and itunes digital copy.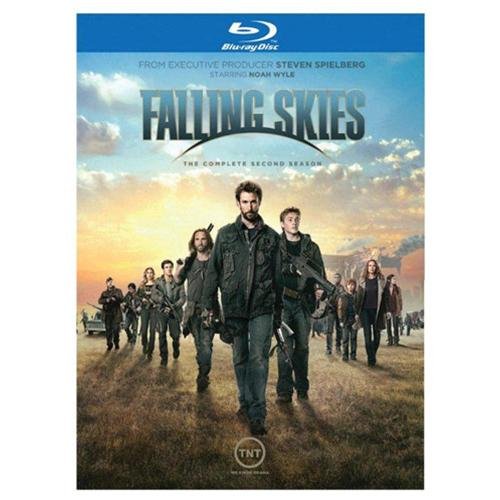 FALLING SKIES: Season 2 Blu-Ray (440 mins., 2013; Warner): Second year of the Steven Spielberg-produced TNT hit series tweaks, and improves upon, the foundation laid by its first season. After willingly meeting with the aliens, Noah Wyle's Tom Mason returns to the 2nd Massachusetts with the goal of reaching Charleston, S.C., where a human colony is said to be thriving. Unfortunately, what they find when they get there – a rigid society presided over by one of Mason's former allies, played by Terry O'Quinn – is scarcely more comfortable than fighting the extraterrestrials out on the open road, though a possible new ally could be in play for our heroes.
Well-written, acted and directed, "Falling Skies" is satisfying, entertaining sci-fi with a family element that adds poignancy to its somewhat predictable premise. The writers and producing staff wisely discarded several peripheral characters who took time away from the central storyline in Season 1 – reduced to smaller appearances (or eliminated entirely), the streamlined list of characters pays off splendidly for the series, with more time allotted to the principal casting of Wyle and Will Patton, who work terrifically together.
Warner's Season 2 Blu-Ray of "Fallking Skies" includes an exclusive pin-up card, an Ultraviolet streaming copy, featurettes and audio commentaries, plus AVC encoded transfers and DTS MA soundtracks.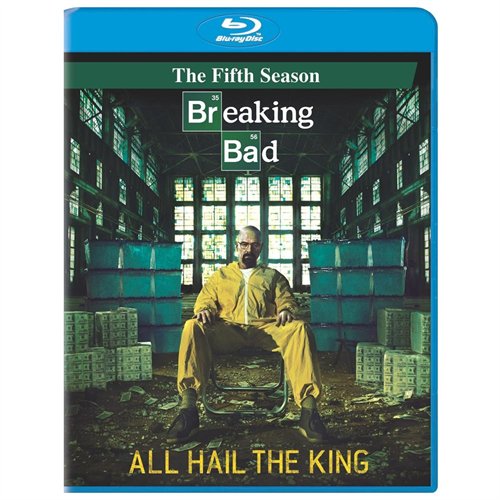 BREAKING BAD: Season 5 Blu-Ray (374 mins., 2012; Sony): Emmy winner Bryan Cranston is back in this fifth season of the popular AMC series as well as fellow award winner Aaron Paul, as Walter White continues his rise (or fall?) into becoming a full-out drug kingpin. Meanwhile, Hank (Dean Norris) gets a break in the investigation that could topple Walter's reign.
Sony's fifth-season Blu-Ray offers an eight-minute exclusive scene, "Chicks N Guns," written exclusively for the home video release, starring Paul, Bob Odenkirk and Charles Baker. This mini-episode tells the backstory behind the fifth season's episode "Gliding Over All." Also included are two all-new featurettes exclusive to Blu-Ray – "Scene by Scene: Directors Discuss Memorable Moments" and "The Writers of Breaking Bad" – as well as a handful of other goodies, including three featurettes, outtakes, deleted scenes, commentaries on every episode, and an Ultraviolet copy. The 1080p transfers and DTS MA soundtracks are all excellent.
DROP DEAD DIVA Season 4 DVD (563 mins., 2012; Sony): Brooke Elliott's Jane Bingham returns in this fourth season of the enjoyable, lightweight Lifetime series, with the former supermodel turned plus-sized attorney (though Elliott looks more "normal" sized than plump compared to most anorexic leading ladies) going through a new series of cases. Outtakes and 14 deleted scenes are on-hand in Sony's DVD box-set, along with 16:9 transfers and 5.1 Dolby Digital soundtracks.
HOUSE OF CARDS Blu-Ray (674 mins., 2013; Sony): Excellent dramatic series from producers David Fincher and Beau Willimon focuses on a relentless congressman (Kevin Spacey), who along with his wife (Robin Wright), stops at nothing to manipulate the Washington political scene. Kate Mara co-stars in this series which debuted as one of the first Netflix original shows earlier this year; for those who might've missed it or don't have Netflix, Sony's Blu-Ray includes all 13 episodes in 1080p transfers and DTS MA 5.1 soundtracks. Recommended!
---
THE ODD COUPLE Blu-Ray (****, 105 mins., 1967, G; Warner): The original 1967 comedy classic receives its first high-def release, starring Jack Lemmon and Walter Matthau in their unforgettable roles as Felix Unger and Oscar Madison, the two mismatched roommates who spar in Neil Simon's funniest play. The movie version, directed by Gene Saks and scored memorably by Neal Hefti, is a laugh-riot, and demands to be seen in its original widescreen, Panavision aspect ratio.
Warner's superb, crisply defined Blu-Ray offers a sterling presentation of the original 2.35 widescreen dimensions along with all the extras from Paramount's "Centennial Edition" DVD, including a commentary track with the late stars' sons, Chris Lemmon and Charlie Matthau, reflecting on the film; several Making Of segments ("In the Beginning…", "Memories From the Set," "Matthau & Lemmon," "Inside The Odd Couple," "A Classic") with comments from Neil Simon to Brad Garrett (who appeared in a revival of the show), admirers like Larry King and others; and the trailer.
For viewers and fans, this is a terrific package for one of the all-time great film comedies. Watching it again reminded me just how funny it is, and how amazing Lemmon and Matthau were on-screen together in their prime. Sadly, they really don't make 'em like this anymore.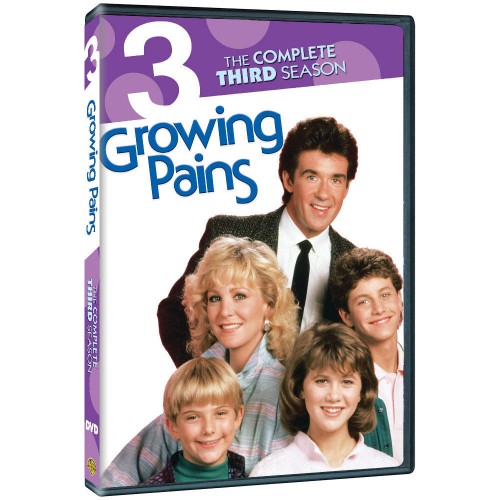 Warner Archive New Releases: TV on DVD fans can get their fill with the third season of the smash ABC sitcom GROWING PAINS (624 mins., 1987-88), which collects the complete Season 3 of the series, including the memorable, two-part Maui vacation episode. Also newly available is Season 3 of FALCON CREST (1375 mins., 1983-84), which follows the Channing clan through another season of deceit, murder, betrayal, secret romances, passion and plenty of vino. Warner's box-set releases of both series – exclusively available online – include full-length broadcast episodes and full-screen 1.37 transfers.
Golden Age fans will want to check out the long-overdue DVD debut of A GUY NAMED JOE (121 mins.), the 1944 tearjerker with Spencer Tracy, Irene Dunne and Van Johnson in Victor Fleming's supernatural romance written by Dalton Trumbo. Steven Spielberg was such a fan of the film that he spent years trying to remake it – which he eventually did in his 1989 disappointment "Always." Warner's disc offers a 1.37 full-screen transfer. Also worth a look is Lana Turner in the 1955 costume epic DIANE (110 mins.), a historical romance based on the life of Diane de Poitiers. Roger Moore, Pedro Armendariz and Sir Cedric Hardwicke star in this lush MGM production with a grand Miklos Rozsa score. Warner's Archive release includes a stereo soundtrack and 16:9 (2.55) widescreen transfer of the original Cinemascope frame.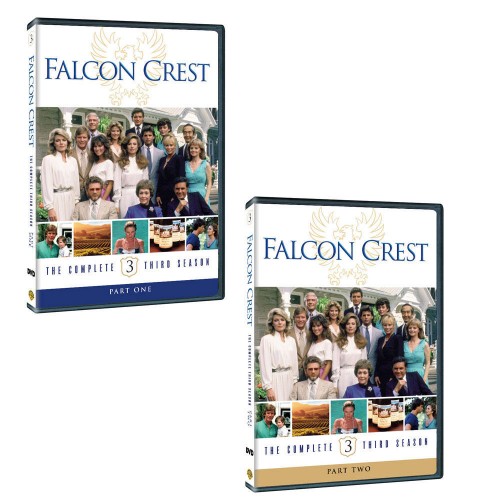 Something entirely different is on-hand in DISORDERLIES (86 mins., 1987, PG), a good-natured, end-of-summer '87 comedy starring rappers The Fat Boys as Palm Beach orderlies to wealthy Ralph Bellamy. Michael Schultz ("Car Wash") helmed this cult favorite which has been put back in print as part of the Warner Archives, with the prior, out-of-print DVD commanding a small fortune on the secondary market. Warner's Archive DVD includes a full-screen transfer and mono soundtrack.
Anchor Bay's Fox Blu-Ray Catalog Releases: Anchor Bay continues to release a series of no-frills, good-looking and low-cost Blu-Rays from the Fox vaults. While the lack of special features is lamentable, fans of the respective films may want to check out their respective HD debuts regardless.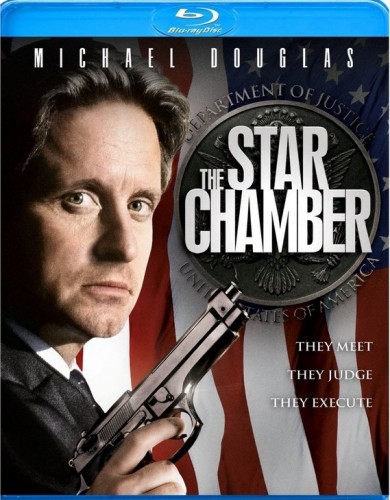 New in this latest batch are Whoopi Goldberg's first, post-"Color Purple" picture, JUMPING JACK FLASH (105 mins., 1986, R), a Joel Silver/Lawrence Gordon production that also launched Penny Marshall's directorial career. This not-bad spy comedy, apparently intended as a vehicle for Shelly Long, stars Whoopi as a computer operator plunged into the world of espionage. Jonathan Pryce, John Wood, Stephen Collins, Jim Belushi, Carol Kane, Annie Potts, and SNL players Jon Lovitz and Phil Hartman support a troubled film credited to four different writers – but there's a certain amount of fun in seeing this cast together, along with a story involving the internet circa 1986. Anchor Bay's Blu-Ray offers a decent 1080p transfer and Dolby TrueHD soundtrack.
You'll find similar technical specs on Anchor Bay's other Fox catalog releases, including Harold Ramis' disappointing 2000 remake of BEDAZZLED (**, 93 mins., PG-13) starring Brendan Fraser and Elizabeth Hurley; Ivan Reitman's breezy, watchable 2006 box-office bustMY SUPER EX-GIRLFRIEND (**½, 96 mins., PG-13), with Luke Wilson attempting to date girlfriend Uma Thurman, who has super-powers; and Peter Hyams' THE STAR CHAMBER (**, 109 mins., 1982, R), one of the director's weaker outings, starring Michael Douglas as a young judge who takes matters into his own hands when the law fails him. Hal Holbrook and Sharon Gless co-star with Anchor Bay's Blu-Ray including a decent 1080p transfer and Dolby TrueHD soundtrack.
Anchor Bay's next round of Fox catalog releases – slated for August – includes some more vintage titles, with the Gene Wilder-Richard Pryor caper SILVER STREAK among them.
---
Disney Animated Blu-Ray Catalog Releases
LILO & STITCH (***½, 85 mins., 2002, G; Disney)/LILO & STITCH 2: STITCH HAS A GLITCH (***, 68 mins., 2005, G; Disney) Blu-Ray: Despite its cute and cuddly (if distinctive) alien protagonist, "Lilo & Stitch" isn't your "Mom & Dad's" Disney flick. In fact, this charming 2002 tale of a rambunctious alien who finds a home with a little Hawaiian girl and her older sister is a low-key and distinctive animated feature, quite unlike many of the studio's more generic efforts.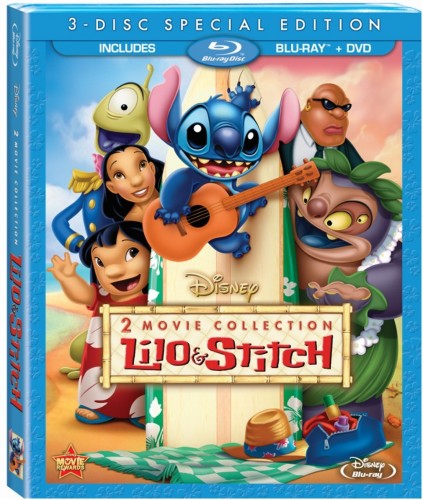 Stitch is certainly one of the more offbeat Disney animated protagonists you'll see, but the key to Chris Sanders and Dean Deblois' film is the believable relationship between Lilo and her older sister, both trying to create a family after the death of their parents. The scenes with Stitch and Lilo bonding through classic Elvis tunes are priceless — and are so good that the film's formulaic last 15 minutes come off as a disappointing and predictable end to everything that's come before it.
Still, "Lilo & Stitch" is a beautiful hand-drawn feature with unique characters and personalities — easily ranking as one of Disney's finest features of the last decade. Kudos as well to Alan Silvestri's excellent score, which utilizes a real Hawaiian school chorus and enhances the film with its own distinct flavor.
Easily the best of Disney's numerous made-for-video sequels, "Lilo & Stitch 2″ admirably carries on the engaging, heartwarming story from its predecessor.
This time out, little Lilo prepares to enter Hawaii's local hula contest while sister Nani tries to juggle taking care of her young sibling and extraterrestrial pals Jumba and Gantu. Meanwhile, our furry blue pal Stitch is enjoying himself all the while, at least until his crazy, manic "alien" side begins to rear its crazy shenanigans once again — threatening to turn Lilo's life upside down at the worst possible time.
With beautiful animation recalling the appealing, colorful hues of the original film, "Lilo & Stitch 2″ is a definite cut-above the usual made-for-the-small-screen Disney production. More elaborate and entertaining than "Stitch: The Movie!" (which served as little more than a primer for ABC's Saturday morning "Lilo & Stitch" cartoon), this thoughtful sequel offers several heartwarming lessons for kids and an appealing story that will prove highly satisfying for all fans of its predecessor.
Most of the original voice talent was brought back, from "Stitch" vocalist Chris Sanders to Tia Carrere, David Ogden Stiers and Jason Scott Lee. Curiously, there's no notice on the packaging that the currently in-demand Dakota Fanning took over the vocal chores for Lilo from Daveigh Chase, yet there's no mistaking Fanning's work here (if anything she's even better than her predecessor). The soundtrack is also a lot of fun, with Joel McNeely's lovely underscore working hand-in-hand with a vibrant assortment of Hawaiian tunes and Elvis Presley classics.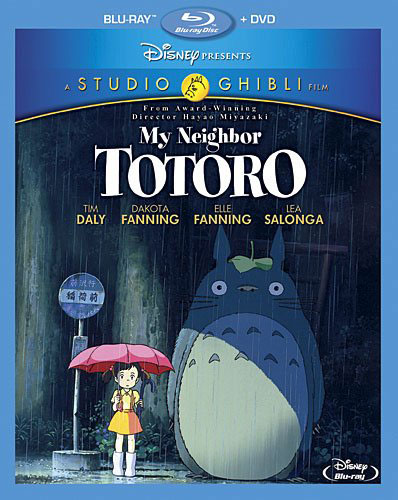 Both films have been brought to Blu-Ray in the form of a single-disc combo pack by Disney. Like their other catalog releases this month, Disney has disappointingly opted to dump all the supplemental features from prior DVD editions, which in "Lilo & Stitch"'s case included commentary, deleted scenes and Making Of materials. It's a real letdown, considering the technical presentation (1080p AVC encoded transfers, DTS MA soundtracks) is on-par with what you'd anticipate from a Disney release.
Also new from Disney on the catalog front is a combo-pack double header of the troubled yet entertaining THE EMPEROR'S NEW GROOVE (***, 78 mins., 2000, G) and KRONK'S NEW GROOVE (**½, 2005, 75 mins., G; Disney), its amiable made-for-video sequel. Regrettably, the absence of special features really curtails the value of "Emperor," considering its turbulent pre-production history is more interesting than the light, if fun, film that was eventually produced. Disney's Blu-Ray includes a colorful, mostly clean 1080p transfer for each film, but the lack of supplements will lead Disney fans back to "Emperor"'s now out of print (but affordable) 2-DVD release.
Finally, one of Hayao Mayazaki's most enchanting works, the 1988 effort MY NEIGHBOR TOTORO (***½, 88 mins., G) arrives on Blu-Ray for the first time this month. Disney's Blu-Ray includes a lovely 1080p transfer along with all the extras from its prior DVD release, including an English dubbed track, a "Behind The Microphone" featurette with Dakota and Elle Fanning, a lengthy assembly of storyboards, the original Japanese trailer, and DTS MA soundtracks in both 2.0 English and Japanese.
---
New From PBS
PBS' June releases include new titles from Nova, Nature and the popular "Secrets of the Dead" series.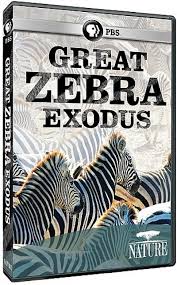 GREAT ZEBRA EXODUS (60 mins., 2013) takes viewers to Botswana's Makgadikgadi salt pans where families of zebras trek annually, following the rain that falls on the barren landscape during the summer time. Alan Lazar's music works with crisp photography for this recent Nature program, presented on DVD by PBS in a 16:9 transfer with stereo sound.
Two new "Secrets of the Dead" programs include CAVE MAN COLD CASE (60 mins., 2013), which speculates on what happened to a group of Neanderthals 49,000 years ago after scientists discovered their bodies – 65 feet underground. DEATH ON THE RAILROAD (60 mins., 2013) profiles a 19th century case where 57 Irish men, newly immigrated to America, perished within eight weeks of reaching U.S. shores. Jay O. Sanders narrates both hour-long programs, which include historian and scientist interviews and utilize forensic evidence to probe the respective long-standing mysteries. PBS' DVDs offer 16:9 transfers and stereo soundtracks.
METEOR STRIKE (60 mins., 2013) is a Nova program that examines the recent asteroid strike in Russia's Ural mountains. The Siberian meteor's crash on February 15th of this year was the largest object to hit Earth's atmosphere since the Tunguska event in 1908, and this hour-long program from producer-director Susannah Ward takes viewers to Russia in an investigation of the fallout. PBS' DVD also offers a widescreen transfer and stereo sound.
The double-disc Frontline release THE ECONOMIC MELTDOWN (300 mins., 2009-13) offers five programs on the national debt crisis and America's rough economy: "Inside the Meltdown," "Ten Trillion and Counting," "Breaking the Bank," "The Warning" and "Cliffhanger" are all included in PBS' DVD package in 16:9 transfers and 2.0 soundtracks.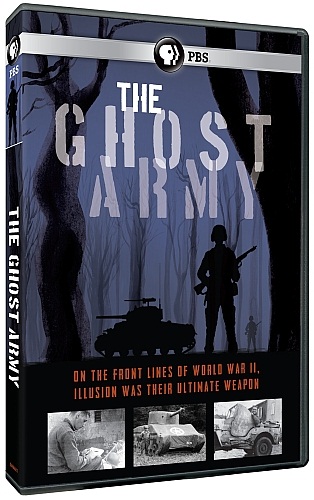 RX FOR SURVIVAL: A GLOBAL HEALTH CHALLENGE (336 mins., 2005) is an ambitious 2005 mini-series that, over the course of its six parts, profiles how the revolutionary medical advances of the 19th and 20th centuries still haven't reached all corners of the globe. Brad Pitt narrated this co-production between WGBH and Vulcan Productions, covering the episodes "Disease Warriors," "Rise of the Superbugs," "Delivering the Goods," "Deadly Messengers," "Back to the Basics" and "How Safe Are We?" 1080i transfers and stereo soundtracks are on-hand in PBS' two-disc Blu-Ray release.
THE BLACK KUNG FU EXPERIENCE (60 mins., 2012) is a fascinating look at the explosion of kung-fu in the U.S. during the '60s and '70s, and particularly its influence on African-American culture. Four black Kung-fu pioneers – Ron Van Clief, Dennis Brown, Tayari Casel and Don Hamby – discuss the art of kung-fu from the '60s to today in this hour-long PBS special that arrives on DVD with bonus extra performances from international martial artists, a widescreen transfer and stereo soundtrack.
Finally, THE GHOST ARMY (70 mins., 2013) is a terrific documentary from director Rick Beyer, examining how a group of American Gis who utilized illusions – be it rubber tanks, sound trucks and other slight-of-hands – to convince the German army that more Allied soldiers were ready to attack than they actually were. Archival footage, still autographs and interviews make for an excellent production narrated by Peter Coyote, included here on a single DVD with a widescreen transfer and stereo soundtrack.
---
New From Mill Creek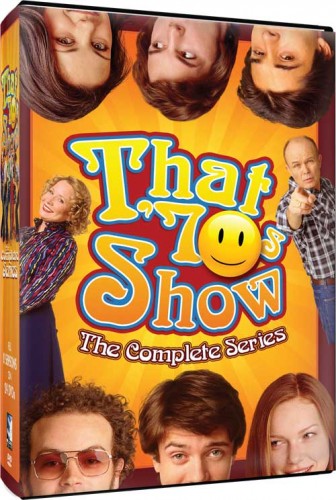 THAT '70S SHOW: COMPLETE SERIES DVD (Mill Creek): All eight seasons of the popular Fox sitcom are packaged together in a 24-disc DVD box-set. Included here are all 200 episodes of "That '70s Show" starring Ashton Kutcher, Topher Grace, Mila Kunis, Laura Prepon, Danny Masterson, Wilmer Valderama, Debra Jo Rupp, and Kurtwood Smith. Fans of the series who may have missed prior DVD releases of the series will be happy to see that the various extras from its earlier box-sets have been ported over, including commentary on selected episodes; flashback featurettes with cast members; additional featurettes; a series retrospective; behind-the-scenes segments; and plenty more.
ROSEANNE: COMPLETE SERIES DVD (Mill Creek): Another value-priced Mill Creek anthology boasts the entire nine-season run of what was, for a time, one of the highest rated shows on TV. All 222 episodes of "Roseanne" are included in this 27-disc box-set, from the series' funniest earliest episodes through its increasingly unhinged later years when even John Goodman had the good sense to try and get away. A full slate of bonuses have been ported over from prior releases including cast/crew interviews; blooper and highlight reels; video commentary; and an interview with Roseanne.
JFK: A NEW WORLD ORDER Blu-Ray/DVD Combo (aprx. 7 hours, 2013; Mill Creek): An eight-part documentary series offers a thorough overview of JFK's life and times, from his election as the 35th President of the United States through his various political and personal achievements and lasting legacy. Mill Creek's Blu-Ray includes 1080p transfers and 2.0 soundtracks, along with a DVD presentation (16:9, 2.0) and a bonus DVD with clips from the Kennedy Vs. Nixon debate; JFK's funeral service; and John Ford's "Vietnam! Vietnam!"
---
Acorn New Releases
From Acorn come a trio of new releases, including a pair of Blu-Ray presentations of "George Gently."
GEORGE GENTLY COLLECTION (Blu-Ray) is a six-disc set offering Series 1-4 of the popular British mystery series starring Tony nominee Martin Shaw as Inspector George Gently, a London detective who teams with young cop Lee Ingleby to investigate a series of crimes in Northumberland, a remote region of Britain during the mid '60s. Guest stars Richard Armitage, Phil Davis and Jon Kavanagh appear in the first group of episodes from the acclaimed series, while subsequent mysteries take Gently and partner John Bacchus into crimes that reflect the social and political changes running through the UK at that time.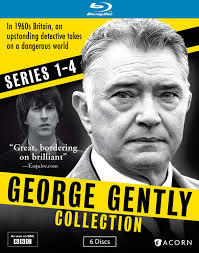 All 11 feature-length mysteries are offered here in 1080i transfers with 2.0 PCM stereo audio. Extras include a 13-minute behind the scenes featurette; text interviews with Shaw, Ingleby, and writer/producer Peter Flannery; notes from producer Johann Knobel; a biography of Shaw; a six-page historical insert and other extras.
In Series 5 of the program (available separately), Gently and Bacchus return in four new mysteries unfolding in 1960s England. These adaptations of Alan Hunter's novels offer guest star appearances from Kevin Whately, Mark Gatiss and Diana Quick, and once again present the 2012 productions in 1080i transfers with 2.0 PCM soundtracks.
The vintage BBC production of THE FIRST CHURCHILLS (532 mins., 1969) stars John Neville as the first Duke and Susan Hampshire in an Emmy-winning performance as the Duchess of Marlborough in this celebrated chronicle of the couple from their earliest meeting through the lives of five Stuart monarchs. "The First Churchills" aired in the U.S. on PBS as part of Masterpiece Theatre and comes to DVD in a three-disc Acorn set also including a 20-minute, new interview with Hampshire; photo gallery; and a 10-page insert with excerpts from the Churchills' love letters and a House of Stuart family tree. Acorn's 4:3 full-screen transfer is as acceptable as the source material allows.
---
ADVENTURE TIME: Season 1 Blu-Ray (286 mins., 2012; Cartoon Network/Warner)
ADVENTURE TIME: Season 2 Blu-Ray (286 mins., 2013; Cartoon Network): At last – complete season box-sets of the eclectic Cartoon Network series hit Blu-Ray for the first time this month from Warner. Each multi-disc set offers ample extras including behind the scenes featurettes; animatics; episode commentaries, 1080p transfers and 2.0 stereo soundtracks. Each season includes 26 episodes along with other bonuses including a Pendleton Ward interview with the crew (on Season 2), and music video (among other bonuses) on Season 1.
PERFECT UNDERSTANDING (85 mins., 1933; Cohen/E One) has been unearthed by Cohen as part of their terrific new vintage restorations. This early British production – the lone overseas vehicle for Hollywood star Gloria Swanson – stars Swanson and a strapping Laurence Olivier as a young couple who marry under the condition that they never disagree. Naturally, predicaments soon arise in their relationship, in this Swanson-produced picture scripted by the great Michael Powell. The humor might be on the creaky side, but seeing these two legendary stars together in a definite screen curio will be more than worth a viewing for buffs. Cohen's Blu-Ray edition includes a remastered 1080p presentation with LPCM mono audio and extras including a pair of Mack Sennett shorts, "Husband's Reunion" and "Dream Stuff."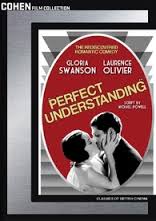 Also New From E One: THE HORDE DVD (129 mins., 2012; E One) is a Russian production chronicling the savage Golden Horde that controlled half of the Eastern globe in 1357. The Khan dynasty's internal struggle is the basis of Andrei Proshkin's 2012 effort, which E One brings to DVD in a 16:9 transfer with 2.0 Dolby Digital sound…JUSTIN BEIBER: ALWAYS BELIEVING DVD (70 mins., 2012; E One) boasts an unauthorized biography of the polarizing teeny-bopping music star. Rare footage of galpal Selena Gomez and comments from Usher, Drake and Nicki Minaj are on-hand in this 70-minute documentary from Thomas Gibson. E One's DVD includes a 16:9 transfer and 2.0 stereo soundtrack…Season 2 of WEB THERAPY (325 mins., 2012) brings back Lisa Kudrow as Fiona Wallace, the online therapist with little patience for her patients, including Selma Blair, Conan O'Brien, Meryl Streep, Lily Tomlin, Julia Louis-Dreyfus and David Schwimmer. E One's DVD includes a behind-the-scenes featurette, a Director's Cut with Streep and O'Brien, deleted scenes/gag reel, music video, Season 3 preview and 16:9 transfers and 5.1 soundtracks...the second season of TODD AND THE BOOK OF PURE EVIL (289 mins., 2011) finds Todd and the gang returning for more shenanigans at Crowley High. E One's DVD includes a blooper reel, deleted/extended scenes, extended musical numbers, behind-the-scenes featurette, FX material, three commentaries and other goodies.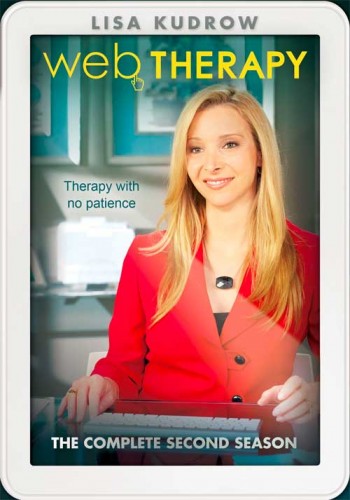 New From Virgil Films: JUST LIKE BEING THERE DVD (83 mins., 2012) examines the world of "gig posters" in director Scout Shannon's documentary, which profiles the original work created by artists like Daniel Danger and Jay Ryan, and the evolution of this niche artform into the mainstream. Plenty of musical performances are also on-hand in this interesting documentary brought to DVD by Virgil Films with extras including deleted scenes and a pair of additional featurettes, along with a 16:9 transfer and stereo soundtrack…Elliott Gould gives a strong performance in Richard Ledes' independent drama FRED WON'T MOVE OUT (74 mins., 2013) as an aging parent who refuses to leave the home they've occupied for 50 years. Virgil Films' DVD includes a 16:9 transfer and stereo soundtrack.
New From IFC/MPI: Salma Hayek plays the frustrated wife of Jose Mota in AS LUCK WOULD HAVE IT (98 mins., 2011), Alex De La Iglesia's meditation on modern living, fame and the media. IFC's DVD includes a 5.1 Spanish soundtrack, 16:9 transfer, and English subtitles…KNIFE FIGHT (98 mins., 2012) finds Rob Lowe starring as a media strategist who spins his clients out of all kinds of scandal. This indie drama co-stars Julie Bowen, Jamie Chung, Jennifer Morrison and Carrie-Ann Moss. IFC's DVD includes a 16:9 transfer and 5.1 soundtrack…IFC also brings Im Sang-Soo's modern South Korean thriller THE TASTE OF MONEY (115 mins., 2012) to DVD this month in a 16:9 transfer with 5.1 Korean audio and English subtitles.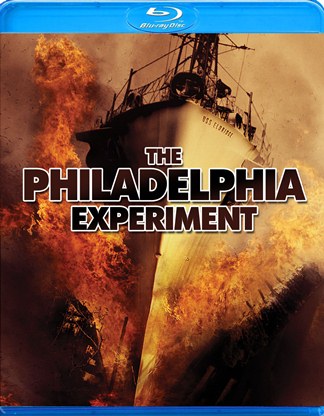 THE PHILADELPHIA EXPERIMENT Blu-Ray (89 mins., 2012, PG-13; Anchor Bay): Once again, Canada's Cinetel Films confirms its standing as the most successful provider of Syfy Channel original movies. This admittedly silly, over-the-top, sorta-remake of the so-so 1984 New World Pictures offering brings back one of that picture's stars – Michael Pare – this time as a crazed loon trying to stop sailor Nicholas Lea, the lone survivor from a 1943 Naval destroyer that's been transported in time to the present day by way of a secret government project. Ryan Robbins, Malcolm McDowell and Emilie Ullerup co-star in Paul Ziller's watchable TV film that zips along for its 89 minutes, offering brainless entertainment that's a cut above most Syfy Channel offerings. Anchor Bay's Blu-Ray includes a 1080p transfer and 5.1 Dolby TrueHD soundtrack.
Also New From Anchor Bay: ?In? CHARLIE ZONE (103 mins., 2011, R), Avery Paul (Glenn Gould) is a disgraced former boxer who's hired to kidnap a runaway (Amanda Crew) holed up in a local crack house in an independent dramatic thriller from director Michael Nelski. This Canadian production co-stars Sheila Lane and comes to Blu-Ray this month from Anchor Bay offering a 1080p transfer and 5.1 Dolby TrueHD soundtrack...THE AMAZING ADVENTURES OF THE LIVING CORPSE (88 mins., 2012, R) is a bizarre animated feature based on Dynamite Entertainment's graphic novel, focusing on a zombie with a heart who kicks his way out of the depths of hell in order to save his still-human son. Fairly crude animation is on-hand in this indie offering, which has a fun soundtrack and ought to appeal to zombie lovers and admirers of the source material. Anchor Bay's Blu-Ray, available June 18th, includes a 1080p transfer and Dolby TrueHD 5.1 soundtrack...On June 11th, Anchor Bay brings Dermot Mulroney's latest to Blu-Ray. THE RAMBLER (99 mins., 2012, R) finds Mulroney as an ex-con who travels cross-country in a surreal journey from writer-director Calvin Lee Reeder, co-starring Lindsay Pulsipher and Natasha Lyonne. Anchor Bay's Blu-Ray boasts a 1080p transfer and 5.1 Dolby TrueHD soundtrack.
CHUPACABRA VS. THE ALAMO DVD (88 mins., 2012; Echo Bridge): On the other end of the Syfy Channel spectrum is this meager effort starring Erik Estrada as a DEA agent taking on – yes – a group of Chupacabras making life miserable for everyone. Eventually, Erik gets some help from local gangs and his estranged son in this weak production from writer Peter Sullivan and director Terry Ingram. Echo Bridge's DVD boasts a widescreen transfer and stereo soundtrack.
ABSOLUTE DECEPTION DVD (92 mins., 2013, R; Sony): Cuba Gooding Jr. IS FBI agent John Nelson, who heads to New York City to tell the widow (Emmanuelle Vaugier) of his key informant that he's recently been murdered – despite having been long presumed dead. The duo head down to Australia's Gold Coast to track down his past in this watchable thriller from veteran Aussie director Brian Trenchard Smith. Sony's DVD includes a 1.78 transfer and 5.1 Dolby Digital soundtrack.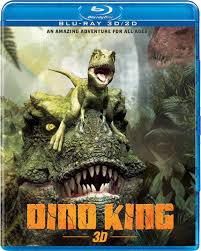 DINO KING 3-D Blu-Ray Combo Pack (89 mins., 2012; Well Go USA): From South Korea comes this family-friendly tale of a young dinosaur named (you guessed it) "Speckles," whose herd is attacked, leaving him orphaned. Eventually, another "Tarbosaur" helps him out in this decently-animated mix of live-action and animation that ought to appeal to youngsters, though adults will likely find the story overly familiar to an extreme. Well Go's Blu-Ray includes an attractive 3-D Blu-Ray transfer with DTS MA audio and a lenticular 3D slipcover. (Available June 18th)
A PORTRAIT OF JAMES DEAN: JOSHUA TREE, 1951 DVD (93 mins., 2013; Wolfe Video); Matthew Mishory's debut feature stars James Preston as the '50s icon in a profile of his early career days and sexual relationships by way of professional and fictionalized elements. Shot in stark B&W with color sequences, Mishory's indie film is impressively acted, with Wolfe Video's DVD boasts a 16:9 transfer, 5.1 surround track, the trailer, and Mishory's short film "Delphinium: A Childhood Portrait of Derek Jarman."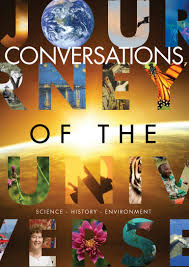 JOURNEY OF THE UNIVERSE: CONVERSATIONS DVD (10 hours, 2011; Shelter Island): Yale historian Mary Evelyn Tucker hosts this 20-part, 10-hour series that combines sciences and humanities into a discussion of the universe's 14-billion year history. Tucker, inspired by the works of historian Thomas Berry, engages in one-on-one interviews with scientists, historians and environmentalists in exploring the unfolding story of the universe and mankind's work to respond to present global challenges. Shelter Island's DVD offers the complete series on four discs with 1.78 widescreen transfers and stereo soundtracks. Shelter Island has also released Tucker's prior documentary, JOURNEY OF THE UNIVERSE (60 mins.) as a standalone DVD, which is a prerequisite to watching this more detailed, expansive series.
RING OF FIRE DVD (178 mins., 2012; Gaiam Vivendi): Better-than-average TV mini-series stars Michael Vartan, Lauren Lee Smith and Terry O'Quinn in a tale of possible apocalyptic proportions when an oil rig accident begins a chain reaction of catastrophes. Watchable genre entertainment with Gaiam Vivendi's DVD boasting a 16:9 transfer and 5.1 soundtrack.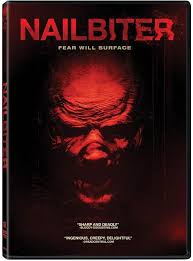 New From Lionsgate: Tommy Ford and Miko DeFoor star in BABY MAMA'S CLUB (101 mins., 2013, R), a would-be crazy comedy that follows a pair of friends as they enter fatherhood – one with more experience (Ford's character is on his 17th child) than the other. Lionsgate's DVD includes a 16:9 transfer and 5.1 soundtrack…A family tries to stay alive after they flee into a storm cellar during a tornado – only to run into a creature lurking outside in Patrick Rea's indie horror NAILBITER (82 mins., 2013, R), which Lionsgate brings to DVD this month. In addition to a 16:9 transfer and 5.1 soundtrack, the disc includes two commentaries and a storyboard comparison reel…AFTER PEOPLE (288 mins., 2013) is a History Channel special examining what would happen if global warming and the zombie outbreak destroyed mankind, and what kind of world would be left behind. It's basically a pseudo-intellectual take on "After Earth" or "I Am a Legend" – or any other Will Smith post-doomsday thriller – complete with CGI mock-ups of destroyed civilizations. Lionsgate's multi-disc set also includes four bonus History Channel specials…Kane Kosugi takes up some of his father's ways in the Hong Kong import NINJA MASTERS (88 mins., 2013, PG-13), which comes to Lionsgate on DVD this month sporting a 16:9 transfer and 5.1 audio in either English (dubbed) or the original Mandarin…POWER RANGERS SUPER SAMURAI: SECRET OF THE RED RANGER (92 mins., 2012) includes four episodes from the popular kid series: The Master Returns, A Crack in the World, Stroke of Fate, and Fight Fire With Fire. 16:9 transfers and bonus music videos are on-hand along with a 5.1 soundtrack...coming soon from Lionsgate on DVD are the Cuba Gooding, Jr. thriller SUMMONED (90 mins., 2013, PG-13) with Gooding tracking down a serial killer who may have returned from the dead, presented here with commentary and a stills gallery, along with a 16:9 transfer and 5.1 soundtrack; and AMERICAN IDIOTS (92 mins., 2013, R), a sophomoric road trip comedy that Lionsgate debuts on DVD with a 16:9 transfer, 5.1 soundtrack and a behind the scenes featurette.
NEXT TIME: LIFEFORCE in the Special Edition fans have been waiting forever for! I'll break down Shout's spectacular new release and more. Until then, don't forget to drop in on the official Aisle Seat Message Boards and direct any emails to our email address. Cheers everyone!