Message Board - Come and Discuss The Latest Videos, Movies & Anything Else!
The Oscar-nominated film KON-TIKI Blu-Ray/DVD (**½, 96/119 mins., PG-13, 2012; Anchor Bay) follows Norway's Thor Heyerdahl and his 1947 expedition, crossing the Pacific on a raft, from Peru to the Polynesian Islands, in order to prove that South Americans first settled there.
The much-documented voyage of the "Kon-Tiki" ought to have been the stuff ripe for a great big-screen movie, but this good-looking Norwegian film from directors Joachim Ronning and Espen Sandberg opts to go the "Hollywood" route by over-dramatizing Heyderdahl's journey, the bickering between members of his crew, and becoming something of a "Perfect Storm Lite" in the process. Difficult ocean storms, hungry sharks and Heyerdahl's obsession plague the Kon-Tiki, claiming the life of a pet parrot and transforming the seemingly mild-mannered Heyderdahl into something of a mad man. Peter Skavlan's pedestrian script is the main culprit here in this regard, and in overdosing on the bombastic elements, greatly diminishes the story's credibility. (It also makes bringing up Heyerdahl's dissolving marriage into something of a wet blanket, especially at the picture's end, since so much of the film is a one-dimensional formula piece).
"Kon-Tiki" was actually shot in two different versions – first in a mix of native languages (primarily Norwegian but with a healthy dose of English), and then an all-English version that Heyerdahl himself, reportedly, insisted on years ago if "Kon-Tiki" ever made it to the screen. The big difference between the two, however, is their respective running times: the original cut runs nearly two hours, while the English version runs a scant 96 minutes. I'm not sure if this editing was executed on the part of the directors or (more likely) the result of the Weinsteins trimming some of the fat from the film – either way, although the English version manages to clean up some of the movie's bloated elements (specifically the material involving Heyerdahl's wife), it also excises significant material involving Heyderdahl forming the expedition in the film's first third.
Both versions are contained in Anchor Bay's attractive Blu-Ray release, which sports a beautifully detailed 1080p AVC encoded transfer (just on the basis of the visuals alone, it's no wonder that Jerry Bruckheimer tapped Ronning and Sanberg to direct the fifth "Pirates of the Caribbean" film). The DTS MA 5.1 soundtrack offers a Zimmer-esque score by Johan Soderqvist while a pair of featurettes rounds out the release. DVD owners should note that only the 96-min. English version is contained on the standard-def side.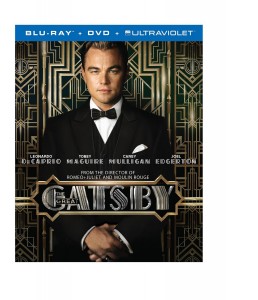 THE GREAT GATSBY Blu-Ray/DVD (**½, 142 mins., 2013, PG-13; Warner): Director Baz Luhrmann's adaptation of F. Scott Fitzgerald's book is a great looking, slick but empty vehicle that's all surface gloss and aesthetic bombast. With the director's trademark visceral approach coloring the material, this visually enthralling "Gatsby" misses the dramatic nuances of even the stilted Jack Clayton version.
The cast, at least, is fine: Leonardo DiCaprio provides his expected rendering of the mysterious Gatsby, whose burning love for Long Island socialite Daisy Buchanan (Carey Mulligan) proves to be his downfall. Tobey Maguire likewise contributes a solid portrayal of Nick Carraway, with Joel Edgerton as Daisy's husband Tom; Isla Fisher as Myrtle Wilson, the woman Tom is fooling around with; and Jason Clarke as George, Myrtle's clueless mechanic husband.
Everyone manages to look the part, but there's little chance for the actors to flesh out their roles, as Luhrmann is more interested in the flashy texture of Gatsby's parties, their throbbing soundtrack and rapid-fire editorial techniques. It's the kind of approach we've come to expect from the director, but it ultimately doesn't gibe with the material. It's hard to imagine anyone who hasn't read "The Great Gatsby" extracting the true meaning of the material from the picture, with key elements from the book working their way into Luhrmann's adaptation but without the needed context to explain their significance, while the addition of a framing story – involving Nick in a sanitarium – is especially worthless.
Granted, there is ample visual invention here to keep cinephiles interested, and Craig Armsrong's original score is quite good, but stripped of the needed dramatic engagement (as well as its 3-D visuals in this Blu-Ray combo pack), the 2013 "Great Gatsby" ends up as something of a misfire.
Warner's Blu-Ray combo pack includes a satisfying 1080p AVC encoded transfer as well as a DVD and Ultraviolet streaming copy. Extras include The Greatness of Gatsby, a general Making Of featurette; "Within and Without with Tobey Maguire"; "The Swinging Sounds of Gatsby"; deleted scenes with an alternate ending; several additional featurettes (The Jazz Age, Razzle Dazzle: the Fashion of the '20s; Fitzgerald's Visual Poety; Gatsby Revealed); and a trailer for the 1926 version.
MUD Blu-Ray (***, 130 mins., 2013, PG-13; Lionsgate): Superb performances and a knowing sense of time and place mark writer-director Jeff Nichols' somewhat overpraised character drama.
A pair of young teenage boys (Tye Sheridan and Jacob Lofland), living along the Mississippi River, come across a boat stuck on an island where an outlaw named Mud (Matthew McConaughey) has taken up residence. Their efforts to help the charismatic Mud gather the needed requirements to salvage the vessel and get away from a host of bounty hunters who want him dead – as well as repair his relationship with the troubled woman (Reese Witherspoon) he's in love with – are contrasted by scenes of young Sheridan's coming-of-age, his parents' dissolving marriage and his first relationship with the opposite sex.
McConaughey is perfectly nuanced here, and Sam Shephard is also terrific as Mud's father-figure/ex-government op, who lives across the pond from Sheridan's houseboat. Nichols' film feels natural but is leisurely paced almost to a fault: there are times when you wish he'd pick up the slack pacing, which heightens the lack of surprises and relentlessly downbeat mood of his original screenplay. That said, "Mud" is still rewarding viewing and the teenage actors both give fine performances in a film that eventually reaches a satisfying conclusion – even if it takes a long time getting there.
Lionsgate's Blu-Ray includes a number of extras taking viewers behind the scenes to the picture's Arkansas shooting locales, while Nichols also provides an audio commentary on the production. The 1080p transfer and DTS MA 5.1 soundtrack are both top-notch, and an Ultraviolet copy rounds out the release.
THE WALKING DEAD Complete Season 3 Blu-Ray (688 mins., 2012-13; Anchor Bay): In season three of the top-rated cable drama, former police officer Rick Grimes (Andrew Lincoln) leads a tired group of survivors to a prison where they try to establish a permanent settlement in the land of the dead. Unfortunately, they also run into a series of living villains (namely David Morrissey's "Governor") who are as nasty as the zombies lurking in the wasteland, while Danai Gurira joins the cast as the feisty warrior Michonne.
Anchor Bay's Blu-Ray set of the Walking Dead's third season includes all 16 episodes from the AMC series: Seed, Sick, Walk With Me, Killer Within, Say the Word, Hounded, When the Dead Come Knocking, Made to Suffer, The Suicide King, Home, I Ain't a Judas, Clear, Arrow on the Doorpost, Prey, This Sorrowful Life and Welcome to the Tombs. As with previous seasons of the series, the show is brutal on its lead characters but fans still swear by its unpredictable, suspenseful nature, and certainly the devoted will appreciate this Blu-Ray release, which includes over a handful of behind-the-scenes featurettes; commentaries on episodes 4,5,8,9 and 15; and deleted scenes on a number of episodes. The 1080p transfers and 7.1 Dolby TrueHD soundtracks are all top notch across the board.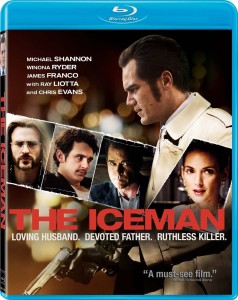 THE ICEMAN Blu-Ray (**½, 105 mins., 2012, R; Millennium): Michael Shannon gives a suitably brooding performance as real-life hitman Richard Kuklinski, who murdered over 100 men after graduating from working in the porn industry to offing targets of a New Jersey mobster (Ray Liotta). Kuklinski's detached exterior is a facade for a cold, clinical killer that Shannon hits on-target in an effective performance – the surrounding movie, unfortunately, isn't on the same level, with director Ariel Vromen, who co-wrote the film with Morgan Land, failing to match superior entries in the gangster genre in terms of its uneven script and lack of atmosphere. This comes in spite of quality supporting work from the cast, with Winona Ryder giving one of her strongest portrayals in some time as Kuklinski's clueless wife; Ray Liotta chipping in one of his perennial mobster roles; Chris Evans nearly unrecognizable as one of Kuklinski's partners in crime; and James Franco showing up for a five-minute cameo.
"The Iceman" is ultimately an interesting, not entirely satisfying film worth seeing for curious viewers and for Shannon's fine performance. Millennium's Blu-Ray includes a Making Of featurette, behind-the-scenes segment, 1080p transfer and DTS MA soundtrack.
ROADIE Blu-Ray (**½, 106 mins., 1980, PG; Shout! Factory): Wacky cult film ought to provide some fond memories of the mellow '70s for rock aficionados. In one of Alan Rudolph's few "studio" offerings, Meat Loaf plays a truck driver who becomes a roadie for a traveling rock show; Art Carney, Khaki Hunter and "Soul Train" host Don Cornelius co-star with a number of diverse musical acts including Alice Cooper, Blondie, Roy Orbison, and Hank Williams Jr. Rudolph's movie is likeable and extremely silly, making its appeal perhaps limited to devotees of the era, who ought to love Shout Factory's Blu-Ray, which includes commentary from writers Big Boy Medlin and Michael Ventura, a 1080p transfer and DTS MA mono soundtrack.
PETER PAN: RETURN TO NEVERLAND Blu-Ray/DVD/Digital Copy (**½, 2002, 73 mins., G; Disney): Decent 2002 follow-up to "Peter Pan" started out as one of Disney's countless made-for-video sequels before the studio opted to send it into a theatrical release. Above-average animation and several special features (deleted scenes, interactive games for kids) make this first Blu-Ray go-round for "Return to Neverland" a good choice for family viewing, with Disney's combo pack including a lovely 1080p AVC encoded transfer, DTS MA soundtrack, digital copy and DVD.
---
New From Twilight Time
Director Brian DePalma is in top form in BODY DOUBLE (114 mins., 1984, R), one of Twilight Time's latest Blu-Ray titles that quickly became one of the fastest sell-outs in the label's history. This suspenseful, playful, energetic thriller stars "Ghost Story"'s Craig Wasson as a would-be actor who takes a gig housesitting…and then promptly gets wrapped up with femme fatales Deborah Shelton, Melanie Griffith and a stolen purse.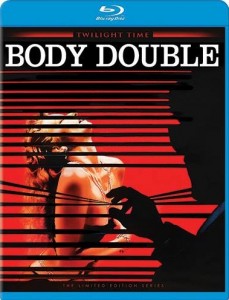 DePalma produced, directed and co-wrote (with Robert J. Avrech) this compelling mystery that's a feast for the director's devotees. The story is a bit seedy in places but between Stephen H. Burum's cinematography and DePalma's visual eye, "Body Double" captivates the viewer and keeps them engaged through its filmmaking finesse alone.
Twilight Time's Blu-Ray carries over the extras from Sony's DVD edition, offering an excellent Making Of (split into four segments) recounting the production's history via interviews with DePalma, Griffith, co-stars Gregg Henry, Deborah Shelton and Dennis Franz (oddly, Wasson is nowhere to be found). The 1080p AVC encoded transfer and DTS MA soundtrack are both excellent, and an isolated score track of Pino Donaggio's musical offering rounds out the now tough-to-find (at least for a reasonable price) Blu-Ray.
THE DISAPPEARANCE (91/101 mins., 1977, R): When my parents went out with a friend to Block Island a couple of weeks ago, they were seated at a table near Donald Sutherland in the Surf Hotel during lunch hour. I mention this personal anecdote not only because it's cool that celebrities lurk right around the Aisle Seat offices (my wife met Christopher Walken a couple of years ago at Champlin's seafood market, another local establishment), but because there's not a whole lot to say about Sutherland's 1977 starring effort "The Disappearance."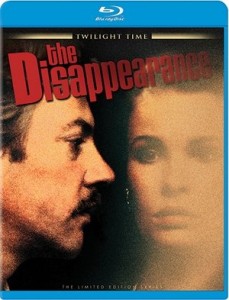 This troubled production, shot in Montreal, was directed by actor-turned-filmmaker Stuart Cooper and stars Sutherland as a hit man whose wife (Francina Racette) disappears. His recollection of their relationship and his associations with a handful of unsavory types (John Hurt, Christopher Plummer, David Warner and producer David Hemmings among them) is told in a non-linear fashion by Cooper and writer Paul Mayersberg, adapting a novel by Derek Marlowe. The elegant John Alcott cinematography of icy Canadian locales is effective in rendering the detached tone of "The Disappearance," but emotionally the film is stagnant and slow…so sluggish, in fact, that this 90-minute Canuck production feels twice as long in duration than it actually is, with unappealing characters and a narrative that comes off as much more complicated than it needs to be.
More interesting than the film – to me at least – is "The Disappearance"'s rocky post-production history, which is fascinatingly dissected in Twilight Time's Blu-Ray release. The movie's American distributor made things worse with a laughable recut that I remember seeing way back when on an old Vestron Video release. Robert Farnon's elegant underscoring was thrown away in favor of a hysterically bad "'70s score" by Craig Hundley (better known as the "blaster beam guy" from "Star Trek: The Motion Picture") while the picture was re-cut in an effort to make it more palatable for viewers (some 15 minutes of this terrible edit are included here).
While Cooper's original 101-minute version is presented in 4:3 standard-definition as a bonus, the proper HD print is comprised of a 91-minute edit that's something of a mystery to all involved – including the director! This edit retains Farnon's score and streamlines the running time while remaining more faithful to Cooper's intentions than the U.S. release. Regardless of its origins, this recently discovered edit (which Julie Kirgo surmises may have been the product of producer Hemmings) has the blessing of the director, who also participates in an engaging 10-minute interview, shot expressly by Twilight Time for this world premiere package. An isolated score track, an attractive 1080p transfer and a thin 1.0 DTS MA mono mix round out a fine disc for a '70s curiosity item that ought to particularly satisfy movie buffs with a fascination for pictures that exist in multiple cuts.
SEXY BEAST (89 mins., 2000, R; Fox): Ben Kingsley's scenery-chewing performance as a British thug who attempts to coerce now-retired safecracker Ray Winstone (a comparatively more subdued, yet equally effective performance) back into action might sound formulaic on the surface. Nevertheless, between its performances (besides Winstone and Kingsley, Ian McShane is terrific as a crime lord) and incisive script by Louis Mellis and David Scinto, Jonathan Glazer's "Sexy Beast" remains a favorite of the genre faithful. Twilight Time's Blu-Ray includes a fine 1080p AVC encoded transfer, DTS MA soundtrack (with an isolated score track), commentary from Kingsley and producer Jeremy Thomas, the trailer, and a Making Of featurette.
---
New From Criterion
Satyajit Ray's CHARULATA (119 mins., 1964) is one of the Indian filmmaker's defining works: a tense and fascinating study of a lonely wife (Madhabi Mukherjee) of a newspaperman who finds herself being inspired, and drawn to, his charismatic poet cousin (Soumitra Chatterjee). The crisp B&W images of pre-independence India underline the stifling emotional nature of Ray's drama, which focuses on Mukherjee's mounting courage in a marriage hanging on by a thread.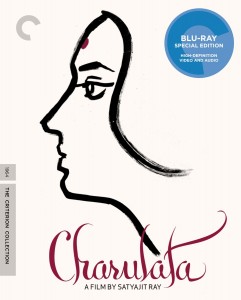 Like Ray's other pictures, "Charulata" is certainly slow-going but viewers interested in the subject matter are urged to check out Criterion's Blu-Ray. The restored 2K digital transfer (1.33) offers deep blacks and ideal contrasts, with extras including new interviews with the actors; "Adapting Tagore," featuring interviews with Indian and Bengali historians; an archival interview with Ray; a new English subtitle translation; and an essay from Philip Kemp in a booklet also offering a 1980s interview with the director by biographer Andrew Robinson.
Ernst Lubitsch earned mixed reviews when his TO BE OR NOT TO BE opened in 1942 – seen today, this uproarious satire on Nazism and ego-centric actors is regarded as one of the all-time comedy classics. Jack Benny and Carole Lombard play married actors in Poland just prior to the Nazi occupation of Warsaw in a movie that's ripe with witty lines and pungent black humor, all of it precipitating the U.S.' engagement in the conflict (at least while production was on-going). Lombard's final role adds a further significance to this Lubitsch classic, which Criterion has included here in a beautiful 2K restoration with fine grain evident throughout. A new commentary with David Kalat is one of the Blu-Ray's extras, along with a 1916 German silent, "Pinkus's Shoe Palace," featuring a new piano score by David Sosin; a 2010 French documentary on Lubitsch; two episodes from the radio series "The Screen Guild Theater," "Variety" (1940) with Benny, Claudette Colbert and Lubitsch, and a 1942 adaptation of the film with William Powell and Diana Lewis. Highly recommended!
---
EPIC Blu-Ray/DVD Combo Pack (**½, 102 mins., 2013, PG; Fox): Blue Sky Studios tried to break out of the "Ice Age" mold with this fantasy adventure concerning a scientist and his teen daughter who discover a magical, microscopic kingdom in their backyard under attack from the evil "Boggans". Eventually, precocious teenager M.K. (voiced by Amanda Seyfried) is shrunk down and joins the fight with a number of courageous soldiers and colorfully drawn creatures integrated into the mix.
Chris Wedge directed "Epic," which – much like similar, prior attempts at creating a more "action" oriented cartoon ("Titan AE," "Atlantis," "Sinbad") – failed to muster the same business as the studio's previous efforts. It's still a colorful, and beautifully designed, movie that looks breathtaking on Blu-Ray, but the story isn't that engaging and the picture's messages are obvious. Kids, at least, are likely to enjoy it, with Fox's Blu-Ray including a number of featurettes (Birds, Bugs and Slugs – Forest Explorer; Rot Rocks; Bugs of Camouflage; The Epic Life at 2 Inches; Mysteries of Moonhaven Revealed; enhanced coloring book app features), a digital copy, DVD, and a reference-quality 1080p transfer with DTS MA audio.
CAVALCADE Fox Blu-Ray/DVD (110 mins., 1933; Fox): One of those Best Picture Oscar winners you may have never heard of, much less seen, "Cavalcade" is an interesting if dated and clunky portrait of two British families who live through assorted, tumultuous events of the early 20th century. Noel Coward's play was reworked by writer Reginald Berkeley and director Frank Lloyd for this expensive "Picture of the Generation," which hits upon WWI, the sinking of the Titanic and other tragedies its participants were involved with. Resurrected by Fox in a Blu-Ray/DVD combo pack, vintage movie buffs should find the film suitably interesting for its historical relevance if nothing else, with extras including commentary from Richard Schickel, a Fox Movietone news reel, and a 4:3 B&W transfer/1.0 DTS MA audio (BD) and 4:3 full-screen/Dolby Digital mono audio (DVD) on the technical end.
HEART OF THE COUNTRY DVD (89 mins., 2012, PG; Fox): Country music singer Jana Kramer plays a singer who leaves the big city after her husband is arrested. Back down south, Kramer's Faith Carraday tries to put her life back together in a feel-good drama co-starring Randy Wayne and executive producer Gerald McRaney. One of Kramer's songs, "The First and Last Time," is included as a bonus feature on Fox's DVD, which also houses a 16:9 transfer, 2.0 Dolby Digital soundtrack and, for the moment, is a Walmart exclusive.
---
PARADE'S END Blu-Ray (300 mins., 2012; HBO): Well-shot, superbly acted five-part BBC/HBO adaptation of Ford Madox Ford's novels by writer Tom Stoppard and director Susanna White makes for a scintillating, compelling mini-series. Benedict Cumberbatch stars as a British nobleman – married to a cold socialite (Rebecca Hall) – whose participation in WWI and blossoming relationship with a suffragette (Adelaide Clemens) signals the end of Edwardian England and a passage into a more uncertain future for all involved.
Lushly produced and acted, "Parade's End" was rightfully lauded as an elegant, fascinating adaptation of Ford's books, distilled here into a classy production with pitch-perfect work from Cumberbatch, Hall and Clemens. HBO's Blu-Ray boasts a terrific 1080p AVC encoded transfer and 5.1 DTS MA audio; extras include a digital copy and an interview with Stoppard from "The Treatment" with Elvis Mitchell.
Also forthcoming from HBO is Steven Soderbergh's BEHIND THE CANDELABRA (118 mins., 2013), the much-discussed Liberace movie starring Michael Douglas as the flamboyant celebrity pianist and Matt Damon as his young lover, Scott Thorson, in an entertaining film that's nevertheless a bit restrained and superficial. The performances, though, remain compelling throughout Richard LaGravenese's dramatic treatment, which offers a dynamic (and creepy) turn from Rob Lowe as the surgeon who works over Thorson, plus Dan Arykoyd, Scott Bakula and Debbie Reynolds in supporting roles. The late Marvin Hamlisch supervised the music for "Behind the Candelabra," which arrives on Blu-Ray September 10th featuring a Making Of featurette, 1080p transfer, digital copy, and 5.1 DTS MA soundtrack.
---
Also New on Blu-Ray
SHAFT Blu-Ray (***, 100 mins., 2000, R; Warner): The return of Shaft to the big-screen generated solid returns back in the summer of 2000 – though, regrettably, not enough to spawn any sequels.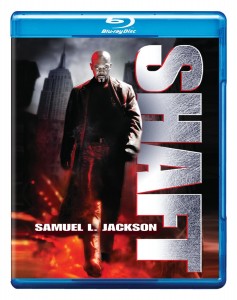 Samuel L. Jackson is firmly entrenched in cool as the nephew of the great private dick, but co-star Jeffrey Wright steals the show as a drug dealing bad guy. David Arnold's score, meanwhile, was one of its year's best – a fun homage to '70s orchestral/funk soundtracks. It's a glossy production all the way, well-paced by director John Singleton, with a top flight supporting cast (a younger Christian Bale, Toni Collette, Den Hedaya and Richard Roundtree among them) adding to the script by Richard Price, John Singleton and Shane Salerno.
Warner's Blu-Ray of the 2000 "Shaft" offers an excellent 1080p transfer and DTS MA soundtrack. No commentary or deleted scenes are on-hand, but a few goodies can be found here. Two good featurettes – one focusing on the film's production, the other on interviews with the cast and crew – are included, along with the theatrical trailer. Worth revisiting.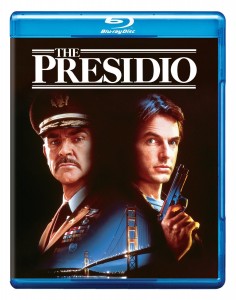 THE PRESIDIO Blu-Ray (**, 96 mins., 1988, R; Warner): Sean Connery's first starring role after winning his "Untouchables" Oscar came in this disappointing Summer '88 Paramount vehicle from director Peter Hyams and screenwriter Larry Ferguson. Connery plays a veteran San Francisco career military man who has to reluctantly team up with cop Mark Harmon in order to catch a killer who claimed the lives of both a police officer and a female MP ("Aliens"'s Jennette Goldstein); sparks fly, meanwhile, when Harmon begins courting Meg Ryan, who's also Connery's daughter.
Aside from a couple of vivid chase sequences that briefly bring the picture to life, "The Presidio" is tedious and forgettable. Harmon, obviously not the first choice to topline the film opposite Connery, came in after Jeff Bridges departed, while Connery himself was apparently a replacement for an ailing Lee Marvin. There's not a lot of chemistry between the duo, though Ryan – with her frizzy '80s mop – injects some much-needed life into the picture (even if she's less than believable as Sir Sean's offspring). Ultimately this is a minor film for all involved, and sputtered its way to a $20 million gross while its star flied off to join Steven Spielberg and Harrison Ford on the set of "Indiana Jones and the Last Crusade."
Warner's Blu-Ray, at least, does a nice job enhancing Hyams' trademark dank cinematography on Blu-Ray with a well-framed 1080p AVC encoded transfer. The DTS MA soundtrack offers a solid score by Bruce Broughton.
---
Warner Archive New Releases
Severely compromised by pre-release cuts, Barbra Streisand fans will still be happy to see ON A CLEAR DAY YOU CAN SEE FOREVER (**½, 129 mins., G, 1970) returning to DVD courtesy of the Warner Archives.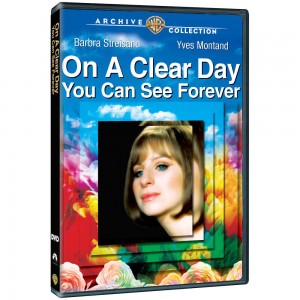 The Alan Jay Lerner-Burton Lane musical was brought to the screen with the great Vincente Minnelli attached as director, and a superb supporting cast (Bob Newhart, Jack Nicholson, Larry Blyden among others) brought in to back up Ms. Streisand's role as Daisy Gamble, a 22-year-old who crashes college professor Yves Montand's hypnosis lecture to see if she can't shake her nicotine addiction. Montand, in turn, sees in Daisy the potential of proving that ESP exists, particularly when Daisy shows evidence of having lived another life as the mysterious "Melinda," an English woman in the 1800s.
As any musical fan knows, the late '60s and early '70s were not a pleasant time for the genre. Several films flopped at the box-office and "On a Clear Day…" was only one of them. Of course, the movie's substantial editing prior to its opening didn't help: numerous songs were excised (including Nicholson's musical number) and plot elements were eliminated (consider that Roy Kinnear boasts a prominent credit but doesn't actually appear in the final cut!). The resulting film is a curious mixture of light musical comedy, gorgeous widescreen cinematography (courtesy of Minnelli and Harry Stradling), superb arrangements of the Lerner-Lane score by Nelson Riddle, and long, tedious stretches of dialogue without any songs at all. The lack of chemistry between Streisand and Montand is another turn-off, and the introduction of "mod" elements like Nicholson's hippie ex-stepbrother don't quite mesh with the old-fashioned central plot.
Perhaps one day the movie will be restored back to its original, intended form, but in the meantime, die-hard Streisand fans should find plenty to savor in Warner's Archive release, which is a virtual reprise of Paramount's old OOP DVD. Boasting a 16:9 widescreen transfer, "On A Clear Day…" looks excellent. Minnelli's use of primary colors and lighting is on full display and the print looks gorgeous from start to finish, enhancing the production's most positive attributes. The 5.1 soundtrack is likewise superb, and the original mono track has been retained for purists.
For more information on the film's ample cut sequences, visit Matt Howe's excellent summation of the discarded numbers and sequences at http://barbra-archives.com/
Also new this month from the Warner Archive are two other Paramount re-issues: FIRE IN THE SKY (**½, 109 mins., 1993, PG-13) recounted the Travis Walton U.F.O abduction case with D.B. Sweeney as Travis. Robert Lieberman's serviceable film co-stars Robert Patrick, Craig Sheffer, Peter Berg, Henry Thomas and James Garner, and is worth a look for genre buffs, mainly due to its effective final half-hour. The 16:9 transfer and 5.1 soundtrack are both solid…Shirley MacLaine, Yves Montand and Edward G. Robinson top-lined the 1961 Paramount romp MY GEISHA (**½, 119 mins.), a Technirama-shot comedy directed by master cinematographer Jack Cardiff. Another Paramount DVD re-issue, the Warner Archives disc includes a 16:9 (2.35) transfer and 5.1 stereo soundtrack.
Making its DVD debut this month is the Complete Fourth Season of EIGHT IS ENOUGH (1342 mins., 1979-80), the penultimate season for the Bradford clan, which is housed in a seven-disc box-set available through the Warner Archive online shop as well as Amazon and other online retailers. Eric Stoltz, Markie Post and Jonathan Frakes are among the familiar faces who pop up during the '79-'80 campaign of Nicholas and the gang…Dana Andrews and Anna Palk star in THE FROZEN DEAD (95 mins., 1966), a wild and woolly Seven Arts programmer about an effort to revive 1500 cryogenically frozen Nazis. Warner's DVD includes a 16:9 (1.66) transfer and mono soundtrack. More subdued genre shenanigans are on-hand in Bert I. Gordon's 1960 chiller TORMENTED (70 mins.), another Allied Artists release with Richard Carlson that makes its DVD debut in a crisp 16:9 presentation.
---
Anchor Bay Fox Catalog Titles
Back in 1993 Twentieth Century Fox released Alex Winter and Tom Stern's manic comedy "Freaked" in a grand total of two theaters — where it did little business and quickly went straight to video and laserdisc. I recall renting the laserdisc (even though it was full-screen) and immediately loving every moment of "Freaked," something that says a good deal about its appeal since I was just starting college at the time and that "campus demographic" had to have been what the movie was aiming for — provided Fox had given it half a chance to succeed.
Years after releasing a features-packed DVD edition of the movie, Anchor Bay has gone back to the well and released FREAKED (**, 80 mins., PG-13) in all its crazed glory on Blu-Ray – regrettably minus any of its supplements. Unfortunately, while I wasn't under the influence back in college when I first saw the film, my tastes have changed over the last decade or so because I found "Freaked" to be noticeably less amusing this time around.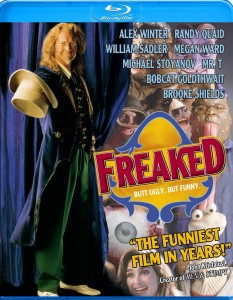 Chances are that most viewers have never heard of this relatively obscure effort from Alex Winter, the former "Bill & Ted" star, who somehow managed to attract the attention of 20th Century Fox, who bankrolled the movie despite subsequently burying it. Winter stars as a former child star who becomes transformed into a mutant after agreeing to become a spokesman for a banned chemical company (good idea, of course!). Soon Winter and his fellow freaks — including Mr. T as a bearded lady — attempt to rise up and regain their humanity from sideshow promoter Randy Quaid.
Filled with sight gags, hit-or-miss jokes and a cameo from Keanu Reeves, "Freaked" is every bit a frenetic comedy. The film reportedly cost upwards of $10-$15 million, something that can be seen in the picture's elaborate make-up and visual effects, despite the fact that the final cut clocks in at barely 80 minutes.
Back in college, I thought the movie was hilarious, and I plead guilty to calling it an "undiscovered gem that now stands a strong chance of finding the audience it deserves on video" years ago. Now, however, I can honestly say I didn't find the movie nearly as amusing — in fact, I found "Freaked" strident and obnoxious, with an insufferably smug performance by Winter at its core. "Freaked" fans may still enjoy the film — but I confess I'm no longer one of them, and its caustic soundtrack and overall tone come off as dated relics of their time.
Despite losing all of its DVD special features (commentary, deleted scenes, rehearsal footage, etc.), Anchor Bay's Blu-Ray is respectable with a satisfying 1080p transfer and Dolby TrueHD 5.1 soundtrack.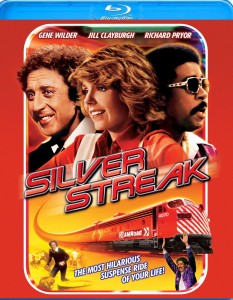 SILVER STREAK Blu-Ray (***, 1976, 113 mins., PG; Anchor Bay): Satisfying, entertaining – if leisurely told – comic caper with Gene Wilder as a regular guy who finds romance with secretary Jill Clayburgh at the same time he becomes embroiled in a mystery plot nearly worthy of the Master of Suspense himself. Colin Higgins' script mixes comedic and suspense elements better than his follow-up effort ("Foul Play"), thanks in part to Arthur Hiller's direction and performances from Wilder, Clayburgh, Richard Pryor (the first of several outings with Wilder), Ned Beatty, Clifton James and Patrick McGoohan. Henry Mancini's superb score is certainly another plus. Anchor Bay's Blu-Ray boasts a passable, if soft, 1080p transfer with mildly stereophonic 5.1 Dolby TrueHD audio.
Also new on the Anchor Bay/Fox Blu-Ray catalog front this month are LUCAS (***, 99 mins., 1986, PG-13), writer-director David "Omen" Seltzer's tender tale of a precocious teen (Corey Haim) who tries to woo a cheerleader ("Goonies"' Kerri Green) by trying out for the school football team. Plenty of familiar faces abound in "Lucas," from Charlie Sheen to Courtney Thorne-Smith, Winona Ryder and Jeremy Piven – outside of Dave Grusin's unfortunately dated synth score, this is a satisfying little movie that's received a similarly no-frills but adequate HD transfer from what I'm guessing is an older master… /Robert Downey, Jr. and Molly Ringwald try to strike up a romantic relationship in James Toback's troubled THE PICK UP ARTIST (**½, 82 mins., 1987, PG-13), a box-office misfire that wastes a great supporting cast (Dennis Hopper, Danny Aiello, Harvey Keitel), a Georges Delerue score (most of which was thrown out of the movie), and Gordon Willis cinematography in a watchable but minor character drama that's far from the goody-goody romantic comedy it's billed as. At barely 80 minutes and with producer Warren Beatty having removed his name from the credits (though several of his collaborators including Willis and production designer Paul Sylbert were involved), something clearly went amiss here – though the finished film is still worth a look if you're a fan of any of the stars. Anchor Bay's Blu-Ray transfer from the Fox vaults is decent, and the 5.1 Dolby TrueHD soundtrack functional – be on the lookout for copious four-letter words that had to be dubbed over in order to secure a PG-13 rating.
---
Also New & Upcoming
TO THE WONDER Blu-Ray (**, 113 mins., 2012, R; Magnolia): Terrence Malick's latest poetic meditation on the nature of human relationships once again looks awfully pretty but doesn't do much to engage the viewer – that is, unless you've found Malick's recent, formless affairs to be stimulating. The "story" involves Ben Affleck's relationship with divorced mom Olga Kurylenko, later girlfriend Rachel McAdams and a Catholic priest (Javier Bardem) – but it's mostly just a framework for Emmanuel Lubiezki's sumptuous cinematography and an elegant score mostly comprised of classical works. Sunlight filters through trees, "magic hour" lighting accentuates the moodiness of the material, and narration ruminates on the mystery of life, God and love – but we've seen it all before from the filmmaker, making you wonder (no pun intended) if this is all the second career half of Malick's filmography is going to be. Magnolia's Blu-Ray looks beautiful in 1080p and includes a fine 5.1 DTS MA soundtrack – a few extras include a Making Of and several additional, short featurettes.
PAWN SHOP CHRONICLES Blu-Ray/DVD (*½, 112 mins., 2013, R; Anchor Bay): Tepid anthology film from director Wayne Kramer puts an eclectic and compelling cast in a trio of stories connected to a small-town pawn shop presided over by Vincent D'Onofrio and Chi McBride. One story involves three white supremacists (Paul Walker among them) who fail at robbing a meth lab; the second is a sadistic tale of a husband (Matt Dillon) encountering more than he bargained for when his search for his missing ex takes him down to the farm of psycho Elijah Wood; and the concluding segment involves an Elvis impersonator played by Brendan Fraser. Broad stereotypes (as you might imagine) rule the day in Kramer's overblown, self-aware grindhouse exercise, which is well-made but fatally done in by weak material. Anchor Bay's Blu-Ray includes a commentary with Kramer and writer Adam Minarovich, a 1080p transfer and Dolby TrueHD soundtrack.
NO ONE LIVES Blu-Ray/DVD (86 mins., 2012, R; Anchor Bay): Luke Evans and Laura Ramsey play a couple who run afoul of a tough gang out in the middle of nowhere – after Ramsey is killed, Evans turns the tables in a story also involving a missing heiress (Adelaide Clemens) and plenty of gore. Ryuhei Kitamura, who helmed the misfired Clive Barker-Bradley Cooper pic "The Midnight Meat Train," brings his grimy sensibility to this dark grindhouse tale that's equal parts action and horror, and stylishly helmed for what it is. Anchor Bay's Blu-Ray includes a "From The Script to the Crypt" featurette, a 5.1 Dolby TrueHD soundtrack and 1080p transfer. Not for the squeamish, obviously.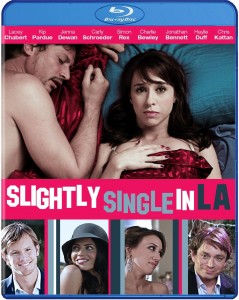 A COMPANY MAN Blu-ray (96 mins., 2012, Not Rated; Well Go): A seemingly mundane trading company turns into a haven for assassins at night – So Ji-Sub plays one of them, a lethal version of Michael Scott who finds himself in a jam when his new protégé is killed on the job and he feels responsible for caring for his family. Lim Sang-Yun directed this well-paced Korean import brought to Blu-Ray this month by Well Go USA. The 1080p transfer is vivid, and 5.1 DTS MA audio, a Making Of, and the trailer round out the release.
Upcoming from Well Go is SLIGHTLY SINGLE IN L.A. (88 mins., 2010; Not Rated), a likeable romantic comedy from writer-director Christie Will that stars the ever-likeable Lacey Chabert as a single girl in L.A. who swears off finding Mr. Right despite the fact that she's continuously thrust back into the relationship game. Jenna Dewan, Kip Pardue and Chris Kattan co-star in this good-natured 2010 indie just making its way to Blu-Ray from Well Go. A director featurette, the trailer, a 1080p transfer and 5.1 DTS MA soundtrack are all included on Well Go's Blu-Ray release, available September 3rd.
---
THE HOUSE OF SEVEN CORPSES Blu-Ray/DVD (91 mins., 1974; Severin): John Ireland, John Carradine and Faith Domergue starred in this 1974 independent horror outing from director Paul Harrison, focusing on the misadventures of a film crew – shooting a supernatural thriller – who run into more than they bargained for when genuine spooks begin to terrorize them. Shot in Salt Lake City, the oddball "House of Seven Corpses" has been restored by Severin in this uncensored Blu-Ray/DVD double pack, including an archival interview with John Carradine, a commentary with associate producer Gary Kent moderated by Alamo Drafthouse's Lars Nilsen, the trailer, and a spruced up 1080p transfer with mono audio.
THE ODD ANGRY SHOT Blu-Ray/DVD (92 mins., 1979; Synapse Films): Tom Jeffrey's Aussie Vietnam picture stars Graham Kennedy as a tough Air Service Corporal who heads a ragtag group of (of course) tough misfits with a sense of humor, including Bryan Brown, in "The Odd Angry Shot." A film that presaged America's decade of films depicting the Vietnam war, this is a fairly predictable yet well-produced picture here mastered from original vault materials in Synapse's Blu-Ray (1.78 1080p). Extras include a commentary from Jeffrey along with producer Sue Milliken and actor Graeme Blundell; a "Stunts Down Under' featurette" with Buddy Joe Hooker; the trailer; and a reversible cover.
---
NCIS Season 10 DVD (17 hrs., 2012-13; CBS): Mark Harmon and crew return for 24 episodes of the long-running, and still high rated, CBS prime-time series. This time out, more terrorists and serial killers are on the docket for the NCIS crew to investigate – as well as a certain murder trial that hits too close to home. Michael Weatherly, Cote de Pablo, Sean Murray, Pauley Perrette, Rocky Carroll, Brian Dietzen and David McCallum co-star with CBS' DVD box offering a number of featurettes, including an interview with director Mark D. Clookie; A Death in the Family; DiNozzo's Digs; You Wear It Well; 10 Items or Less: 10 Random Looks at NCIS; X Marks the Spot: A Look at Season X; 10 Years Aft; commentaries on select episodes; deleted scenes; and 16:9 transfers and 5.1 soundtracks.
Also new from CBS is Season 4 of NCIS: LOS ANGELES (aprx. 17 hours, 2012-13; CBS), the popular spin-off series with Chris O'Donnell, LL Cool J and Linda Hunt holding down the fort on the west coast. Here, O'Donnell's Callen finds himself accused of murder as Season 4 picks up where its cliffhanger third-season finale concluded, while subsequent shows detail Hunt's Hetty Lange combating threats from her past and Sam Hanna (Cool J) tackling a nemesis threatening his family. Extras include Sound Off (The Sound Team) of NCIS:LA; a featurette on O'Donnell directing an episode; Un4gettable: Season 4 retrospective featurette; Some Assembly Required (A Look at the Mobile Unit Headquarters); selected cast commentaries; 16:9 transfers and 5.1 soundtracks.
THE GOOD WIFE Season 4 DVD (aprx. 16 hrs., 2012-13; CBS): Although Alicia Florrick (Julianna Marguiles) continues her on-again/off-again tango with Josh Charles' Will, she falls back in with estranged hubby Peter (Chris Noth) in this fourth season of the hit CBS Sunday night series. "The Good Wife" mixes prime-time soap elements with cutting dialogue and a great supporting cast, led by Emmy winner Archie Panjabi, Christine Baranski, Matt Czuchry, and Alan Cumming. CBS' Season 4 DVD package is a six-disc set offering all 22 episodes in 16:9 transfers and 5.1 soundtracks. Extras include Seat of Power: Directing The Good Wife; Standards and Practices: Sex and The Good Wife; The Ties That Bind; Style Evolution: The Fashion of The Good Wife; and deleted scenes.
STAR TREK ENTERPRISE Season 2 Blu-Ray (aprx. 19 hours, 2002-03; CBS): The second season of the most recent "Star Trek" series kicks off with the resolution to the first season cliffhanger, "Shockwave," and continues on through some 25 episodes that run the gamut from the routine to the effective, with the majority of the superior shows having been penned by Rick Berman and Brandon Braga. While there's still a general feeling of been-there-done-that to "Enterprise," regardless of its solid cast, Trekkies should nevertheless appreciate CBS' Blu-Ray box-set, which includes a brand-new, three-part documentary, "Uncharted Territory," that boasts fresh cast/crew interviews and behind-the-scenes footage; a retrospective reunion interview with the cast and Braga; newly recorded commentaries; archival DVD featurettes, commentaries; and terrific 1080p transfers and DTS MA soundtracks.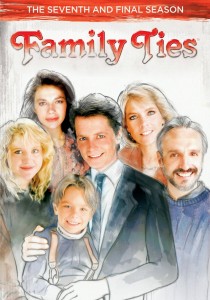 FAMILY TIES: The Final Season [Season 7] DVD (aprx. 11 hours, 1988-89; CBS): Another classic sitcom's DVD run is at last completed with the seventh and final year of "Family Ties." Some heavy plotlines, as usual, are mixed into the genial atmosphere in this last hurrah, especially after Steven Keaton (the brilliant Michael Gross) has a heart attack. Other plot lines involve Alex and girlfriend Lauren (Courteney Cox)'s relationship, Mallory (Justine Bateman) and her work in the fashion industry, and Jennifer (Tina Yothers) yearning to drive. Oh, and there's Andy (Brian Bonsall) as well – not quite the Cousin Oliver of this series but still one of those unnecessary additions that was used to prolong the program's run. All 24 episodes are included in CBS' four disc set in 4:3 transfers minted from the original videotape masters.
PERRY MASON: The Final Season [Season 9], Volume 2 DVD (1966): The final 15 episodes from "Perry Mason"'s concluding season are in session in this final box-set from CBS. Included here is Perry's final case (at least until his 1980′s TV-movie resurgence) as well as the one and only episode from the series, "The Case of the Twice-Told Twist," that was shot in color. Barbara Hale also provides an introduction to this episode, which puts a cap – at last – on Mr. Mason's adventures on DVD.
---
On DVD
MEDDLING MOM/THE SWEETER SIDE OF LIFE Hallmark DVD Double Feature (Gaiam): Gaiam's DVD double feature offers a pair of recent Hallmark Channel original movies. Sonia Braga plays a "Meddling Mom" who plays matchmaker for her eldest daughter in a breezy offering, while Kathryn Morris loses her husband – and her fortune – in "The Sweeter Side of Life," which sends her back to work at a neighborhood bakery. Both movies are included in 16:9 (1.78) transfers with 5.1 audio.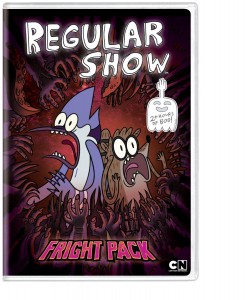 E One New Releases: SCATTER MY ASHES AT BERGDORF'S (93 mins., 2012, PG-13) plunges viewers straight into the history of Bergdorf Goodman's fashion emporium, with a veritable who's-who of fashion (Armani, Dolce & Gabbana, Mizrahi, etc.) appearing in Matthew Miele's 2012 documentary. E One's DVD includes a 16:9 transfer, 5.1 Dolby Digital soundtrack and additional bonus interviews...WWII TOP SECRET: DIEPPE UNCOVERED (68 mins., 2012) profiles Ian Fleming's role in the August 19th, 1942 Allied attack on the French port of Dieppe. Recreations and interviews are included in this docu-drama produced by Wayne Abbott, presented on DVD in a 16:9 transfer with 2.0 Dolby Digital sound…The Polish import 1939 BATTLE OF WESTERPLATTE (118 mins., 2013, Not Rated) chronicles the courageous Polish stand against the German battleship Schleswig-Holstein and several hundred Nazis who descended upon the garrison at Westerplatte. E One's DVD includes a 16:9 transfer and 5.1 soundtrack (in Polish with English subtitles) along with a 2.0 English dubbed track…The Complete Third Season of CALL ME FITZ (328 mins., 2012) brings back Jason Priestley's Fritz for another season of wild antics. E One's two-disc set includes all 12 episodes in 16:9 transfers with extras including "Inside Call Me Fitz"; "Meet Melody Gray"; a Sizzle Reel; Featurette and "The World of Fitz" extra.
New From IFC: Filmmaker Mira Nair's latest, THE RELUCTANT FUNDAMENTALIST (130 mins., 2012, R), adapts Mohsin Hamid's bestselling book. This dense political thriller finds Kate Hudson, Liev Schrieber and Kiefer Sutherland co-starring opposite Riz Ahmed as a Pakisani professor whom the CIA believes is involved in the kidnapping of an American over in Pakistan. IFC's Blu-Ray boasts a 1080p transfer and both 5.1 DTS MA and 2.0 PCM lossless soundtracks. A Making Of featurette is included on the supplemental side.
REGULAR SHOW: FRIGHT PACK DVD (176 mins., Warner): Just in time for Halloween comes this compilation of episodes from the popular Cartoon Network series. Included in the single-disc Warner DVD are the two-part Halloween special "Terror Tales of the Park II" along with 12 other episodes from the first four seasons of J.G. Quintel's show (Dead at Eight; Jinx; Grave Sights; Ello Gov'nor; Death Bear; Skunked; See You There; Meat Your Maker; Best VHS in the World; Dizzy; Last Meal; and Skips' Stress).
From Lionsgate: Weta Digital's MEET THE WOTWOTS (110 mins., 2009) is a colorful children's program for kids starring a pair of aliens who learn about animals in 10 different episodes. Lionsgate's DVD, available August 20th, includes 1.78 widescreen transfers and stereo soundtracks.
NEXT TIME: More of the latest releases! Until then, don't forget to drop in on the official Aisle Seat Message Boards and direct any emails to our email address. Cheers everyone!