I was forced to read John Cheever's short story THE SWIMMER not once or twice, but several times between 7th grade and high school graduation. While that may be somewhat of a damning indictment of growing up in the '80s and early '90s (between that and the handful of Toni Morrison novels I was forced to endure, you can understand why kids today have no familiarity with classic literature), Cheever's story was an interesting read, and one that made for an equally fascinating 1968 film (***½, 94 mins., PG) starring Burt Lancaster. The movie – a commercial failure that eventually gained a cult following – is now available on Blu-Ray from Grindhouse Releasing in a sensational package that's an early candidate for the year's best.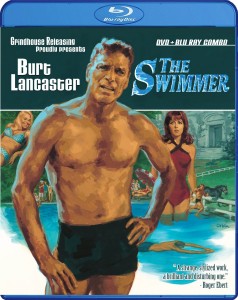 "The Swimmer" probes the fragmented psyche of a wealthy townie who swims from one pool to the next in a wealthy Connecticut suburb, gradually reliving his failed personal and professional life along the way. Lancaster stars as Ned Merrill, and gives a tremendous performance as a guy experiencing his past and re-experiencing his downfall, which is partially revealed in a series of mostly ambiguous run-ins with various neighbors. From his family's nubile babysitter (Janet Landgard) to his former mistress (Janice Rule), it's clear something has happened to Ned's job and (possibly) family, and yet director Frank Perry and screenwriter Eleanor Perry (the director's then-wife) do a remarkable job retaining enough of the mystery from Cheever's story so it's never completely explained. Lancaster, meanwhile, is superb in a demanding role that ranges from a sexist, cheating, demeaning louse to a sympathetic loser who's fallen from grace (look also for Joan Rivers as a party guest Burt hits on late in the film!).
"The Swimmer" is a weird, poetic, powerful film from the late '60s – both a time capsule of its time and a vivid portrait of a upper-middle class man overly (and seemingly) swept up in the fast lane of life, who receives his comeuppance as the picture progresses. It's nearly like "Ordinary People" meets "The Twilight Zone," though even that description doesn't quite capture the film's offbeat eccentricities and its central theme, which is as valid today as ever.
Originally shot on-location in Connecticut, "The Swimmer" had a rocky post-production period, with an uncredited Sydney Pollack called in to re-shoot scenes involving, among others, Lancaster and Janice Rule. A handful of secondary roles were re-cast and re-shot in California, often obviously so, with Kim Hunter one of the new additions to the film (according to one of the casting sheets seen in the documentary, Billy Dee Williams originally played the chauffeur whom Lancaster insults).
It's possible that these alterations only added to the movie's strange atmosphere and tone, but either way, the film's legacy and its fascinating behind-the-scenes story have been captured in a spectacular Blu-Ray/DVD release from Grindhouse. Available March 25th, "The Swimmer" not only includes a phenomenally fresh, and DNR-free, 1080p transfer from the Sony vaults, but also a full isolated stereo track of Marvin Hamlisch's memorable dramatic score (his first) and a bevy of extras.
Chief among them is an extensive, 2½ hour documentary from Oscar-winning film editor Chris Innis. Though many of the principals have since passed, Innis managed to assemble Janet Landgard, Joan Rivers, editor Sidney Katz, Burt's daughter Joanna Lancaster, and assistant directors Michael Hertzberg and Ted Zachary. All share their recollections of working on the film, particularly Lancaster's generosity and his conflicts with Frank Perry, along with producer Sam Spielgel's problems with the film in post-production. The latter lead to Frank Perry being fired and Pollack brought in at Lancaster's insistence, along with Katz extensively recutting the picture. Though the Perrys were obviously unhappy with Spiegel's actions, there's little that disappoints in the released version – and the fact that Frank Perry worked with editor Katz on subsequent projects indicates that perhaps the director was satisfied, at least somewhat, with how the picture turned out after all.
Also included in the documentary is a 2010 conversation with Marvin Hamlisch, who details his hiring on the film and eloquently sums up the movie's pleasures, as well as Marge Champion, who can be seen in the film's opening sequence. The elderly Champion also appears in a 2013 TCM screening interview conducted by filmmaker Allison Anders, likewise included here in the bonus features.
Grindhouse has also included unused footage shot for the movie's opening credits, as well as stills from Barbara Loden's discarded scene in the role that Rule ultimately filled. This is also brought up in the documentary with the revelation that Loden's husband at the time, director Elia Kazan, conspired with Spiegel to have her sequence removed – going behind the backs of the Perrys, who thought Kazan was acting as an advocate for them.
Additional still galleries, full trailers and TV spots, a recording of Cheever reading his original story, and booklet notes from B-movie auteur Stuart Gordon and Innis make for a dynamite package that's my favorite release so far in 2014. Unquestionably recommended!
---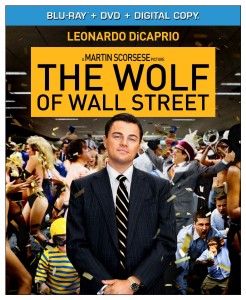 Also New on Blu-Ray
THE WOLF OF WALL STREET Blu-Ray (**, 179 mins., 2013, R; Paramount): I'm not sure I've ever watched a film so long that yielded so little.
Martin Scorsese's bombastic, endless film about the life of Wall Street trader Jordan Belfort plays like a virtual rough draft – a surprisingly repetitive and soulless rehash of "Goodfellas," substituting the mob and violence with Wall Street and drugs, but otherwise adhering to the same basic structure of the director's far superior 1990 classic.
Belfort (a showy, glib performance from Leonardo DiCaprio) is a brash young hot shot who takes advantage of the "Greed is Good" '80s with its associated decadence and Wall Street's boom and bust cycles, working the system over and taking advantage of many a gullible buyer. He's rough with his women, loose with his morals, and high on both life and drugs – indulging in the era's excesses from private yachts to fast cars and showing an allegiance only to his friends, including his business partner (played by Jonah Hill in an amusing turn that nevertheless, much like the film's lead performance, didn't seem to be worthy of an Oscar nomination).
"The Wolf of Wall Street" is sporadically invigorating but ultimately detached and exhausting – making you wonder what, if any, film editing actually took place on this picture. There's one party sequence, one snort of cocaine, one sexual liaison after another – but lost in the debauchery is any sort of human interest or narrative development. Belfort is a louse, no doubt, but any level of sympathy you might've had for him goes out the window with Scorsese spending so much time on the sordid behavior of the investors that I couldn't wait for the cocky protagonist to get his comeuppance. Rob Reiner as Belfort's father generates a few laughs, and the stunning Margot Robbie makes a big splash (clothes on and off) as the investor's second wife, but there's not nearly enough dramatic stakes to make you care. In fact, one of the story's most pivotal elements – with Kyle Chandler playing the FBI agent who eventually takes Belfort down – is given surprisingly short-shrift, here treated less as the dramatic development it should've than one more episode in Belfort's fall from the 1%.
Scorsese apparently rushed the film through post-production to meet a Christmas release and the signs of the movie having not been satisfactorily completed are obvious – there's incredibly poor ADR looping, digital effects backdrops that often look as believable as rear projection on a '40s backlot, and continuity errors that are noticeable throughout. More significant, however, than the technical problems is that there's no reason at all why a good 30-45 minutes couldn't have been trimmed – as superficial as the picture is (guess what folks – money doesn't buy happiness!), at least the movie would've been more entertaining in a leaner, more focused format. In the end, this "Wolf" is a self-indulgent work-in-progress in dire need of pruning.
Paramount brings "The Wolf of Wall Street" to Blu-Ray this week in a 1080p transfer. While the widescreen lensing of Rodrigo Prieto is superb, HD only heightens the movie's sloppy technical issues (there's even a jarring digital transition when DiCaprio's car drives up to a mini-mall; clearly he wasn't driving, as the frame "shifts" once he steps out). The 5.1 DTS MA audio is expertly mixed, at least, with just one fluffy featurette, a DVD and digital copy rounding out the package.
47 RONIN 3D Blu-Ray Combo Pack (**, 119 mins., 2013, PG-13; Universal): Stylish looking box-office flop stars Keanu Reeves as a "half breed" in a fantastical feudal Japan who aids a group of disgraced ronin in reclaiming their honor by defeating an evil sorceress – or something along those lines – in this $175 million bust from Universal Pictures. "47 Ronin" is undeniably gorgeous thanks to John Mathieson's lensing, but it's easy to see why this expensive failure sat on the shelf for so long. Outside of some exciting moments early and late in the film, the picture is dreary and dull, with Reeves muddling through a cliched roster of dramatic entanglements and plodding placing. Universal's 3D Blu-Ray combo pack, out April 1st, offers a good-looking 3D presentation of the film that's only hindered by the movie's darkish hues, and a 1080p transfer that's just as effective on a standard 2D platter. Extra features include three format-exclusive featurettes plus deleted scenes, a DVD and digital copy.
SAVING MR. BANKS Blu-Ray (***, 125 mins., 2013, PG-13; Disney): Well-acted though uneven tale of how Walt Disney (Tom Hanks) lured Australian author P.L. Travers (Emma Thompson) to Hollywood to make a film out of "Mary Poppins." When the movie sticks to the behind the scenes story of Disney's '60s classic, "Saving Mr. Banks" is breezy and entertaining, with Jason Schwartzman and B.J. Novak essaying the Sherman Brothers and the movie functioning as an engaging, if transparently obvious, promotion for the Disney "brand." However, there's another aspect to the film – regarding Travers' rough upbringing and relationship with her alcoholic father (Colin Farrell) – that's not only dwelled upon but takes up nearly a third of the movie. A little less of the latter's heavy-handedness, and a little more of the former's magic, would've made for something more satisfying than "Saving Mr. Banks," but this still an entertaining, occasionally moving pic from director John Lee Hancock ("The Blind Side"). Disney's Blu-Ray, out this week, includes deleted scenes, two featurettes, a 1080p transfer, DTS MA soundtrack and a digital copy.
---
New From Criterion
Harold Lloyd had reportedly worked for years to restore many of his classics, and while collectors debated the merits of a 2005 New Line DVD box-set offering new transfers, Criterion's Blu-Ray/DVD edition of THE FRESHMAN (76 mins., 1925) is an unquestioned gem: a fitting historical tribute to Lloyd and old Hollywood that's packed with superlative extra features.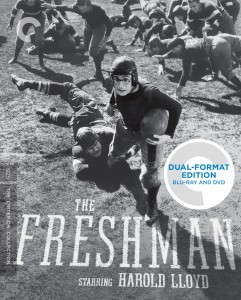 Lloyd's biggest box-office hit – with the star playing a new arrival on campus who dreams of getting the girl and winning the big game, but whose efforts in both categories mostly go up in smoke – is also one of the greatest silent comedies ever made. Its memorable finale is punctuated here by a terrific Carl Davis score, with the movie having been meticulously restored in 1998 by the UCLA Film & Television Archive.
Criterion's dual-format release includes Davis' score in uncompressed PCM stereo audio; a commentary with Lloyd historians along with critic Leonard Maltin; an introduction to the film by Lloyd from a 1966 TV series; three newly restored Lloyd shorts (The Marathon, An Eastern Westener and High and Dizzy), the latter two with Davis scores; a visual essay on the film's locations; a conversation with Lloyd archivist Richard Correll and historian Kevin Brownlow; footage from a 1963 Delta Kappa Alpha tribute to Lloyd; and Lloyd's 1953 appearance on the classic TV series "What's My Line?"
Also new from Criterion this week is THE GREAT BEAUTY (142 mins., 2013), Italian director Paolo Sorrentino's acclaimed look at a journalist's (Toni Servillo) retrospective of his life and loves set against the beauty and surrealism of Rome. Criterion's Blu-Ray/DVD dual format release includes a 2K digital film transfer supervised by the director as well as DTS MA audio; a conversation between Sorrentino and Italian critic Antonio Monda; an interview with Servillo; a talk with writer Umberto Contarello; deleted scenes; and the trailer.
---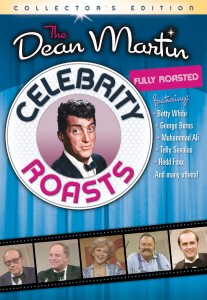 TV On DVD
THE DEAN MARTIN CELEBRITY ROASTS: FULLY ROASTED (Starvista): Another entertaining Starvista set features 17 complete Dean Martin roasts in a less expensive release than the label's deluxe package I covered last year. The subjects for ridicule here include Betty White, Ronald Reagan, Bette Davis, Muhammad Ali, George Burns, Angie Dickinson, Telly Savalas, Rowan & Martin, Barry Goldwater, Suzanne Somers, George Washington, Dennis Weaver, Ralph Nader, Gabe Kaplan, Redd Foxx, Hugh Hefner and Zsa Zsa Gabor.
NBC aired the roasts for many years from 1973 through the mid '80s, and Starvista's 6-disc set also includes a number of extras, including bonus comedy sketches featuring Dean, Howard Cosell, Vincent Price and William Holden; three featurettes (Ladies of the Dais, Beauty & The Beast: Ruth Buzzi Vs. Muhammed Ali and Roast in Hell: Politicians Under Fire); and a number of exclusive interviews from the late Phyliss Diller to Shirley Jones, Angie Dickinson, Carol Burnett and Fred Willard among others.
CONTINUUM Season 2 Blu-Ray (aprx. 9 hours, 2013; Universal): Canadian TV series stars the lovely Rachel Nichols as a cop circa 2077 who unknowingly is sent back in time along with an inmate who was about to be executed. Her attempts to figure out why, as well as adjust to the decidedly lower-tech world of 2012, form the basis of this fairly routine series which has aired domestically on the Syfy Channel to decent ratings – with Season 3 having just premiered a week ago. Universal's Season 2 Blu-Ray set includes 11 episode commentaries with cast/crew members, over 70 minutes of behind-the-scenes featurettes, 1080p transfers and 5.1 DTS MA soundtracks.
BEN 10 OMNIVERSE: DUEL OF THE DUPLICATES DVD (110 mins., 2014; Warner): New DVD compilation from the Cartoon Network series offers the complete "Albedo Story" (The Ultimate Heist, A Fistful of Brains, For a Few Brains More) as well as a pair of bonus episodes (Evil's Encore; Return to Forever). 16:9 transfers and stereo soundtracks are on tap in Warner's single-disc release.
---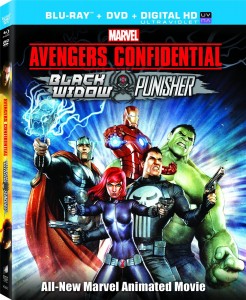 Also New & Noteworthy
AVENGERS CONFIDENTIAL: BLACK WIDOW & PUNISHER Blu-Ray/DVD (83 mins., 2013, PG-13; Sony):Japan's Madhouse animated this latest Marvel direct-to-video movie, focusing on the exploits of Black Widow (voiced here by Jennifer Carpenter) and the Punisher (Brian Bloom). Black Widow's fellow Avengers Iron Man, Thor and the Hulk likewise chip in appearances in this team-up between two of its (sort of) anti-heroes, who are sent on a mission to stop LEVIATHAN, a global terrorist organization, at the urging of Nick Fury and the SHIELD gang. PG-13 level action and stylized art design give this an edge over some of Marvel's prior direct-to-video movies, though it's a bit adult and lengthy for young kids. Sony's combo pack includes a 1080p transfer, DTS MA soundtrack, DVD copy, Ultraviolet copy, two featurettes and a BD-exclusive conceptual art gallery.
CHINESE ZODIAC Blu-Ray (110 mins., 2013, PG-13; Universal): Jackie Chan's latest concoction stars the martial arts great as Asian Hawk, an adventurer trying to retrieve lost bronze heads. Oliver Platt has a cameo as a wealthy entrepreneur offering a reward for the goods in this Chan-directed adventure Universal brings to Blu-Ray in a 1080p transfer (English only 5.1) with DTS MA sound, a Making Of featurette, and digital copy.
THE BAGMAN Blu-Ray (109 mins., 2013, R; Universal): Independently produced thriller stars John Cusack as a hitman tasked with bringing a bag to his boss (a Robert DeNiro cameo), but becomes entangled in a battle with fellow mobsters and cops on the take. Crispin Glover, Dominic Purcell and Rebecca DeCosta co-star in "The Bagman," which was shot by Cinedigm for a theatrical release but ended up going straight to Blu-Ray instead. Universal's package includes a Making Of featurette, digital copy, 1080p transfer and DTS MA 5.1 audio.
THE PUNK SINGER DVD (82 mins., 2013, Not Rated; IFC): Documentary from Sini Anderson takes viewers into the punk movement for a profile of Kathleen Hanna, lead singer of the band Bikini Kill. She also single handedly launched the "riot grrl movement," but when Hanna bowed out of the scene in 2005, many wondered what became of her. "The Punk Singer" chronicles both Hanna's life after the punk revolution as well as boasts archival footage from the era, with interviews from Joan Jett to Adam Horovitz included for good measure. IFC's DVD includes deleted scenes, featurettes, the trailer, a 16:9 transfer and 5.1 Dolby Digital soundtrack.
NEXT TIME: More of the latest reviews! Until then, don't forget to drop in on the official Aisle Seat Message Boards and direct any emails to our email address. Cheers everyone!