www.andyfilm.com (new columns debut here first!)
email: mailbag @ andyfilm.com (remove spaces!)
Message Board (open 24 hours!)
Twitter - @andredursin (for everything else!)
The magic's gone in X-MEN: APOCALYPSE (**, 144 mins., 2016, PG-13; Fox), the ninth (is that even possible?) X-Men film that's easily the weakest from director Bryan Singer, who seemingly remained too long at the franchise party this time around.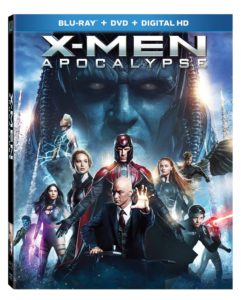 The script by the usual suspects (Singer, Simon Kinberg, Michael Doughtery, Dan Harris) is set in the early '80s, where Professor Xavier (James McAvoy) remains in control of cultivating the world's mutants…at least until an ancient mutant, Apocalypse (Oscar Isaac), is woken from a centuries-long slumber, just in time to rally the bad and easily-swayed super-powered beings – including Magneto (Michael Fassbender) – in an all-out war against the X-crew. Speaking of them, fresh additions this time around include a young Jean Grey (Sophie Turner) and Scott "Cyclops" Summers (Tye Sheridan), along with a new Storm (Alexandra Shipp) and fan favorite Psylocke (Olivia Munn), all of whom find themselves on different ends of the Mutant Vs. Mutant spectrum.
"Apocalypse" is a little bit difficult to peg in terms of what, specifically, went wrong here – the movie has the same visual trappings as its prior installments and is still certainly watchable for comic book fans. Its main fault is that it's tired – the repetitious character introductions, the prolonged climax, the end-of-the-world visual FX, all of it smacks of "been there done that." What's more, the film is littered with so many characters and episodic passages, that it's no wonder Jennifer Lawrence gives a somnambulant performance as Mystique, nearly serving as a traffic cop to the various comings and goings and occasional cameo (you'll never believe who Hugh Jackman appears as!) the film repeatedly throws at the viewer.
There's no sense of momentum and not enough playfulness – only when Evan Peters' Quicksilver shows up in a virtual reprise of his memorable "Days of Futures Past" introduction does the film perk up for a few minutes.
The ironic element is that while Singer can't resist another chance to take a shot at "X-Men: The Last Stand" ("the third one always sucks" quips one character), he's here produced an installment that's actually more disposable. With Lawrence's contract apparently up and few prospects of a breakout star in the movie's forgettable supporting cast, perhaps he should be more concerned with the series he's making than the sequel he didn't get a chance to.
Fox's Blu-Ray boasts a 1080p (2.40) AVC encoded transfer and 7.1 DTS MA soundtrack that are both, expectedly, top notch. Extras include over 20 minutes of deleted/extended scenes, a gag reel, commentary, a featurette, "Wrap Party Video" and Digital HD copy.
Also New From Fox: Season 4, Volume 1 of THE VIKINGS (895 mins., 2016) finds King Ragnar returning from battle and on death's door. Upset by his marriage and combative relationship with his sons, Ragnar seeks companionship with slave Yidu, while Queen Kwenthrith plots to reclaim Mercia. Ten unrated episodes from the History series – from the first half of its fourth season – are included in MGM's Blu-Ray along with 1080p (1.78) transfers and 5.1 DTS MA sound, featurettes and broadcast-length shows (in addition to the uncut versions)….The kid-friendly ICE GIRLS (91 mins., 2016, PG) is a Canadian lensed production about a young girl who regains her interest in competitive ice skating once her mother relocates their family to a new town – only to set up a rivalry with an overly intense new classmate. Natasha Henstridge, Sheila McCarthy, Lara Davis and ice skating champ Elvis Stojko co-star in this new Fox DVD exclusive, complete with a 16:9 transfer, 5.1 sound and a Digital HD copy.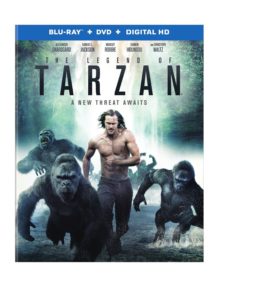 THE LEGEND OF TARZAN 4K Ultra HD/Blu-Ray Combo Pack (**, 110 mins., 2016, PG-13; Warner):Likely the biggest waste of $180 million ever placed on-screen, this shoddy looking – if intermittently entertaining – attempt at resurrecting Edgar Rice Burroughs' hero for modern audiences almost works.
A reportedly troubled production that overperformed at the box-office, "Legend of Tarzan" offers some smart tweaks to the old formula, reprising Tarzan's origin through flashbacks while relaying how Lord Greystoke (Alexandar Skarsgard) is lured back to the Congo in what's really a trap set by a conniving Belgian captain (Christoph Waltz) hungry for diamonds and a local warlord (Djimon Hounsou) thirsty for revenge.
Adam Cozad and Craig Brewer's script tries to avoid racial stereotyping and smartly refrains from becoming overly P.C. as Tarzan is joined by an American envoy (Samuel L. Jackson) in his adventure, along with Greystoke's wife Jane (Margot Robbie), who's promptly abducted by Waltz's Belgian bad guy, setting her husband off on a mission to save her.
"Harry Potter" helmer David Yates has packaged a slick but strange film that's filled with pros and cons. On the one hand, Jackson's affable character serves as an audience surrogate who interjects some much needed comic relief into the story – on the other, the film is occasionally morose and too downbeat, not to mention aesthetically unappealing. I'm not sure where the movie's high price tag went, but the entire movie boasts a "digital" appearance that's utterly unconvincing. At times the fake African backdrops (the movie was shot on greenscreen in the UK with only 2nd unit filming taking place overseas) look like a bad video game – at others, "arty" digital tweaking drains specific colors out of the image, to no dramatic effect at all (except to call attention to themselves). The picture also seems to have been editorially "massaged" to such a degree that it never establishes a clear line of momentum, something that should come as no surprise given the stories of poor test screenings and reshoots (apparently not handled by Yates, who left to shoot the upcoming Potter prequel) that reportedly took place prior to release.
Ultimately there are some smart touches to be found here – and it's a shame Margot Robbie's plucky, athletic Jane is buried in the era's attire – but the film is too awkward and ultimately unsatisfying to really score.
Warner's UHD 4K release, if anything, heightens the phoniness of the film's visual design – it's so clear and perfect that the HDR, vivid as it is, only heightens the unnatural element of the visuals. The standard Blu-Ray looks nearly as potent with its 1080p (2.41) transfer while Dolby Atmos/TrueHD audio is constantly active and nicely mixed. Extras include several behind the scenes featurettes and a Digital HD copy.
---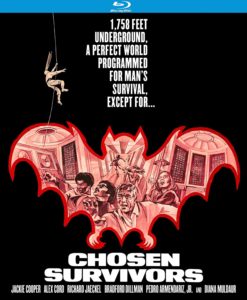 Kino Lorber Studio Classics – October Releases
CHOSEN SURVIVORS Blu-Ray (**½, 99 mins., 1974, R): Quite watchable, low-budget sci-fi thriller sends a group of disparate Americans (Jackie Cooper, Alex Cord, Richard Jaeckel, Bradford Dillman, Pedro Armendariz, Jr., Diana Muldaur and Barbara Babcock) into an underground bunker. There, they find out they are the going to be the last remnants of civilization after a nuclear war wipes out the world above…at least until a colony of vampire bats manifests themselves, throwing the future of humankind into jeopardy.
Slowly-paced by director Sutton Roley, this Metromedia Producers Corporation outing is at least moody enough, thanks to appropriately dour performances and a strong Fred Karlin score. In fact, if one watches "Chosen Survivors" unaware of its musical pedigree, viewers might assume it's an early John Carpenter outing, as Karlin's music often punctuates the material in the exact same manner as Carpenter's later, heralded scores for "Halloween" and countless others.
Kino Lorber's Blu includes a 1080p (1.85) transfer, licensed from Fox (the film's current copyright holder), which is limited in its appearance by soft, grainy cinematography. The DTS MA mono sound is coarse at times, and extras include the trailer and breezy commentary from Richard Harland Smith, who performed the same service in last month's "Beware…The Blob" release.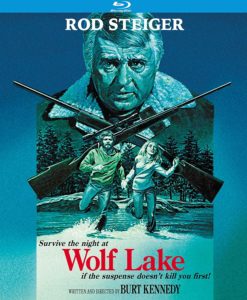 WOLF LAKE Blu-Ray (*½, 88 mins., 1980, R; Kino Lorber): Rarely-seen Burt Kennedy thriller pits a bigoted WWII vet (Rod Steiger) against a Vietnam deserter (David Huffman) at a Canadian hunting lodge.
A poor man's "Deliverance"/"Straw Dogs" knockoff, this Lance Hool production saw scant theatrical distribution and nearly missed going into production in the first place after losing some of its initial backers. Ultimately shot in Mexico, "Wolf Lake" never found much play in North America, and prints of the movie have been hard to come by.
Kino Lorber's Blu-Ray offers a 1080p (1.78) transfer that seems oddly colored with few blues and greens evident – I'm not sure if it was a stylistic choice on the part of Kennedy and his cinematographer, or may just be a result of a battered and faded print. Either way, the presentation seems fitting for a nasty and unsatisfying little movie that seems to have been drastically cut down, as we're seemingly plunged into the contrived conflict between Steiger and Huffman with next to no set-up, or development of its various players, at all. Paul Mantee, Richard Herd and Jerry Hardin play Steiger's more sympathetic hunting buddies, while future "General Hospital" staple Robin Mattson has the thankless role of Huffman's girlfriend, who's battered and bruised in the skirmish.
The DTS MA mono sound houses an obvious Ken Thorne score plus interviews with Hool, Hardin and Herd.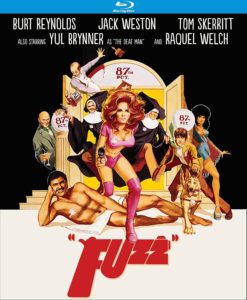 THE LAUGHING POLICEMAN Blu-Ray (***, 112 mins., 1973, R; Kino Lorber): Taut police drama from director Stuart Rosenberg finds San Francisco lieutenant Walter Matthau teamed with a younger partner (Bruce Dern) in investigating a bus massacre that killed eight, including his late partner. Adapting a novel by Per Wahloo and Maj Sjowali, writer Thomas Rickman and Rosenberg cultivated a solid early '70s thriller with strong location shooting, an exciting climax and an excellent supporting cast (Lou Gossett, Anthony Zerbe, Cathy Lee Crosby, Joanna Cassidy and Albert Paulsen) adding to a film that compares favorably with the likes of "Dirty Harry," "The French Connection" and other genre faves from that era. Kino Lorber's Fox licensed 1080p (1.85) AVC encoded transfer and DTS MA mono soundtrack are fine; extras include commentary from the historian triumvirate of Lee Pfeiffer, Eddy Friedfeld and Paul Scrabo, plus conversations with Paul Koslo, an image montage and a trailer gallery.
FUZZ Blu-Ray (**½, 92 mins., 1972, PG; Kino Lorber): Adaptation of the Ed McBain novel scripted by McBain himself – utilizing his real name, Evan Hunter – this UA/Filmways box-office disappointment stands in stark contrast to "The Laughing Policeman" and other, hard-edged '70s cop thrillers. This one is lighter in tone as it follows the men and women of Boston's 87th Precinct, including Burt Reynolds, Tom Skerritt, Raquel Welch and Jack Weston, leading a cast of numerous familiar faces. Yul Brynner, meanwhile, essays a crime boss causing problems in a watchable yet not particularly satisfying, episodic melding of police thriller and comedy best recommended for New Englanders and particularly Bostonians for its cinematic capture of the city in the early '70s. Kino Lorber's Blu-Ray offers a new commentary with director Richard A. Colla, moderated by Elijah Drenner, with trailers and a 1080p (1.85) AVC encoded transfer in generally good shape though skin tones seem a bit pinkish. The DTS MA mono sound houses a Dave Grusin score typical of its time.
---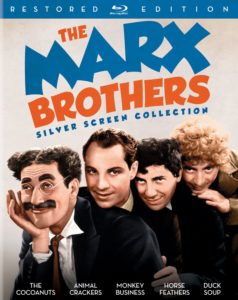 Universal New Releases
Universal's wonderful new THE MARX BROTHERS: SILVER SCREEN COLLECTION includes five of the Brothers' theatrical efforts – "Duck Soup," "Horse Feathers," "Monkey Business," "Animal Crackers" and "The Cocoanuts" – all in HD on Blu-Ray for the first time, with both copious new extras and footage that's been missing from "Animal Crackers" since the movie was cut to conform with the Hays Code in 1936.
Though none of these late '20s/early '30s efforts are as funny today as "A Night at the Opera," for example, this set is still a must for any Marx Bros. fan: the original black-and-white transfers look as good as they're likely to get, with the occasional flaw inherent in the source materials. All five films have been given new 4K restorations and easily trump their DVD counterparts in every way, while DTS MA mono sound delivers the sometimes crudely recorded early soundtracks as best they can be presented. The five films, produced between 1929 and 1933, also show how quickly filmmaking moved in the early days of sound: though 1929's "The Cocoanuts," for example, is stilted and restrained due to its primitive filmmaking, the later "Duck Soup" shows how much the medium had advanced in just a few short years – its ridiculous comedic heights are pure bliss.
Universal's three-disc set is highlighted by the premiere of the uncut "Animal Crackers," which was shot in 1930 before the Film Production Code was installed. When the movie was re-issued in 1936, a couple of minutes were removed – material that has now, for the first time, been restored thanks to the BFI, which provided an uncut negative for Universal to work with.
Universal's set offers not only fresh transfers but brand new commentaries by scholar Anthony Slide ("The Cocoanuts"), historian Jeffrey Vance ("Animal Crackers"), critic F.X. Feeney ("Horse Feathers") and Marx Brothers expert/author Robert S. Bader ("Duck Soup," "Monkey Business"), who's joined by Leonard Maltin on the latter and Harpo's son, Bill, on the former. Material adapted from Bader's "Four of the Three Musketeers" is on-hand in a booklet discussing the Brothers' move "From Vaudeville to Hollywood," and vintage Today Show interviews and the brand new documentary "The Marx Brothers: Hollywood's Kings of Chaos" dissects the boys' rise on the silver screen. Highly recommended!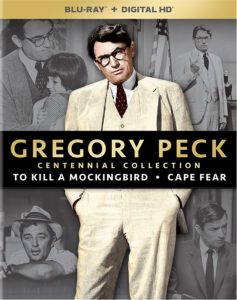 GREGORY PECK CENTENNIAL COLLECTION Blu-Ray (Universal): Special packaging of Universal's previously-released Blu-Rays of "Cape Fear" and "To Kill a Mockingbird," Robert Mulligan's celebrated 1962 cinematic adaptation of Harper Lee's Pulitzer Prize-winning novel.
While "Cape Fear" is best known for Peck and Robert Mitchum's performances – along with Bernard Herrmann's score – "To Kill a Mockingbird" is a genuine classic that needs little introduction. Peck's Oscar-winning, marvelous performance as crusading attorney Atticus Finch grounds this memorable, all-time classic film, which manages to capture Lee's prose (courtesy of Horton Foote's script) while simultaneously becoming a living, breathing film all its own. Peck's performance, the remarkable work of young Mary Badham as his feisty daughter Scout (who narrates the film as a remembrance of her childhood), the haunting cinematography of Russell Harlan, and the spellbinding, gorgeous score by Elmer Bernstein all culminate in one of the cinema's greatest achievements.
Universal's Blu-Ray edition is an improvement on their earlier 2005 "Legacy" edition DVD, though it is not flawless. The film was last remastered for 16:9 TVs in 2005, and the Blu-Ray's VC-1 encoded HD transfer looks to have been derived from that master, with the expected gain from high-def evident. Unfortunately, some noise reduction also seems to have been used here – it's certainly not an abomination on the level of "Patton" or Universal's prior "Out of Africa" misfire, but there is some kind of filtering going on that prevents the image from appearing completely natural. On the audio side, both the original mono mix and a 5.1 DTS MA soundtrack add a fresh dimension to Bernstein's original score. The dialogue, though, sometimes seems a bit "airy" on the 5.1 track, so most viewers may prefer to stick to the original mono for that very reason.
Extras have been ported over from the prior Legacy DVD, highlighted by Barbara Kopple's feature-length documentary "A Conversation With Gregory Peck." This 1999 look at Peck's travels across the globe during his one-man tour (engaging in Q&A sessions with audiences) is a revealing portrait of an actor and a family man, as distinguished and classy off-screen as he was on it. Filled with numerous insights into Peck's life, this is a truly special feature that's a perfect compliment to Charles Kiselyak's "Fearful Symmetry," a compelling, flavorful examination of the impact of "To Kill a Mockingbird," wisely reprised from the original DVD. Other special features include a 1999 Today Show interview with Mary Badham; Peck's Oscar acceptance speech; a segment from Peck's AFI Lifetime Achievement award; lobby cards with a note from Harper Lee; the original trailer and Mulligan and Pakula's 1998 commentary track.
"Cape Fear," meanwhile, offers a reprise of its earlier DVD edition with a smattering of extras and an overly smooth 1080p (1.85) B&W transfer that has too much noise reduction applied for its own good. A Digital HD copy for both movies completes this Peck "Centennial" release.
---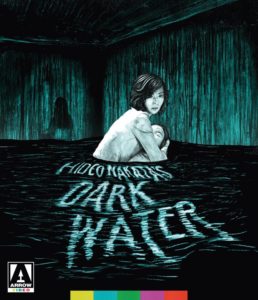 Halloween Horrors
Japanese filmmaker Hideo Nakata struck gold with his film "Ringu" back in 1998. The terrifying tale of a video tape that causes everyone who watches it to die within several days was a smash hit in its native country. In the U.S., "Ringu" was turned into the hugely popular "The Ring" and became one of numerous films that started a cycle of Japanese horror that ran throughout most of the 21st century's first decade.
One of Nakata's best films was DARK WATER (***, 101 mins., 2002), a film that ought to send a chill up the spine of most genre viewers and has now been released in a splendid Blu-Ray from Arrow.
A superior movie in many respects than "Ringu," "Dark Water" stars Hitomi Kuroki as Yoshimi Matsubara, a recently divorced woman trying to start a life of her own with five- year-old daughter Ikuko in tow. The two move into an apartment building that's a bit dilapidated, though not even that can explain the constant leak coming down in their apartment's ceiling.
While Yoshimi attempts to find a job and fight off her ex-husband's attempts to gain custody over their daughter, things take a turn for the bizarre once she spies a little girl in a yellow raincoat walking about, holding a purse that appears, disappears, then re-appears again throughout the building.
"Dark Water" is leisurely paced but filled with atmosphere and genuine – though not gory – shocks. The dynamic soundtrack is filled with the pitter patter of constant rainfall (as well as a good, though at times overstated, score by Kenji Kawai), and Nakata milks the suspense throughout, leading to a strange, unexpected ending set nearly a decade after the fact.
Although the script – adapted by "Ringu" author Koji Suzuki from his novel – is predictable up until the very end, "Dark Water" is one of the sturdiest, most effective ghost stories I've seen in years. The visuals are likely to stick in your head for days afterwards, with the plight of the lead character developed enough so that you care about her and the situation she finds herself in.
What's more — like all good genre films — there's enough subtext to make the non-supernatural aspect of the story likewise compelling. Nakata and Suzuki touch upon issues of abandonment and childhood isolation, and how those themes tie in with not just the lead character and her daughter, but also to the ghostly girl walking about. It culminates in a climax that, again, is extremely creepy yet satisfying at the same time.
"Dark Water"didn't receive much play in North America, and was remade in a rather pedestrian 2005 U.S. version starring Jennifer Connelly. Arrow's Blu-Ray includes 1080p and 5.1 DTS MA options on Blu-Ray (a DVD is also included), along with a new interview with Nakata, a talk with Koji Suzuki, a conversation with Junichiro Hayashi; archive interviews with stars Hitomi Kuroki and Asami Mizukawa, plus theme song artist Shikao Suga; a vintage Making Of; and trailers and TV spots.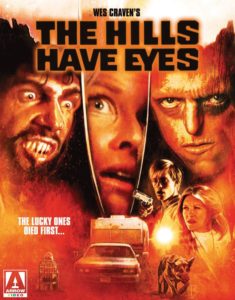 Admittedly, I've never been a huge fan of Wes Craven's THE HILLS HAVE EYES (90 mins., 1977, Not Rated),Craven's early '77 horror outing about a family who breaks down in the California desert and ends up running afoul of a cannibal clan that chews up their dogs for food and terrorizes the rest. This seminal genre exercise is grizzly, gory and thoroughly unpleasant, but certain horror fans do call it a masterpiece of its kind, and those buffs are the ones who will be excited by Arrow's spectacular Special Edition.
A new 1080p (1.85) transfer and uncompressed PCM sound adorn Arrow's Limited Edition Blu-Ray in a new 4K restoration supervised by producer Peter Locke and featuring both original and alternate endings. In addition to a terrific 40-page booklet with extensive liner notes, the disc includes two new commentaries featuring cast members and "academic" Mikel J. Koven; an older commentary with Craven and Locke; a Making Of documentary; a new interview with actor Martin Speer; a talk with composer Don Peake; outtakes; the alternate ending, in HD for the first time; trailers, TV spots, an image gallery and the original script in BD-ROM format.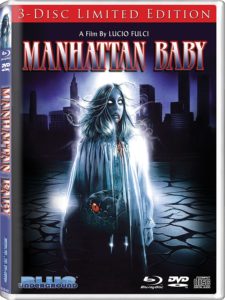 MANHATTAN BABY Blu-Ray (89 mins., 1982, Not Rated; Blue Underground): Fans of Italian genre meister Lucio Fulci will appreciate Blue Underground's Limited Edition package of his 1982 thriller. An obvious "Omen"-esque rip-off – with a definite "influence" also felt from the 1981 Charlton Heston film "The Awakening" (itself a rip-off of Richard Donner's 1976 hit) – "Manhattan Baby" finds a young girl afflicted with a deadly Egyptian curse after being handed a mysterious charm, and her archeologist father stricken blind as a result. Obvious stuff that only Italian horror fans will warm to, with Blue Underground's package including an interview with composer Fabio Frizzi, discussing his entire career in an hour-long talk; conversations with star Cosimo Cinieri, make-up artist Maurizio Trani, writer Dardano Sacchetti, and Fulci expert Stephen Thrower; a live studio performance by Frizzi playing his "Manhattan Baby Suite," a collectible booklet and a bonus CD housing the original soundtrack. The 1080p (2.35) transfer is fine and DTS MA sound is on tap in both 5.1 stereo and mono configurations.
PENNY DREADFUL: The Final Season Blu-Ray (8 hours, 2016; CBS): Ethan Chandler, Dr. Frankenstein, Dorian Gray, Sir Malcolm, the Creature and Lily Frankenstein meet their end in this final season of John Logan's Showtime series, though Eva Green's Vanessa Ives remains the most enigmatic component to the program. Fans of the series generally found the show's final year compelling, though Logan and Showtime didn't announce "Penny Dreadful" had reached an end until its final episode actually ran. CBS' Blu-Ray includes character profiles and several featurettes, 1080p (16:9) transfers and 5.1 Dolby Digital soundtracks.
---
Time-Life New Releases
THE CAROL BURNETT SHOW: THE LOST EPISODES "CLASSIC CAROL" DVD (869 mins.; Time Life): New compilation of 14 classic episodes from the Carol Burnett Show is now available from Time Life. This six-disc set includes classic sketches (The Old Folks, Carol and Sis, The Ham Actors, As the Stomach Turns), TV spoofs, movie parodies and an endless array of guest stars in over a dozen shows as they originally aired on TV. Bonus features include a "Writer's Roundtable," interview with show dancer Randy Doney and ballet dancer Edward Villella, and "Garry Moore Show" episodes featuring the original "Accidents" and "Princess of Morovia" sketches.
Also new from Time Life is HEE HAW SALUTE! (323 mins.), a new three-disc DVD configuration sporting "Best Of" moments from the long-running syndicated TV series. Music and comedy mix in segments culled from the multi-decade run of this television comedy staple. Now available in stores everywhere, along with the "Classic Carol" set.
---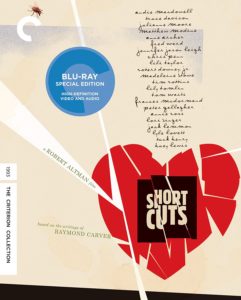 Catalog Corner
Superb supplements can be found in Criterion's Blu-Ray packaging of Robert Altman's 1993 effort SHORT CUTS (***, 183 mins., R, 1993), which includes an excellent cast (Andie MacDowell, Julianne Moore, Matthew Modine, Anne Archer, Fred Ward, Jennifer Jason Leigh, Lili Taylor, Robert Downey, Jr., Madeline Stowe, Frances McDormand, Jack Lemmon, Buck Henry) in a compelling, at times rambling, often disjointed adaptation of Raymond Carver short stories.
In addition to an isolated music track of Mark Isham's score, the set also includes a 2004 conversation between Altman and star Tim Robbins, a feature-length documentary on the making of the film ("Luck, Trust and Ketchup"), a PBS documentary ("To Write and Keep Kind") on Carver's life, a BBC TV excerpt on the development of the script, a one-hour 1983 audio interview with Carver, demo recordings of songs performed by Dr. John, deleted scenes, and a look at the film's marketing. What's new is a 4K digital (2.35) transfer approved by cinematographer Walt Lloyd and 2.0 and 5.1 DTS MA audio mixes.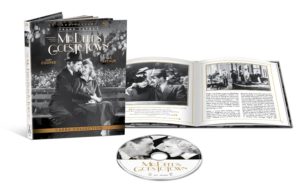 MR. DEEDS GOES TO TOWN Blu-Ray Digibook (116 mins., 1936, Not Rated; Sony): Beautiful 4K restoration of the 1936 Frank Capra classic stars Gary Cooper as Longfellow Deeds, the small-town guy who goes to collect an inheritance and finds out his girlfriend is really a NYC tabloid reporter (Jean Arthur) in disguise. His subsequent decision to toss his fortune away makes for one of Capra's most beloved films, meticulously presented here in a outstandingly presented 1080p (1.33) B&W transfer with DTS MA mono sound. Extras include commentary from Frank Capra, Jr.; a featurette with the director's son; vintage advertising gallery; the theatrical teaser; and a Digital HD copy, all presented in a hardbound, glossy Digibook package.
Also new from Sony are brand-new Blu-Rays of THE DA VINCI CODE (148 mins., 2006, PG-13) and ANGELS AND DEMONS (138 mins., 2009, PG-13), the Ron Howard-directed adaptations of Dan Brown's bestsellers, both starring Tom Hanks as symbologist Robert Langdon. Both movies offer scenes from their respective extended cuts, a First Look at "Inferno," and all-new interviews with Howard, Brown, Hanks and producer Brian Grazer, along with 1080p transfers (2.40), 5.1 DTS MA audio, Digital HD copies and respective extras from their prior DVD releases.
SUPERMANSION: Season 1 DVD (286 mins., 2015; Sony): Bryan Cranston voices Tatanium Rex, an older superhero trying to mentor a series of Millennial heroes with little nobility or pride in their profession. Thrown together into a SuperMansion not unlike the X-Men Academy, they're forced to get along in this animated comedy now on DVD from Sony. All 13 episodes from the show's first season are included here with 16:9 transfers and 5.1 sound.
---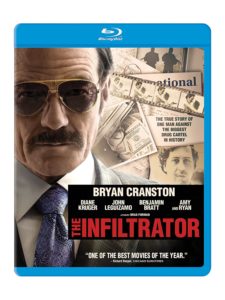 Also New & Noteworthy
THE INFILTRATOR Blu-Ray (127 mins., 2016, R; Broadgreen): Reasonably exciting if sometimes convoluted throwback thriller from director Brad Furman and his screenwriter mom, Ellen Brown Furman, adapts Robert Mazur's own account of how the federal agent went undercover as a slick businessman in order to infiltrate Pablo Escobar and his drug-trafficking inner circle. Bryan Cranston is terrific as Mazur with Diane Kruger as a rookie agent posing as the fiancee of Mazur's alter-ego, with John Leguizamo as a fellow agent, and Benjamin Bratt superb as Escobar's top man Roberto Alcaino. There are a few times when "The Infiltrator" seems like it can't get out of its own way and fumbles dramatic momentum, but the performances and the compelling nature of its true premise make for an entertaining film just the same. Broadgreen's Blu-Ray offers commentary with Brad Furman and Bryan Cranston, deleted scenes, two featurettes, a 1080p (2.40) transfer and 5.1 DTS MA sound.
THE NIGHT OF Blu-Ray (524 mins., 2016; HBO): Tense, compelling limited HBO series stars Riz Ahmed as a young Pakistani college student, living in New York City, who leaves the light on in his father's cab, picks up a young woman and wakes up to find her dead – with him accused of her murder. This series from powerhouse writers Richard Price and Steven Zaillian was reportedly a passion project of the late James Gandolfini, and while John Turturro doesn't entirely carry Gandolfini's gravitas, he's nevertheless very good as Ahmed's lawyer in a taut series well performed and crisply written throughout. HBO's Blu-Ray includes a Digital HD copy, 1080p transfer (1.78) and 5.1 DTS MA sound.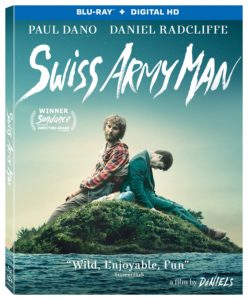 SWISS ARMY MAN Blu-Ray (97 mins., 2016, R; Lionsgate): Utterly confounding comedy-drama (kind of) charts the unlikely relationship between Hank (Paul Dano), a troubled young man seemingly stranded on a desert island, whose life changes when he meets a corpse – with a flatulence problem – played by Daniel Radcliffe. Daniel Scheinert and Daniel Kwan wrote and directed "Swiss Army Man," a film so completely bizarre and off the wall that it defies any and all description – its point might be hard to figure (if it even has one), but there are certainly some laughs to be found throughout, as well as go-for-broke performances from the two leads. Lionsgate's Blu-Ray includes deleted scenes, commentary, filmmaker Q&A, a music-less track with filmmaker intro, 1080p (2.40) transfer and Dolby Atmos/TrueHD sound. Recommended for adventurous viewers.
OUR KIND OF TRAITOR Blu-Ray (108 mins., 2016, R; Lionsgate): Adaptation of John Le Carre's novel from writer Hossein Amini and director Susanna White offers Ewan McGregor as one half of a married couple on vacation who's charmed by a Russian man (Stellan Skarsgard) hiding the fact that he's a money launderer for the mob. Ultimately, McGregor and his wife (Naomie Harris) try and help him out of Europe in a superbly cast British production (Damian Lewis, Jeremy Northam co-star) that received scant theatrical play in the U.S. Lionsgate's Blu-Ray includes three featurettes, cast interviews, deleted scenes, a 1080p (2.40) AVC encoded transfer, 5.1 DTS MA sound, and a Digital HD copy.
Also New From Lionsgate: Season 1 of GUILT (420 mins., 2016) is the ABC Family (Freeform) series about the death of a young girl in a London flat and the ensuing fallout that stems from the investigation into her murder. Deleted scenes and a featurette comprise Lionsgate's DVD with a 16:9 transfer, 5.1 sound and a Digital Copy…Dinesh D'Souza's latest political documentary, HILLARY'S AMERICA: THE SECRET HISTORY OF THE DEMOCRATIC PARTY (107 mins., 2016, PG-13) lands on DVD in time for Election Day. Extended scenes and interviews, deleted materials, featurettes, a digital copy, a 16:9 (1.78) transfer and 5.1 sound comprise Lionsgate's DVD.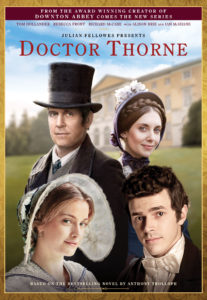 DOCTOR THORNE DVD (179 mins., 2016; Anchor Bay): The new series written by "Downton Abbey"'s Julian Fellowes follows the Gresham family, led by the title character (Tom Hollander), whose financial fortunes have vanished. Matriarch Lady Arabella (Rebecca Front) wants to regain their standing by arranging a marriage between her son (Harry Richardson) and an American heiress (Alison Brie), but unbeknowst to her, her son is really in love with Doctor Thorne's niece (Stefanie Martini). This ITV series didn't quite make the noise of Fellowes' predecessor – and as of now has not been renewed for more episodes – but interested viewers should check out Anchor Bay's DVD, sporting a number of featurettes, 16:9 transfers and 5.1 soundtracks.
WHO GETS THE DOG DVD (95 mins., 2016, PG; Fox): Sappy TV-like film stars Alicia Silverstone and Ryan Kwanten as estranged owners of a lab named Wesley whose ownership is about to be divided up between the soon-to-be-divorced couple. Can Wesley manage to keep them together? Watchable enough through Silverstone and Kwanten's chemistry, but awfully predictable and slow-going just the same. Fox's DVD includes a Digital HD copy, 16:9 (2.40) transfer and 5.1 Dolby Digital sound.
BEING CANADIAN DVD (89 mins., 2015, PG-13; Amaze): Canadian Robert Cohen travels the north country looking to define what it "means to be Canadian" while breaking down stereotypes – and meeting lots of celebrities (Mike Myers, Seth Rogen, Michael J. Fox, Dan Aykroyd, William Shatner, Alex Trebek, Howie Mandel and others) – in the process. Cohen hosts and directs this 2015 documentary, now on DVD from Amaze featuring a 16:9 transfer and 2.0 Dolby Digital sound.
NEXT TIME: The Warner Archive goes ON DANGEROUS GROUND! Until then, don't forget to drop in on the official Aisle Seat Message Boards and direct any emails to our email address. Cheers everyone!