For a studio that must have dollar bills plastered all over its walls, it's disappointing how poorly Walt Disney has treated its live-action back catalog, particularly on Blu-Ray. The studio that once broke away from "kiddie product" to form Touchstone Pictures back in the mid 1980s has absolutely turned its back on that mission from decades ago, eschewing "adult fare" for a steady diet of animated films, Marvel comic-book flicks, and Star Wars sequels. That has left a void in the care of its box-office hits that weren't aimed at little tykes, with even blockbuster smashes like "Three Men and a Baby" – the singular highest-grossing film of 1987 – still never having been released in widescreen on home video at all, much less Blu-Ray.
Thankfully, a few independent labels have snatched up less-popular Disney live-action titles that the studio has been willing to license out, releasing them in drips and drabs. So while we wait for the likes of "Three Men and a Baby" or "What About Bob?," Kino Lorber has jumped into the fray and added portions of the Disney library – apparently titles that have never been released on DVD in the U.S. – to their growing Studio Classics line.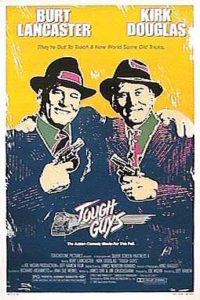 The first release from their Disney deal is TOUGH GUYS (***, 104 mins., 1986, PG), the amiable final teaming of Burt Lancaster and Kirk Douglas, playing Harry and Archie – bank robbers just released from prison in time for the cultural apex of the mid 1980s. After spending decades together behind bars (unlikely as that probably was), the duo are ordered to split apart, Harry headed for the hell of a nursing home, Archie into the arms of a trendy young woman (Darlanne Fluegel). Ultimately, both have issues acclimating to the world of 1985, and opt to spring one last job with the old crew – most of whom have grown very old indeed.
"Tough Guys" is formulaic stuff, right down to James Newton Howard's "Axel F"-like synth score, but the lead performances from Kirk and Burt make this Touchstone comedy – released to modest box-office in October of '86 – enjoyable enough. Dana Carvey is fine in a straight dramatic role as the boys' parole officer, Eli Wallach is onhand as a hitman (Adolph Caesar was the first choice but died on-set, during the first day of production), and future "Body By Jake" exercise guru Jake Steinfeld fills the role of the nursing home heavy (as a sidenote, I had no idea actress Hailee Steinfeld is actually his niece!). Another major plus is the superb widescreen lensing of King Baggot, which for years made the film unwatchable in terribly cramped pan-and-scan versions.
While overseas territories saw a DVD release of "Tough Guys," somehow this one never reached the format in North America. That makes Kino Lorber's marvelous 1080p (2.35) Blu-Ray transfer something to savor, as the colors and details of the AVC encode are just terrific, finely detailed minus extensive noise reduction. Newton Howard's score packs some punch in the 2.0 DTS MA stereo mix, though as director Jeff Kanew notes in the disc's commentary, he had wanted Burt Bacharach to score the film. Alas, issues with Bacharach's music publishing curtailed that plan, though the songwriter did contribute a main theme from Kenny Rogers, played over the opening credits. That director commentary, recorded with Code Red's William Olsen and an associate of his (Kanew sarcastically asks them what they had to do with the film at the start of the track!), is the disc's supplement of note, in addition to trailers for other Kino Lorber titles.
Speaking of Code Red, Kino Lorber has begun distributing select titles for the independent purveyors of fascinating cult releases, little-known star vehicles and low-budget genre trash. In fact, three Code Red titles this month hail from the post-Roger Corman era of New World Pictures, two of which have been scarcely circulated since the VHS era.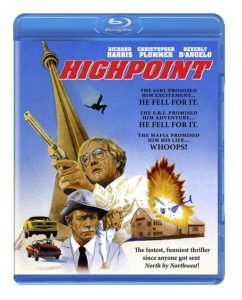 HIGHPOINT (89 mins., 1981, PG) is certainly a curio: a Canadian-lensed action-comedy-thriller starring Richard Harris as an accountant who gets unwittingly wrapped up with a family under CIA surveillance. Christopher Plummer is the one up to dastardly deeds with Beverly D'Angelo as the good sister whom Harris falls for in this silly concoction that first ended up being finished in a two-hour version scored by John Addison. Once New World Pictures bought the film, they excised much of the movie's slapstick comedy and needed a new score to fit an abbreviated running time, now a half-hour shorter than its workprint. Chris(topher) Young subsequently made his mark with one of his first feature scores for "Highpoint," writing a temp-track influenced but fun orchestral outing that sold the recut movie's faster pace, which climaxes with an impressive stunt from Dar Robinson, who jumped 700 feet off the CN Tower in Toronto.
Code Red's Blu-Ray debut of "Highpoint" is the best looking of their New World releases as the elements were derived from the original IP, and both the 1080p (1.78) transfer and DTS MA mono sound are perfectly serviceable. Extras include a new interview with Young, who discusses his break into film scoring and replacing Addison's work, plus a longer interview with producer William J. Innerman, which is particularly substantial if you're interested in the history of Canadian tax shelter films. Also on-hand is the trailer and a copy of the movie's original cut, culled from a VHS copy of the workprint but regrettably devoid of Addison's initial score.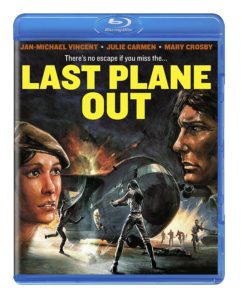 The Nicaraguan thriller LAST PLANE OUT (91 mins., 1983, PG) was produced by journalist Jack Cox and director David Nelson (son of Ozzie and Harriet) and retold Cox's own experiences, reporting on the ouster of Nicaragua's Somoza regime by Sandinista rebels in the late '70s. Cox is here played by Jan-Michael Vincent with Julie Carmen as his lover, who serves as a Sandinista lieutenant in a movie that portrays the Nicaraguan conflict from the side of the ruling government class, quite the opposite of a far better film produced that same year, "Under Fire."
Still worth a look for interested viewers, "Last Plane Out" offers a script by Ernest Tidyman and an often mellow Dennis McCarthy score. Though produced in the early '80s, the ragged nature of the materials used to construct Code Red's Blu-Ray – the only surviving film elements, in fact – causes the picture, shot in Florida and Puerto Rico, to look older than it really is. Ditto for the DTS MA mono sound, which is muffled and does no favors for the often barely-audible dialogue.
THE FUNNY FARM (91 mins., 1983, R) stars Miles Chapin ("French Postcards") as a young man from Ohio who tries to make it as a stand-up comic in Los Angeles. Things, naturally, don't entirely go as planned in this Canadian production from writer-director Ron Clark, boasting appearances from Peter Aykroyd (Dan's brother) and a young Howie Mandel. Though formulaic in its set-up, "The Funny Farm" – not to be confused with the terrific Chevy Chase comedy – is at least superior to the later Sally Field/Tom Hanks stand-up dramedy "Punchline," including a cameo from Steve Allen along the way. It may not be hilarious, but "The Funny Farm" is at least likeable enough, anchored by an appealing performance from the energetic Chapin. Code Red's Blu-Ray boasts a 2016 HD master (1.78) from the Original IP, the trailer, and a recent interview with then 17-year old actress Tracy Bergman, who recounts her work on the film and fond memories of the cast.
---
Twilight Time New Releases
An especially diverse set of films comprises Twilight Time's May roster of limited-edition Blu-Rays, which are now available for shipping through both Screen Archives and TT's own website. Here's a peek: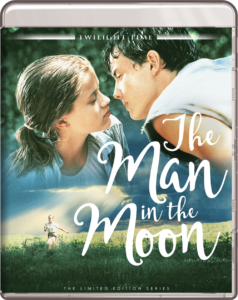 MAN IN THE MOON Blu-Ray (***½, 100 mins., 1991, PG-13). THE MOVIE: Sensitively drawn coming-of-age picture from veteran director Robert Mulligan boasts a tremendous performance from a young Reese Witherspoon, playing a southern tomboy who develops an infatuation on an older teenager (Jason London) who moves in next door. Sam Waterston and Tess Harper are the understanding parents with Emily Warfield as the older sister whose relationship with Witherspoon's 14-year-old are put to the test in a lovely, emotional film beautifully shot by Freddie Francis and produced by Mark Rydell. Outstanding! TWILIGHT TIME TECH SPECS: Superbly presented on Blu-Ray by Twilight Time, "Man in the Moon" has been treated to an excellent 1080p (1.85) transfer and 2.0 DTS MA stereo soundtrack, offering a fine James Newton Howard score. An isolated score track of his work, and the trailer, comprise the extras. AISLE SEAT BOTTOM LINE: A lovely period film, "Man in the Moon" is a gem from Mulligan's often underrated body of work and ranks as my favorite Twilight Time release of the month. Highly recommended.
YEAR OF THE COMET Blu-Ray (*½, 90 mins., 1992, PG-13). THE MOVIE: One of Oscar-winning screenwriter William Goldman's long-gestating pet projects, "Year of the Comet" ended up being a near-total cinematic wipeout. A great-looking but utterly unappealing romantic comedy in the "Romancing the Stone" vein, this Castle Rock box-office turkey offers the one-time teaming of Penelope Ann Miller and TV star Tim Daly as a mismatched couple trying to track down an invaluable bottle of wine belonging to Napoleon; meanwhile, villain Louis Jourdan has designs on extracting the Fountain of Youth in a weird subplot that required a certain panache on the part of its cast and filmmakers to pull off. Unfortunately, neither director Peter Yates nor his two stars were up to the task, with Daly being especially out of his element as a romantic lead, complete with "Magnum"-esque hair and accompanying moustache. It's clear Castle Rock tried to cut their losses by paring the movie down – there's barely any time for the star-crossed lovers to develop their relationship – and went so far as to dump John Barry's score for a more "energetic" outing by Hummie Mann. Their efforts to salvage the ship ultimately failed, though at least it looks good. TWILIGHT TIME BLU-RAY SPECS: Beautifully shot by Roger Pratt, "Year of the Comet" is technically accomplished with sumptuous location shooting on the Isle of Skye and French Riviera. His widescreen lensing (2.35) is, in fact, the film's major asset, though Mann's pleasant enough score does try hard to give the picture some energy. It's isolated here on a separate track and is conveyed nicely in the film's 2.0 DTS MA stereo soundtrack as well. The trailer, featuring synth renditions of Mann's music and a few bars of Barry's rejected work, is the sole extra, as Twilight Time's valiant efforts to offer Barry's score on an isolated channel came up just short due to reported issues with Warner Bros., Castle Rock's corporate parent (even though the home video rights to "Year of the Comet" itself reside with MGM). Hopefully we'll hear Barry's music one day – and soon! AISLE SEAT BOTTOM LINE: One of those movies that sounded fun in concept, "Year of the Comet" has not aged like a fine wine – in fact, it's even worse than I recall from a high school viewing on VHS. The locations and widescreen lensing, thanks to Twilight Time's gorgeous Blu-Ray transfer, provide an attractive enough way to kill 90 minutes, but that climax – with Jourdan crooning "I've Got a Lot of Living To Do" from "Bye Bye Birdie" – is rough-going, no matter how many of its other deficiencies are overlooked.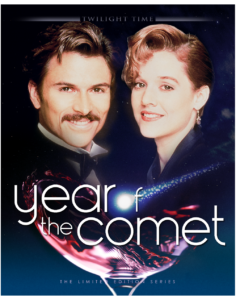 THE STONE KILLER Blu-Ray (**½, 95 mins., 1973, R). THE MOVIE: Inbetween "The Mechanic" and "Death Wish," Charles Bronson and director Michael Winner collaborated on this lesser-known hybrid of cop-thriller and mafia drama. Bronson stars as a tough NYC cop pursuing a mobster (Martin Balsam) carrying out a decades-long vengeance via Vietnam veterans who've been hired out as hitmen. A Dino DeLaurentiis production, "The Stone Killer" is well-executed and interesting, though the Gerald Wilson script – adapted from a novel by British author John Gardner (who later wrote several James Bond novels) – is at times hard to follow. Roy Budd's '70s scoring dates the film as well, though for some, that won't be a bad thing at all. TWILIGHT TIME SPECS: The Columbia-licensed 1080p (1.85) AVC encoded transfer on Twilight Time's Blu-Ray is superb as you'd anticipate: colors are strong despite the movie's at-times grimy '70s location shooting, and details are likewise crisp. The mono sound is fine and an isolated score track turns the spotlight to Budd's efforts. The major supplement of note is a commentary from Bronson expert Paul Talbot, similar to other tracks he's recorded in the past for Shout's "Death Wish II" and other Chuck efforts. AISLE SEAT BOTTOM LINE: Certainly worth a look for Bronson buffs, the seldom-circulated "The Stone Killer" offers a top-notch a/v presentation from Twilight Time.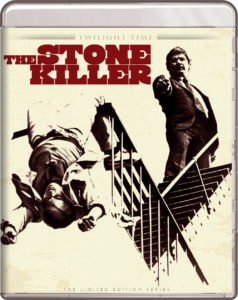 WHO'LL STOP THE RAIN Blu-Ray (***, 126 mins., 1978, R). THE MOVIE: Strong performances power Karel Reisz's acclaimed 1978 film about a Vietnam war journalist (Michael Moriarty) who convinces a merchant marine (Nick Nolte) to transport heroin from Vietnam to San Francisco. Nolte agrees, but he and Moriarty's drug-addicted wife (Tuesday Weld) end up going on the run with the heroin after thugs and a corrupt DEA agent (Anthony Zerbe) become invested in its whereabouts. Part suspense-thriller, part disillusioned Vietnam drama, "Who'll Stop the Rain" was one of the earliest films that utilized the war as a focal point, with Judith Rascoe and Robert Stone adapting the latter's novel "Dog Soldiers." It's a moody but interesting film with excellent performances from Nolte, Weld and Moriarty. TWILIGHT TIME TECH SPECS: The United Artists release boasts a perfectly acceptable 1080p (1.85) AVC encoded transfer and single-channel DTS MA mono soundtrack. Extras include the trailer, an isolated score track of composer Laurence Rosenthal's work, and featurette with editor John Bloom discussing the picture. AISLE SEAT BOTTOM LINE: One of many rewarding '70s character-driven dramas, "Who'll Stop the Rain" doesn't generate a lot of discussion these days, but hopefully will gain new admirers courtesy of Twilight Time's Blu-Ray.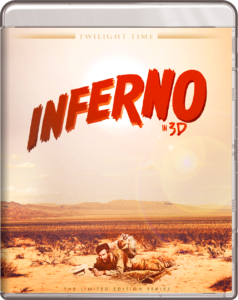 INFERNO 3D Blu-Ray (***, 84 mins., 1953). THE MOVIE: Early 3D thriller has been meticulously restored in this Twilight Time release. Robert Ryan plays a millionaire who's been left for dead, literally, by his wife (Rhonda Fleming) and a miner (William Lundigan) she's recently met. The duo strand him in the Mojave desert after breaking his leg with just a gun and a canteen, thinking they're off scot-free. Unfortunately for the amorous couple, Ryan's man of money proves his worth by surviving, leading to a tense climax in Roy Baker's 20th Century Fox production, beautifully shot by the great Lucien Ballard in 3D. TWILIGHT TIME TECH SPECS: Fans of archival 3D releases should be captivated by Twilight Time's MVEC (1.33) encoded transfer, which boasts superb depth of field imagery. The DTS MA mono sound includes a score by Paul Sawtell (isolated as well) with commentary from historian Alan Rode and Lisa Ryan, Robert's daughter; the trailer; and a featurette, "A New Dimension of Noir: Filming Inferno in 3D," comprising the release. AISLE SEAT BOTTOM LINE: 3D enthusiasts have had a wealth of recent releases to choose from on Blu-Ray, in spite of the format's waning availability on new HDTVs. "Inferno" is crisp and entertaining, and while it may not offer a lot of gimmicky pop-out effects, it makes up for it with depth of field work and Ballard's cinematography leading the way.
BRUTAL TALES OF CHIVALRY Blu-Ray (90 mins., 1965). THE MOVIE: Ken Takakura's performance is the main selling point in this well-regarded 1965 Japanese drama about a WWII vet who returns from the battlefield to find his hometown reduced to a pile of rubble. The honorable Yakuza member then takes up arms to keep its remnants safe from vile gangs in this mid '60s outing from director Kiyoshi Saeki, presented in a Toei-licensed transfer from Twilight Time. That 1080p (2.35) color presentation is detailed and pleasing, with a single-channel DTS MA mono soundtrack offering the original Japanese dialogue with English subtitles. A featurette profiles the work of producer Toru Yoshida.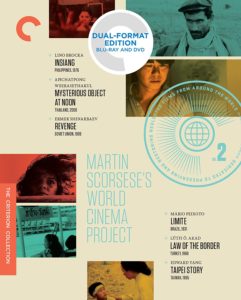 New From Criterion
MARTIN SCORSESE'S WORLD CINEMA PROJECT No. 2 Blu-Ray (Criterion): Martin Scorsese's work for The Film Foundation has led to numerous restorations of little-known foreign releases on this part of the globe. This second box-set from Criterion, available this week, offers a Blu-Ray/DVD Special Edition of six more pictures in brand-new 2K, 3K or 4K digital restorations: "Insiang" (Philippines, 94 mins., 1976), "Mysterious Object at Noon" (Thailand, 89 mins., 2000), "Revenge" (Kazakhstan, 99 mins., 1989), "Limite" (Brazil, 118 mins., 1931), "Law of the Border" (Turkey, 76 mins., 1966), and "Taipei Story" (Taiwan, 119 mins., 1985). Aspect ratios varying between 1.33, 1.37, 1.60 and 1.85, plus uncompressed PCM/5.1 DTS MA soundtracks, comprise the respective Blu-Ray discs (the same programming content is available on the included DVDs).
For extra features, Scorsese has provided new introductions on each film; fresh interviews are also included with historian Pierre Rissient (Insiang), director Apichatpong Weerasethakul (Mysterious Object), director Ermek Shinarbaev (Revenge), filmmaker Walter Salles (Limite), producer Mevlut Akkaya (Law of the Border), and filmmakers Hou Hsiao-hsien and Edmond Wong on "Taipei Story," which the latter stars in and co-wrote. New English subtitles for each film and a booklet with extensive writing on the films comprises another essential release for World Cinema and arthouse lovers.
---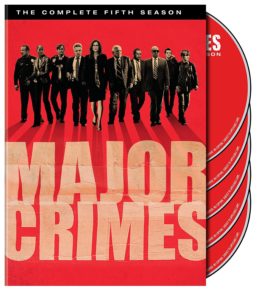 TV on Video
MAJOR CRIMES – The Complete Fifth Season DVD (885 mins., 2016-17; Warner): Season 5 of the popular TNT series once again stars Mary McDonnell as LAPD captain Sharon Raydor, who continues to spearhead investigations across Los Angeles and its diverse neighborhoods, encompassing everything from a decades-old cold case to a vast criminal conspiracy. Graham Patrick Martin also returns as Raydor's adopted son in 21 Season 5 episodes, collected on DVD this week by Warner Home Video. The package includes 16:9 transfers, 5.1 soundtracks, deleted scenes and a blooper reel; Season 6, fans will want to note, begins airing on TNT this fall.
QUEEN SUGAR – The Complete First Season DVD (571 mins., 2016; Warner): Oprah Winfrey's OWN Network hasn't generated a lot of programming successes so far, yet this well-reviewed dramatic series about an African-American family in Louisiana manages to buck typical stereotypes in its portrayal of a clan trying to make a struggling sugarcane farm work. Strong performances and poignant writing help, and while "Queen Sugar" doesn't skirt painful issues, this is a sincere and worthwhile program that's also very entertaining. Warner's Season 1 DVD includes three featurettes taking viewers behind the scenes with Winfrey and the cast, plus deleted scenes, 16:9 (1.78) transfers and 5.1 soundtracks.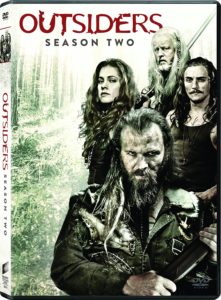 OUTSIDERS – Season 2 DVD (594 mins., 2017; Sony): The sophomore jinx permeated through the ratings of this WGN series, set in the hills of Appalachia where the Farrell clan attempted to force a tenuous peace with locals – at least until Big Coal began its march up their mountain. Family dramatics mix with "Sons of Anarchy"-like entanglements and bursts of violence in "The Outsiders," which established a loyal fanbase – but not enough viewers for the series to generate a third season. This second, and apparently final, season of the series is now available on DVD from Sony, offering 16:9 transfers, 5.1 soundtracks and 29 deleted scenes.
THE YOUNG POPE Blu-Ray (600 mins., 2017; HBO): Paolo Sorrentino's limited HBO series finds Jude Law as Lenny Belardo, the Catholic Church's first American Pope who adheres to church dogma and confides in the nun who raised him, Sister Mary (Diane Keaton), instead of the Vatican hierarchy. A colorful and nicely shot (in Italy), albeit uneven and alternately satiric/tedious production that hits Blu-Ray on June 6th, HBO's hi-def package of "The Young Pope" includes a "Making Of" featurette, "An Invitation to the Set" and "Inside the Episode" segments, 1080p (1.85) transfers, 5.1 DTS MA soundtracks and Digital HD copies.
---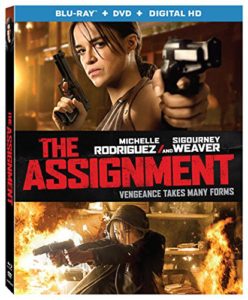 Label Wrap
Lionsgate – New On Blu-Ray: One of the altogether weirdest films I've seen in a while, THE ASSIGNMENT (98 mins., 2017, R) applies star Michelle Rodriguez's inherently "tough" persona into the story of a male hitman who undergoes a sex change operation, against his will, and proceeds to go after the men – and women – who made it happen. In an odd way, this Walter Hill-directed picture – with a Giorgio Moroder theme – resembles an earlier, and better, outing from the filmmaker, "Johnny Handsome," which starred Mickey Rourke as a thug who undergoes plastic surgery but can't shake his criminal past. Rodriguez tries hard but the Hill-Denis Hamill script is contrived and the action pedestrian in "The Assignment," co-starring Sigoruney Weaver and Tony Shalhoub. Lionsgate's Blu-Ray includes a 1080p (2.39) transfer, 5.1 DTS MA sound, Digital HD copy, DVD and "Filmmaking Portraits" segment…"The Arnold Schwarzenegger Indie Film Project" counts yet another victim thanks to AFTERMATH (94 mins., 2016, R), the languid tale of a man who loses his wife and daughter in a plane crash. He moves away but cannot get past blaming the air traffic controller (Scoot McNairy) who caused the accident – and eventually confronts him – in Elliot Lester's forgettable drama. Also out June 6th from Lionsgate, the Blu-Ray combo pack includes a commentary from Lester, interviews with the director and cinematographer Pieter Vermeer, a trailer gallery, 1080p (2.40) transfer, 5.1 DTS MA sound and a Digital HD copy.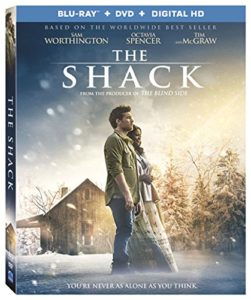 The feel-good (or, supposedly feel-good) religious drama THE SHACK (132 mins., 2017, PG-13) made a few bucks for Lionsgate/Summit earlier this spring at the box-office. A movie that's well meaning but awfully treacly in places, this adaptation of the bestselling book stars Sam Worthington as a man who questions his place in the world after a devastating tragedy – he's rehabilitated by Godly forces in Stuart Hazelone's film, scripted by John Fusco, Andrew Lanham and Destin Cretton. Lionsgate's Blu-Ray combo pack is filled with extras, including commentary by the director, five featurettes, a deleted scene, plus a DVD and Digital HD copy. The 1080p (2.40) transfer is superb and the 5.1 DTS MA soundtrack sports a score by Aaron Zigman…Coming June 6th from Lionsgate, exclusively on DVD, is THE SENSE OF AN ENDING (108 mins., 2016, PG-13), an adaptation of Julian Barnes' book about a man (Jim Broadbent) who looks back on his life and the relationship he once had with his first love (Charlotte Rampling). Michelle Dockery and Emily Mortimer co-star in Ritesh Batra's film, scripted by Nick Payne and offering strong performances from the cast – it's the story that's not altogether satisfying. Lionsgate's DVD of the CBS Films release includes two featurettes, a 16:9 (2.40) transfer and 5.1 Dolby Digital sound.
New From Well Go USA: Hong Kong veteran Ringo Lam is back with a new offering, SKY ON FIRE (100 mins., 2016, Not Rated), the story of a security officer at a medical facility who takes on a group of thieves who've stolen a top-secret stem cell formula. His allegiances are quickly shaken once he learns of the medicine's origins in this recent HK import starring Daniel Wu, who's recently gained notoriety in North America thanks to his role on AMC's series "Into the Badlands." Well Go's Blu-Ray is out June 6th featuring a capable 1080p transfer and DTS MA audio, in Mandarin with English subtitles…Also available June 6th is OPERATING MEKONG (124 mins., 2016, Not Rated), a more exciting affair from director Dante Lam that finds members of an international task force seeking vengeance from an Asian drug cartel lord. Action abounds with Zhang Hanyu and Eddie Peng starring in the Hong Kong production, coming to video in a Blu-Ray/DVD combo pack next week from Well Go. A six-part Making Of featurette is on-hand plus DTS X audio (Mandarin with English subtitles) and a strong 1080p transfer.
New From Shout Factory: Joining Shout's "Select" line next week is THE TICKET (97 mins., 2016, Not Rated), Ido Fluk's independent film about a blind man (Dan Stevens) who regains his sight literally overnight. His newfound vision brings about a host of changes – as well as a difficult adjustment for his wife (Malin Akerman) and friend (Oliver Pratt) – in an offbeat character drama that moves very, very slowly through its 90+ minute running time. Shout's Blu-Ray boasts a visually satisfying 1080p (2.35) transfer with 5.1 DTS MA sound, commentary from Fluk and writer Sharon Mashihi, and the trailer.
KINGDOM – Seasons 1 and 2 DVD (22 hours, Shout Factory): Frank Grillo plays a former pro fighter who joins a MMA gym in Venice, California, where tensions immediately mount with his ex-wife (Joanna Going). Meanwhile, his current girlfriend's (Kiele Sanchez) former fiancé (Matt Lauria) is out of prison and resuming his fighting career with Grillo's character as his trainer. This mix of mixed-martial arts action and family drama has been a fairly well-received series on DirecTV's Audience Network; Shout's nine-disc DVD set contains all 30 episodes from the series' first two seasons in 16:9 (1.78) transfers with 5.1 Dolby Digital sound.
---
Quick Takes
FIST FIGHT Blu-Ray/DVD (91 mins., 2017, R; Warner): The latest raunchy – and mostly unfunny – comedy to roll off the New Line Cinema assembly line stars Charlie Day as a meek English teacher who butts heads with a boisterous, intimidating colleague (Ice Cube) on the final day of high school, complete with idiot students carrying out one dumb prank after another. Plenty of talented people were involved with "Fist Fight," including co-stars Jillian Bell, Christina Hendricks and Dennis Haysbert, all of whom deserved better than Van Robichaux and Evan Susser's tiresome script, littered with the requisite R-rated gags you've come to expect from the folks who brought us "We're The Millers" and the atrocious "Vacation" remake. Deleted scenes are on-tap in Warner's Blu-Ray combo pack, out this week sporting a 1080p (1.85) transfer and 5.1 DTS MA sound plus a Digital HD copy.
LOGAN Blu-Ray Combo Pack (**, 137 mins., 2017, R; Fox):Polarizing conclusion to Hugh Jackman's run as the X-Men fan favorite is, based on most reactions, either a slow, depressing, bleak affair that chucks the entire Marvel Comics "canon" into the nearest toilet — or a violent, character-driven finale, set in a "Post Mutant" world, that finds Wolverine on the run with Professor X and a young girl with familiar powers. Director James Mangold did a fine job mixing action with characterization in his last outing "The Wolverine," but ventures too far over to the other side in this pretentious and unlikeable film that does have solid performances and standout moments scattered about its near 2.5 hours. Your mileage may vary, but I wasn't a fan. Fox's Blu-Ray combo pack offers the movie's theatrical cut along with a "Logan Noir" black-and-white version that really doesn't enhance the movie one way or another; deleted scenes; a Making Of; commentary from Mangold; DVD and Digital HD copy. The 1080p (2.39) transfer and 7.1 DTS MA sound are both exemplary.
LAND OF MINE DVD (101 mins., 2016, R; Sony): One of this year's Oscar nominees for Best Foreign film, Martin Zandvilet's WWII drama takes a different tact from the usual genre fare. This Danish production chronicles the true story of young German POWs, captured by the Danish army, who were used to clear out literally millions of land mines along the Denmark coast in the waning days of the war. Harrowing stuff, even if some of the individual characterizations seem interchangeable, with Sony's DVD – out June 6th – including an interview with the director, a 16:9 (2.40) transfer and 5.1 Dolby Digital sound, in German with English subtitles.
I AM HEATH LEDGER DVD (94 mins., 2016; Virgil Films): Heath Ledger's all-too-brief life is showcased in Derik Murray's feature-length biography of the late actor. Interviews with collaborators like Ang Lee, Naomi Watts, Emile Hirsch, Catherine Hardwicke and others are included along with candid footage shot by Ledger himself. Virgil Films' DVD offers additional vignettes from Ledger, his family and friends; an introduction to the Heath Ledger Scholarship fund; a 16:9 transfer and 5.1 sound.
NEXT TIME: June Arrival Edition! Until then, don't forget to drop in on the official Aisle Seat Message Boards and direct any emails to our email address. Cheers everyone!