Two of Don Siegel's contemporary crime thrillers, a long-forgotten Italian production featuring Roger Moore on a 007 hiatus, and a film with one of the all-time strangest back stories highlight Kino Lorber's November Blu-Ray release slate – one that seems especially suited for '70s movie buffs.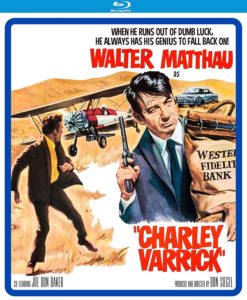 Frequent Clint Eastwood collaborator Seigel notched one of his most acclaimed efforts with Universal's CHARLEY VARRICK (111 mins., 1973, PG). Howard Rodman and Dean Riesner's script, adapting a John Reese novel, is set amongst a number of anti-heroes, led by the title character – a New Mexico bank robber (Walter Matthau) – who finds himself in a precarious situation once he pulls off a local robbery. After Varrick's wife is shot along with a number of cops in the film's opening heist, Charley finds his gang's in-take is a much larger score than expected – too much, as it turns out, since slimy John Vernon is soon on Varrick's trail, sending out one of his thugs (Joe Don Baker) to retrieve the mob money Varrick unwittingly stole.
Eastwood apparently turned down the lead role in "Charley Varrick," citing the unreedeming qualities of its protagonist – and even Matthau, reportedly, wasn't overly enamored of the film's sketchy morality. Clearly the film plays straight into the grey area where many '70s thrillers reside – it's unlikely a movie today would envision the audience giving full support to a cop killer, as Varrick is a "bad guy" going up against even more reprehensible sorts – but "Charley Varrick" is nevertheless a very entertaining, assured piece of work from Siegel. The film keeps moving along with action to spare, anchored by Matthau and backed by one of Lalo Schifrin's best scores of the decade. It all leads to a memorable showdown between Matthau, Vernon and Baker in a superbly-executed climax.
"Charley Varrick" makes its Blu-Ray debut this month from Kino Lorber in a transfer that was worth the wait. This restored, warm and detailed 4K (1.85) Universal master is head and shoulders superior to a German format release from a couple of years back, offering clear DTS MA mono sound and ample extras: a new video essay from Howard S. Berger, commentary from Toby Roan, and booklet notes by Nick Pinkerton all pay tribute to one of the more fondly-remembered of Siegel's '70s efforts. Also included is Fiction Factory's earlier, feature-length "Last of the Independents" documentary and trailers.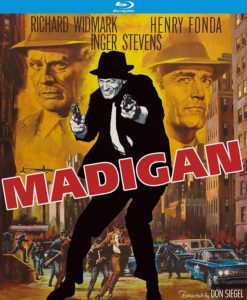 An earlier Siegel production also debuts on Blu-Ray this month from Kino Lorber: the 1968 police thriller MADIGAN (101 mins.), a picture that could've just as easily been called "The Commissioner" (unsurprisingly the actual title of the book it was based on) since Henry Fonda's NYC comish commands nearly as much screen time as Richard Widmark's titular, irascible detective – one who gets in hot water when he and his partner (Harry Guardino) manage to let the perp they question escape…not knowing he was wanted for homicide.
Some gritty NYC locations and late '60s flavor permeate portions of "Madigan" – which at times functions like a dry run for Siegel's later "Dirty Harry" work – but much of its momentum and overall impact is severely hampered by formulaic plotting that would soon be out of step with the times. Much of the latter has to do with the romantic concerns of Widmark and Fonda's characters, with the movie pausing for scenes involving Inger Stevens (Madigan's frustrated wife) and Susan Clark (the commissioner's married mistress) among others – making for a film that feels like it's occasionally ready to break free of its genre's earlier shackles but is ultimately resistant to do so.
Don Costa – a frequent arranger for Frank Sinatra – penned a big, brassy, melodic score for "Madigan," which comes across – along with Russell Metty's widescreen lensing – as one of the picture's strongest assets. Both are positively conveyed in Kino Lorber's 1080p (2.35) AVC encoded transfer, an agreeable presentation that doesn't seem as fresh or detailed as "Charley Varrick," but nevertheless is a cut-above most Universal catalog masters. Extras include commentary from Howard S. Berger, Steve Mitchell and Nathaniel Thompson, with the trailer and TV spots rounding out the disc.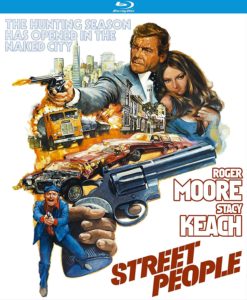 It's rather remarkable how many terrible movies numerous James Bonds produced in between entries of the 007 franchise – most especially Roger Moore. Let's face it, did anyone need the massive success of "The Spy Who Loved Me" more than Moore? Before that 1977 smash put the Bond franchise back on solid ground after the tepid results of "The Man With the Golden Gun," Moore had starred in a rash of duds including STREET PEOPLE (92 mins., 1976, R).
Never heard of "Street People"? Well, I hadn't either until a year ago when the movie popped up on Blu-Ray in Germany. This is an Italian-made mob "thriller" starring Moore as a half-Sicilian lawyer sent to investigate the theft of a cross that arrived in San Francisco – along with a generous amount of heroin. Moore enlists the help of his driver pal Stacy Keach, and together the duo hit both the U.S. and Italy searching for the culprit – leading them to a closer source than Moore initially expected.
Maurizio Lucidi helmed this international production which is both incredibly slow-moving and confusing. Though Ernest Tidyman ("Shaft") and Randal Kleiser (!) are listed among the screenwriters (along with several Italians), "Street People" seldom makes sense, and only comes alive during one San Fransisco-lensed car sequence midway through. In fact, the German Blu-Ray I picked up ran 102 minutes – over 10 minutes longer than this U.S. version, which was cut down by Samuel Z. Arkoff for American-International's domestic release.
Here, though, one can't blame AIP for wanting to trim the fat out of "Street People," which listlessly moves from one convoluted plot point to another before ending with a final scene that makes even less sense than the rest of the production! Debuting on Blu-Ray in the U.S. in an MGM catalog master (1.85), this U.S. release version offers crisp detail with source elements that aren't always pristine. Extras include an uneventful but still welcome 10-minute talk with Stacy Keach and the trailer.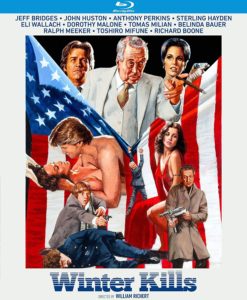 A notoriously troubled production with one of the most fascinating production histories of all-time, WINTER KILLS (98 mins., 1979, R) premieres on Blu-Ray this month from Kino Lorber.
In 1977, director William Richert set out to produce an irreverent adaptation of Richard Condon's book "Winter Kills" – a thinly-veiled take on the Kennedy Assassination – that utilizes black comedy as a satirical, cinematic grounding point.
Jeff Bridges stars as the half-brother of a slain president who receives information about his sibling's assassination, and sets out on a globe-trotting trip to uncover the killer, piecing together information from a variety of sketchy suspects. These run the gamut from a warhawk (Sterling Hayden) to a gangster (Ralph Meeker), nightclub owner (Eli Wallach), tech mastermind (Anthony Perkins) and a Washington madam (an unbilled Elizabeth Taylor, for whom cinematographer Vilmos Zsigmond had to utilize a specialized Panavision lens in order to mitigate her weight gain!). Eventually the corruption extends all the way up to Bridges' father (John Huston), but not before he also runs into the likes of Belinda Bauer, Dorothy Malone, Richard Boone and Toshiro Mifune in a who's-who cast of familiar faces.
"Winter Kills" is fragmented, strange and unsatisfying, but looks good (thanks to Zsigmond's widescreen lensing) and offers so many stars that it's at least never dull. What's actually more interesting is the film's back story – the film ran out of money during production several times, leading Richert to raise funds by bringing Bridges and Bauer over to Germany to make "The American Success Company" in the interim. When production resumed years later, Zsigmond was replaced by John Bailey and Richert managed to finish the film, even with its producers passing away before its eventual release (one of whom was reportedly executed in a mob hit!).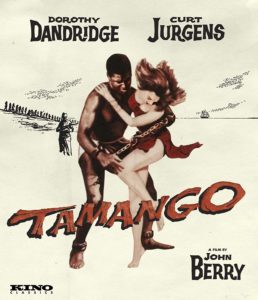 The movie has managed to develop something of a cult following, though its last home video release came in an Anchor Bay Special Edition DVD back in 2003. Kino Lorber's Blu-Ray reprises the entire supplemental roster of that release – including a documentary with Richert, Bridges and Zsigmond, a commentary with Richert and supporting interviews with the director – while adding a dynamic new 1080p (2.35) 4K remastered transfer. The film looks terrific here, and the DTS MA mono sound is fine, with Maurice Jarre's serviceable score weaving in and out of the picture. The trailer and a radio spot round out the disc.
Finally, Kino Classics brings the rarely-screened TAMANGO (99 mins., 1958) to Blu-Ray this month. Dororthy Dandridge is the main attraction in this French-Italian co-production, which stars Curt Jurgens as a Dutch slave trader whose mistress (Dandridge) is recruited by the titular captive slave (Alex Cressan) to join his revolt. Dandridge's Aiche subsequently has to choose between the Captain or her people in an emotionally charged dramatic piece that looks quite impressive in 2.35 scope but functions more significantly as a social document in terms of its then-controversial interracial content than a sturdy dramatic work.
Kino Classics' Blu-Ray has been derived from the best-available surviving materials, preserving the 2.35 frame in a fine 1080p (2.35) transfer with elements that show their age at times. A commentary from critic Peter Tonguette adeptly details the production and its controversy.
---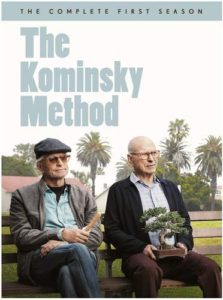 Also New & Noteworthy
THE KOMINSKY METHOD Complete First Season DVD (207 mins., 2018; Warner): Oscar winners Michael Douglas and Alan Arkin play best friends who deal with their own mortality by supporting one another though terminal illnesses, problems with their adult children, dealing with the IRS and other issues. Douglas and Arkin are terrific together, overcoming the occasional saccharine writing from TV sitcom specialist Chuck Lorre in this Netflix series, which is due to return for a second season. Warner's DVD includes all eight episodes from the series' first season with 16:9 (1.78) transfers and 5.1 sound.
BLINDED BY THE LIGHT Blu-Ray (118 mins., 2019, PG-13; Warner): The director of "Bend It Like Beckham," Gurinder Chadha, is back with another colorful character study – this one a period-set affair surrounding an 18-year-old Pakistani (Viveik Kalra) living in London in the mid 80s who struggles to fit in at school and faces intolerance from the predominantly white neighborhoods around him; nevertheless, he finds his grounding in the music of Bruce Springsteen, which opens the door to a diverse array of relationships. Chadha's film conveys nearly a checklist of messaging combating cultural prejudice and intolerance, and while the film is well-acted, "Blinded By The Light" doesn't feel as "organic" as Chadha's better works, with much of its earnestness coming across as preachy and the ending contrived – despite the fact that it's based on a true story. Warner's Blu-Ray combo pack includes a 1080p transfer, 5.1 DTS MA sound, a Digital copy, featurette and deleted scenes.
New From Lionsgate: The DVD compilation ROYALS & ROMANCE: 3 Film Collection includes the Lifetime Original Movies "Harry & Meghan: Becoming Royal" (97 mins., 2019) and "Harry & Meghan: A Royal Romance" (100 mins., 2018) each charting the relationship between Prince Harry and Meghan Markle. Also on-hand is the 2011 tele-film "William & Kate" (93 mins.), which recounts the eight-year courtship of Prince William and Kate Middleton. Lionsgate's DVD includes 5.1 Dolby Digital sound and 16:9 (1.78) transfers for all three features in this newly-released box-set.
---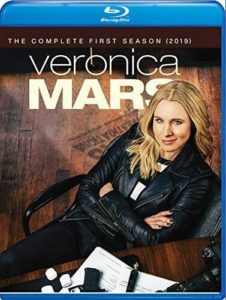 Warner Archive New Releases
VERONICA MARS – The Complete First Season Blu-Ray (411 mins., 2019; Warner): Kristen Bell's Veronica Mars is back in this Hulu series revival – actually the show's fourth season (with a feature spinoff from a few years back serving as a bridge between them all), and easily its weakest. Creator Rob Thomas pits Veronica against a mad bomber preying upon spring breakers in Neptune, and while her boyfriend Logan (Jason Dohring) is back from military deployment to offer some support, it's mostly her efforts – along with her now-ailing detective dad (Enrico Colantoni) – that penetrate through a series of suspects and small-town politics to expose the truth.
A few characters from the series' original run pop up here and there but this "Veronica Mars" is a darker, less satisfying and notably less "sharp" rendition of Bell's tart heroine. The main plot line isn't that compelling and takes a long time to get going (there's also way too much Patton Oswalt as a pizza delivery man/conspiracy theorist), while the show seems to want to take on a more "adult" tone that it can't pull off. It's all amplified by a dismal, contrived "downer" ending that Thomas seems to have concocted simply because he couldn't come up with a fresher angle for a certain character to fit within the formula he's apparently tired of rehashing.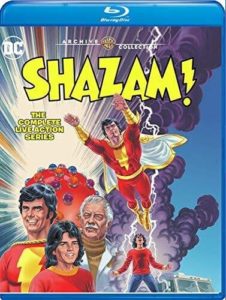 The disappointing "first season" of VM is now available on Blu-Ray exclusively through Warner Archive sporting a Comic Con featurette, 1080p (1.78) transfer and 5.1 DTS MA sound.
Also new from the Warner Archive on Blu-Ray is the Complete Live Action series of SHAZAM! (635 mins., 1974-76), Filmation's 1970s Saturday morning adventure following the adventures of young Billy Batson as he becomes the older, more muscular Captain Marvel. Filled with morals for young viewers and fun, nostalgic '70s styled comic book antics, "Shazam!" is fondly remembered by older viewers as it was broadcast on CBS for three seasons before re-runs sprouted up in the early '80s. 1080p (1.33) AVC encoded transfers and DTS MA mono soundtracks are all lovingly presented, along with the original "message" stingers, reinforcing the episodes' respective themes, that make it an enduring choice to share with young children.
---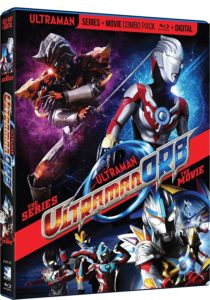 Mill Creek New Releases
ULTRAMAN ORB Series & Movie Blu-Ray (11 hours, 2016; Mill Creek): Another essential release for Ultraman fans from Mill Creek, "Ultraman Orb" is a later revival of the franchise featuring a whole group of super-charged warriors doing battle against Maga-Basser and other intergalactic foes. The 2016 series is collected here by Mill Creek in a superb 1080p HD transfer with 2.0 DTS MA Japanese audio and English subtitles, with the 2017 "Ultraman Orb: The Movie" (72 minutes) also included. A Digital code redeemable via Mill Creek's MovieSpree online streaming service rounds out the Blu-Ray box-set, out November 19th.
Mill Creek Holiday Releases: A number of yuletide titles are new to home video this month from Mill Creek, just in time for the holidays. SANTA WITH MUSCLES (98 mins., 1996) is a Hulk Hogan vehicle starring the ex-wrestler as a Scrooge-y health food mogul who gets hit on the head and subsequently believes he's Santa, donning a suit and helping out a local orphanage. Mill Creek's Blu-Ray (1080p 1.85, 2.0 DTS MA) offers a Digital copy. DOWN HOME CHRISTMAS: 5 MOVIE COLLECTION (7 hours) is a DVD compilation of Lifetime TV movies The Christmas Contract, Hometown Christmas, Christmas On the Bayou, Wish Upon a Christmas, and Christmas in Mississippi. All films are presented in 1.78 widescreen and stereo sound and come with a Moviespree digital copy. ELFETTE SAVES CHRISTMAS (2019) is a new family-friendly movie starring Brielle Carter as an elf, on vacation in Florida, who has to save Christmas after Santa Claus (Quinton Aaron) is kidnapped by a NYC crime boss! Vision Films' DVD offers a 16:9 transfer and 5.1/2.0 stereo sound. Finally, Erin Cahill and Nicholas Gonzalez star in CHRISTMAS ON THE RANGE (91 mins.), a feel-good contemporary Christmas romance, with the Mill Creek-distributed DVD boasting a 16:9 transfer and 5.1 sound, plus another Moviespree digital copy.
NEXT TIME: DRACULA (1979) returns triumphant — in COLOR! Join me for a Thanksgiving Feast of new Blu-Ray releases. Until then, don't forget to drop in on the official Aisle Seat Message Boards and direct any emails to our email address. Cheers everyone!