George Pal's awesome 1953 production of H.G. Wells' WAR OF THE WORLDS (85 mins., 1953) represents '50s sci-fi at its best. From the majestic opening with Sir Cedric Hardwicke's narration and Leith Stephens' score, to the first appearance of Pal's saucers and the scenes of stars Gene Barry and Ann Robinson hiding in a farmhouse from the invading Martians, few other films captured the imaginations of sci-fi fans like director Byron Haskin's movie. The original "War of the Worlds" set the standard for dozens upon dozens of fantasy films that followed in its wake and still ranks today as one of the greatest genre pictures ever made.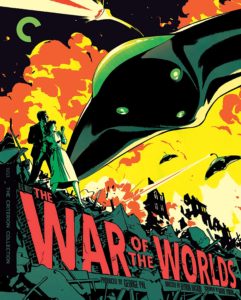 A restoration of "War of the Worlds" has been long in coming, and the film has at last debuted on Blu-Ray from Criterion featuring Paramount's new 4K scan of the original negative. Extensive restoration work was done by VFX artist Craig Baron to correct brightness issues – enhancing the original Technicolor hues and reducing the wires that only became visible on assorted home video versions – and better approximate what viewers saw in theaters during the 1950s while respecting the work of Pal and the original effects technicians. On the audio side, Ben Burtt has opened up the confined mono sound stage, adding an extra punch for a robust 5.1 stereo remix whose only drawback is dialogue that sounds a little bit low in relation to the rest of the track (the original mono sound is also available).
It's a beautiful presentation with Criterion's high bit-rate compression making for a Blu-Ray no less satisfying than the actual 4K digital stream Paramount made available a year ago (a 4K UHD itself may be forthcoming from the studio – stay tuned).
On the supplemental side, Criterion's new extras include the half-hour "Movie Archaeologists," which include interviews with Ben Burtt and Craig Barron on the film's legacy, and a 20-minute look at the 2018 restoration with comments from Burtt and Paramount's Andrea Kalas. Much attention is paid to the careful FX adjustments – this isn't a case of just "removing wires" for the sake of doing so, but rather so viewers would only see what '50s audiences did – as well as the stereo remix. Burtt only had a single, beat-up mono source to work with, but augmented his remix with specific sounds from the original movie and additions that enhance the movie's overall sonic impact.
The disc also includes, of course, Orson Welles' legendary 1938 Mercury Theater radio drama as well as a priceless 1940 audio interview between Welles and H.G. Wells himself, recorded at KTSA radio in San Antonio, Texas (where they were lecturing at the same time). Also included is a 1970 audio recording of a Pal AFI seminar, plus Paramount's DVD-era doc "The Sky Is Falling: Making War of the Worlds," which incorporates interviews with Barry, Robinson, effects guru Ray Harryhausen and others. This doc charts the long struggle to make "War of the Worlds" at Paramount (Harryhausen, in fact, had wanted to film the picture himself for years, and there's remarkable test footage of his proposed Martian on-hand). Finally, one of the commentaries from Paramount's 2005 DVD has been ported over – an enjoyable discussion between director Joe Dante and movie historians Bob Burns and Bill Warren, who focus primarily on the lasting impact of the Pal classic.
---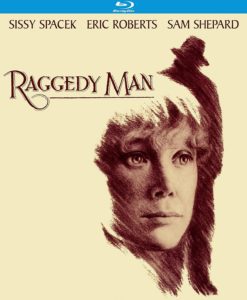 Kino Lorber New Releases
Rarely does one see a movie that manages to get most of it right – strong performances, believable dialogue, a sense of time and place – but fails in its central concept. That proved to be the case with RAGGEDY MAN (94 mins., 1981, PG), a WWII-era drama set in a small Texas town that marked Sissy Spacek's first film after winning an Oscar for "Coal Miner's Daughter." The picture functions well as a vehicle for her talents yet tonally is a mess: a mixture of sweet, character-driven scenes with an unpleasantness hanging about it that finally takes the picture down in its climax.
Spacek plays Nita, a hard-working mother with a pair of young boys (Henry Thomas, a year from "E.T.," and Carey Hollis), who finds herself struggling without a husband, working as her Texas town's phone operator to an unappreciative boss (R.G. Armstrong). Into her life comes a sailor (Eric Roberts) on leave who manages to strike an immediate bond with her kids, all the while she has to deal with assorted types living nearby – these include two creepy brothers (William Sanderson and Tracey Walter) as well as a mysterious, disfigured war veteran (Sam Shepard) who lurks in and out of the shadows.
One can't fault the performances in "Raggedy Man." Spacek, in fact, is quite wonderful in this film, and even Roberts – who I've never been a big fan of – is effectively dailed down and convincing as the younger sailor who takes an interest in the castoff family. The movie was directed by Spacek's husband, Jack Fisk, but was a production primarily driven by its writer/producer/2nd unit director, William D. Wittliff. Wittliff was a superb screenwriter with impeccable credits ("The Black Stallion," "Lonesome Dove") but "Raggedy Man" comes off like two different stories Wittliff was trying to tell, the movie ultimately meshing them together in an unsatisfying manner.
The Spacek-led sequences of her character trying to balance her job and kids are likeable and Fisk, along with cinematographer Ralf Bode, effectively establishes a sense of small-town community – as well as rural isolation – during the early '40s. What's much less appealing is the "Straw Dogs"-like nastiness that comes from the menace of Sanderson and Walter, who go from harassing Spacek's kids to trying to rape her in an off-putting climax – one that virtually turns into a slasher movie with the family ultimately being aided by the mysterious title character (a worthless early role for Shepard).
Whether or not Wittliff was aiming for a "To Kill a Mockingbird"-type of nostalgia that combined suspense and family drama, "Raggedy Man" as a film does not work, though it's certainly a well-acted misfire with a lot of talent working at a top level behind it.
Kino Lorber's Blu-Ray of "Raggedy Man" is available July 28th. This is a satisfying Universal catalog master (1080p 1.85, DTS MA mono) Kino has presented in a high bit-rate transfer with a commentary from Howard S. Berger and Nathaniel Thompson and the trailer on the supplemental side. Jerry Goldsmith's occasionally saccharine score anchors the film and tries to tilt the picture towards a warmth that only a half of it actually exudes.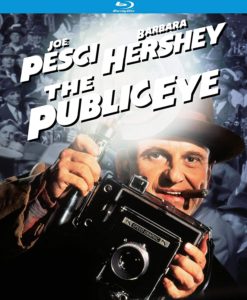 Another, later Universal effort fashioned as a star vehicle – this one for Joe Pesci, fresh off "Goodfellas" and "My Cousin Vinny" – ran into a roadblock at the box-office. THE PUBLIC EYE (99 mins., 1992, R), though, is at least a more satisfying work overall, starring Pesci as a tabloid NYC photographer during the early '40s who runs into the mob, government goons, and a black market scam, all with the femme fatale widow (Barbara Hershey) of a former club-owning friend of his at the center of it all.
Howard Franklin had co-directed the underrated "Quick Change" with Bill Murray and made the solo leap to feature helming here, writing an original script based loosely on the work of real-life photographer Arthur "Weegee" Fellig. The period atmosphere is strong and Peter Suschitzky's lensing is likewise accomplished – the world of "The Public Eye" is convincing and Pesci's dialed-back performance keeps the viewer invested throughout. Less successful is the would-be love story between Pesci and a frigid, almost lifeless Hershey, who gives a weak performance, as well as Franklin's convoluted, and not very compelling, scenario of corruption ultimately related to war-time gas rationing.
"The Public Eye" failed to find an audience at the box-office in spite of receiving generally positive reviews (there was also a 4-star review from Roger Ebert, who compared it to "Casablanca"!). Making its Blu-Ray debut here, Kino Lorber's disc offers an appealing, detailed 1080p (1.85, the back cover mistakenly lists 2.35) presentation with 2.0 DTS MA stereo sound.
The drab, at-times monotonous score by Mark Isham seems disconnected from the film (which itself starts off unevenly, as if chunks were cut), perhaps no surprise with it being a replacement for Jerry Goldsmith's discarded, comparatively more melodic original score (which reworked portions of his likewise-rejected 1992 soundtrack for "Gladiator").
Howard Franklin's newly recorded commentary with historian Daniel Kremer is a good one. Franklin says Goldsmith's theme was "beautiful" and also notes how the composer's "fanatical" fans online have hated on him for dumping his score (evidently he must've checked a certain message board!). However, according to Franklin, once he got to London where Goldsmith employed an "elaborate protocol" for recording, Goldsmith had written "nothing beyond the theme" he demoed in Beverly Hills and found his score to be "very repetitious."
Franklin also talks about Robert Zemeckis' involvement (Franklin performed an extensive, uncredited rewrite on "Romancing the Stone" and Zemeckis shepherded this project for him), Pesci's dislike for making movies (correctly saying he was going to quasi-retire after riding his wave of fame in the early '90s), plus the location filming in Cincinnati and Chicago. It's well worth a listen.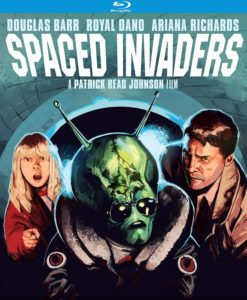 Patrick Read Johnson's enjoyable SPACED INVADERS (103 mins., 1990, PG) was a moderately successful kiddie-fantasy about a group of hapless extraterrestrials who "invade" a small Illinois town on Halloween night. Utilizing Orson Welles' "War of the Worlds" as a reverse guide, Johnson's film finds the aliens being unable to convince anyone of their intentions, in a lightly entertaining but very likeable film starring Douglas Barr ("The Fall Guy"), Royal Dano, and a young Ariana Richards as Barr's daughter. Kids will enjoy the overlong film more than adults, though genre fans might get a kick out of Johnson's in-jokes and references to other genre favorites.
Kino's Blu-Ray of "Spaced Invaders" is chock full of brand-new and insightful extras. These include commentary with Johnson and other crew members; interviews with Johnson, Ariana Richards, Douglas Barr, actor Kevin Thompson, VFX supervisor John Knoll and FX creator John Criswell. The 1080p (1.85) AVC encoded transfer is fine and the disc includes a much welcome 2.0 DTS MA stereo soundtrack, which the previous Mill Creek disc presented only in mono.
After the success of "The Thief of Bagdad," producer Walter Wanger and Universal looked to emulate the Technicolor fantasy of Alexander Korda's classic. What they came up with didn't quite possess the same enduring artistic attributes as its predecessor, but still managed to become popular box-office hits.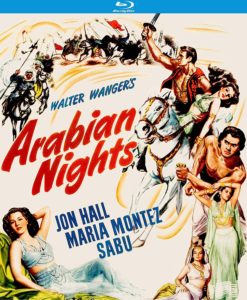 Two of those efforts starred Jon Hall and Maria Montez, with ARABIAN NIGHTS (86 mins., 1942) also featuring Korda's star, Sabu. This first effort has a lot less to do with its source material than it is a Universal studio product of its era, dressed up with color spectacle and a lot of Saturday matinee-styled hokum (it also includes Shemp Howard as Sinbad!). Montez and Hall would end up in six films together with a direct "Thief" follow-up produced for Universal in 1944: ALI BABA AND THE FORTY THIEVES (87 mins.), with Hall as the title character, who wants revenge for his father's murder and to rescue his gal. Turhan Bey takes Sabu's intended role but the film was still a huge hit and offers even more fun than "Arabian Nights" on balance. Kino Lorber's attractive 1080p (1.37) AVC encoded transfers on both films – each available July 21st – sport healthy bit-rates and nice detail, the DTS MA mono soundtracks also as robust as the source material allows. Trailers and commentaries from historian Phillipa Berry are included on both discs.
HANNIBAL BROOKS Blu-Ray (101 mins., 1969, PG-13; Kino Lorber): Michael Winner's offbeat adventure was a definite product of the late '60s – a film that might've made for an outright "family film" a little bit earlier, but here became "adult" enough to generate a PG-13 rating by modern standards. It's certainly an interesting picture with Oliver Reed playing a British POW who's tasked with transporting an elephant named Lucy from Germany to a safer Innsbruck zoo. Michael J. Pollard brings his own unique acting stylings as an American POW who joins with local partisans to fight the Nazis in a script by Dick Clement and Ian La Frenais that's funny in places but kind of bounces around with an inconsistent tone. Kino Lorber's Blu-Ray (1.85) boasts a brand new 2K transfer with a clear DTS MA mono soundtrack, the movie sporting a Francis Lai score. The trailer is included.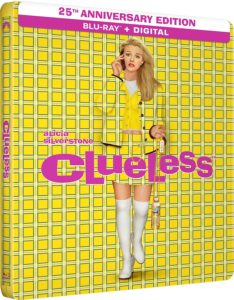 Also New & Noteworthy
CLUELESS 25th Anniversary Blu-Ray Steelbook (97 mins., PG-13; Paramount): Amy Heckerling's delightful 1995 teen comedy turns 25 (!) this summer, and Paramount has celebrated the moment by releasing a glitzy Steelbook that reprises its 2015 Blu-Ray.
Alicia Silverstone's star-making performance is just one of the numerous pleasures to be found in Heckerling's casual application of Jane Austen's "Emma" to the Beverly Hills high school scene circa 1995. The movie's often hilarious script and energetic tone is infectious, and superb supporting performances from Paul Rudd, Brittany Murphy, Donald Faison, Wallace Shawn, Jeremy Sisto and Dan Hedaya make for a movie that's just as much fun now as it was upon its initial release.
Paramount's Blu-Ray includes all the extras from its 10th Anniversary DVD, with a surprisingly good 1080p transfer and DTS MA soundtrack sweetening the pot. I've always enjoyed David Kitay's unreleased score for "Clueless," which thankfully gives the movie a "timeless" feel that off-sets its copious, then-modern rock songs. A multi-part featurette includes 2005 interviews with the cast and crew, basically everyone except Silverstone. Even Brittany Murphy shows up, but not Silverstone, for whatever reason.
Outside of that minor disappointment, this is otherwise an engaging look back on the movie's creation (Heckerling originally developed the project as a TV series, which it ironically became after the film was released), sporting all sorts of interviews and fun anecdotes. Basically, it shows that Heckerling knew exactly what she wanted with "Clueless," and the result is clearly (along with "Fast Times at Ridgemont High") her most satisfying film (and as a developed story, it might just be better as well).
GHOST Paramount Presents Blu-Ray (126 mins., 1990, PG-13; Paramount): Is there any way a movie like "Ghost" could open in 21st century theaters and become a runaway smash the way Jerry Zucker's supernatural romantic dramedy did in the summer of 1990? Paramount's series of 4K-remastered "Paramount Presents" titles offers a much-needed new release of one of the studio's biggest success stories, starting with a detailed and lovely new 1080p (1.85) AVC encode. The 5.1 Dolby TrueHD audio is fine and scattered extras (Zucker and writer Bruce Joel Rubin's commentary; two featurettes; the trailer) have been carried over from the original Blu-Ray with a new, brief Zucker interview also on-tap, with the director recalling the shoot.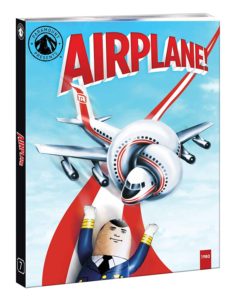 One of the funniest movies ever made, David & Jerry Zucker and Jim Abrahams' 1980 disaster spoof AIRPLANE! (87 mins., 1980, PG) is also back on Blu-Ray as part of the 4K-remastered Paramount Presents line.
As far as "Airplane!" itself goes, there's little to write about how hysterical the picture still is, aside from the fact that what constitutes so much of today's "comedy" hits is put to shame by comparison. Robert Hays and Julie Hagerty star as star-crossed lovers on a doomed flight across the U.S.; Leslie Nielsen plays a doctor onboard the ill-fated plane; Peter Graves is the captain with a penchant for gladiator movies; while guest appearances by everyone from Kareem Abdul Jabbar to Ethel Merman round out the cast.
Paramount's 4K remastered transfer (1.85) is fine and dandy, though unlike some of the other films in the Presents series, the original Blu-Ray was quite good, so outside of a little bit clearer detail and warmer hues, there's not a lot of difference between this and its format predecessor. Commentary from Abrahams, producer Jon Davison and the Zucker Brothers is reprieved from the first DVD release, while a new Q&A with Abrahams and the Zuckers, recorded this past January at the Egyptian, debuts here alongside a new interview with the trio. Regrettably, ample extras (deleted scenes, interviews, etc.) haven't been ported over from the prior BD, making it worthwhile to retain if you're a fan.
Season 2 of JACK RYAN (368 mins., 2019) also debuts on Blu-Ray soon from Paramount. This time out, the young CIA analyst (John Krasinski) heads to South America to track down a possibly suspicious shipment of illegal arms being funneled into the Venezuelan jungle. He joins up with ex-boss James Greer (Wendell Pierce) and CIA station chief Mike November (Michael Kelly) as Ryan unravels a conspiracy that leads a personal counter-attack from the President of Venezuela. Paramount's Blu-Ray (1080p, Dolby Atmos) is out August 4th featuring exclusive deleted scenes.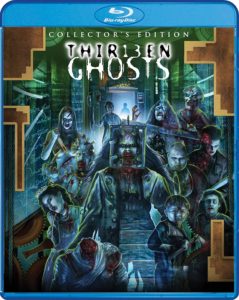 THIRTEEN GHOSTS Blu-Ray (91 mins., 2001, R: Shout!): Dark Castle Entertainment – Joel Silver and Robert Zemeckis' post-"Tales From The Crypt" production house – yielded marginal results with their remake of "The House On Haunted Hill," but their updating of William Castle's "13 Ghosts" turned out to be a great deal more fun, and arguably their best feature overall.
Tony Shalhoub stars as a widowed father whose brother (F. Murray Abraham) leaves him an elaborate mansion out in the middle of nowhere — complete with glass walls and, yes, a gaggle of ghosts lurking about. Shalhoub's daughter (Shannon Elizabeth) and young son follow in tow, unaware that F. Murray was conducting experiments with poltergeists, holding them in their own separate cells. Of course, a switch is soon thrown that lets all of the phantoms out, and you can guess what happens from there.
Matthew Lillard and Embeth Davidtz co-star in this sufficiently gory and spooky effort scripted by Neal Marshall Stevens and Richard D'Ovidio from Castle's original film. "13 Ghosts" doesn't completely break free from formula, but as commercial studio horror entries go, this is clearly superior stuff — the cast has fun, the make-up effects offer some quick jolts, and the story is more compelling than it basically has any right to be.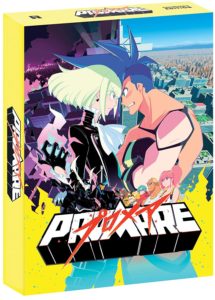 "13 Ghosts" is a natural candidate for a Scream Factory Blu-Ray (1080p, 5.1 DTS MA). The original DVD from Warner was filled with special features and those extras have been reprieved here (commentary by director Steve Beck and the production team; an interactive feature, "Ghost Files," which looks at each one of the film's 13 phantoms with a bit more background information; "Thirteen Ghosts Revealed," which chronicles the production of the film; the original trailer, etc.). New extras from Scream include a fresh commentary track from Beck and interviews with cast members Shannon Elizabeth, Matthew Harrison, John DiSantis, and Herbert Duncanson plus producer Gilbert Adler.
Coming August 4th from Shout! is a deluxe, lavish Limited Edition package of PROMARE (111 mins., 2020). The highest-grossing anime feature of 2019, "Promare" marks the first feature-length work from animation studio Trigger and director Hiroyuki Imaishi. Set some 30 years after flame-wielding mutants appeared on the scene, destroying half the world, "Promare" is a wild, unrestrained picture that anime buffs should enjoy in terms of its bombastic tone and colorful visuals. These are all captured in Gkids and Shout's Blu-Ray presentation, which was released earlier this spring with a superb 1.77 transfer, 5.1 DTS MA Japanese or English audio, and extras including an interview with Imaishi, a pair of shorts (Side: Galo and Side: Lio), trailers and additional featurettes all included. This new Limited Edition package exclusively adds a copy of the CD soundtrack, a 52-page booklet, souvenir script, sticker and a mini-poster, making it the definitive package for anime fans.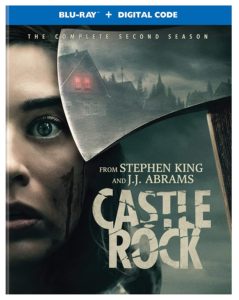 CASTLE ROCK – Season 2 Blu-Ray (484 mins., 2020; Warner): The first season of "Castle Rock," the much hyped Stephen King-J.J. Abrams series, resulted in mixed reactions from critics and fans. This season departs from its predecessor with an all-new storyline revolving around Annie Wilkes (Lizzy Caplan), a younger version of the psycho-nurse Kathy Bates essayed to Oscar glory in "Misery," who's here toiling around Castle Rock with her teenage "daughter"/half-sister. References to other King properties again abound in this 10-episode sophomore season, presented on Blu-Ray by Warner with a behind-the-scenes doc, 1080p transfer, 5.1 DTS MA sound and a Digital HD copy on-hand.
Also new from Warner this month is THE OUTSIDER (551 mins., 2020), an adaptation of Stephen King's book for HBO. Jason Bateman stars as an everyday high school teacher who is inexplicably connected to the murder of an 11-year-old Georgia boy. Turns out there's a doppelganger — or something — running about, and it's up to the efforts of a local police detective (Ben Mendelsohn) and an investigator (Cynthia Ervo) with ESP-like abilities to piece together the contradictory evidence in the case and find the entity responsible. HBO's Blu-Ray (1080p, 5.1 DTS MA) of "The Outsider" is available July 28th featuring a six-part featurette and "Inside Episode" segments along with a Digital HD copy.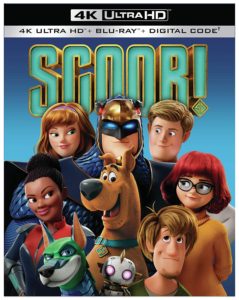 SCOOB! 4K Ultra HD/Blu-Ray Combo Pack (94 mins., 2020, PG; Warner): "Scooby-Doo!" purists might not be happy but there's at least a lot of pep in "Scoob!," a colorful and bouncy Warner animated feature that tries to reboot the adventures of Scooby, Shaggy and the rest of the Mystery Inc. gang as it retells the fortuitous first meeting of the two friends. Granted, this one strays from the typical Hanna-Barbera formula (there's hardly a mystery in sight), but in its place are a number of funny cameos and classic Saturday Morning characters, along with some laughs that should keep kids entertained.
Intended for a theatrical release but sent to home video and streaming platforms due to the pandemic, "Scoob!" apparently did well for Warner as it debuted "on demand" in the spring. This 4K UHD presentation is dazzling with its HDR10+ capability, offering a wide swath of colors that are perfectly rendered. The 5.1 DTS MA audio is fine and extras include "bloopers," 10 deleted scenes, a handful of featurettes, a Blu-Ray and a Digital HD copy.
Warner Archive New Releases: Mickey Rooney and Judy Garland's MGM collaborations included STRIKE UP THE BAND (120 mins., 1940), something of an overlong studio confection with the duo starring as high schoolers ready to sing and dance their way to stardom. Busby Berkeley helmed this original MGM production which does boast a couple of memorable songs – and a grandly patriotic finale, a showstopper featuring the title tune – but also has a lot of filler that makes it difficult to fully recommend outside of genre enthusiasts. Warner Archive's Blu-Ray edition (1.37 B&W, 2.0 DTS MA mono) is pretty much perfect for a film from its era, boasting crisp details and contrasts. Even better are a full array of extras, including an archival introduction from Rooney from one of Warner's previous home video releases, the Pete Smith comedy short "Wedding Bills," Golden Age cartoon "Romeo in Rhythm," a stereo remix of "Do The La Conga," and several audio-only bonuses, with the 1940 Lux Radio Theater broadcast chief among those…Mickey and Judy reunited in 1943 for GIRL CRAZY (99 mins., 1943), with Mickey playing a pampered rich kid whose dad ships him to a male college out west. He ends up meeting the dean's spunky granddaughter (who else) who's trying to keep the school afloat financially. Classic Gershwin tunes make this more satisfying than "Strike Up The Band," with a quicker pace and solid chemistry as always between the leads. Warner's Blu-Ray (1.37 B&W, DTS MA mono) includes commentary by John Fricke, an archival Rooney intro, comedy short "Hollywood Daredevils," the cartoon "The Early Bird Dood It," a stereo remix of "I Got Rhythm," audio-only bonus "Bronco Busters" and the trailer.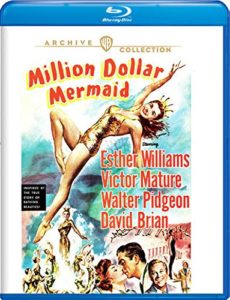 Jane Austen's PRIDE AND PREJUDICE (118 mins., 1940) has been adapted an infinite number of times, with MGM's 1940 version starring Greer Garson and Laurence Olivier singled out many times as one of the best. Aldous Huxley and Jane Murfin's script does a robust job capturing Austen's story within the confines of a slick MGM production from the era, with ample chemistry between the stars and Mary Boland, Maureen O'Sullivan, Edna May Oliver and Freida Inescort offering support. Warner Archive's Blu-Ray (1.37, 2.0 DTS MA mono) features another gorgeous B&W transfer with short "Eyes of the Navy," "The Fishing Bear" cartoon short and trailer for extras…Finally, bathing beauty Esther Williams' most memorable big-screen vehicle, MILLION DOLLAR MERMAID (110 mins., 1952), swims its way to Blu-Ray from Warner Archive. Though sold as a biopic of sport champ Annette Kellerman, the premise (apparently not very accurate to say the least) is just an excuse for Esther to swim about in MGM's candy-coated Technicolor hues to memorably choreographed Busby Berkeley set-pieces. The Archive's Blu-Ray (1.37, 2.0 DTS MA mono) includes a bonus radio show with Williams and her co-star here, Walter Pidgeon, plus a Pete Smith short and cartoon "The Wise Little Quacker."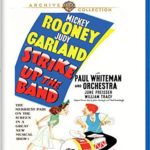 MPI/IFC New Releases: THE OTHER LAMB (97 mins., Not Rated) spins a story about a young woman living in a strange society presided over by the enigmatic, messiah-ike "Shepherd". What he's protecting his flock from makes for an offbeat tale from director Malgorzata Szumowska and writer Catherine McMullen, with solid performances from leads Michel Husman and Denise Gough. MPI's Blu-Ray (1.78, 5.1 DTS MA) is available July 28th…ATTRACTION 2: INVASION (133 mins., 2020) is the sci-fi sequel from director Fyodor Bondarchuk, this one focusing on a girl who's developed extraordinary abilities after coming in contact with an alien spaceship that crashed in Chertanovo. Large scale FX make this worth a watch for genre buffs, particularly if you've seen the original. MPI's Blu-Ray includes 5.1 DTS MA Russian and English audio and a 1080p (2.40) AVC encoded transfer.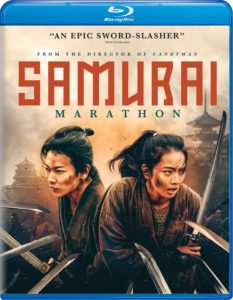 Well Go USA New Releases: A movie about an annual race in Japan – still held today – wouldn't seem to be an obvious choice for director Bernard Rose ("Immortal Beloved," "Candyman"), but it's the subject of his new film SAMURAI MARATHON (106 mins., 2019). This tale of a lazy samurai who's pushed into participating in the grueling race – alongside his lord's own, rebellious daughter – is set in feudal Japan and sports a Philip Glass score along with superb cinematography. Well Go's Blu-Ray includes DTS MA Japanese audio and English subtitles and a fine 1080p transfer…Super-heroes are popping up all over the place, even the slums of Jakarta, where an orphan named Sancaka decides to rise up and save his city in GUNDALA: RISE OF A HERO (120 mins., 2019), a gritty genre exercise from Indonesia. Well Go brings "Gundala" to Blu-Ray July 28th with the disc featuring both DTS MA Indonesian audio and a dubbed English track; Production Vlogs, trailers and Behind the Scenes featurettes; and an attractive 1080p transfer…HOUSE OF HUMMINGBIRD (138 mins., 2018) is a Korean coming-of-age story, set in Seoul circa the mid 90s. Bora Kim's film charts the development of a 14-year-old's evolving relationships with both friends and family, all against the changing South Korean cultural landscape of the time. Well Go's Blu-Ray (1080p, 5.1 Korean with English subs) is available August 4th.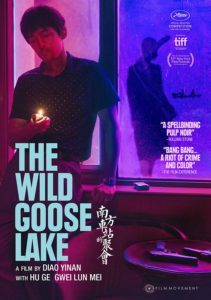 New From Film Movement: Diao Yinan's THE WILD GOOSE LAKE (111 mins., 2019) is new to Blu-Ray this month from Film Movement. This well-received HK import stars Hu Ge as a small-time crook who accidentally kills a cop. Retreating into hiding with a bounty on his head, Ge's Zhuo Zenong finds himself at the Wild Goose Lake along with a woman (Gwei Lun Mei) with her own mystery and reason for wanting to disappear. Film Movement's Blu-Ray offers a featurette with the director, interviews with the stars, a 1080p (1.85) transfer and 5.1/2.0 DTS MA audio with English subtitles…Luchino Visconti's final film, L'INNOCENTE (129 mins., 1976), also makes its Blu-Ray debut from Film Movement this month. This 1976 Visconti drama was adapted from Gabriele d'Annunzio's novel and charts the descent into madness of an Italian aristocrat (Giancarlo Giannini) when he finds out his wife (Laura Antonelli) is having an affair — even while he's already fooling around with his widowed mistress (Jennifer O'Neill). Film Movement's Blu-Ray includes a 1080p transfer based off a recent new digital restoration with a video essay from author Ivo Bloom and a 16-page booklet with analysis by historian Dan
Callahan on the supplemental side.
JAMES CAMERON'S STORY OF SCIENCE FICTION Blu-Ray (4 hours, 2018; RLJE): While taking a break (?) from shooting his long-delayed "Avatar" sequels, James Cameron sat down in 2018 with a massive array of folks – from Steven Spielberg and George Lucas to past cohorts Arnold Schwarzenegger and Sigourney Weaver – for a wide-ranging study of sci-fi on film. Clips and testimonials are mixed in with some insight, yet even for a four-plus hour AMC series, "Story of Science Fiction" feels as if you're just skimming the surface, with little information covered here that fans don't already know. Extended interviews with the likes of Christopher Nolan, Gullermo Del Toro and Ridley Scott are a nice bonus in RLJE's Blu-Ray edition (1080p, 2.0 DTS MA), out this week.
ROOM DVD (99 mins., 2018, Not Rated; RLJE): Olga Kurlenko and Kevin Janssens play a couple who leave behind the big city for an old house in the country, only to find their deepest desires made real by a room in their new abode – all, of course, at a price. Christian Volckman's horror effort was well-received in the U.S. upon its broadcast on the Shudder network; "Room" here makes its DVD debut on July 21st from RLJE featuring a 16:9 transfer and 5.1 Dolby Digital sound.
Lionsgate New Releases: It's July, so you know what that means — time for a new Bruce Willis direct-to-demand thriller. This time it's SURVIVE THE NIGHT (89 mins., 2020, R), which stars Chad Michael Murray as a trauma doctor whose wife and daughter are held hostage by a bank robber whose brother was mortally wounded during a heist gone wrong. Willis plays Murray's estranged retired sheriff dad in Matt Eskandari's film, new on Blu-Ray (2.00, 5.1 DTS MA) from Lionsgate also featuring a Digital HD copy…Prolific small-screen action star Scott Adkins is also back in a new release, LEGACY OF LIES (101 mins., 2020, R), with Adkins playing a secret agent tasked with helping a journalist while his daughter is held captive by the KGB. Lionsgate's DVD (2.39, 5.1 Dolby Digital) is available July 28th.
JETT Season 1 DVD (518 mins., 2019; HBO): Carla Gugino shines in this Cinemax series as Daisy "Jett" Kowalski, a thief trying to stay straight after the birth of her daughter. Unfortunately, after she's enlisted by a crime lord (Giancarlo Esposito) for a Cuban heist, she's thrown right back into the fray. Season 1 of "Jett" debuts on DVD from HBO this week featuring its nine episodes with 16:9 transfers and 5.1 sound.
PBS New Releases: In Season 5 of the popular GRANTCHESTER (300 mins., 2020), Will Davenport (Tom Brittney) is set in his role of the town Vicar while his friend – Detective Inspector Geordie Keating (Robson Green) – has accepted his wife's role as vicarage housekeeper. That, of course, doesn't mean murder and assorted mysteries won't continue in Grantchester, which of course occurs with alarming regularity! PBS' Season 5 DVD offers a Making Of featurette and good looking 16:9 transfers and 5.1 sound.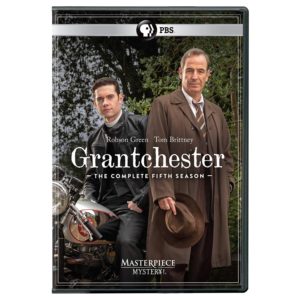 On the documentary side, several wonderful American Experience programs are new to home video from PBS this month. MR. TORNADO (55 mins., 2020) looks at the groundbreaking research of meteorologist Tetsuya Theodora "Ted" Fujita, who studied the "Super Outbreak of 1974" – a segment of some 148 tornadoes that killed over 300 people from Alabama to Ontario during the year. His work on "microbursts" informs much of our present science on these unpredictable weather phenomena, and makes for an informative, compelling hour-long doc from Michael Rossi. GEORGE W. BUSH (240 mins., 2020) profiles, over the course of some four hours, the 43rd President, from his contentious election to involvement in Iraq and handling of 9/11. PBS' DVD includes a 16:9 widescreen transfer and 2.0 stereo audio across two discs.
SOMEWHERE SOUTH WITH CHEF VIVIAN HOWARD (6 hours, 2020) follows the chef author as she looks into the roots of Southern cooking, from individual recipes to day to day living. The six one-hour episodes of the series are presented here on DVD in a 16:9 transfer and 5.1 sound…Finally, TITANS OF THE 20TH CENTURY (6 hours, 2020) examines FDR, Winston Churchill, Adolf Hitler and Josef Stalin in an overview of the 20th century's most influential figures. PBS' DVD includes the entire six-hour series in a two-disc set with 16:9 transfers and 5.1/2.0 stereo audio.
BURDEN DVD (118 mins., 2020, R; Universal): Gritty character drama, based on a true story, stars Garrett Hedlund as a "Grand Dragon" of the South Carolina KKK who's reformed by his girlfriend and a social activist, Rev. David Kennedy (Forest Whitaker). Usher (Raymond), Tom Wilkinson and Andrea Riseborough co-star in Andrew Heckler's film, now on DVD from Universal featuring a 16:9 (2.40) transfer, 5.1 Dolby Digital sound, and a behind-the-scenes featurette.
NEXT TIME: More of the latest releases! Until then, don't forget to drop in on the official Aisle Seat Message Boards and direct any emails to our email address.