Kino Lorber's other new 4K UHD premiere this month is writer Charlie Kaufman and director Michel Gondry's ETERNAL SUNSHINE OF THE SPOTLESS MIND (108 mins., 2004, R), one of Kaufman's offbeat exercises with Jim Carrey, Kate Winslet, Kirsten Dunst and Mark Ruffalo leading the ensemble cast as Carrey's protagonist attempts — much like his girlfriend (Winslet) — to have their relationship expunged from his memory banks via a cutting-edge medical procedure. This is like a "Total Recall" of the indie cinema kind, well acted and strange but ultimately a little more emotive and effective than Kaufman's comparatively more strident "Being John Malkovich." Kino Lorber's 4K UHD (1.85) originates from a new Universal 4K master color-graded by cinematographer Ellen Kuras — as I'm not a frequent flier on this movie I don't know how it matches up with previous releases, but on its own merits, the Dolby Vision HDR is superbly implemented and the DTS MA 5.1 sound is just fine. Supplements include mostly archival extras, from a Gondry-Kaufman commentary to an interview with Kuras, deleted/extended scenes and vintage interviews.
Mario Bava helmed the American-International chiller PLANET OF THE VAMPIRES (88 mins., 1965), a uniquely designed sci-fi/horror hybrid that presaged "Alien" with its tale of a space ship that intercepts a distress call – which isn't – leading to them meeting up with an alien lifeform looking to take over the galaxy. Scripted by AIP vets Ib Melchior and Louis Heyward but shot in Italy under the direction of future horror auteur Mario Bava, "Planet of the Vampires"' chief asset is its cool art design and colors – elements that shine in this new 2K MGM master (1.85). The story has always felt a little stiff to me and the resulting film is less entertaining than it is "interesting," but it's one genre fans have admired in some quarters, and Kino Lorber's Special Edition is awash in terrific supplements that enrich the experience.
Those include new commentaries – one from Kim Newman and Barry Forshaw, another with Tim Lucas which is hampered by ragged sound quality – along with the Italian opening credits and "alternate music score" highlights from what look to be a VHS release. Two "Trailers From Hell" segments featuring Joe Dante and Josh Olson, respectively, each pay tribute to the picture.
Then red-hot on "Twin Peaks," the lovely Madchen Amick teamed up with horror vet Tobe Hooper for the USA cable movie I'M DANGEROUS TONIGHT (92 mins., 1990, R). Based on a story by Cornell Woolrich, this mundane affair stars Amick as a college student who becomes a temptress once she dons a mysterious red cloak that possesses all those who wear it. Corey Parker co-stars with a bevy of familiar faces in support – Anthony Perkins, Dee Wallace, and TV sitcom vets Mary Frann ("Newhart") and Natalie Schafer ("Gilligan's Island") among them – but the suspense is dialed down in a sleepy small-screen outing amped up with some R-rated elements for its home video release. Kino Lorber's slipcover-adorned Blu-Ray (1.33, 2.0) is packed with extras including two commentary tracks with historians; interviews with Dee Wallace, Levie Isaacks, a home video promo, a video essay by Chris O'Neill, and behind-the-scenes footage with commentary by videographer Stan Giesea.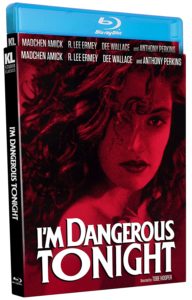 Debuting on Blu-Ray with remastered 2K scans (1.33) is Season 2 of NIGHT GALLERY (1175 mins., 1971-72). Rod Serling, fresh off "The Twilight Zone," hosted and contributed numerous scripts for this Universal-produced NBC anthology series, yet "Night Gallery" was far removed from Serling's predecessor in both tone and content. Behind the scenes, Serling butted heads with producer Jack Laird, whose "quality control" was definitely not up to Serling in his heyday, resulting in a show that unquestionably was a step down from the Zone, with many episodes falling into a formulaic framework with endings telegraphed far in advance. That said, Season 2 of the series is still pretty solid and boasts another roster of big stars including the Carradines (David and John), Sandra Dee, Patty Duke, Joel Grey, Yaphet Kotto, Ray Milland, Leslie Nielsen, Vincent Prince, Orson Welles and Adam West. Episode directors include Jeannot Swarzc and John Badham while Serling and fellow genre greats Robert Bloch and Richard Matheson likewise contributed assorted scripts.
Kino Lorber has again gone above and beyond with this sterling "Night Gallery" box-set, offering 32 (!) episode commentaries with the likes of John Badham and Guillermo del Toro on-hand, not to mention the usual roster of historians (Tim Lucas, David J. Schow, Kim Newman, etc.). A featurette offers interviews with stars Lindsay Wagner, Pat Boone, Joseph Campanella, composer Gil Melle and many others, while an additional segment profiles the show's "troubled second life in reruns" where many episodes were haphazardly edited. "Lost Tales From Season 2" looks at episodes that didn't make the cut while 19 TV spots and a slipcover grace an essential purchase for fans.
Back on Blu-Ray in a fresh Special Edition is STEEL JUSTICE (95 mins., 1987, R), a failed effort at turning "Karate Kid" villain Martin Kove into a Stallone/Schwarzenegger-esque One Man Wrecking Crew.
Alas, this feeble Atlantic Entertainment Group release is "low energy" from start to finish, with writer-director Robert Boris spending an inordinate amount of time on story set-up and dialogue. This does not, to put it mildly, play to the strengths of Kove, who only looks comfortable punching and shooting his way through his role of a Vietnam vet trying to shut down the Vietnamese mafia, running drugs out of southern California, years later in 1988. He also takes revenge for the death of his former partner, and works with his ex-wife (Sela Ward, reportedly quite medicated during the shoot due to an injury) to clean up the streets.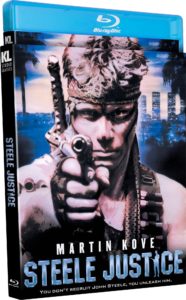 "Steel Justice" does have an interesting supporting cast, including Ronny Cox, Bernie Casey, Joseph Campanella, Sarah Douglas and Soon-Tek Oh, but most of their appearances seem to have been shot quickly, with most of the actors popping up and promptly disappearing for long stretches of time – or altogether after they first appear. The bigger issue, though, is the lack of action and excitement: yes, there are some unintentional laughs thanks to pair of montage "training sequences" midway through, as well as the many appearances by Kove's pet snake (!), but there's not enough action to lift this even to the level of a mid-grade Cannon affair.
Still a worthy catalog title due to Kove's "Cobra Kai" resurgence, Kino Lorber here revisits "Steele Justice" in a new, slipcover-adorned edition with a brand-new commentary featuring Martin Kove and Robert Boris, moderated by historian Alex Van Dyne. The trailer is also included while the 1080p (1.85) MGM mastered transfer and 2.0 DTS MA sound seem identical to the label's 2015 disc, right down to the original mono soundtrack (a telling sign of the movie's low budget), featuring a noisy synth score by Misha Segal. At least the songs are fun when they appear.
TERROR CIRCUS Blu-Ray (91 mins., 1973, R): Before he became something of a lesser known Robert Altman, Alan Rudolph cut his teeth making the 1973 exploitation outing "Terror Circus." Andrew Prine stars as a demented nut who takes three would-be Vegas showgirls captive in his Nevada desert for inclusion in his own private circus – where they're whipped, chained, treated like animals, and come in contact with Prine's toxic-mutated father! Also known as "Nightmare Circus," this is grade-Z terror for hardcore '70s horror completists only. Code Red's Blu-Ray does offer a nice looking 1080p (1.78) transfer and interviews with the cast and crew.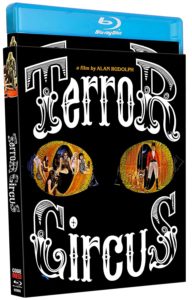 MONDOCANE Blu-Ray (116 mins., 2021, Not Rated): Italian director Allesandra Celli's debut feature is set along the southern coast of Italy which – in his dilapidated future – has become a toxic-sludge infested hellhole where civilization has fallen apart. Two boys are recruited into a gang where their lives take different tangents in a vividly rendered if narratively familiar picture that reworks elements of "Lord of the Flies" and assorted post-apocalyptic cinematic fare. Kino Lorber's Blu-Ray boasts a fine 1080p (2.39) transfer with 5.1/2.0 Italian audio (English subtitles) and a Making Of featurette…The 2006 indie EL CORTEZ (90 mins., R) attempts a contemporary noir wherein an autistic man (Lou Diamond Phillips) starts a job at a motel after being incarcerated for five years. He's soon wrapped up in a deadly triple cross involving some of its residents in Stephen Purvis' thriller, co-starring Bruce Weitz, Glenn Plummer and Peter Onorati. Kino Lorber's Blu-Ray includes a featurette, a deleted scene, 1080p (1.78) transfer and 5.1/2.0 sound.
ROCCO SCHIAVONE – ICE COLD MURDERS Seasons 3 & 4 Blu-Ray (423/222 mins., 2019-20): Marco Giallini is back as Rocco Schiavone, the grizzled detective exiled from Rome and assigned to Aosta, an Alpine tourist town with a bevy of offbeat cases for him to decipher. This new multi-disc Blu-Ray from Kino Lorber includes the complete third and fourth season mysteries from the Italian series (1.78, 5.1/2.0 Italian with English subtitles)…New from Cohen is NATHALIE… (105 mins., 2003), Anne Fontaine's film starring Fanny Ardant, Gerard Depardieu and Emmanuelle Beart in the story of one wife's revenge on her philandering husband — by way of employing a prostitute to report back to her on her seduction efforts. "Nathalie" has been restored here in a Studio Canal HD master (2.39, 5.1/2.0), in French with English subtitles.
Documentary Releases From Kino Lorber: Jeff Goldblum narrates the delightful documentary FIDDLER'S JOURNEY TO THE BIG SCREEN (88 mins., 2022), a look at the production of the classic musical's United Artists filmization from director Norman Jewison. Editor-producer-director Daniel Raim pays tribute to the 50th anniversary of the movie version's release by mixing archival footage with original interviews including Jewison, John Williams, Topol, lyricist Sheldon Harnick, critics like Kenneth Turan and many others. Ample extras on Kino and Zeitgeist's Blu-Ray include even more footage of Williams discussing his Oscar-winning adaptation of the score in additional interviews, plus Raim's Oscar-nominated short about production designer Robert F. Boyle (1080p, 5.1/2.0)…Jennifer Trainer's documentary MUSEUM TOWN (76 mins., 2019) chronicles the transformation of a small Massachusetts town's factories into the Massachusetts Museum of Contemporary Art. Meryl Streep narrates with artists like James Turrell and David Byrne appearing throughout this 2019-lensed production, now on DVD (1.85, 5.1/2.0)…INVISIBLE VALLEY (87 mins., 2021) looks at the diversity of residents living in Coachella Valley in California, from its undocumented migrants to wealthy local residents and, of course, festival music-goers. Kino Lorber's DVD of Aaron Maurer and Zach McMillan's doc includes deleted scenes (1.78, 5.1/2.0)…Dan Chen's documentary ACCEPTED (91 mins., 2021) profiles T.M. Landry, an unconventional Louisiana prep school, whose penchant for sending graduates to elite universities is put under the microscope after a New York Times expose. This Greenwich Films DVD release comes with a 16:9 (1.78) transfer and 2.0/5.1 surround…Also new from Greenwich and Kino this month on DVD is STAY PRAYED UP (72 mins., 2022), the celebration of the legendary gospel group The Branchettes and its 83-year-old fiery leader, Lena Mae Perry, as they record their first live album. An inspiring musical effort shot on location in North Carolina, Kino Lorber brings "Stay Prayed Up" to DVD this month featuring a 16:9 transfer and 5.1/2.0 sound options.
Independent documentarian Mark Rappaport receives a new compilation this month from Kino Classics. THE SILVER SCREEN: COLOR ME LAVENDER (104 mins., 1997) offers "Frasier"'s Dan Butler as a tour guide for viewers through Rappaport's look at gay eroticism and camp-on-screen. The feature-length doc is joined here by three more recent Rappaport efforts: The Vanity Tables of Douglas Sirk (2014), The Double Life of Paul Henreid (2017), and Martin and Hans (2021). The DVD is now available (1.33/1.78, 2.0)…Finally, new on Blu-Ray from Kino Lorber and Good Deed Entertainment is ALASKAN NETS (117 mins., 2021), a solid documentary about a pair of cousins who help lead their tiny Alaskan town's high school team towards their first state championship in three decades. Chris Pratt was one og the producers of "Alaskan Nets," now on BD (1.85, 5.1/2.0).
---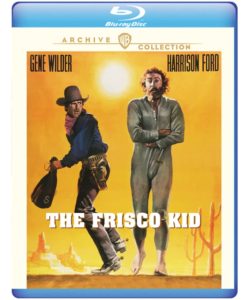 Warner Archive New Releases
Gene Wilder – as a rabbi – and Harrison Ford – a would-be bandit – comprise the Old West odd couple in Robert Aldrich's uneven THE FRISCO KID (119 mins., 1979, PG), a period comedic western which is overlong and populated with vignettes – only a few of which work – in Michael Elias and Frank Shaw's screenplay. Widler and Ford would seem to be a good match together but Aldrich's overly drawn out film, one marked by uneven swings of tone and taste, never gets into gear despite their best efforts – something confirmed by the film's poor box-office returns. One of several Ford vehicles that didn't muster much commercial support post-"Star Wars" ("Hanover Street" and "Force 10 From Navarone" being the other two), "The Frisco Kid" still might be worth a look for devotees of the two stars – so long as your expectations are dialed low – on Blu-Ray. Warner Archive's disc includes a 1080p (1.85) AVC encoded transfer that's as detailed and fresh as you'd expect from the label plus a mono soundtrack.
More appealing – though still an uneven affair – is ADVENTURES OF DON JUAN (110 mins., 1948), a late-career swashbuckler for star Errol Flynn that was supposed to mark a return to form for the matinee idol. This Warner Bros. release isn't exactly "Adventures of Robin Hood" but for aficionados of Flynn or the genre, there's sufficient pageantry on-hand in Vincent Sherman's film, with Flynn's title hero trying to save the queen (Viveca Lindfors) from a vile duke. Max Steiner's score is appropriately robust while Warner Archive's Blu-Ray looks great (1.37, mono) and offers assorted extras: an archival commentary with Sherman and historian Rudy Behlmer plus a full "Warner Night at the Movies" 1948 package including classic shorts, cartoons and a vintage newsreel.
---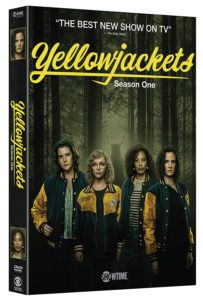 Also New & Noteworthy
YELLOWJACKETS Season 1 DVD (aprx 10 hours, 2021; CBS): I have no idea where it's going or if it will satisfy once it gets there, but the first season of the Showtime series "Yellowjackets" is a wow: a compelling and superbly crafted series that bounces between several time lines — a high school girls soccer team in 1996 crashes in the wild, eventually succumbs to "Lord of the Flie" like cannibalism (with supernatural components added into the mix), and a present-day story involving several of the characters with heavy amounts of mystery involved. Melanie Lynskey, Juliette Lewis and Christina Ricci anchor the latter portion, but the younger cast really pulls their weight, especially the terrific Sophie Nélisse, who was in "The Book Thief" and really provides a star-making turn here as Lynskey's younger alter-ego.
Horror, suspense, and coming of age drama all work well here with the overall story only being "revealed" parts at a time. However, unlike "Lost," you don't feel as if it's being made up as it goes along, as the different time frames seem to have been smartly scripted out. Plus it's all wrapped up in a widescreen treatment that gives it a cinematic feel – fingers crossed it doesn't subsequently go off the rails, but for now, "Yellowjackets" is a really good watch.
CBS' Season 1 DVD of "Yellowjackets" is on DVD this week (2.35, 5.1 Dolby Digital). Extras include exclusive featurettes "The Female Lens" and "Favorite Moments."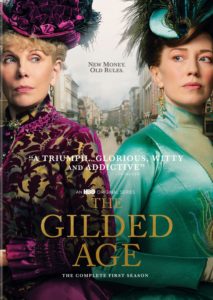 THE GILDED AGE – Season 1 (499 mins., 2022; HBO): Wholly appealing period drama from "Downton Abbey"'s Julian Fellowes introduces us to a new crop of characters, just before the turn of the (20th) century in NYC. Among them are new arrival Louisa Jacobson (Meryl Streep's youngest daughter), who hits Manhattan in the care of her two high society aunts (Christine Baranski and Cynthia Nixon), while the Russell family (Morgan Spector and Carrie Coon) moves in across the street, hoping to climb every social and financial ladder possible.
Production values (with portions of the show filmed in Newport RI and Troy NY) are high and the writing and performances are just as exceptional, most especially Coon, Baranski and Nixon, with the appealing Jacobson a heroine you can easily pull for. An instant hit for HBO, "The Gilded Age" debuts on DVD July 26th (1.78, 5.1). An all-new featurette is included along with a number of segments taking viewers behind-the-scenes — given the problems of shooting during the pandemic, "Gilded Age" is a triumph that comes unquestionably recommended.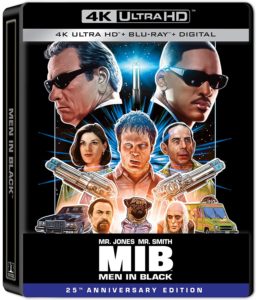 MEN IN BLACK – 25th Anniversary 4K Ultra HD/Blu-Ray Steelbook (98 mins., 1997, PG-13; Sony): The inaugural adventures of Will Smith & Tommy Lee Jones in director Barry Sonnenfeld's 1997 smash – a preordained box-office blockbuster if there ever was one – return to 4K UHD in a sleek Sony Steelbook featuring new Dolby Vision HDR.
As big a hit as "MIB" was back in the summer of '97, I distinctly recall being underwhelmed when I first saw it: Smith, Jones, and bug-eyed aliens should have equaled the '90s version of "Ghostbusters" for "The X-Files" generation. Unfortunately, Sonnenfeld's movie — while a bona-fide commercial success — is a watered-down comedy with some good ideas and a few laughs, but also a complete absence of character development and dramatic tension. Sure, Will's interrogation sequence is memorably amusing, and the film coasts along on the chemistry between its stars, but one gets the sense a better film could've been produced from the material…a feeling further hammered home by the total incompetence of its troubled 2002 sequel and busted Chris Hemsworth franchise non-starter "MIB International" (as for the third "MIB," I confess I always liked that one).
"Men in Black" has been released previously on 4K UHD but this is a Sony Steelbook re-issue meaning the transfer has been enhanced with new Dolby Vision HDR (the Dolby Atmos sound is the same track found on the earlier UHD). Extras include "Designing MIB" and "Notes From the Director's Chair" featurettes, while a slew of previously-released special features are included on the Blu-Ray along with a Digital HD code.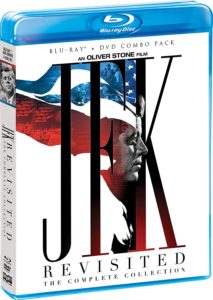 JFK REVISITED Blu-Ray/DVD (Aprx. 6 hours, 2021; Shout! Factory): Oliver Stone returns to the Kennedy assassination, updating theories, revisiting past claims, and utilizing newer evidence to probe deeper in a pair of recent documentaries, coupled here on Blu-Ray by Shout! Factory.
Included in this four-disc Blu-Ray/DVD combo pack is the feature-length film JFK REVISITED: THROUGH THE LOOKING GLASS, which takes its two full hours to reassess the shooting with Stone working off information gathered in the 30+ years since his controversial "JFK" film was released. Alongside that effort – which is narrated by Donald Sutherland and Whoopi Goldberg – is JFK: DESTINY REVEALED, a multi-part mini-series which dives into the Warren Commission and other incidents that occurred in the many years since Kennedy's assassination. Both efforts are included here in 1080p (1.78) transfers with 2.0 DTS MA stereo soundtracks. A commentary from Stone and writer James DiEugenio is on-hand for "JFK Revisited."
FORTUNE FAVORS LADY NIKUKO Blu-Ray/DVD (97 mins., 2021; GKids/Shout! Factory): Ayumu Watanabe's new film is an eclectic yet character-driven anime about Nikuko, a single mom and her artistically-driven, thoughtful middle school-aged daughter. As Kikuko just attempts to fit in at school, Nikuko and her are shaken by a past revelation that threatens to uproot their lives in the quiet, sleepy seaside village they reside in. Shout debuts "Fortune Favors Lady Nikuko" in a GKids Blu-Ray/DVD combo package (2.35, 5.1 DTS MA Japanese with English subtitles) this month. The set also includes a Making Of, premiere event footage, Sanma Akashiya Birthday Event featurette, and a Film Completion Press Conference segment amongst other goodies for anime buffs.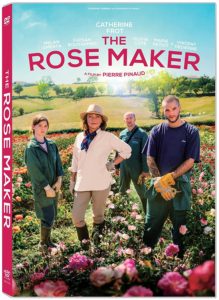 DONA FLOR AND HER TWO HUSBANDS Blu-Ray (118 mins., 1976, R; Film Movement): 4K restoration of what became Brazil's biggest box-office hit – a wild 1976 comedy about a widow who remarries and soon ends up being pleasured by both her new husband…and the ghost of her old one (Jose Wilker), the latter with decidedly "better" results. Jorge Amado's novel became the basis for Bruno Barreto's film version, which premiered to strong worldwide acclaim and launched the career of the sultry Sonia Braga, here playing the lead role. Film Movement's Blu-Ray (1.85, 5.1/2.0 in Portuguese with English subtitles) offers a new commentary from Barreto, a featurette, and a 16-page booklet.
THE ROSE MAKER DVD (95 mins., 2021, Not Rated; Music Box Films): Highly agreeable French comedy sounds like something out of the Hallmark Channel but manages to be much more entertaining: a brilliant horticulturalist (Catherine Frot) decides to take on her corporate rival (Vincent Dedienne) in the game of breeding unique roses in France, even while the company is facing bankruptcy. The disparate team she assembles to assist her comprise the comedy in Pierre Pinaud's good-natured and breezy effort, now on DVD from Music Box (2.39, 5.1 French with English subs). Extra features include Pinaud's commentary; interviews with Frot and Pinaud; a featurette; plus the trailer and deleted scenes.
---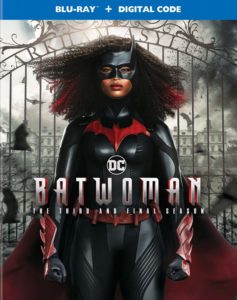 Quick Takes
BATWOMAN: The Third and Final Season Blu-Ray (545 mins., 2021-22; Warner): The turbulent CW super-heroine series comes to a close with the final roster of episodes from "Batwoman." Ryan Wilder is, at least, back in the costume as Batwoman seeks to take down Gotham's "institutional justice" along with a succession of new villains created by weapons lost in the previous season's finale. Ryan battles Rogues and works with Alice to save the day as the series wraps up in Warner's multi-disc Blu-Ray (1.78, 5.1 DTS MA). The now-available set includes a Digital HD copy, a gag reel, deleted scenes, and featurette "Batwing: A Hero's Journey."
GOOD BURGER Blu-Ray (95 mins., 1997, PG: Paramount): The Nickelodeon tandem of "Kenan and Kel" hit the big-screen in this feature spinoff of a sketch from the series "All That," wherein fast-food pals Thompson and Mitchell serve up diner specials – all the while a new chain named Mondo Burger starts up across the street. A cult favorite here debuts on Blu-Ray in Paramount's new Steelbook edition (1.85, 5.1 DTS MA) that also includes a Digital HD copy and the original "Good Burger" sketch from "All That"…Also new from Paramount is the feature-length comedy RENO 911! THE SEARCH FOR QANON (84 mins., 2021), an extended spin-off from the Comedy Central series that finds the Reno Sheriff's Department looking for the head of left-wing boogeymen Qanon while hitting their cruise. Ten deleted scenes are included in Paramount's DVD (16:9, 5.1).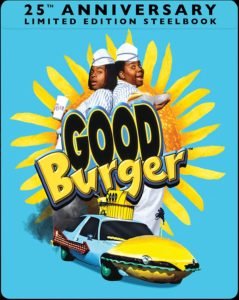 DUAL Blu-Ray (94 mins., 2021, R; RLJE Films): The talented Karen Gillan gets to carry this dark and ultimately unsatisfying yarn about a woman who decides to be cloned after she finds out she's terminally ill. Once Gillan's Sarah learns that she's in remission, she attempts to "decommission" her alternate self – to no avail – in a twisty movie that just doesn't have enough juice emotionally or dramatically to get by. Maybe that's because writer-director Riley Stearns had to go to Finland in the middle of the pandemic to shoot his film, which debuts this week on Blu-Ray (1.85, 5.1 DTS MA) from RLJE also sporting a Making Of and commentary from Stearns.
Also new from RLJE, THAT DIRTY BLACK BAG (7 hours, 2022) is an AMC+ streaming series starring Douglas Booth as a sheriff going up against the vile bounty hunter/killer Red Bill (Dominic Cooper) in a bloody western that's over the top in a way that's supposed to make it a contemporary follow-up on spaghetti westerns from decades ago. Viewers were mixed on the results, but those who might've missed it can check out Season 1 of the series when it hits Blu-Ray on July 26th (2.39, 5.1 DTS MA).
ANCIENT ALIENS – Season 15 DVD (7 hours, 2022; Lionsgate): The latest season of the long-running History Channel series takes a look at whether or not our increasingly public "alien visitations" could be elements from our own future, and not just run-ins with extraterrestrials. Ten episodes are spread across two DVDs in Lionsgate's now-available DVD (1.78, 2.0).
WOLF HOUND Blu-Ray (130 mins., 2022, R; Lionsgate): Fairly ambitious film for a modest budget, "Wolf Gond" stars James Maslow as a B-17 bomber pilot who, after being shot down, finds out the Germans are loading a captured American plane with a bomb that could tilt the balance of WWII. Actual vintage aircraft were used in the production of Michael B. Chate's effort, but the movie's dramatics are grounded and the picture definitely overstays its welcome at 130 minutes. Lionsgate's now-available Blu-Ray (2.39, 5.1 DTS MA) offers a slew of special features including commentary, deleted scenes, a VFX featurette, and a Digital HD copy.
NEXT TIME: Imprint's July Releases! Until then, don't forget to drop in on the official Aisle Seat Message Boards and direct any emails to our email address. Cheers everyone!