Message Board (open 24 hours!)
Twitter - @andredursin (for everything else!)
For barely over a year, Oscar-winning British producer David Puttnam became the head studio chief at Columbia Pictures, promising to open the door to creative voices and bring his own sense of filmmaking individuality to Hollywood. The net result was a disaster across every spectrum, resulting in one of the more dizzying arrays of box-office flops imaginable (check out the full list). Among them was THE BEAST (110 mins., 1988, R), a drama about a Russian tank playing a game of survival in Afghanistan with Mujahideen fighters after they bombard a local village, killing many of its inhabitants.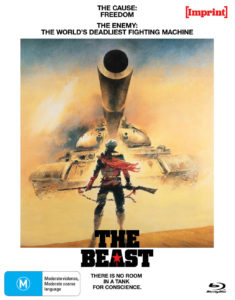 The subject matter wouldn't have seemed well positioned for the box-office back in 1988 – and especially not after Puttnam and director Kevin Reynolds decided to say "no" to the likes of Kevin Costner and Christopher Plummer, both of whom wanted to make the film. Instead, Puttnam and Reynolds gave character actor (but not exactly a "star") George Dzundza top billing, sharing it alongside younger leads Jason Patric and Steven Bauer – thereby sealing the commercial fate of this not inexpensive picture, which played only in New York and Los Angeles before being sent to home video (like many films in Puttnam's Columbia slate).
Looked at today, "The Beast" is still one of the most interesting, and easily satisfying, of all of Putnam's films produced at Columbia. William Mastrosimone adapted his play "Nanawatai" for this tale of how war can bring both certain forces and their enemies together, with Dzundza playing the psychotic driver of a Russian tank, Don Harvey and Stephen Baldwin as two of his crewmen, and Patric the more conscientious fourth member of the crew who looks away when Dzundza drives over Afghans and obstinately pilots his tank through a ravine with no other way out. Meanwhile, after seeing their village destroyed, the Afghans look for revenge, with Bauer the younger fighter pressed into leadership after his father and brother are slain in the early skirmish.
Unflinchingly violent, "The Beast" is a gripping if not emotionally involving picture that offers an awful lot of scope for its $7 million budget. Cinematographer Douglas Milsome and Reynolds do an excellent job capturing the Israeli shooting locations while the story is opened up in such a way that you'd never have imagined this material was ever based on a stage play. The performances are credible, though there's a serious disconnect in the Russian characters all speaking unaffected English (and played by the likes of Patric and Baldwin, who look more suited to hanging out in southern California), while the Afghan characters are subtitled. While the need to separate the languages is obviously a key part of the story, the Russians come off as so "Americanized" it's not surprising new Columbia head Dawn Steel (who replaced Puttnam) reportedly walked out of the movie's screening just 20 minutes in after having seen how the movie handled the use of language (and subtitles).
Nevertheless, "The Beast" is a commendable film with a subject matter that's obviously still relevant today – and with key themes about freedom and ethics, even on the battlefield, that apply no matter what the conflict may be. Special recognition should also extend to Mark Isham's score – this early effort by Isham is one of his best scores, lending the film a moody, dreamy soundscape that's alternately harsh and lyrical, somber and spiritual. Many other composers back in the '80s tried to utilize a "wall of sound" approach, with an emphasis on electronics, but most of them come off today as strident and dated – not so this score, which Isham used as a grounding for a "middle eastern sound" countless other films have employed in its wake. It's a superb effort that's worth tracking down, some 34 years after its release.
"The Beast" makes its worldwide Blu-Ray debut from Imprint and ViaVision this month in limited-edition form. The Sony-licensed 1080p master (1.78, 2.0 PCM stereo) is obviously older and sometimes looks flat in terms of detail, but given the alternative standard-def options, this master – while showing its age – is still good enough to get by. The stereo sound is well engineered and the disc includes a commentary by David J. Moore and – more significantly – a full two-hour documentary on the movie's production courtesy of Daniel Griffith's Ballyhoo Pictures. Producer Dale Pollock outlines having to work with a line producer that was part of the pre-Puttnam Columbia regime, while Kevin Reynolds, Jason Patric, Mark Isham, Steven Bauer and William Mastrosimone (audio only) also comment on the picture's fascinating production history. It's one of the best special features to be found on any disc so far this year.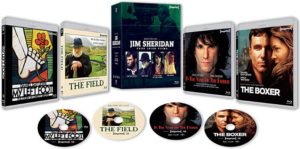 There's a revealing quote from director Jim Sheridan on the back of Imprint's four-disc Blu-Ray anthology DIRECTED BY… JIM SHERIDAN: FOUR IRISH FILMS: "Give all the bad information up front and then try and make the story, where I can elevate the spirit." That's true, at least, in three of the films from the Irish director included in this release, representing the full collaboration between Sheridan and actor Daniel Day-Lewis, who catapulted onto the international stage with his Oscar-winning turn in 1989's "My Left Foot."
MY LEFT FOOT (103 mins., 1989, R) tells the story of Christy Brown, Irish writer and painter, whose mobility was restricted due to his affliction from Cerebral Palsy. Shane Connaughton and Jim Sheridan's script – adapted from Brown's own memoir – makes for an at-times painful but ultimately uplifting picture that earns its emotion through Day-Lewis' stalwart performance as Brown, while a superlative supporting cast includes Brenda Fricker, Ray McAnally, Cyril Cusack, Fiona Shaw and Hugh O'Conor. A film that celebrates the artistic impulse in spite of severe handicaps, "My Left Foot" here includes a 1080p transfer (1.78) similar to the previously-released Blu-Ray we've seen here in the U.S., along with commentary from Bryan Reesman. There's also one of several new interviews with Sheridan, a segment on "The Real Christy Brown," and the trailer.
A box-office success, Sheridan had his pick of projects for his next film but curiously chose an adaptation of John B. Keane's downbeat (really downbeat) mid '60s play THE FIELD (107 mins., 1990, R). The movie does benefit from a rich, late-career performance from Richard Harris, playing an obstinate Irish farmer whose rented land is about to go up for auction to the highest bidder. Tom Berenger plays the American who covets the land for future development, but runs into a road block in Harris' anti-hero. Tragedy awaits them all in a film that reunited Sheridan with many of his "My Left Foot" crew, including composer Elmer Bernstein, but this difficult and grim picture failed to meet with the same level of critical or commercial acclaim. Imprint's Blu-Ray – the film's debut in the format – houses a perfectly serviceable MGM master (1.85), Making Of documentary, Sheridan's interview, trailer, and commentary by Scott Harrison.
Sheridan reunited with Daniel Day-Lewis twice more in the '90s to superior results – first, and more successfully, in IN THE NAME OF THE FATHER (133 mins., 1993, R), where Day-Lewis plays a young Irish man mistaken for an IRA sniper. Ultimately becoming one of the "Guildford Four," Day-Lewis' Gerry Conlon is imprisoned and put on trial for a 1974 IRA bombing he didn't commit, spending time in prison while his father (the superb Pete Postelthwaite) and lawyer (Emma Thompson) actively attempt to reverse his sentence. An absorbing and effective true story brought to the screen courtesy of Sheridan and writer Terry George, "In the Name of the Father" earned strong reviews and solid box-office; Imprint's Blu-Ray includes a Universal licensed 1080p (1.85) transfer with 5.1/2.0 DTS MA audio, an interview with Sheridan, archival interviews with Day-Lewis and Postelthwaite, the trailer, and a commentary from Bryan Reesman.
Day-Lewis and Sheridan worked together again on THE BOXER (113 mins., 1997, R), another drama focusing on the IRA and, in this instance, a would-be champion boxer (Day-Lewis) who threw his life away after getting involved with the the organization. After completing a prison term over a decade long, he returns to his roots and the girl he left behind (Emily Watson) while local politics and the threat of violence remain in his Northern Ireland home. While not a commercial success and a bit more conventional than expected, "The Boxer" is still a decent view because of the performances of Day-Lewis – restrained and soulful here – and Watson; their chemistry carries the viewer through a movie that doesn't reach the emotional heights of Sheridan's best work, and is driven more by plot than character. Again working from a capable Universal catalog master (1.85, 5.1/2.0), "The Boxer" offers another new interview with Sheridan and commentary by the director along with other archival extras like deleted scenes, an alternate ending, Making Of featurette, TV spots, trailer, and an older interview with Watson.
All four films have been included here in one of Imprint's sturdy boxes, each picture adorned in its own separate plastic case.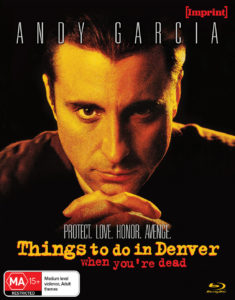 THINGS TO DO IN DENVER WHEN YOU'RE DEAD (115 mins., 1995, R): Deemed a Tarantino wannabe in the wake of "Pulp Fiction" and then quickly put out to pasture by Miramax once Siskel & Ebert gave the movie "two thumbs down," this highly uneven but occasionally poignant mob drama from writer Scott Rosenberg – helmed by his Boston University classmate Gary Fleder – has long carried a small cult following.
If only for the performances, Rosenberg's movie about characters with looming expiration dates (he wrote the film shortly after his father's passing) is worth checking out: Andy Garcia plays a mobster hoping to connect with beautiful Gabrielle Anwar, but saddled with intimidating a young man at the behest of wheelchair-bound mob boss Christopher Walken. Garcia assembles his old crew (Treat Williams, William Forsythe, Christopher Lloyd and Bill Nunn) but things go south fast – leading to to each one of them having to contemplate their mortal existences before a slick hit man (Steve Buscemi) comes calling.
Rosenberg's script was a hot commodity in the early '90s and the Weinstein brothers saw its potential, as Tony Scott among others tried to convince the screenwriter that they were better suited to direct it than the relatively inexperienced Fleder. The author, however, kept his word to his friend and retained Fleder despite overtures from bigger directors, though in the end, it's possible another filmmaking voice might have brought some stability to the material that the material could've used. This is a story that veers from "contemporary noir" to offbeat comedy and romance, sometimes jarringly – it likewise will mix a moving speech (like Lloyd's conversation about being resigned to his fate) with grizzly bursts of violence, all with a dated visual aesthetic common to the mid '90s.
It's not a film that particularly works – and probably was only ever going to be admired by a small group – but there are pockets of it that are effective, along with a superb, poignant Michael Convertino score that sounds an awfully lot like Thomas Newman, but there's no need to plunder that topic again!
Imprint's Blu-Ray (1.85, 5.1/2.0) offers a number of excellent interviews with Rosenberg, Fleder, Garcia, and production designer Nelson Coates. Working with the Weinsteins is covered (Fleder recounts the moment when Bob Weinstein came up to him at the premiere and simply said "hey Gary, two thumbs down!" in reference to Gene and Roger's review), as is having to let go of a major actor who was having "prescription drug issues" (Rosenberg floats James Caan's name at one point but Fleder doesn't identify him by name). It's an interesting mix of comments from an era in which "chatty gangsters" were all the rage at the box-office, when one of the era's more revered scripts became a flat-out flop that its production company seemingly lost all interest in distributing.
NEXT TIME: The latest from Vinegar Syndrome and Fun City Editions! Until then, don't forget to drop in on the official Aisle Seat Message Boards and direct any emails to our email address. Cheers everyone!