Message Board (open 24 hours!)
Twitter - @andredursin (for everything else!)
After making an early impression opposite Bruce Lee in "Way of the Dragon," Chuck Norris bounced around for a few years before netting the lead role in the drive-in trucker hit "Breaker, Breaker." He would head back to his forte – martial arts – by headlining a trio of vehicles for American Cinema Corporation, all three of which show Norris trying to hone his limited acting skills while offering the occasional blast of action. This month, Kino Lorber brings the trio to Blu-Ray in new 2K (1.85) restorations courtesy of MGM, and while they are anything but "Prime Chuck" – being marred by pokey scripts that don't always showcase Norris at his best, especially early on in his career – fans should still be delighted with these spiffy remasters.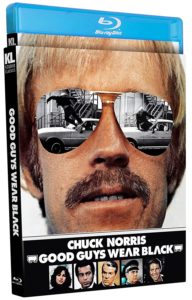 Norris' hit GOOD GUYS WEAR BLACK (95 mins., 1978, PG) finds Chuck as a Vietnam vet – and current UCLA professor (!) – whom the CIA has on the top of their hit list. Yes, this Ted Post-directed outing embraces a bit of a '70s "conspiracy thriller" angle as Chuck tries to find out – with the help of a D.C. investigator (Anne Archer) – who's picking off his former elite jungle squad. Norris is backed by James Franciscus, Dana Andrews, Lloyd Haynes and Jim Backus (yes, Thurston Howell III) here, but there are some dull stretches in the Bruce Cohn-Mark Medoff screenplay, along with a disappointingly pedestrian score by Craig Safan that's a long, long way from the likes of "Remo Williams" and "The Last Starfighter." Still, despite looking like a movie from much earlier in its decade, "Good Guys…" was a boffo hit with audiences, cementing Norris as a certified action star of the late '70s and '80s.
Norris seems a little more at home in the immediately-produced follow-up A FORCE OF ONE (90 mins., 1979, PG), netting co-billing alongside Jennifer O'Neill. The "Summer of '42" starlet is saddled with a horribly unattractive haircut as she plays an undercover agent trying to piece together the motive behind a series of killings of her fellow narcotics cops. With karate involved, O'Neill nets the assistance of local champ Norris in tracking down the killer, while "Shaft" creator Ernest Tidyman's script pays much attention (too much, ultimately) to the police procedural side of things. Ron O'Neal, Clu Gulager, and Eric Laneuville co-star in another Norris box-office success.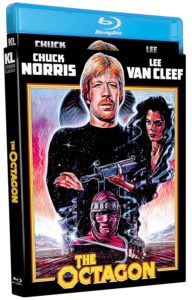 The star concluded his deal with American Cinema with THE OCTAGON (103 mins., 1980, R), which is a disappointing picture since the main premise – Norris has to infiltrate a terrorist-run ninja clan run by his estranged, adopted brother – would seem to be an ideal fit for the star. Alas, Leigh Chapman's script is jammed with uninteresting subplots and cardboard characters, wasting the likes of Lee Van Cleef, Ernie Hudson and others among the capable supporting cast. Eric Karson's direction is pretty much by-the-numbers also, coming off as far too episodic while Norris' awful, hushed "inner dialogue" musings, sprinkled throughout the movie, add further insult (you almost expect him to ask, "maybe I should use the bathroom!").
What's interesting about all three of these Norris films is how similar they are: each one features the death of a prominent character about midway through, forcing Norris to change up his previous quest and utilize "revenge!" as a means of driving the story forward. Perhaps it's due to the fact that Norris was relatively inexperienced in front of the camera at this juncture, but the mostly simplistic writing in the trio is a common problem. There's a lot of talk and not enough action going on – elements that would be better juggled in Chuck's '80s films for the Cannon Group – but I can't say that aficionados of late '70s actioners that probably played for weeks at the drive-in won't still be entertained.
If nothing else, Norris buffs should be thrilled with Kino's remastered Blu-Ray (1.85, mono) transfers, while extras include new commentaries by genre authorities Brandon Bentley and Mike Leeder along with assorted extras from previous releases (director commentaries on "Octagon" and "Force of One," interview with Ted Post on "Good Guys," plus DVD-era "Making Of" featurettes and trailers).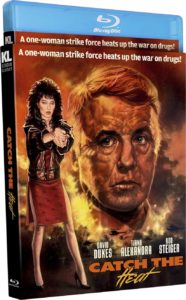 A movie from Cannon vet Joel Silberg that's decidedly '80s in its look and approach, CATCH THE HEAT (87 mins., 1987, R) was a Trans World Entertainment concoction, set in Argentina, where tough San Francisco undercover cop "Checkers Goldberg" finds herself trying to stop a human trafficking ring that involves girls smuggling drugs – all after having engaged in cosmetic augmentations at the behest of a local crime kingpin played by a slumming Rod Steiger.
"Catch the Heat" looks and feels like a Cannon product of the time, and even features a script by Stirling Silliphant, whose prolific credits include "In the Heat of the Night" and "Charly." If you're wondering how Silliphant got involved with B-grade home video fare like this, you needn't go further than knowing that lead star Tiana Alexandra was his wife, and this seeming vanity project – produced through "M'Amsel Tea Entertainment" – was apparently intended to launch the lovely if overly affected actress onto a big movie career.
Obviously that never materialized, but there are some laughs still to be found in Silliphant's decidedly un-politically correct dialogue which plays up racial and ethnic stereotyopes in a silly movie that's actually more fun to sit through than the early Chuck Norris flicks reviewed above. Kino Lorber's Blu-Ray (1.85) looks fine and offers a bombastic stereo soundtrack from composers Steve Chase and Thomas Rucker. The trailer and a vintage VHS ad round out the release, adorned – like the above Chuck movies – with a colorful slipcover of original theatrical art.
HIGH DESERT KILL Blu-Ray (92 mins., 1989, PG-13): A late '80s USA cable movie produced by Universal's MTE TV division, "High Desert Kill" is a surprisingly moody, low-key genre exercise with a premise that only suggests "'Deliverance' Meets 'Predator.'" Director Harry Falk's movie is much more character-centric as it follows a pair of hunters (Anthony Geary, Marc Singer) on a trip along with the nephew (Micah Grant) of their beloved, recently deceased friend. Chuck Connors is the seasoned cowboy wondering where the local livestock went – but that's just the tip of the iceberg after the group's dead colleague reappears in ghostly form, prompting primal behaviors with the group unaware of what transpired thereafter.
"High Desert Kill" does establish and maintain a creepy mood and the script is at least consistent in never veering off its central focus of putting its combative protagonists through a series of mysterious trials. The performances are sound and the script offers some surprises in terms of its body count, though the movie is so scant on explanations that there's a sense of disappointment once it wraps up. Adding further insult is a wholly unnecessary epilogue, one of the few predictable elements in what's an otherwise intriguing TV movie.
Making its debut on Blu-Ray from Scorpion Releasing and Kino Lorber, "High Desert Kill" was produced for USA cable with an intended 1.33 aspect ratio. That version is presented here alongside a cropped widescreen version (1.85) that lobs off the top and bottom of the frame and is not recommended. The crisp stereo sound is superb on either version, with the electronic score provided by Dana Kaproff.
Another cable film from the same era, THE TENTH MAN (99 mins., 1988) stars Anthony Hopkins as a French lawyer, imprisoned during WWII and marked for a firing squad execution, who convinces a fellow inmate to take over his estate – leaving him peniless but alive and, later, riddled with guilt. After the war ends, he heads to his home and falls for the dead man's sister (Kristin Scott Thomas) in a finely acted adaptation of Graham Greene's novel. Derek Jacobi co-stars with veteran Jack Gold helming a terrific production, shot by prolific cinematographer Alan Hume and scored by Lee Holdridge. Kino Lorber's Blu-Ray includes both the original 1.33 aspect ratio plus a cropped widescreen (1.85) version on the MGM-licensed disc.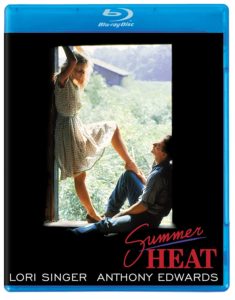 SUMMER HEAT Blu-Ray (80 mins., 1987, R): Curiously slender pre-WWII drama is set in the tobacco farms of North Carolina where a young mother (Lori Singer) finds herself falling for a handsome drifter (Bruce Abbott) while being saddled with a harried, overworked husband (Anthony Edwards). A very svelte, pre-"Misery" Kathy Bates co-stars in a movie where much effort was seemingly invested in evoking time and place, but the end result is detached and flat – much like Singer's performance – with some narration coming and – later – going as director Michie Gleason struggles to adapt Louise Shivers' book. Most curious are the music credits on this movie – the main film lists "Original Score by Richard Stone," yet the first credit to roll at the end is a Kim Carnes song written by Barry Mann and Georges Delerue. Then right under that, the not insignificant – and rather wide open – credit for "Original Themes" listing Delerue, Mann and, finally, Stone, who's credited with the actual score. That must have been some lawyers' roundtable figuring that out! Kino Lorber's Blu-Ray (1.85, mono) of this obscure Atlantic Releasing drama looks and sounds just fine, with the trailer included.
DON'T TELL HER IT'S ME Blu-Ray (102 mins., 1990, PG-13; Code Red): It takes just a couple of minutes before you realize there's something truly "off" with this seemingly benign looking, Hemdale-produced romantic comedy which came and went in theaters back in September of 1990.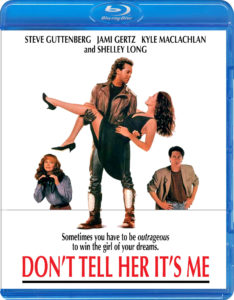 For starters, the first 40 minutes are entirely dominated by third-billed Shelley Long, playing a romance novelist who tries to hook up her Hodgkin's Disease-recovering brother Gus (Steve Guttenberg) with a suitable female. She finds it, she thinks, in the form of magazine writer Jami Gertz, who for some reason works with a pair of "Twin Peaks" stars (a wasted Kyle MacLachlan and even less visible Madchen Amick, who must've hit the cutting room floor), presumably on hiatus from the first season of the David Lynch series. Gus, however, isn't exactly sexy: with a horrific bald cap and fat padding, Guttenberg looks dreadfully unattractive (just wait until you see the other "fat suit" he dons for a Gertz hallucination), so Long decides it's up to her to turn him around. Putting on a "Mad Max"-like biker suit and mullet – and an Aussie accent of course – enables Gus to become the kind of '80s man Gertz is interested in – though it's less like the character undergoes a convincing transition than it is Steve Guttenberg just deciding it's time to act like, well, Steve Guttenberg.
Maybe this adaptation of Sarah Bird's book (she scripted it herself) read better on paper, but under the direction of British director Malcolm Mowbray, "Don't Tell Her It's Me" – which was originally known under the book's title as "The Boyfriend School" – is utterly, completely bizarre. Comical asides which probably were funny in the source material become overly cartoonish on-screen, while the characters – with the exception of Gertz, who seems to be the only one inhabiting a normal person – are too broad and bombastic to be believed. One can also assume Long is Bird's alter-ego, as there's so much of her in the movie that the picture's main narrative focus is never fully established until it's nearly half over. Add in Michael Gore's score – at times treacly, at times pleasingly melodic – and you have all the ingredients for one of those misfires stacked with talented actors all capable of better.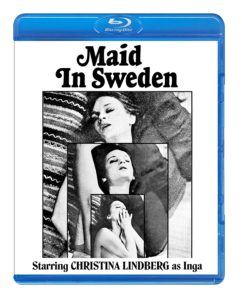 Code Red's Blu-Ray (1.85) hails from a solid 2K master and looks good, though the stereo sound erroneously unfolds into all-channel stereo when you attempt to play it back as matrixed surround. Extras include a brief alternate credits sequence using "The Boyfriend School" as its on-screen title and the trailer, featuring Guttenberg doing a direct appeal to the audience (note: "The Boyfriend School" appears to be still used as the movie's title on streaming and apparently overseas).
Code Red's other August release is MAID IN SWEDEN (81 mins., 1971, R), an interesting relic from the early '70s starring Christina Lindberg ("Thriller") as a young, innocent Swedish milkmaid who discovers the finer arts of sex after heading from her village to Stockholm and being exposed to her liberated older sister. This was a Cannon production long before Golan and Globus showed up so while "Maid in Sweden" has its share of sex and nudity, Floch Johnson's film carries some heavier dramatic chops than expected. Code Red's MGM licensed Blu-Ray (1.78) offers a 2K master plus the trailer.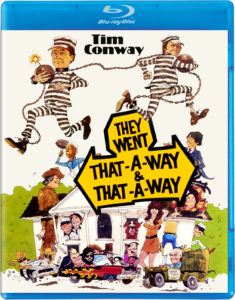 THEY WENT THAT-A-WAY & THAT-A-WAY Blu-Ray (107 mins., 1978, PG): Tim Conway generated some box-office success off his classic "Carol Burnett Show" appearances with wan movies like Disney's "The Apple Dumpling Gang" and a later indie hit, "The Private Eyes," both co-starring comic genius Don Knotts. In between, Conway wrote and starred in a couple of films for The International Picture Show Company including this 1978 farce wherein Conway's hapless small-town cop is sent undercover alongside his partner (Chuck McCann) to a local prison.
TV vet Edward J. Montagne co-directed with Stuart McGowan and Conway's script does, admittedly, generate some laughs along with a satisfingly bombastic climax that should have "Apple Dumpling Gang" fans engaged. On the downside, some of the broad southern/ethnic stereotypes are dated (Asian jokes, KKK references), making it unsuitable for the Disney audience, and the movie goes on forever – the pacing certainly would've benefited from the loss of some 10-20 minutes. Kino Lorber's no-frills Blu-Ray offers a good looking 1080p (1.85, mono) MGM licensed transfer plus the trailer.
MYSTERIOUS ISLAND OF BEAUTIFUL WOMEN (96 mins., 1979): Innocuous network TV movie finds oil tycoon Peter Lawford and friends (Steven Keats, Clint Walker) staging an emergency landing on a remote tropical island. There, they find a number of stranded, ex-Catholic school girls having grown into nubile young females, played by the likes of Jaime Lynn Bauer, Jayne Kennedy, Deborah Shelton and Rosalind Chao. This Alan Lansburg-produced affair is conventional stuff all the way around but should offer some nostalgic fun for fans of the era. Kino Lorber's Blu-Ray (1.33) hails from a variety of 35mm and 16mm sources as no original element exists – generally the transfer is superb but there are a couple of sudden shifts into decidedly inferior, blurry sections before the image recovers. A commentary with TV movie expert Amanda Reyes and Lance Vaughan and a slipcover are also on-tap.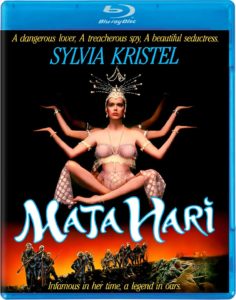 Speaking of attractive ladies, Kino Lorber also has the very silly – but guilty-pleasure entertaining – MATA HARI (108 mins., 1985, R) debuting in the format on August 30th. This was one of "Emmanuelle" star Sylvia Kristel's many follow-ups to her soft-core smash and the Cannon Group responded by signing her to play the infamous spy in a decently-mounted production under the direction of Curtis Harrington. The movie looks good – and any film that offers a topless swordfight is worth a couple of minutes of your time – but it goes without saying it's best left for Kristel devotees and Cannon fans wanting to add another of their infamous '80s releases to their watch lists. Kino Lorber's Blu-Ray (1.85, mono) hails from a respectable MGM transfer with the trailer, an image gallery, and a new commentary by historians David Del Valle and Nathaniel Bell available in a slipcover-adorned package.
Debuting on 4K UHD this month from Kino Lorber is something entirely different: Stanley Kubrick's classic PATHS OF GLORY (88 mins., 1957).
Kirk Douglas gives one of his best performances as a French colonel trying to defend several of his men, accused of cowardice after failing to carry out a mission in WWI. A searing script by Kubrick, Calder Willingham and Jim Thompson, adapted from Humphrey Cobb's novel, gives this Douglas-produced Bryna effort all the dramatic juice it needs for Kubrick and an excellent supporting cast (Adolphe Menjou, Ralph Meeker among them) to craft one of the most powerful war films ever made.
A new 4K Dolby Vision HDR master (1.66, mono) – derived from the original camera negative – comprises this superb UHD presentation, with finer details and contrast levels than Criterion's previous Blu-Ray release. The disc includes a trailer and a new commentary by Tim Lucas, whose research and insights are always welcome, and makes for another reason to pick up the disc, whether or not you've previously bought this masterpiece across a variety of formats.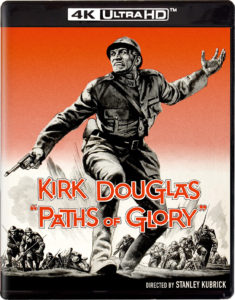 KILL A DRAGON Blu-Ray (91 mins., 1967): The lure of seeing Hong Kong in the mid '60s provides most of the viewing interest in this B-exercise from producer Aubrey Schenck, wherein Jack Palance plays a mercenary who gets involved in the struggle of local villagers going up against a smuggler (Fernando Lamas) wanting his stolen shipment of nitroglycerin. The action is low wattage due to the limited budget, but Palance is at least fun to watch – even only for a few minutes – as director Michael D. Moore struggles to pad "Kill a Dragon" out to 90 minutes. The MGM licensed transfer (1.85) of this independent production UA released is superb with mono sound and the trailer also on-hand.
SAMSON AND THE 7 MIRACLES OF THE WORLD Blu-Ray (98/76 mins., 1961): "Peplum" fans – aka the sword-and-sandal Euro imports from the '50s and '60s – ought to compelled to check out this special remastered edition of "Samson and the 7 Miracles of the World." This reasonably diverting widescreen adventure (it works best if you like the genre) offers a rare Chinese setting with former "Tarzan" Gordon Scott playing a hero (not named Samson!) who helps drive the invading Mongol warriors out of the land. Riccardo Frieda helmed the Italian affair which AIP removed some 20 minutes from (mostly for understandable pacing issues) for their U.S. release; Kino Lorber's Blu-Ray (2.35) includes both the 98-minute original version and the 76-minute U.S. release along with a commentary from Tim Lucas.
ELECTRA GLIDE IN BLUE Blu-Ray (114 mins., 1973, PG): Counter-culture police drama offered Robert Blake a key leading role as a small-town Arizona cop who gets promoted and demoted in equal measure while investigating a murder and dealing with local hippies. There's a definite air of the "70s" in every inch of James William Guercio's film and Robert Boris' script, from its central values down to its ironic and nihilistic ending; fans will be excited by Kino Lorber's new 4K master (2.35, mono) on Blu-Ray along with a number of extras. These include Boris' commentary, another commentary with Guercio, interviews with Boris and actor Mitchell Ryan, an introduction from Guercio and a run of trailers and TV spots.
THE TRIALS OF OSCAR WILDE Blu-Ray (130 mins., 1960): Before producing the James Bond series, Albert R. Broccoli's Warwick Film Productions turned out films like this 1960 widescreen drama – one of the best-reviewed of Broccoli's pre-007 output in fact. Peter Finch earned wide acclaim here as Wilde, who files suit against the Marquis of Queensberry (Lionel Jeffries) for libel. After losing, Wilde is turned around and prosecuted for the same allegation that he seduced the Marquees' son (John Fraser), leading to an infamous trial. Several Bond vets like cinematographer Ted Moore and production designer Ken Adam worked on "Oscar Wilde," which was tautly directed and written by Ken Hughes. The 1080p (2.35, mono) AVC encoded transfer, MGM licensed, looks well composed with the Super Technirama 70 frame intact on Kino Lorber's Blu-Ray; the trailer is the sole extra.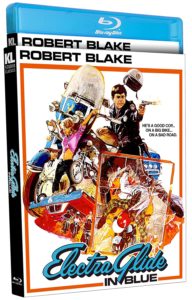 Two Starring Maragaret Sullivan: Two '30s B&W dramas starring Margaret Sullavan receive 2K remasters from Kino Lorber this month in their respective Blu-Ray debuts. LITTLE MAN, WHAT NOW? (98 mins., 1934) is set in a pre-WWII Berlin where a would-be salesman (Douglass Montgomery) struggles to find work after marrying his lifelong love (Sullavan) instead of his former boss' daughter. An interesting, pre-Code picture for its Hollywoodized portrait of Germany in the years leading up to the war, "Little Man, What Now?" co-stars Alan Hale, Hedda Hopper and Paul Fix, with Kino Lorber's disc (1.37 B&W, mono) sporting a commentary from the duo of Daniel Kremer and Allan Arkush…Ursula Parrott's story "Say Goodbye Again" served as the basis for NEXT TIME WE LOVE (87 mins., 1936), wherein Sullavan has to chose between her estranged, war correspondent husband (Jimmy Stewart) and the longtime admirer (Ray Milland) who asks her to divorce him. This one's a heavy melodrama complete with an early Franz Waxman score, similarly remastered in a new Universal 2K presentation (1.37 B&W, mono). Kino Lorber's disc features a fresh commentary from historian Lee Gambin and costume historian Elissa Rose.
A sumptuously over-the-top melodrama also from the '30s, WHEN TOMORROW COMES (90 mins., 1939) reunites "Love Affair" stars Charles Boyer and Irene Dunne in a similarly tragic romance. Dunne plays a waitress who falls immediately for a concert pianist (Boyer), unaware that he's married to daffy Barbara O'Neil. James M. Cain's story "A Modern Cinderella" formed the basis of John Stahl's A-grade Universal production, here remastered in a 2K transfer (1.37 B&W, mono) with a commentary from Lee Gambin and Elissa Rose putting the film into proper historical context.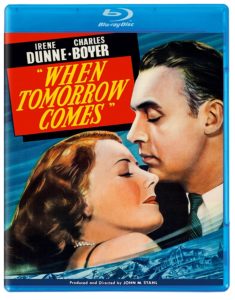 New From Cohen Media Group, APPLES (90 mins., 2020, Not Rated) stars Aris Servetalis as a middle-aged man in a world where a pandemic has caused sudden amnesia. Enrolled in a recovery program where he builds a new identity, Aris soon meets a woman (Sofia Georgovasili) also going through the same process in a thoughtful, interesting debut feature from Greek filmmaker Christos Nikou. Cohen's now-available Blu-Ray (1.33, 5.1/2.0 Greek with English subtitles) also includes interviews with Nikou, as conducted by director Taika Waititi, plus Nikou with Cate Blanchett and Anne Thompson.
Also new this month are a pair of French imports, newly added to the Cohen Film Collection. SYMPHONY FOR A MASSACRE (110 mins., 1963) is Jacques Deray's thriller about five men, mostly working around the fringes of legality, who decide to go full in on a narcotics deal that could set them up for life. While the negative for this acclaimed Deray work starring Michel Auclair, Charles Vanel, Jose Gionvanni and Jean Rochefort was lost, this 2K master of a 4K scan of the interpositive (1.66 B&W, mono) still looks quite good; Cohen's Blu-Ray, in French with English subtitles, also includes a half-hour look at the production of the movie and a re-release trailer…Jean Chapot's THE BURNED BARNS (98 mins., 1973) stars Alain Delon as a judge who suspects the culprit behind the murder of a young woman resides amongst the family of title owner Simone Signoret. Jean-Michel Jarre's score colors this 1973 French drama, preserved here on Blu-Ray in a Studio Canal master (1.66, French with English subs). Extras include nearly a half-hour of interviews with the crew.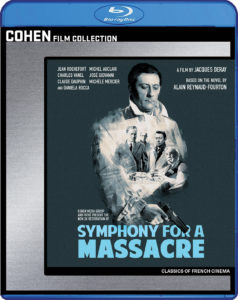 Blu-Ray Quick Takes: Kino Classics delivers a compelling Blu-Ray restoration of Milton Moses Ginsberg's controversial and groundbreaking COMING APART (111 mins., 1969). Rip Torn gives a convincing performance as a psychiatrist filming his own mental breakdown in a then-unconventionally shot drama co-starring Sally Kirkland and Viveca Lindfors. Kino's Blu (1.66 B&W) also includes a brief 2004 interview with Ginsberg; footage from Torn's 2019 memorial; a half-hour 50th Anniversary featurette; the trailer; a 2020 feature-length Ginsberg effort, "KRON," and a 5-minute short from the director also from 2020.
Premiering on Blu-Ray this month from Kino Lorber, NEPTUNE FROST (109 mins., 2021) is a "sci-fi punk-musical" set in an "Afrofuturist" world where anti-colonial hacker miners, from their "e-waste dump," stage a coup of the authoritarian government controlling them. Saul Williams and Anisia Uzeyman's film uses material from Williams' 2016 album "MartyrLoserKing" in this feature, on Blu-Ray from Kino sporting an enveloping 7.1.2 DTS X soundtrack and a 1080p (1.66) transfer. Extras include deleted scenes, a trailer, and a commentary from the filmmakers…the documentary OLGA (89 mins., 2021) takes a look at a Ukrainian teen gymnast, exiled in Switzerland, when her homeland rises up and stages the Maidan Revolution in 2013 – putting her and her journalist mother in a precarious place. An interesting picture for its portrait of a troubled, corrupt Ukraine years before the current conflict with Russia, "Olga" debuts on Blu-Ray August 30th from Kino Lorber featuring a 1080p (1.50:1) transfer with 5.1/2.0 audio in French/Ukrainian/Russian with English subtitles.
DVD New Releases From Kino: Ajitpal Singh's FIRE IN THE MOUNTAINS (82 mins., 2022) follows a female member of a Himalayan community who battles patriarchal systems and old customs when carving out her own business. An acclaimed debut film for Singh, Kino Lorber brings "Fire in the Mountains" to DVD this August with a 16:9 (1.85) transfer and 5.1/2.0 sound…Saul Williams stars in Alain Gomis' 2011 picture TEY (88 mins.), the story of a Dakar villager who has a single day (the film's English title) to say his goodbyes before he dies. Kino Lorber's disc is now available with a 16:9 (1.85) transfer and 2.0 French/Wolof soundtrack and English subs.
ALI & AVA (94 mins., 2020) is Clio Barnard's BAFTA-nominated drama starring Claire Rushbrook and Adeel Akhtar as an unlikely relationship springs between a couple trying to get over the sting of their respective, failed past relationships. Kino's DVD is now available, featuring a 16:9 (2.39) transfer and 5.1/2.0 sound…EMMA! 3: BOWTIFUL (140 mins.) sports nearly 2½ hours of entertainment for kids featuring the character "Emma" in season three "Wiggles" episodes (16:9, 2.0).
---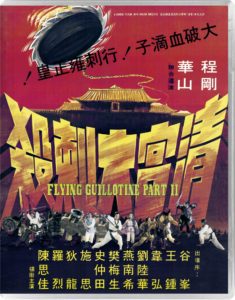 New From MVD Distribution
FLYING GUILLOTINE PART II Blu-Ray (92 mins., 1978; 88 Films): Shaw Brothers turned out numerous sequels to their martial arts classic "Flying Guillotine," starting out with this 1978 release that fans generally regard as the best of those follow-ups. Ku Feng stars as an outlaw rebel who suits up with a number of female freedom fighters to take down the vile emperor in a colorful, violent action romp typical of Shaw Brothers' efforts from the era. 88 Films' Blu-Ray (2.35, mono) includes a new transfer from the original negative with both Mandarin (English subtitled) audio or the English dub; a commentary from action movie historians Mike Leeder and Arena Venema; the trailer; a reversible sleeve, fold-out poster, and booklet notes from critic Barry Forshaw.
FLATLINERS 4K UHD (114 mins., 1990, R; Arrow): Tepid, typically over-directed, music-video styled thriller from Joel Schumacher wastes an attractive, of-the-moment cast (Kiefer Sutherland, Julia Roberts, Kevin Bacon) as med student Kiefer convinces his buddies to participate in an experiment to find out what happens when you die. The answers aren't worth the journey in this box-office bust from the summer of '90, packed with over-reaching performances (Roberts in particular is less than convincing) and a Peter Filardi script that ends up being trite and repetitive.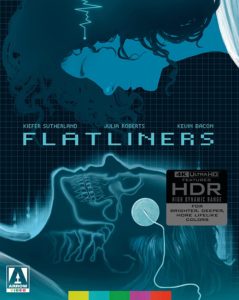 Now, I've never been a fan of this film (as you can tell), but I do give Arrow credit for producing a stellar 4K UHD of the movie with Dolby Vision HDR. Jan De Bont's cinematography is bathed in warm colors and uses the widescreen frame throughout; all previous home video transfers were a mess of the incomprehensible (pan-and-scan VHS) or blurry and unfaithful to the original visuals (laserdiscs and even a Blu-Ray that was just okay). This UHD offers outstanding use of HDR and immaculate detail — so good, in fact, it did keep me watching and more invested in the picture than I had ever been before (the 5.1 and 2.0 DTS MA soundtracks are faithful to previous mixes).
Therefore, if you're a fan, "Flatliners" is highly recommended in 4K, with extras including a new commentary by critic Bryan Reesman and Max Evry; a video interview with Peter Filardi; conversations with Jan De Bont and Edward Ayer; new talks with first AD John Kretchmer, production designer Eugenio Zanettii and art director Larry Lundy; interviews with James Newton Howard and orchestrator Chris Boardman, plus costume designer Susan Becker, the trailer and an image gallery.
Arrow has also brought HK cinema fans a sterling Blu-Ray package of RUNNING OUT OF TIME 01 and 02 (93/96 mins., 1999-2001), Johnnie To's action thrillers starring Lau Ching Wan and Andy Lau. The two-disc set, out August 30th, includes 2K restorations of both films (1.85) with Cantonese/Mandarin 5.1 DTS MA audio tracks and lossless English mono(1)/stereo(2) dubs. Supplements run the gamut from commentaries by Frank Djeng to additional interviews, archival featurettes (including a talk with composer Raymond Wong), trailers and more.
---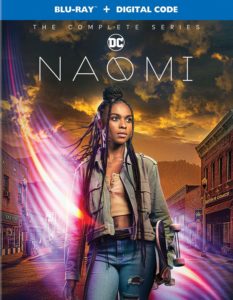 Quick Takes
New From Lionsgate: Not usually one to be associated with direct-to-vid affairs, Juliette Binoche plays a truck driver (!) in PARADISE HIGHWAY (115 mins., 2022, R). In director Anna Gutto's original script, Binoche's character is coerced into participating in a human trafficking ring in order to save her brother; transporting a girl played by Hala Finley, the duo try to find justice while being pursued by an FBI agent (Morgan Freeman) in a story at least more developed than most Grindstone efforts, backed by decent performances. Lionsgate's Blu-Ray (2.39, 5.1 DTS MA) offers deleted scenes, a Making Of, commentary with Gutto, and a Digital HD copy.
NAOMI: The Complete Series Blu-Ray (547 mins., 2021-22; Warner): A rough start sabotaged this DC live-action series about a young African-American teen with a Superman obsession who finds out she has powers of his own — and that Supes is real…maybe. "Naomi" started off receiving rough reviews from comic book fans but the series reportedly improved — alas, poor ratings killed off this CW series co-created by Ava DuVernay after just 13 episodes. Warner's Blu-Ray (1.78, 5.1 DTS MA) includes the series' complete run with solid transfers and three featurettes plus a Digital HD copy. Be warned: the show ends on a cliffhanger that's likely never going to be resolved.
NEXT TIME: Season 26 Premiere! Until then, don't forget to drop in on the official Aisle Seat Message Boards and direct any emails to our email address. Cheers everyone!