Message Board (open 24 hours!)
Twitter - @andredursin (for everything else!)
It was just a year ago we kicked off the "25th Season" of The Aisle Seat with a review of Paramount's 4K UHD release of the first four "Star Trek" movies. Now it's time for the 26th Season Premiere and Paramount has released a brand new STAR TREK: THE ORIGINAL MOTION PICTURE 6-MOVIE COLLECTION, debuting 4K UHDs of William Shatner's 1989 entry "Star Trek V: The Final Frontier" as well as Nicholas Meyer's 1991 original cast swan song "Star Trek VI: The Undiscovered Country." More over, Paramount has also included – available separately in its own deluxe release as well – the brand-new, remastered edition of STAR TREK: THE MOTION PICTURE – THE DIRECTOR'S EDITION, incorporating many of the changes from the 2001 Robert Wise DVD "re-cut" with freshly reworked, 4K-mastered FX and a few other changes.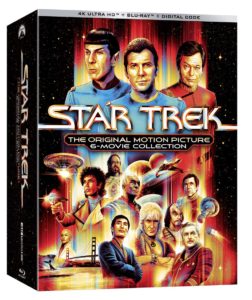 Since the 4K UHD presentations of TMP's Theatrical Cut plus Star Trek II, III, and IV are identical to their previous 2021 releases, I'll refer everyone to last year's reviews and focus in here on the content we've never seen before. (Note there are also individual releases for II, III and IV on UHD/Blu-Ray so if you've already bought the first UHD anthology, housing I-IV, you can just add on piecemeal if you'd rather go that route).
As with the 4-Movie UHD/Blu-Ray Collection, the 6-Movie Collection is a package offering both UHD and remastered Blu-Rays with supplements identical to their previous BD editions, while on 4K, debuting Dolby Vision transfers with natural grain and tweaked colors that show off your display's High Dynamic Range capabilities.
Certainly the Dolby Vision HDR grading does plenty to restore the cinematic grandeur of Robert Wise's STAR TREK: THE MOTION PICTURE (132 mins., 1979, G), an entertaining but flawed picture that nevertheless remains the most "cinematic" of all the big-screen adventures, graced by an all-time classic score by Jerry Goldsmith that remains unparalleled in the series for its majestic scope and unforgettable themes.
Plagued by production woes – from a budget that went spiraling out-of-control, to the involvement of several special effects companies (one of which was in seriously over its head), and a Christmas '79 release date that was mandated by the studio – it's a wonder that TMP ever became the box-office success that it did. Its relatively straightforward story – of a seemingly extraterrestrial "cloud" destroying everything that comes in its path as it approaches, and seemingly threatens, Earth — recalls several episodes of the original series (including "The Doomsday Machine" and "The Changeling"), with Captain Kirk and crew setting out to explore the unknown "being" and stop it from destroying life as we know it.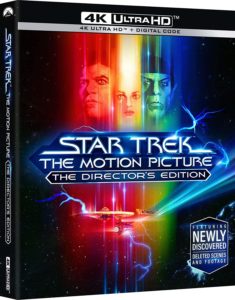 What distinguishes the film from its small-screen counterparts is the lavish visual treatment the movie receives from director Robert Wise, cinematographer Richard Kline, the special effects wizardry of Douglas Trumbull and John Dykstra (among others), and of course, Jerry Goldsmith's marvelous score, which provides more dramatic and emotional presence than anything in the actual script – itself mostly culled from what was supposed to be the pilot for a second, abandoned "Star Trek" TV series.
Although I hadn't been born when the original series aired on NBC, I still grew up with the show through the magic of syndicated re-runs. When I was old enough to see ST-TMP, I was captivated by the images and Goldsmith's music the first time I saw the movie on home video in 1982, just a few months before "Star Trek II: The Wrath of Khan" was released to theaters. After 30 minutes or so, however, I remember becoming just a bit bored by the film and its elaborate, though seemingly endless, parade of special effects – a sentiment echoed by the general consensus of critics and fans at the time.
Set against the backdrop of the movie are sterile "dramatic" moments, with only a few notable exchanges between our beloved original crew making one feel at home. The movie's bland secondary characters – Stephen Collins' Decker and Persis Khambatta's Ilia – exchange puppy-dog glances, but they're never developed enough so that we care about them.
What's left that truly does work (aside from Goldsmith's soundtrack) is Spock's rediscovery of his human side as he attempts to probe V'Ger – the little lost space vestibule trying to find its creator — and the interplay between Kirk, McCoy, and our favorite Vulcan as they decide how to save civilization once again in the face of insurmountable odds. Add in a few classic Shatner-isms ("V'Ger! V-O-Y-A-G-E-R. Voyager!"), and you have a lukewarm but still undeniably compelling film that manages to get by simply on the basis of its sheer look and scope.
There have been numerous attempts to "fix" TMP's pacing and restore character elements to the film — first in ABC's network TV broadcast, which restored 12 minutes of footage, and later in Robert Wise's "Director's Edition" DVD, which offered most of those added sequences while trimming some of the fat from the theatrical print. Wise also approved extensive new special effects for that version as well, some of which were more effective than others.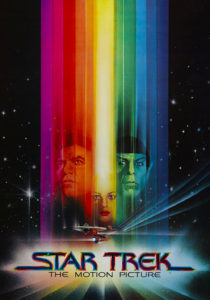 After much work on the behalf of producers David C. Fein, Mike Matessino and Daren Dochterman, THE DIRECTOR'S EDITION (136 mins.) has been reworked for 4K, updating the FX revisions from the Wise DVD with greater clarity thanks to 8K scans of surviving elements – including original plates still in existence at Paramount. The result brings clarity and detail to the revised FX sequences that the 2001 release could only hint at, while the opportunity was also invested to produce a Dolby Atmos remix that incorporated original audio elements, enhancing the clarity of the dialogue in certain scenes (this is especially true of Kirk's arrival at Starfleet's San Francisco base).
Overall, if you were a fan of the 2001 Director's Edition, you ought to be thrilled with this overhauled, meticulously crafted presentation. I'm more of a purist and prefer the theatrical cut – warts and all – but for the fans who have long clamored for a new rendering of this edit, they shouldn't be disappointed, especially with the 4K UHD transfer (2.39, Dolby Atmos) Paramount has produced here.
Now, there are a number of different packages Paramount is releasing for the Director's Edition: starting off with its inclusion here in the 6-Movie Collection (along with the same theatrical cut UHD from 2021). There's also a standard UHD/Blu-Ray housing just the Director's Edition (note the theatrical cut is not included in this package). And, most excitingly, there's also a deluxe, Limited "Complete Adventure" box-set housing the Director's Edition with collectibles and an exclusive UHD containing a new transfer of the 1983 "Special Longer Version" home video release (which is basically the theatrical cut with all the outtakes/deleted scenes added back in) plus the theatrical version. If you're like me and have a special fondness for the first version broadcast on ABC (and a popular VHS/laserdisc title back in the '80s), save your pennies as the Limited UHD box of The Director's Edition is the only place you'll be able to find it (note I was not sent this version for review so I cannot confirm its contents or quality).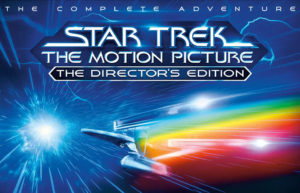 No matter which way you go, you'll find the Director's Edition housing a number of new and archival extras. On the Director's Edition BD and UHD, fans have access to a new commentary featuring Mattesino, Fein and Dochterman, plus the 2001 DVD commentary recorded for the original Director's Edition release which offered comments from the likes of Robert Wise, Jerry Goldsmith and Douglas Trumbull, all of whom have sadly left us over the years since.
The "bonus" Blu-Ray houses some recently discovered deleted material, namely a four-minute scene with Decker and Ilia walking through the engineering room after Spock's "Walk" outside the Enterprise. Long thought lost to time, this looks good and has only been marred by the loss of some dialogue (the missing sections are subtitled at least). All-new extras related to the Director's Edition – like a 50-minute documentary – are also included plus archival special effects and costume tests. There's also a reprisal of supplements found on the previous BD and DVD releases. These include "The Longest Trek," which spotlights the genesis of the script's creation, and "Special Star Trek Reunion," which interviews several Trekkies who discuss their cameo roles in the sequence where Kirk debriefs the crew on V'Ger's appearance. There's also a brief "Starfleet Academy: The Mystery Behind V'Ger" segment, two trailers (including the memorable Orson Welles narrated teaser in full multi-track stereo) and TV spots, plus all the deleted scenes/outtakes that were removed for the Director's Edition.
The theatrical cut UHD/BD discs contained in the 6-Movie Collection are, again, the same discs from 2021. They exclusively boast a fine commentary track with Trek experts Michael and Denise Okuda, Judith and Garfield Reeves-Stevens and Daren Dochterman, which sprinkles insight into the making of the film and its legacy. It's not as anecdote-rich as the Director's Edition commentary but it's a breezy, enjoyable track that fans should enjoy.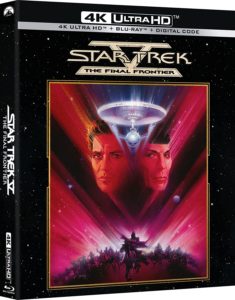 Making their 4K premieres in the 6-Movie Collection, via what are reportedly original negative scans, are the final two "Original Cast" features.
I can only imagine that if William Shatner's STAR TREK V: THE FINAL FRONTIER (107 mins., 1989, PG) happened to be the main topic of contention on a college debate team, whatever side is selected to defend the movie would have a far greater challenge on their hands than the group that simply has to attack it. This is a movie, after all, that's basically been the punching bag out of all the Star Trek big-screen features. Until "Star Trek: Nemesis," it was the least successful of the Trek films, and even now, it's reviled in many circles as being the silliest, least significant effort of the entire series.
The detractors can still produce a viable argument as to why they dislike the film, but I guess I have to plead guilty: even though it's certainly a little rough around the edges, I like this movie. Not only is the picture not entirely deserving of its bad rep, I'd also gladly sit through "The Final Frontier" again than any of the "Next Generation" features (with the sole exception of "Star Trek: First Contact").
Following on the massive mainstream success of "Star Trek IV: The Voyage Home," producer Harve Bennett and director William Shatner had a tough task at hand. Although Shatner concocted a story about the Enterprise crew heading out to the far reaches of the galaxy in an attempt to find God – a relatively heavy story for a Star Trek film – it's clear that the studio wanted to retain the colorful humor that proved so successful in "The Voyage Home." Having to mix the humorous with the deep subject matter clearly wasn't going to be easy, and indeed, writer David Loughery's final screenplay shows the difficulty in striking the right balance the filmmakers faced.
Loughery's story follows Spock's renegade half-brother, Sybok (Laurence Luckinbill), and his crusade to find "Shaka-Ri," the supposedly-mythical Garden of Eden in the deep reaches of space. In order to cross the "Great Barrier," Sybok steals the Enterprise from Kirk, Spock and McCoy, who are seen taking a vacation at Yosemite in the movie's opening moments. The meaning of family, the topic of false prophets, and even the nature of religion's existence in the known universe are interspersed by a few comical gags and a subplot involving a freewheeling Klingon commander.
The somewhat rambling nature of the story, plus Shatner's relative inexperience behind the camera (clearly, Bill was no Leonard Nimoy), resulted in a movie that, at least, is nowhere near as polished as its predecessors. The gags range from slapstick (yep, Scotty walking into a beam) to silly, while there are subplots – from Sybok's hostages to the Klingon angle – that never really pay off. Laurence Luckinbill's colorful performance would have been more effective on the stage (where the actor was most at home) than on-screen, where he seems just a little over-the-top throughout (Shatner should have had him take it down a notch or two).
Sure, "The Final Frontier" has its issues, but not all of them were director Shatner's fault, as the movie was almost fatally sabotaged by Bran Ferren's visual effects. Since ILM was occupied with work on multiple movies for the summer of 1989 ("Indiana Jones and the Last Crusade" and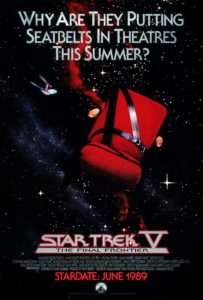 "The Abyss" for starters), the decision was made to go with Ferren and his company to provide the F/X. As documented in Shatner's "Star Trek: Movie Memories" book and elsewhere, Ferren had a decent budget at his disposal but completely failed to deliver the necessary goods – most of his effects entail the Enterprise flying through pools of oil that look like run-off you'd routinely find on the side of a highway. Shatner's originally conceived ending, involving Kirk running from monstrous creations from hell, also bit the dust, since executives refused to spend the money needed on his admittedly elaborate climax. What results in the finished film seems hurried and incomplete, but the powers-at-be opted to deep-six any re-shoots, not wanting to spend additional time or money on their tentpole June release. With all of those problems, then, it's no surprise that "The Final Frontier" didn't live up to its financial expectations.
That said, "Star Trek V" is a movie that does have some wonderful moments in it – namely, the scenes involving Kirk, Spock and McCoy. While many fans either love or hate the "row, row, row your boat" sequence, I find it to be one of the oddly more poignant scenes in all the Trek movies. With the supporting cast relegated back to its strictly secondary nature, Shatner and Loughery at least enable the classic trio of heroes to take the stage in scenes that have as much to do with their relationship as friends and, indeed, family as they do with the plot. And sure, the Sybok element is a bit goofy, but there are also some terrific moments when the gang does probe some of the mysteries of the universe and the human heart – especially when Kirk, Spock, and McCoy are confronted by Sybok with their own, respective past pain.
The Yosemite scenes are terrifically shot by Andrew Laszlo, and rounding out the action is Jerry Goldsmith's score. With Goldsmith's triumphant "Motion Picture" theme returning for the first time since TMP (along with a reprisal of his Klingon Theme), the composer serves up a beautiful, stirring score that ranks right up there with the best of the entire series: it's majestic and moving, clearly an inspired effort for Goldsmith and still one of my favorites of the late '80s.
"The Final Frontier" may be the least of the original cast movies, but it's nevertheless an ambitious one that's hard not to admire simply because of what Shatner and company were attempting here. The massive nature of the story – does God exist, and if so, where? – is balanced by small, intimate scenes with Kirk, Spock and McCoy, and it's that very aspect that I find compelling and entertaining in spite of the film's problems.
Certainly this is a gorgeous new 4K UHD transfer (2.39, 7.1 Dolby TrueHD) that's superior to its previous Blu-Ray HD master and offers an abundance of color and detail. The Dolby Vision HDR grading is warm and satisfying, and the 7.1 audio is robust and effective, dominated by a wide soundstage.
Extras housed on the Blu-Ray include numerous carry-overs from previous BD and DVD editions, notably a commentary track with Michael and Denise Okuda, Judith and Garfield Reeves-Stevens and Daren Dochterman, who discuss the film's production and various bits of trivia without being overly harsh about its shortcomings. The rest of the supplements run the gamut from deleted scenes to archival featurettes, plus Shatner's audio commentary.
Although Shatner has previously ranted about the trouble he encountered in post-production, he's markedly quiet about that aspect of the movie in this old commentary track. Recorded with his daughter Liz (who wrote "William Shatner's Personal Account of the Making of Star Trek V," a book that still sits on my shelf), this is a disappointing talk that's dominated by a lot of dead air. More often than not, Liz prompts her father to discuss various subjects, but Shatner seems unwilling to open up on the juicier aspects of making the film, and what they do talk about has been discussed elsewhere in greater detail.
Most interesting to fans, and the most revealing element of these older extras, are the make-up tests of the "Rockman" Shatner wanted to include at the end of the movie. Though Shatner shoots down the suit that was constructed, I didn't think it looked that bad in the footage screened here, though because the studio only allotted enough money for one suit to be made (Shatner needed a dozen in order to shoot his original climax), it was never used.
Overall, the 4K UHD is a worthwhile trip back to a "Final Frontier" that's fun in spite of its flaws.
After "Star Trek V" met with declining revenues at the box-office, the powers-at-be decided that the sixth sojourn for the original Enterprise crew would be its last. Nicholas Meyer returned to co-write and direct STAR TREK VI: THE UNDISCOVERED COUNTRY (113 mins., 1991, PG), a film that received a wealth of positive reviews when it was initially released, performed solidly at the box-office, and was produced to coincide with the 25th Anniversary of Trek itself.
Yet in spite of the film's many positive aspects, it still comes across – at least in my eyes – as an efficient yet somewhat uninspired adventure that's generally entertaining and only a bit pretentious.
This time out, Captain Kirk, Spock and the gang are tabbed for one last mission: to escort a Klingon emissary to a Federation meeting where a peace treaty is to be signed. Of course, something goes seriously awry when the ambassador is assassinated and civility in the galaxy is threatened by the possibility of a full-blown war. It's up to Kirk, Spock and McCoy – who are convicted for his murder and imprisoned on a snowy planet on the fringes of the universe – to save the day and stabilize the situation.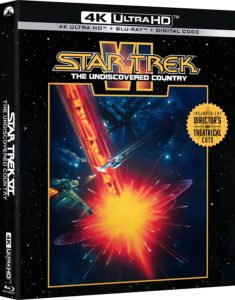 Working with a modest budget, Meyer does a good job exploiting his strong suit (clever dialogue) and creating a plot that's more Agatha Christie-like than the usual Trek adventure. Christopher Plummer does a superb job chewing up the scenery as the heavy, but I wish the movie had given the original cast more of a proper send-off than this story gives them.
Certainly "The Undiscovered Country" is fine for what it is, but it doesn't aspire to be seemingly anything more than a better-than-average, more elaborate episode of the show itself. The movie's now-dated political allegory – with the Klingons obviously representing the Russians in the waning days of the Cold War – is obvious and Meyer's use of Shakespearean quotes seem heavy-handed, especially for a Star Trek film. More over, there's no real sense of closure at the end of the movie, no real goodbye for a crew that had made its way through three TV seasons and some six features (I don't count a series of on-screen signatures as being a sufficient end). Other disappointments are Cliff Eidelman's overly brooding score (which tries too hard to be different), and a few weak supporting performances (Kim Cattrall's turn as the Vulcan-who-would-be-Saavik is especially underwhelming).
On the other hand, the old stand-bys – from Shatner to Nimoy and DeForest Kelley – are all relaxed and fit right into their classic parts, while the effects by ILM make up for the Bran Ferren disaster of "Star Trek V."
For "The Undiscovered Country," Paramount's 4K UHD offers both the theatrical cut (109 mins.) as well as Meyer's Director's Cut (113 mins.), each boasting Dolby Vision HDR (2.39) and 7.1 Dolby TrueHD audio tracks. The Director's Cut is identical to Meyer's 2004 DVD "massaging" of that version, which notably added some obvious sound effects when not-Saavik reveals the "conspirators" of the plot via a mind meld with Spock (note the included Blu-Ray only offers VI's theatrical version).
On its accompanying Blu-Ray, Paramount offers viewers the same extras as its prior Blu-Ray and DVD iterations. Among those features is an enjoyable commentary from veteran Trek writers/producers Larry Nemecek and Ira Steven Behr, two HD featurettes ("Tom Morga: Alien Stuntman," "To Be or Not to Be: Klingons and Shakespeare"), and one last Starfleet Academy primer. Ported over from the original DVD are Meyer and producer Denny Martin Flynn's original commentary, a "Making Of" featurette plus a handful of shorter (5-10 mins.) featurettes that look at the development of the story, the production, and the final day of shooting. Original trailers in HD round out another strong presentation from Paramount.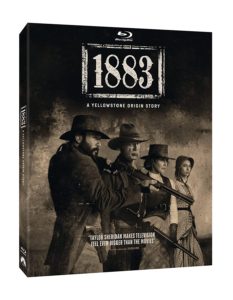 The 6-Movie Collection offers digital codes along with the first three "episodes" from the terrific 2016 documentary "Journey to the Silver Screen." Spread across the first few Blu-Rays (of the Director's Edition plus II), this retrospective doc does an excellent job recounting the production of the original crew Trek features – yet its final two segments (covering sequels III-VI) are, regrettably, not included here. For the complete documentary, fans will need to track down a copy of the out-of-print "Star Trek 50th" Blu-Ray Anniversary box.
Overall, Trekkies will want to add "The Final Frontier" and "The Undiscovered Country" to their UHD libraries and both transfers and soundtracks are exceptional. The Director's Edition remastering is sound in spite of some quibbles I have with it (especially some unnecessarily added sound effects), and there's plenty of value in the supplements housed herein. Fans have a handful of price points to choose from in terms of either adding to sets they may already have or replacing them – so regardless of what direction you go, the Enterprise has certainly never looked or sounded better.
1883: A YELLOWSTONE ORIGIN STORY Blu-Ray (558 mins., 2021-22; Paramount): Taylor Sheridan spins off his enormously popular "Yellowstone" series with this basically self-contained prequel story, set amongst the ancestors of the Dutton family – namely westward-going couple Tim McGraw and Faith Hill, along with their feisty young daughter, played by Isabel May. Their trials and tribulations leading a group of disparate immigrants – along with a battle-scarred war vet and current Pinkerton employee (Sam Elliott) – out beyond the Great Plains makes for a reasonably compelling series. It also, regrettably, loses its way with a number of silly plot developments that finds May's heroine rapidly becoming a free-thinking contemporary young woman jumping from one male supporting lead to another – all before ending with a downbeat finish. "1883" doesn't really hold together as a dramatic piece but it's well performed and May's star-making turn keeps you invested even while the script veers off the trail. Paramount's attractive Blu-Ray (2:1, 5.1 Dolby Digital) includes over two hours of Making Of featurettes.
---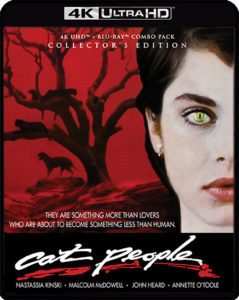 New From Shout! Factory
Paul Schrader's CAT PEOPLE (117 mins., 1982, R; Shout! Factory) is both an oddball "erotic fantasy" from the Spring of '82 and also a bizarre remake of the highly-regarded 1942 Val Lewton classic. There are, unsurprisingly, few resemblances between that RKO chiller and Schrader's graphic take on the material, with Nastassia Kinski learning that she's one of the infamous "cat people" upon arriving in New Orleans to visit brother Malcolm McDowell.
Kinski's physical beauty is the main lure to "Cat People," which moves along at a sluggish pace and offers a few graphic shocks along with a poky early '80s synth score by Giorgio Moroder that doesn't help matters either (I admit the David Bowie song has grown on me…a little). Still, the film is at least captivating visually, with John Bailey's cinematography and Ferdinando Scarfiotti's production design functioning memorably during the film's "tribal" flashback sequences.
In fact, "Cat People" is one of those movies whose previous home video appearances have long held it back. Even in the high-def realm, transfers were blah and washed-out – or, worse, marred by digital noise reduction – across seemingly every release of the picture, be it HD-DVD or a later Blu-Ray (that actually was worse!). Shout! Factory issued their first Blu-Ray of the movie back in 2014 but the transfer wasn't remastered and, also significantly, some key supplemental materials Universal included in their 2002 DVD edition were omitted.
Shout! has returned to "Cat People" one last time this month and has at last brought fans a spectacular, newly remastered transfer so good it might cause some viewers to reassess the picture in a positive way. The evocative visuals of Schrader, Bailey and Scarfiotti are given a new lease on life here courtesy of a 4K remaster from the original negative, graded with Dolby Vision HDR. The end result adds an enormous amount of color to every shot, in addition to detail absent from past home video presentations. Scenes that were lifeless and bland on the hoary old HD master are revived here with a dazzling warmth, doing justice to the original intent of the cinematography and enabling anyone who didn't see the film theatrically to truly appreciate it for the first time.
This all-new transfer debuts in Shout's 4K UHD/Blu-Ray combo package (1.85), with the enclosed Blu-Ray also benefitting from the remaster, making it well worthwhile for those still locked into 1080p. Audio options include the original 2-channel Dolby Stereo mix as well as a seemingly "upmixed" 5.1 DTS MA track.
While Shout didn't produce new supplements for the 4K UHD, the label did include all the extras from Universal's DVD Special Edition that weren't included in their 2014 Blu-Ray. These include a commentary by Paul Schrader, a 2002 interview with the director (conducted not long after 9/11), an archival 1981 segment on Schrader, a segment on makeup artist Tom Burman, a look at Albert Whitlock's matte paintings, and a brief interview with Robert Wise, who helmed Lewton's 1942 original. These make a welcome return alongside Shout's 2014 retrospective interviews with Schrader, Kinski, McDowell, John Heard, Annette O'Toole and Giorgio Moroder, as well as the trailer and a TV spot. Highly recommended!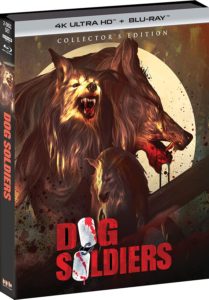 DOG SOLDIERS 4K UHD/Blu-Ray (105 mins., 2002, R; Shout! Factory): Neil Marshall's resourceful 2002 effort overcomes its low budget with filmmaking ingenuity and a great deal of energy to spare, as a Special Ops team of soldiers takes on local werewolves in the Scottish Highlands. Marshall wrote and directed this cult hit which managed to earn fans on both sides of the Atlantic, and here makes for a superb, 20th Anniversary 4K/BD remaster from Scream Factory.
The all-new 4K scan of the original negative (1.85) offers greater precision in terms of conveying the movie's light and shadows as the Dolby Vision HDR transfer is superbly executed and approved by Marshall and his Director Of Photography Sam McCurdy. Extra features abound: new additions exclusive to this package include a commentary from Alison Pierse; a new interview with Marshall; a video essay from Mikel J. Koven; and a talk from author Gavin Baddeley on werewolf movies. Archival extras include an older commentaries with Marshall and producers David Allen and Brian O'Toole; the documentary "Werewolves Vs. Soldiers"; a featurette with production designer Simon Bowles; Marshall's short movie "Combat"; plus trailers and still galleries. A must-have for fans.
COOL WORLD Blu-Ray (101 mins., 1992, PG-13; Shout! Factory): Debuting right before my senior year of high school, "Cool World" initially looked like it was going to be the movie amongst my demographic that summer: Kim Basinger slinking around, both in animated and human form, in a sleek, sexy looking Ralph Bakshi hybrid of live-action and animation? The trailers were sufficiently suggestive on top of it, yet the crushing reality of its PG-13 rating instantly sent up alarm signals that "Cool World" wasn't the movie it was cracked up to be.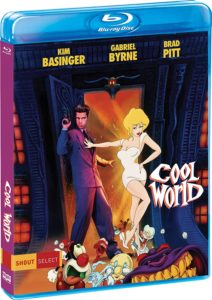 That, of course, turned out to be the case when Paramount's July '92 release instantly fizzled at the box-office. Neither the R-rated "Roger Rabbit" knockoff promised by its original ads, nor a fantasy appropriate enough for kids (of any age), "Cool World" is a bizarre, fascinating misfire wherein artist Gabriel Byrne finds his graphic novel coming to life in the form of a parallel universe. There, another human (Brad Pitt) who's been playing detective since the 1940s (don't ask) has been standing watch over "Cool World," making sure humans and 'toons don't have intercourse. And that means you, Gabriel Byrne, even after he finds out his big creation Holli Would (Basinger) is a living entity who wants access to real Vegas.
Bakshi intended "Cool World" to be an animated horror movie wherein the lead character was an offspring of humans and animated characters. By the time the movie was made for producer Frank Mancuso, Jr., the concept was watered down and then basically altered completely once studio executives poured more money into the film. Envisioning it as a more mainstream, teen-centric animated hybrid, Bakshi would find only his animation bearing evidence of his original ideas, with the final result seemingly directed by the producer instead (at least, it seems the live-action portions were more Mancuso's work than Bakshi's). The end result is neither here nor there — fragmented to the point of incoherence at the outset, only Bakshi's designs and the environment of Cool World itself captivate the viewer, as the Michael Grais-Mark Victor ("Poltergeist") script offers no identifiable characters to care about. Meanwhile, the live-action sections seem positively awkward and stilted in comparison to the daffy Bakshi drawings and nightmarish "toonscape" of the alternate dimension's backdrop.
Debuting on Blu-Ray in a new 4K scan approved by Bakshi (1.85), "Cool World" is at least an intriguing visual experience for animation fans. The 5.1/2.0 DTS MA tracks seem roughly identical, and a new 20-minute featurette includes fresh interviews with Basinger (who allegedly played a hand in the movie being brought down to PG-13 form), Mancuso (who doesn't deny the film's commercial considerations outweighing Bakshi's intentions) and Bakshi, who at least is happy with his animation. Two trailers, both hinting at a darker, more dangerous direction than the film itself took, are also included. It should be noted Mark Isham's score for this movie was one of his best, but — like Bakshi's original concept for the film — much of it resides outside the scope of the movie itself.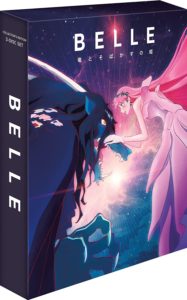 BELLE 4K UHD/Blu-Ray (122 mins., 2021, PG; Gkids/Shout! Factory): Studio Chizu ("Mirai") and director Mamoru Hosoda reunite for this contemporary story of a shy girl named Suzu who lives in a rural, quiet community. Her mundane life is contrasted by her online persona, Belle, a world-renowned singer in an online virtual world named "U." Once she finds out about a mysterious Beast, she sets out to uncover the creature in a fascinating reworking of "Beauty & The Beast" that critics hailed upon its distribution a year ago. Gkids' 4K UHD Collector's Edition box-set (2.39) offers an enhancement on the label's Blu-Ray from earlier this spring, adding Dolby Atmos sound in either English or subtitled Japanese mixes to a now-HDR enhanced transfer courtesy of Dolby Vision grading. It's now the definitive home release of the picture, augmented here with an exclusive 60-page booklet; promo events with Hosada and the cast; cast interviews; and the "Behind the Japanese Dub" featurette. The Blu-Ray is also included here and boasts a Making Of, Hosada interview, featurettes and more FERNGULLY: THE LAST RAINFOREST Blu-Ray/DVD (76 mins., 1992, G; Shout! Factory): 30th Anniversary release of the 1992 animated eco-kids' film – now under the control of its producers and not its theatrical distributor, Fox(Disney) – offers a fresh 4K scan (1.85, 5.1/2.0) of original film elements and loads of extras. These include commentary from director Bill Kroyer and fellow animators; a script-to-screen comparison with writer Jim Cox; a Making Of featurette; archival EPK Making Of; trailers and TV spots; a multi-angle scene study; and a DVD edition. For kids and nostalgic, now-grown adults this is a worthwhile new release replacing Fox's out-of-print format package.
---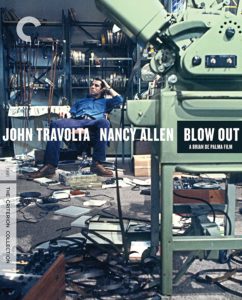 Also New on 4K UHD
One of Brian DePalma's best films, BLOW OUT (108 mins., 1981, R), has received a superlative Dolby Vision HDR grading from Criterion for its premiere on 4K UHD this month. Mostly praised by critics though a box-office failure, "Blow Out" was one of the director's more fully-formed early features in terms of character development.
While DePalma's visual flourishes are still on full display throughout (use of split-screens, Steadicam, etc.), the movie isn't just a Hitchcock homage (nor a basic riff on Antonioni's similarly-titled "Blow Up"), with the filmmaker's original script following a B-movie sound effects editor (John Travolta) who catches on tape an accident that claims the life of an aspiring presidential candidate. Travolta manages to save the life of a girl (Nancy Allen) who was in the car with him, but soon finds out the accident was an assassination attempt when he plays back his audio recording, audibly picking up a gun shot prior to the incident.
DePalma's scenario is equal parts JFK and Chappaquiddick, and Travolta's attempts to uncover the truth leads to endless pain and no way out; even his relationship with Allen, playing a simple-minded, easily influenced young woman, never becomes overtly romantic as he crusades to get to the bottom of the conspiracy, but is stopped by forces beyond his control, including a devious killer (John Lithgow) committing crimes just to lead the police away from his main goal.
There are contrivances in DePalma's screenplay to be certain – why Travolta's character would ever give the original film over to Allen without making a copy first, or why he lets Allen go down into the Philadelphia subway system alone, are gaping plot holes that enable DePalma to craft a number of exciting set-pieces (including a dynamite car chase through a Philly "Liberty Day" parade), yet ultimately detract from the film's dramatic power. There are also times when DePalma the writer gets sidetracked – the picture primarily serves as a commentary on politics, corruption and conspiracy in the post-Bicentennial era, yet goes off track to incorporate a spoof on modern slasher films, while the entire Lithgow subplot also doesn't feel entirely at home with the film's other aspects either.
Still, there's much to admire in the film, from Travolta's excellent performance (it's still one of his best), to the crackerjack editing and cinematography, with Vilmos Zsigmond providing DePalma with a neverending supply of beautifully composed widescreen images. Pino Donaggio's score is also one of his best efforts for a DePalma picture, while the entire movie has an authentic, atmospheric backdrop having been shot entirely on location in a city where the director spent a good deal of his youth. It's energetic and always entertaining, even if the screenplay is uneven and at times unbelievable.
Criterion's UHD includes a new 4K restoration (2:40) of the movie, preserving Zsigmond's cinematography in an outstandingly layered Dolby Vision HDR rendering that accentuates both a high level of detail as well as a wider color gamut than its previous 1080p appearance. On the audio end, the 2.0 DTS MA stereo audio reproduces the film's original 2-channel Dolby Stereo mix effectively, while extras are ported over from the previous Blu-Ray from Criterion. These include an hour-long, informative interview of DePalma by filmmaker Noah Baumbach; a half-hour conversation with Nancy Allen, who recalls working on the film, with DePalma (then her husband) and Travolta; a particularly interesting segment with Steadicam inventor Garrett Brown talking about his process and how it has evolved over the years; the original trailer; Louis Goldman's on-set photographs; and DePalma's avant garde 1967 indie feature "Murder a la Mod." Highly recommended!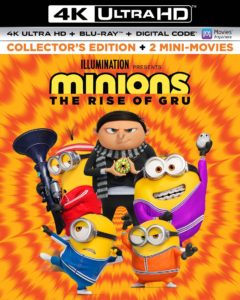 MINIONS: THE RISE OF GRU 4K UHD/Blu-Ray (86 mins., 2022, PG; Universal): Second go-around for the "Minions" plays out as another prequel for future "Despicable Me" super-villain Gru, who here is a 12-year-old attempting to join the "Vicious 6" when the gang's veteran leader is sabotaged by his teammates. After going on the run with him, the Minions are tasked with saving them both in a wild and woolly, typical Illumination affair filled with color, fast-moving action and ample laughs; it thankfully doesn't linger past the 90-minute mark either, which ought to please parents (I certainly found that to be the case!). Forgettable but functional, "Minions: Rise of Gru" debuts in a spectacular Dolby Vision HDR grading (2.39) from Universal on 4K UHD, the disc also including rollicking Dolby Atmos audio and two mini-movies. An extended scene, outtakes and featurettes round out the release, which comes with a Blu-Ray and Digital HD copy.
---
Quick Takes
NCIS: HAWAII Season 1 DVD (852 mins., 2021-22; CBS): With the reboot of "Hawaii Five-0" concluding its run, CBS looked to its long-running "NCIS" franchise to fill the void with this newest iteration of the hit franchise. Vanessa Lachey stars here as the first female Special Agent in Charge of NCIS Pearl Harbor, Jane Tennant, as she takes on — along with her team — a typical array of mysteries and suspense-driven plots revolving around our national security and Hawaii itself. All 22 episodes (1.78, 5.1) are new on DVD from CBS with the multi-disc set featuring extras like deleted/extended scenes, a gag reel, the "NCIS" crossover episode "Starting Over," and a number of behind-the-scenes featurettes that fans should enjoy.
THE NAN DVD (95 mins., 2022; Screen Media): When estranged siblings Matthew Horne and Katherine Parkinson attempt to reconcile, "Nan" (Catherine Tate) joins her grandson on a trip to ensure all goes smoothly…which, of course, it doesn't in Tate's own comedic odyssey, which she also directed, co-produced and co-wrote. Screen Media's DVD (16:9, 5.1/2.0) is available this week of the British-feature which Warner Bros. released in Europe despite receiving scant distribution here.
NEXT TIME: Vinegar Syndrome's September titles! Until then, don't forget to drop in on the official Aisle Seat Message Boards and direct any emails to our email address. Cheers everyone!