Freshly remastered in its most spectacular presentation yet on home video, INDIANA JONES: 4-MOVIE COLLECTION (Paramount) is unquestionably going to rank as one of the essential format purchases for 4K UHD owners. Paramount's five-disc set – configured similarly as its 2012 Blu-Ray predecessor – includes the UHD, Dolby Vision-enhanced debuts of "Raiders of the Lost Ark," "Indiana Jones and the Temple of Doom" and "Indiana Jones and the Last Crusade" on UHD with a fourth disc of extras and a fifth ("Indiana Jones and the Kingdom of the Crystal Skull") that most fans likely feel is best left as a beverage coaster. It's an eagerly awaited set that delivers the goods on every level: the Dolby Vision transfers offer the same crispness of Paramount's Blu-Ray releases with the addition of finely-tuned HDR and a slightly cooler color tone, while the Dolby Atmos audio mixes are even more immersive than the Ben Burtt-mastered tracks from prior editions.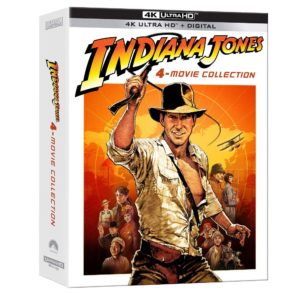 And at this point, is there any reason to re-analyze Steven Spielberg and George Lucas' legendary Saturday Matinee adventures? Each entry in the original Indy trilogy is immeasurably entertaining on its own respective merits, though fans can still quibble about which one is best.
RAIDERS OF THE LOST ARK (115 mins., 1981, PG) again retains its original on-screen title (despite its packaging as "Indiana Jones and the Raiders of the Lost Ark"), and remains a classic of the action-adventure genre. With a smart Lawrence Kasdan script (from a George Lucas-Philip Kaufman story), classic stunts and Spielberg working at the peak of his talent, "Raiders" is pure and unadulterated fun, with Ford introducing us to the centerpiece role of his career and Karen Allen easily providing the best female love interest of the series.
Paramount's UHD offers a refinement on the studio's previous Blu-Ray, which I revisited just a few months ago. The stellar Blu-Ray transfer was not nearly as green and "lush", especially in the early jungle sequences, as previous home video releases, and offered loads of detail but also a color tone that leaned towards the reddish side. While being light years ahead of any prior video release in terms of detail, the UHD offers a more pleasing, slightly more balanced color tone than the Blu-Ray, backing off the heavy warmth of the latter and presenting a wonderful replication of cinematographer Douglas Slocombe's original work. The Dolby Vision HDR brings background details to the forefront and has been appreciably yet not excessively applied, while the Dolby Atmos soundtrack engages overhead surround activity in a spirited, active enhancement on the already fantastic 7.1 DTS MA mix from the Blu-Ray — once again offering a broad stage for John Williams' legendary score and crisp sound effects. Three original trailers are the disc's sole extras – a short teaser (selling the film on the merits of Spielberg's past blockbusters), full theatrical trailer, and a 1983 re-release trailer (from the "Superman" trailer voice-over guy).
The first sequel (technically a prequel, even though it's a standalone adventure), INDIANA JONES AND THE TEMPLE OF DOOM (118 mins., 1984, PG) was controversial in its day (along with another Spielberg production, "Gremlins," it helped create the PG-13 rating, which was initiated before the summer of '84 was out), and even now it's a nasty, violent ride compared to the other Indy adventures. The script by Lucas pals Willard Huyuck and Gloria Katz ("American Graffiti") is silly and more excessive than either "Raiders" or "The Last Crusade," and Kate Capshaw's whiny Willie Scott is a vastly inferior replacement for Karen Allen's Marion — so much so that it's tough for "Temple of Doom" not to be compared unfavorably with its predecessor. It's also ironic that Spielberg and Lucas produced a movie that was more "for kids," yet also more unsuited to them at the same time, with a mid-section that becomes too dark and gory even for the "House of Horrors"-styled amusement park thrills the film evokes. Still, the ending is a blast, Douglas Slocombe's cinematography is magnificent, and John Williams' majestic, triumphant score may be his most inspired of the series: his themes for the Indy-Willie romance, Short Round's Theme, the mine cart ride, and the regal music that accompanies our heroes through the jungles of India are simply spectacular, and when combined with the original "Raiders March," create a phenomenal underscore that effortlessly carries the audience past the sequel's lesser aspects.
Opening with the glorious musical staging of Cole Porter's "Anything Goes" (a lavish set-piece many critics rightfully noted was one of the highlights of the entire picture), "Temple of Doom" is the most colorful of the series in terms of its appearance, and the Dolby Vision enhancement enables the whole movie – one that was so impressively presented on Blu-Ray – to sing even more here. Colors that were already pleasingly saturated on Blu-Ray possess more layers via HDR so objects stand out all the more as a result. The Atmos soundtrack is again impressive, and both the original teaser and what appears to be an early (and underwhelming) theatrical trailer (running just a minute and with a 1983 copyright) included for extras.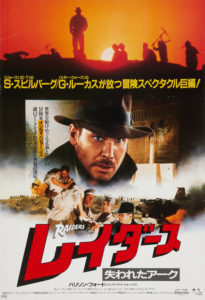 The shortcomings of the second film were rectified with the 1989 blockbuster INDIANA JONES AND THE LAST CRUSADE (126 mins., PG-13), which on a surface level sounds like a "Raiders" rehash but adds a warm, richer emotional component through Sean Connery's magnetic performance as Indy's father, Dr. Henry Jones. Connery is magnificent and his interplay with Harrison Ford is amusing and poignant, giving the movie an added human dimension absent from the amusement-park action of "Temple of Doom" and matching the level of character development found in "Raiders." John Rhys-Davies and Denholm Elliott return from the original, and the movie entertainingly reprises the quest-styled plot of "Raiders" as Indy tries to track down his father, who was lost while searching for the Holy Grail. While "The Last Crusade" may lack the freshness of the original, it's right up there in terms of my personal fondness for the whole series – Connery and Ford are so good together that the film's strengths are only magnified on repeat viewing, and the lengthy opening sequence with River Phoenix as a younger Indy is a sheer delight, with a buoyant John Williams score to match.
Yet again, the crisp detail and warmly rendered colors of Douglas Slocombe's cinematography are given a magnificent Dolby Vision treatment on UHD, making this the finest transfer yet of "The Last Crusade" on home video by far. The Atmos soundtrack is likewise satisfying and both the film's original 1988 teaser (showing the crew at work on the sequel) and full theatrical trailer are included as well.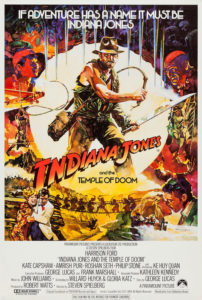 Shortly after INDIANA JONES AND THE KINGDOM OF THE CRYSTAL SKULL (122 mins., 2008, PG-13) was released, I received an email from a reader saying that I was unfairly harsh on the belated – and thoroughly unnecessary – fourth installment in the series. Frankly, after reading my original review over again, I actually don't think I was hard enough on it!
Ranking as one of the most disposable genre works in director Spielberg's filmography, this lightly entertaining but forgettable fantasy is compromised by a leaden David Koepp script nearly completely devoid of interesting characters, wit or innovation. While Harrison Ford still fits comfortably into his iconic role – with Indy coerced into helping a group of nefarious Russians search for an ancient relic that possesses a supernatural power – the film rolls snake eyes in terms of Cate Blanchett's villainess (one of many thankless roles), Indy's relationship with a young greaser (the continually charisma-challenged Shia LaBeouf) who needs his help finding a lost archeologist (John Hurt, playing what was likely Sean Connery's intended role) and his kidnapped mom — who turns out to be none other than Marion Ravenwood (Karen Allen, wasted in a few minutes of screen time) herself.
The film overdoses on plot exposition (the mid-section of the picture is crushingly dull, bogged down in endless babble about the skull and its power) and fails to give its terrific cast much to do. Ford is as amiable as ever but even he seems a little ill at ease with some of the leaden dialogue, which doesn't exactly crackle the way Lawrence Kasdan, Jeffrey Boam or even Willard Huyck and Gloria Katz's work did in this film's far superior predecessors. The infusion of CGI – heavily used in the movie, as it turns out — is also in stark contrast to the prior films in the series, as is Janusz Kaminski's overly stylized cinematography, which does no favors for the picture either. It's amazing how claustrophobic and unappealing this movie looks, the bulk of it all too obviously having been shot on soundstages.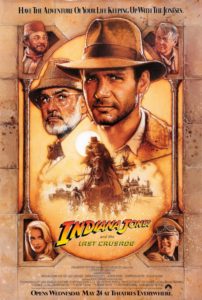 Finally, the picture also greatly misses Sean Connery's warmth and humor as Indy's dad — so much that it's unsurprising the few times Indy IV manages to strike an emotional chord is in its pair of direct references to Indy's late father (Connery was contacted to appear in the film but ultimately passed on it — a wise maneuver in hindsight, particularly considering how well the third movie turned out). In the end, "Crystal Skull" commits the worst sin of all: it's completely forgettable. Five minutes after the film was over I struggled to recall the specifics of the plot or individual sequences in it, feeling as if the series truly finished with the ride off into the sunset at the end of "The Last Crusade." Everything about this entry, ultimately, screams too little, too late.
Paramount's UHD looks nice and, even if John Williams' score is the least accomplished of his work on the series, sounds fine in its Atmos rendering too – and I grant you, this film seems a little bit more watchable today, separated from its initial disappointment and in lieu of Disney's Lucasfilm purchase and roster of mostly insipid "Star Wars" rehashes from the last decade. Three trailers (marked trailers 2-4) round out the disc.
Trailers aside, all the supplements are included in the fifth Bonus Features disc, which is a direct reprise of the 2012 Blu-Ray special features platter. In this case, that's not a bad thing, as its contents offer a wealth of supplemental riches for fans:
On Set With Raiders of the Lost Ark: The 2012 set's big new extra was this hour-long compilation of behind-the-scenes footage from the production of "Raiders." Taken mostly from 16mm handheld camera sources with some never-before-seen outtakes from the picture mixed with candid interviews from the cast and crew – and even a few deleted scenes – fans should love this piece, which gives viewers a real, honest sense of the day-to-day shoot, both on-location and at Pinewood Studios in the UK. (HD)
Making The Films: The original 1981 "Making of Raiders of the Lost Ark" from Howard Kazanjian and Phillip Schuman (57 mins.) is presented here along with Laurent Bouzereau's retrospective documentaries for "Raiders," "Temple of Doom" and "Last Crusade" from the 2003 DVD box-set, each offering a 40-50 minute segment devoted to each picture (all of these docs are in standard-def). The 28-minute "Crystal Skull" Making Of, meanwhile, is presented in HD (a much longer version of this Making Of was included in the original, two-disc Blu-Ray/DVD release of the film).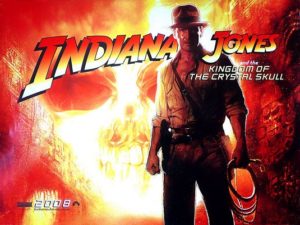 Behind the Scenes: A number of featurettes from the 2003 DVD Indy box-set include a John Williams interview in "The Music of Indiana Jones," plus "The Stunts of Indiana Jones," "The Sound of Indiana Jones," and "The Light and Magic of Indiana Jones." Brought over from the 2008 DVD release are "Raiders: The Melting Face!", "Indiana Jones and the Creepy Crawlies," "Travel With Indiana Jones: Locations," "Indy's Women: The American Film Institute Tribute," and "Indy's Friends and Enemies." Reprieved from the original "Crystal Skull" release are "Iconic Props," "The Effects of Indy" and "Adventures in Post-Production." Note that these "Kingdom of the Crystal Skull" featurettes are presented in standard-def (the original Blu-Ray of the film offered these same segments in HD) while several other "Crystal Skull" featurettes from the prior release aren't included here at all.
Ultimately, Paramount has delivered a gorgeous Dolby Vision 4K presentation of all the original Indiana Jones films here, paying full tribute to the work of Steven Spielberg, George Lucas, Douglas Slocombe, John Williams and all the other master craftspeople who were involved in the production of the Indy series (and who mostly won't be a part of Disney and director James Mangold's upcoming 2022 revival). Highly recommended in every way, as you'd expect it to be!
---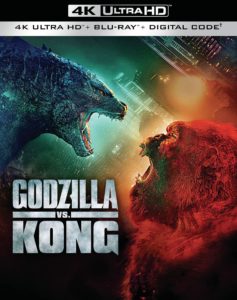 Also New on 4K UHD
GODZILLA VS. KONG 4K UHD/Blu-Ray (113 mins., 2021, PG-13; Warner): Watching this movie on a Friday morning alone after dropping my 1st grader off at school (I had to check to see if it was suitable for him first!) during the pandemic was an unusual happening. Without an audience, "Godzilla Vs. Kong" doesn't have a ton of juice to it, and yet it's still a great looking product that does fan service where its two monsters are concerned – and with the bar set so low after "Godzilla: King of the Monsters," that's enough to make it a success, even if common issues involving lackluster human characters certainly remain.
It helps that the movie looks and sounds great too, and Warner's 4K UHD of "Godzilla Vs. Kong" is brilliant with its Dolby Vision and Dolby Atmos presentation. Throughout, the colors literally fly off the screen — very clearly director Adam Wingard was trying to make some kind of "Tron" homage with the neon-infused color scheme of his movie, resulting in a picture that's mesmerizing and constantly pretty to look at. The movie is impressively bathed in primaries from start to end, and the Tom "Don't Call Me Junkie XL" Holkenberg score apes (no pun intended) the Vangelis/Wendy Carlos '80s vibe, even if it's purely from the vintage electronic tone (and not thematic ingenuity) he evokes.
The battles are great, the Kong animation is impressive, and the climactic battle between the two titans and the new Mechagodzilla is really well staged. Wingard also fares much better than his predecessor – director Michael Dougherty – did in his gloomy, miserable KOTM, making both the visual effects animation and the overall editing of the assorted battles much easier to comprehend from an audience perspective.
Story wise, though, the movie has clearly been pared down from a much longer narrative, as it follows two groups of characters around — one anchored by Alexander Skarsgard (whose original function to the story must've been left on the cutting room floor) and Rebecca Hall, the other the "Godzilla Team" with a returning Millie Bobby Brown — to negligible effect. It's a welcome shift that the overall "feel" is looser and lighter than the previous Warner Godzilla movies, but there are still clear and obvious gaps in how the screenplay was assembled, as character relationships are abrupt and the ending so perfunctory all it generates is a shrug of the shoulders. And the bizarre "upside down" world building for Kong is just ludicrous from the get-go (does Kong really want to sit on a cavernous throne like Gandalf in this weird universe? Okay…)
Overall, if you're willing to accept the shortcomings and embrace the silliness, "Godzilla Vs. Kong" still gets the job done — the colors alone make for a dynamic HDR demo reel — but like a lot of modern films that rank high on the "Tomato Meter," it's nothing that resembles a great movie, even of the popcorn variety. It also comes up short compared to Gareth Edwards' 2014 "Godzilla," which remains the best film of this cycle, warts and all.
Warner's outstanding 4K UHD presentation of "Godzilla Vs. Kong" is now available along with Atmos sound and a Digital HD copy. The combo pack also includes the Blu-Ray and a slew of behind-the-scenes featurettes.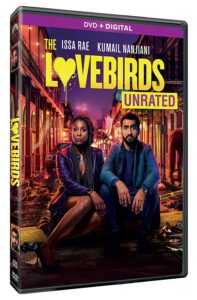 Quick Takes
THE LOVEBIRDS DVD (86/94 mins., 2020, R/Unrated; Paramount): One of the first films that went straight to Netflix after COVID initially hit was this agreeable farce starring comics Kumail Nanjiani and Issa Rae as a couple who try to rekindle the spark that brought them together after they get wrapped up in a murder and assorted mayhem. Michael Showalter gets a load of mileage out of the chemistry between both comics, who are quite likeable in this setting and laughs that – while firmly R rated – don't stray as far over the line into the "raunch zone" as one might fear. Paramount's DVD (1.85, 5.1) is now available featuring both the R-rated "theatrical cut" and an Unrated, extended version with a Digital Copy, deleted scenes and a gag reel included on the supplemental side.
New from the "Paramount Presents" line is a long-anticipated Blu-Ray of cult favorite MOMMIE DEAREST as well as the superior 1959 VistaVision western LAST TRAIN FROM GUN HILL (94 mins., 1959). This John Sturges-directed affair pits marshal Kirk Douglas against cattle baron (and old friend) Anthony Quinn, whose minion (and son) just murdered Douglas' Indian wife. Strong character drama and engaged performances from both stars make this highly recommended for genre fans, the movie co-starring later TV mainstays Carolyn Jones and Earl Holliman and boasting a Dimitri Tiomkin score. Paramount's gorgeous Blu-Ray (1.85) hails from another superb remaster with a brief Leonard Maltin tribute to the film, trailers and a Digital HD code.