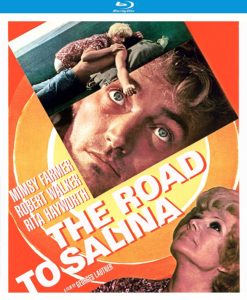 Lautner's film is erotic, disturbing, and off-kilter – but in a low-key, subtle manner accentuating mood instead of explicit sex and violence. The tension simmers just under the surface for most of "Road to Salina," with the widescreen lensing – and Kino's spectacular Blu-Ray restoration – adding to the mystery and compelling nature of the film. It doesn't have a hugely surprising finale, but the way in which Lautner builds the story is effective and the performances – especially the beguiling Farmer – are in tune with his approach, as is the unusual soundtrack featuring music by "Christophe" that was later sampled by directors like Forzani and Tarantino (in the second volume of his "Kill Bill").
Studio Canal's 4K transfer (2.35) from the original camera negative is just dazzling here on disc, with special features including both English and French audio (the movie was seemingly shot in English with some live on-set audio even cropping up here and there), a Trailers From Hell segment, and a solid, engaging commentary from Howard S. Berger, Steve Mitchell and Nathaniel Thompson.
New From Kino Lorber and Scorpion Releasing is a rarely-seen family drama from this same era: THE PEOPLE NEXT DOOR (93 mins., 1970, R), an effective distillation of JP Miller's original story that was previously shot as a CBS Playhouse episode several years prior. This is a finely acted film following a suburban New York family, led by parents Eli Wallach and Julie Harris, dealing with dysfunction – most notably in the mounting drug issues of their daughter (Deborah Winters).
Though a little melodramatic in places, British director David Greene – coming off the terrific Jenny Agutter coming-of-age thriller "I Start Counting!" – captures mood, time and place just as effectively here, this time in distinctly American surroundings, while Wallach and Harris are both superb, backed by a top notch supporting cast that counts Hal Holbrook, Cloris Leachman, Stephen McHattie, Don Scardino, Nehemiah Persoff and Rue McClanahan among them. The movie is a bit of a curious mix of old-fashioned dramatic sensibilities (Miller had also written "The Days of Wine and Roses") with "mod" era music and R-rated components, yet it mostly works, right down to the hopeful ending that stops on a '70s freeze frame.
Scorpion and Kino's Blu-Ray hails from a new 4K scan of the original camera negative (1.85) and boasts a commentary from historian Bill Ackerman and a lengthy, enjoyable conversation with Scardino.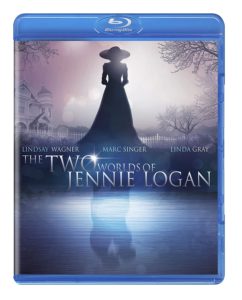 Scorpion's other July offerings carry a more fanciful, sci-fi/fantasy component. THE TWO WORLDS OF JENNIE LOGAN (97 mins., 1979) is a so-so TV-movie showcase for the then-Bionic Woman, Lindsay Wagner, who plays a heroine who bounces between her present and a past where she falls for an artist played by Marc Singer. Though one might think this is something of a "Somewhere in Time" variant, this earlier Frank De Felitta production – he directed and adapted David Williams' novel "Second Sight" – plays more like a romantic version of De Felitta's "Audrey Rose," and ends just as feebly. Linda Gray, Gloria Stuart and Alan Feinstein co-star, with Scorpion's Blu-Ray including a fine MGM (1.33) catalog master…Aussie sci-fi fans should be engaged by THE TIME GUARDIAN (87 mins., 1987, PG), a B-movie extravaganza that's set in the year 4039 (apparently 2039 and 3039 just didn't go far enough?). "Snowy River" star Tom Burlinson plays a hero living in a time-traveling city that has to circle back to the Outback circa the 1980s, where he takes on robotic creatures and romances lovely Nikki Coghill. Shot in widescreen and offering an enjoyable stereo soundtrack, "The Time Guardian" is low-grade "Terminator"/"Predator" shenanigans on a shoestring budget that throws in a couple of token Americans – Dean Stockwell and an apparently desperate Carrie Fisher – for good measure. Yet, the movie is watchable and good-natured if you can get into its spirit, with Scorpion's fetchingly filmic Blu-Ray transfer hailing from a 2K scan of the interpositive (2.35) with 2.0 DTS MA stereo sound and the trailer.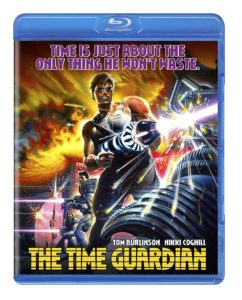 WWII buffs ought to get a charge from Kino Lorber's Blu-Ray Double Feature offering two simiarly-titled, '60s produced – yet otherwise unconnected – aerial adventures. 633 SQUADRON (102 mins., 1964) is the superior film of the two: a Mirisch Company B-movie featuring Yanks Cliff Robertson and George Chakiris as members of a Royal Air Force elite squadron, sent out to destroy a Nazi rocket-fuel plant located on a Norwegian fjord. The plot is silly and the film feels long at 102 minutes, but the aerial footage is superb and the climax was a major influence on George Lucas' Death Star trench run from "Star Wars" – meanwhile, Ron Goodwin's rousing score is another plus. The movie is coupled here with a later UA programmer, MOSQUTIO SQUADRON (90 mins., 1969), which isn't as distinguished though still offers a decent war-time adventure with David McCallum commanding another Royal Air Force group, this one tasked with taking down the German Luftwaffe while avoiding friendly Londonite casualties below. Kino Lorber's MGM-licensed transfers are both solid (2.35/1.66), though "Mosquito Squadron" looks like the newer scan of the duo. Terrific commentaries from Steven Jay Rubin and Steve Mitchell add the icing on the cake with trailers also on tap.
Kino Lorber premiered the controversial adaptation of Joseph Wambaugh's "The Choirboys" on Blu-Ray a few weeks back. That picture was derided by critics and the author as well, who took it upon himself to personally adapt two of his subsequent novels – "The Onion Field" and THE BLACK MARBLE (113 mins., 1980, PG) – to the screen.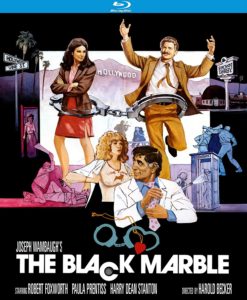 This is a strange but somehow satisfying story of a by-the-book cop (Paula Prentiss) who's partnered in the LAPD with a troubled homicide detective (Robert Foxworth) who hits the bottle as hard as he does his police work. Meanwhile, their latest case involves a shady dog groomer (Harry Dean Stanton) who's kidnapped a show dog in the hopes of stealing a fortune from its owner (Barbara Babcock).
Wambaugh penned the script and reunited with his "Onion Field" director Harold Becker for "The Black Marble," an Avco Embassy production that's seasoned with interesting if decidedly uneven performances. One of the main problems I had here was that the dialogue is thinly recorded and, perhaps as a partial result, I didn't find either Foxworth or Prentiss to be particularly convincing in the film. Despite being shot in scope by the reliable Owen Roizman, the movie also has a very "plain" appearance that doesn't look gritty or inhabited, more like a '70s TV movie shot anamorphically – while Maurice Jarre seems a bit out of his element scoring this kind of film, which one would've expected to carry more of a contemporary musical component.
What does work is Stanton's compelling performance as the bad guy who you can't entirely dislike, as well as Wambaugh's observations on the nature of police work – here with an added dash of romantic comedy thrown into the mox. "Onion Field" star James Woods also contributes a late cameo while Christopher Lloyd, Judy Landers and young, future Cannon action star Michael Dudikoff also pop up.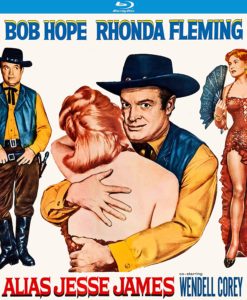 Kino Lorber's Blu-Ray is sourced from a spotless Studio Canal 4K restoration (2.35) from the original camera negative. This is a sterling presentation for a movie that demands to be seen in this brighter, crisper transfer, though the mono sound is only good as its source. Becker's commentary and the trailer round out the disc.
One of the gems among Kino's releases this month is ALIAS NICK BEAL (93 mins., 1949), a Universal drama helmed by John Farrow that follows an aspiring politician (Thomas Mitchell) and gubernatorial hopeful who finds support in the form of a gangster (Ray Milland) who consumes souls in a similar manner to the Devil himself. This then-contemporary Faustian tale from writer Jonathan Latimer is well-played and effective from start to end – a solid picture from the Paramount vaults that Universal has provided here in a 1080p (1.37) B&W transfer with mono sound – the movie sporting a Franz Waxman score – plus the trailer and a new commentary from historian Eddie Muller.
Western Debuts: A different kind of "Alias" is on-hand in ALIAS JESSE JAMES (92 mins., 1959), a western comedy from Bob Hope's production company offering Bob was an insurance salesman who's able to land a sale with none other than Jesse James (Wendell Corey), leading to him being mistaken as a gunslinger as a result. Norman Z. McLeod helmed this full-color Hope vehicle which has Rhonda Fleming as the female lead and a deservedly acclaimed finale where a number of genre stars pop up in cameo roles. It's worth sitting through the film just for the end, especially for Hope fans. Kino's no-frills Blu-Ray includes an MGM licensed transfer (1.85) of the UA release with the trailer.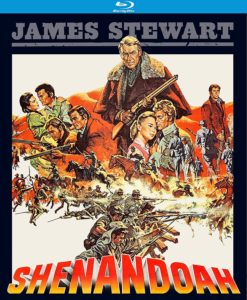 One of Jimmy Stewart's most fondly remembered '60s pictures, SHENANDOAH (105 mins., 1965) is a sparkling Civil War drama about a Virginia farmer (Stewart) and family man who stands against the Confederacy's acceptance of slavery but also the general principle of war in general. Once his sons (including Glenn Corbett and Patrick Wayne) become involved in the conflict surrounding them, though, Stewart's widower is forced to become active, especially after his youngest (Philip Alford) goes missing.
"Shenandoah" packs lots of drama and expected sentiment into its running time, but the big surprise is how genuine the emotions come off – credit goes to Stewart as well as writer James Lee Barrett and director Andrew V. McLaglen, who does some his best work here in earning the feelings the film generates from viewers. A popular box-office hit, the movie would later become a Broadway musical for star John Cullum (who won a Tony), but it's the film that's best remembered today, and well worth seeing in Kino Lorber's Blu-Ray. The disc includes a decent Universal catalog master (1.85) with a commentary from a panel of historians (Michael F. Blake, C. Courtney Joyner and Constantine Nasr). Fran Skinner's score is mostly quite effective, even though I found his final cue – for the movie's heartwarming ending – to be curiously flat.
A highly regarded Don Siegel western that's still remarkably little-known considering his pedigree – undoubtedly because it was made for TV – STRANGER ON THE RUN (97 mins., 1967) is a sturdy tale of a booze hound (Henry Fonda) who heads into a dusty railroad town looking for a woman who promptly turns up dead, and with Fonda accused of the crime by a dastardly railroad deputy (a terrific turn from Michael Parks). Anne Baxter is the widow who forms a relationship with Fonda in a nicely executed genre exercise from Siegel's future "Dirty Harry" scribe, Dean Riesner, working off a Reginald Rose story. Kino Lorber's Blu-Ray (1.37, mono) hails from a new 2K scan with the broadcast trailer and a new commentary from historian Gary Girani included.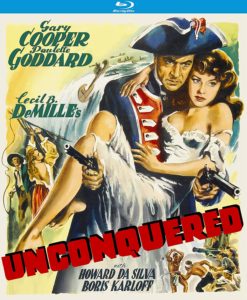 DeMille Debuts: Three of Cecil B. Demille's films that one would classify as more minor outings for the legendary filmmaker debut on Blu-Ray for the first time this month. One of them, THE PLAINSMAN (113 mins., 1936), is an early western blockbuster starring Gary Cooper as Wild Bill Hickok in an embellished chronicle of his life on the frontier while the Old West underwent a turbulent period of change. Jean Arthur is Calamity Jane with James Ellison as Buffalo Bill Cody in a movie Leonard Maltin writes is as historically accurate as "Blazing Saddles" – but the level of spectacle for a film from the '30s is high and nevertheless worth a look for movie buffs. Kino Lorber's Blu-Ray (1.37 B&W, mono) originates from a Universal catalog master and includes the trailer and a fresh commentary by critic Simon Abrams.
DeMille goes full color – and gets even more bombastic – in UNCONQUERED (146 mins., 1947), an epic tale of an English slave girl (Paulette Goddard) who heads to the American colonies where she engages in assorted adventures after being freed by – and eventually falling for – a militiaman (Gary Cooper) most interested in keeping in the peace between his fellow colonists and the local Native Indians. DeMille offers plenty of spectacle for your 2 ½ hours here – along with some broadly drawn characters and Hollywood historical alterations that social studies teachers will probably cringe at – including supporting turns from Howard DaSilva, Boris Karloff, Henry Wilcoxon and Ward Bond, color cinematography by Ray Rennahan and a score by Victor Young. Nick Pinkerton provides a commentary in Kino Lorber's Blu-Ray (1.37, mono)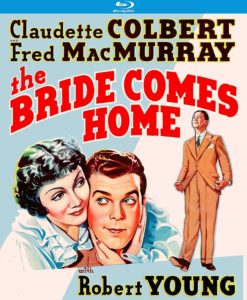 Finally, one of DeMille's early talkies – FOUR FRIGHTENED PEOPLE (78 mins., 1934) – is a ridiculous slice of silliness following four passengers who break free from a steamer carrying the plague. After arriving on a Malayan island (some of the film was shot in Hawaii), they live free while the men vie for the affections of Claudette Colbert, whose good looks trump the elements – even as the circumstances become more dire! Regarded as a flop in its day, this early Paramount release comes to Blu-Ray for the first time sporting a Universal catalog master (1.37 B&W) with a Nick Pinkerton commentary and the trailer.
Golden Age Comedy is on full display in NO TIME FOR LOVE (83 mins., 1943), not generally considered one of the top films for duo Claudette Colbert and Fred MacMurray – yet this genial Paramount rom-com from the early '40s still boasts both stars in top form, paired here as an upper-crusty fashion photographer and the working-class tunnel builder who clash before falling in love. Charles Lang shot this fun if forgettable affair, presented in a 1080p (1.37) B&W Universal catalog master with a commentary from critic Nick Pinkerton (Available August 3rd)
"No Time For Love" is one of three Colbert-MacMurray teamings premiering on Blu-Ray for the first time this month from Kino Lorber, including their first pairing in the enjoyable comedy-drama THE GILDED LILY (80 mins., 1935), wherein Colbert's stenographer has to choose between her similarly struggling newspaper-reporter boyfriend (MacMurray) and an English millionaire (Ray Milland) who offers her the ability to switch social classes. Kat Ellinger provides a commentary, while Lee Gambin does the honors in Kino Lorber's Blu-Ray of Colbert and MacMurray's second pairing, THE BRIDE COMES HOME (83 mins., 1935). This romantic comedy staple pits MacMurray's men's magazine editor against his publication's owner (Robert Young) for the charms of Colbert's bankrupt socialite, now working at the magazine. Both films include Universal licensed 1080p (1.37) B&W catalog masters.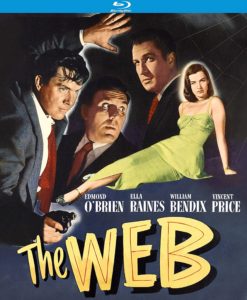 John Payne plays a slick con-man who attempts to swindle widow Joan Caulfield – much to the eventual consternation of his crime boss Dan Duryea – in LARCENY (89 mins., 1948), a Universal-International programmer co-starring Shelley Winters. Kino Lorber's Blu-Ray of this B&W effort, scored by Leith Stevens, includes a fine 1080p (1.37) Universal catalog master with trailers and a new commentary by Eddy Von Mueller…Edmond O'Brien delivers one of his strongest roles in THE WEB (87 mins., 1947), a taut film noir from Universal-International that features O'Brien as a lawyer hired as a bodyguard for a businessman (Vincent Price) who promptly involves him in a set-up killing that rubs out of his former, just-released-from-prison associates. Ella Raines and William Bendix also star in this effective thriller, new on Blu-Ray (1.37 B&W) sporting the trailer and commentary from scholar Jason A. Ney.
Before directing Vince Vaughn in "Wedding Crashers," David Dobkin helmed the actor in CLAY PIGEONS (104 mins., 1998, R), an offbeat crime comedy featuring Vaughn as a killer who gets his friend (Joaquin Phoenix) into trouble while both are pursued by a FBI agent (Janeane Garofalo). An interesting if uneven picture with a cross-section of talent heading in different directions (Garofalo's career about to sag, Vaughn and Phoenix about to take off), this Ridley Scott production premieres on Blu-Ray July 27th (1.85) featuring a commentary from the director.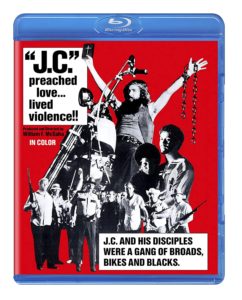 From Code Red comes the Blu-Ray debut of J.C. (100 mins., 1971, R), a wacky early '70s Avco Embassy release about a motorcycle gang leader (Bill McGaha) who believes he has spiritual powers. He convinces his gang to follow him on a cross-country trek but they never get there, and instead run into trouble with the law and the "establishment" itself in "J.C."'s home town. At the same time Tom Laughlin produced "Billy Jack" as a one-man show, McGaha did the same, also producing, directing and co-writing this none-too-subtle – but also not very engaging – biker pic that Code Red has restored on Blu-Ray in a 4K restoration (1.85) from the original camera negative.
Among July's Kino Classics new titles, THE GREAT GABBO (96 mins., 1929) is a one-of-a-kind early screen musical from director James Cruze and writer Ben Hecht. Erich von Stroheim stars as a ventriloquist who practices his villainy on a rising star (Betty Compson), resulting in a series of weird musical numbers like "Caught in a Web," which would be the creepiest "spider-and-fly" scene until David "Al" Hedison screamed his way into your brain at the end of "The Fly" itself. Kino Classics' Blu-Ray boasts a 2K restored transfer derived from 35mm material preserved by the Library of Congress, with extras including a commentary from musical-theater expert Richard Barrios…During WWII, German actress Kristina Soderbaum became one of the biggest attractions at the box-office in her native land. Kino Classics' Blu-Ray Double Feature offers Soderbaum in two of the glossiest of her Agfacolor dramas from the era: IMMENSEE, A GERMAN FOLK SONG (94 mins., 1943), where her Elisabeth has to choose between the composer she truly loves and a more economically stable yet not-as-interesting suitor; and THE GREAT SACRIFICE [Opfergang] (96 mins., 1944). Both films have been restored by the Friedrich Wilhelm Murnau Stiftung and include commentaries by historians Olaf Moller (Immensee) and Alexandra Heller-Nicholas and Josh Nelson (Great Sacrifice). ..The KEN JACOBS COLLECTION: VOL. 1 is a two-disc Blu-Ray featuring numerous works from maverick NYC underground filmmaker Ken Jacobs — the first disc offering Jacobs' experimental works from 1955-64, the second focused on late '60s and much later shorts where Jacobs began using digital tools. An interview between Jacobs and scholar Tom Gunning is included with the MoMA-licensed set boasting 1080p (B&W/color) transfers and 2.0 soundtracks.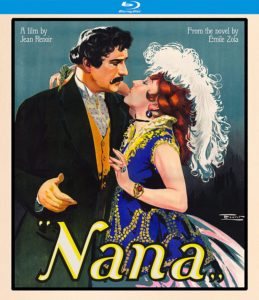 Renoir Premieres: Also debuting on Blu-Ray from Kino Classics is Jean Renoir's debut film, WHIRLPOOL OF FATE (83 mis., 1925), which recounts an orphan girl's tragic life and times in a feature Renoir shot on family friend Paul Ceszanne's La Nicotiere property. This Studio Canal restoration offers a 4K transfer (1.33) with French intertitles and English subs. Commentary from critic Nick Pinkerton is included plus a new stereo score composed and performed by Antonio Coppola. Renoir's follow-up feature, NANA (168 mins., 1926) also premieres on Blu-Ray this month from Kino Classics. This epic adaptation of Emile Zola's novel about an actress who became an infamous courtesan boasts Claude Autant-Lara's expansive sets and a bulky running time, all remastered here in a 4K restoration (1.33) with French intertitles and English subs. Nick Pinkerton provides another commentary, Antonio Coppola once again the score, with a bonus restoration comparison on-hand for good measure.
Another vintage feature debuting on Blu-Ray is THUNDERBOLT (85 mins., 1929), a film starring George Bancroft as the condemned gangster of the title who takes revenge on the younger man (Richard Arlen) who took his girl (Fay Wray) and now sits next to him on death row. Most noteworthy as director Josef Von Sternberg's first talkie, "Thunderbolt" debuts on disc with a 1080p (1.37) B&W Universal catalog master, trailers and commentary by Nick Pinkerton…"Torn From Today's Headlines!" reads the original poster art on GIRL GANG (63 mins., 1954), one of two programmers from '40s/'50s exploitation producer George Weiss. Kino Lorber and Something Weird Video bring B-movie fans this slice of silly theatrics with Timothy Farrell as a mob boss selling dope to high schoolers; Farrell is also the lead in PIN-DOWN GIRL (55 mins. 1951), where Peaches Page co-stars as a woman who suits up as a female wrestler. This Kino Classics double-bill boasts 2K masters (1.37 B&W) from 35mm source materials and includes commentaries from Alexandra Heller-Nicholas and Eric Schaefer, respectively, across the two films.
Season 3 of the Finnish TV series BORDERTOWN (607 mins., 2019) bows in high-definition this month from Kino Lorber. Once again set in a border town anchored between Russia and Finland – a locale that a chief investigator moves his family to, hoping things will be quiet. If you've seen the previous two seasons of the show, however, you know they don't stay quiet for long, as here Kari Sorjonen of the "Serious Crimes Unit" pursues a murderer that's been studying his previous cases in an effort to stay one step ahead of him. All 10 episodes from "Bordertown"'s third season have been compiled here (2:1, 5.1/2.0) in a three-disc set from Kino Lorder sporting Finnish audio with English subtitles.
A number of French imports also join the Kino Lorber catalog this month.
Two of the features star the great Alain Delon, including THE WIDOW COUDERC (89 mins., 1971), where Delon plays a mysterious young man who starts an affair with the older woman (Simone Signoret) whose farm he takes a job on. Once he falls for her niece (Ottavia Piccolo), the melodrama hits the fan in Pierre Granier-Deferre's adaptation of Georges Simeon's novel. Kino Lorber's Blu-Ray hails from a Studio Canal 4K restoration (1.66) of the original camera negative, features French audio with English subs, and includes a new commentary from Bryan Reesman.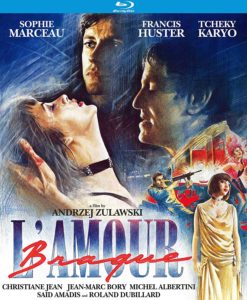 Claude Brasseur plays a writer who wishes he never got wrapped up with widow Mireille Darc in ICY BREASTS (105 mins., 1974), a Georges Lautner film that's more of a thriller than "Road to Salina" though it incorporates some of the same components where a man gets more than he bargained for after he wanders into a social situation that's a lot more complex than it first appears. Delon plays the attorney who tries to make sense of the dead bodies in an adaptation of Richard Matheson's first novel "Someone is Bleeding," which was published in the late '50s. Kino Lorber's Blu-Ray (1.66) includes French audio (with a Philippe Sarde score), English subs and an English dub, a superb 4K Studio Canal restored transfer, and commentary from Howard S. Berger, Steve Mitchell and Nathaniel Thompson.
Sophie Marceau plays the ex-girlfriend of bank robber Tcheky Karyo in L'AMOUR BRAQUE (105 mins., 1985), Andrzej Zulawski's 1985 film about a naive man (Francis Huster) who gets wrapped up in Karyo's manic personality in yet another outstanding Studio Canal 4K restoration (1.66) from the original negative. Kino Lorber's Blu-Ray boasts French audio and English subtitles, a commentary from Kat Ellinger and another commentary with Zulawski and writer Daniel Bird; interviews with Marceau and cinematographer J.F. Robin; archival behind-the-scenes footage and interviews; and the trailer.
BAISE-MOI (77 mins., 2000, Unrated) is a controversial thriller about two women, ravaged in their own separate ways, who team up to take down the patriarchy in a violent and disturbing film Kino Lorber has presented in a features-packed special Blu-Ray edition. In addition to a 1080p (1.66) transfer with French audio and English subtitles, the disc includes a new commentary from Kat Ellinger; a 40-minute Making Of documentary; Q&A with directors Virginie Despentes and Coralie Trinh Thi; and the trailer.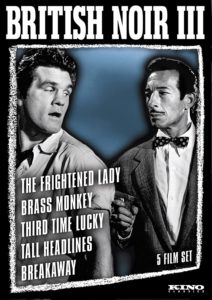 New DVDs from Kino Lorber include Charlene Favier's SLALOM (92 mins., 2020), a Cannes selection about a talented teen skier who's preyed upon by her instructor (Jeremie Renier). A timely film that addresses something we've seen far too often in competitive Olympic sports especially, "Slalom" debuts on DVD featuring a Q&A with director Favier and the trailer, a 16:9 transfer and 5.1/2.0 French sound with English subtitles…Mohammad Rasoulof's THERE IS NO EVIL (150 mins., 2020) comes from an autobiographical place – life in contemporary Iran, with Rasoulof's film focusing on four stories all related to the country's death penalty. Kino Lorber's DVD includes 5.1/2.0 German/Persian audio with English subtitles and a 16:9 (2.39) transfer.
BRITISH NOIR III features a quintet of UK film noir titles on DVD: The Frightened Lady (78 mins., 1940) with Helen Haye; Tall Headlines (91 mins., 1952), an early effort from future James Bond director Terence Young with Mai Zetterling; Brass Monkey (82 mins., 1948) with radio host Carroll Lewis (playing himself) and Hebert Lom; Henry Cass' Breakaway (80 mins., 1956) starring Tom Conway, Honor Blackman and John Colicos; and Gordon Parry's Third Time Lucky (87 mins., 1949) with Glynis Johns. All five films are presented in B&W 1.33 transfers licensed by Euro London Films.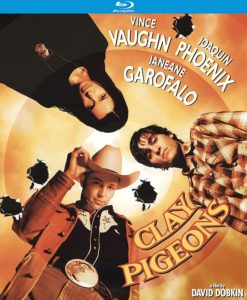 In 15 THINGS YOU DIDN'T KNOW ABOUT BIGFOOT (84 mins., 2020), Brian Edmond leaves his blogging site behind and teams up with a cryptozoology expert in an effort to find Bigfoot. The DVD (1.78, 5.1/2.0) is now available…Chase Ogden's SUPER FRENCHIE (77 mins., 2020) profiles professional skier and BASE jumper Matthias Giraud (5.1/2.0, 1.78)…the German import MY WONDERFUL WANDA (111 mins., 2020) is a satirical piece from director Bettina Oberli, set amongst different social classes who coverge at a lakeside villa in Switzerland (2.39, 5.1/2.0 German with English subtitles)…From Kino Lorber and Menemsha Films comes LEONA (120 mins.), starring Naian Gonzalez Norvind as a young Jewish woman from Mexico City who bucks her family's traditions after falling in love with Christian Vazquez's character. Spanish audio (5.1/2.0) is included in Kino Lorber's DVD (2.35).
Greenwich Films brings foreign cinemaphiles a DVD edition of Eytan Fox's SEPTET (89 mins., 2020), an Israeli story about a NY Times columnist who goes to Tel Aviv where he sublets an apartment from a younger gay man. Greenwich's DVD (1.78, 5.1/2.0) includes English/Hebrew audio with optional subtitles. Finally, WHEN HITLER STOLE PINK RABBIT (119 mins., 2019) is an adaptation of Judith Kerr's novel about her Jewish family's escape from Berlin in 1933, as seen through the eyes of nine-year-old alter-ego Anna Kemper (Riva Krymalowski). Greenwich Films and Kino Lorber's DVD (2.39, 5.1/2.0) includes German audio with English subtitles.
---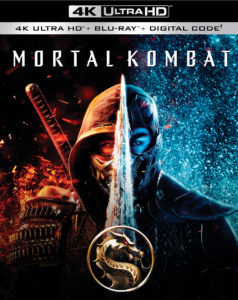 4K Ultra HD New Releases
MORTAL KOMBAT 4K UHD (110 mins., 2021, R; Warner): Never mind "good" video game movies – even watchable ones have been perennially in short supply over the years. This slick but dramatically empty updating of the smash video game franchise "Mortal Kombat" barely passes among the latter category, if only because of its modern special effects and action scenes, which do trump the mid '90s hit movies that preceded them. In Simon McQuoid's new take, MMA fighter Cole Young has to join the ranks of legendary series characters in a ridiculous story that's going to appeal to hardcore game devotees only – at least the 4K UHD with HDR10/Dolby Atmos presentation looks and sounds great, even if its superlative a/v quality will interest other viewers for so long. Warner's combo pack is now available, with the disc also including the Blu-Ray, Digital HD copy, loads of behind-the-scenes featurettes and deleted scenes.
SNATCH 4K UHD (103 mins., 2000, R; Sony): Guy Ritchie followed up his "Lock, Stock and Two Smoking Barrels" triumph with this 2000 character-fueled drama with Jason Statham and Stephen Graham as boxing promoters who end up organizing a bareknuckle fight involving a local crimelord (Alan Ford) and an Irish gypsy boxer (Brad Pitt) who doesn't play by their rules. Benicio Del Toro, meanwhile, essays a jewel thief who's gone missing along with an 86-carat diamond, leading Dennis Farina to employ Vinnie Jones to find them both. Ritchie gets solid performances from all the leads here in a raunchy Ritchie concoction new to 4K UHD featuring HDR10 and Dolby Atmos audio. Sony's attractive transfer is complimented by Dolby Atmos sound in either its original or "international" dialogue mix with extras including the Blu-Ray, director/producer commentary, deleted scenes, featurette, galleries and Digital HD copy.
SPIRAL 4K UHD (93 mins., 2021, R; Lionsgate): Chris Rock spearheaded this revival of the "Saw" franchise, here with the comic/actor going straight as a detective working a case (one that seems awfully familiar) along with his rookie partner (Max Minghella). Samuel L. Jackson co-stars as Rock's father with "Riverdale"'s Marisol Nichols in a thriller from the original "Saw" director, Darren Lynn Bousman, that attempts to do something somewhat fresh while adhering to the same basic formula of its long-running series predecessors. The mix didn't seem to take with most fans, but interested genre viewers can give "Spiral" another shot when it debuts this week on 4K Ultra HD with Dolby Vision and Dolby Atmos sound. Extras include two commentaries, featurettes, trailers, a Blu-Ray and Digital HD code.
---
Summer Horrors
THE DEAD ZONE Blu-Ray (103 mins., 1983, R; Shout! Factory): Not all of producer Dino DeLaurentiis' collaborations with author Stephen King resulted in great movies, but one of the best was easily David Cronenberg's 1983 filming of "The Dead Zone." Christopher Walken gives one of his strongest performances here as a mild-mannered school teacher whose near-death experience results in him surviving a five-year coma with the ability to see into the future once he wakes up. The power is, naturally, as much of a blessing as it is a curse, especially once he runs into a Presidential candidate (an over-the-top Martin Sheen) with an apocalyptic end ahead for him – and all of us.
Jeffrey Boam ("Indiana Jones & The Last Crusade," "Innerspace") penned this adaptation of King's book that Cronenberg helmed with a great cast – Brooke Adams, Tom Skeritt, Herbert Lom, Anthony Zerbe and Colleen Dewhurst among them – and a fine Michael Kamen score to match.
"The Dead Zone" isn't a classic but it is well-executed across the board and – Sheen's antics notwithstanding – offers Cronenberg at his most disciplined and effective, making it a shocker it took so long for the film to receive a Blu-Ray release in North America. The wait, at least, was worth it, as Scream Factory debuts a brand new 4K scan from the original negative (1.85) that easily surpasses the previous international format releases that were saddled with inferior transfers from an ancient master. Both 5.1 and 2.0 DTS MA mixes are on-hand with a number of new extras: fresh interviews with Brooke Adams, Production Manager John M. Eckert and Associate Producer Jeffrey Chernov, plus no less than four commentaries featuring cinematographer Mark Irwin; historian Michael Gingold; Steve Haberman and Constantine Nasr; and a film-score specific commentary with Daniel Schweiger interspersed with isolated score excerpts. Previous extras from Paramount's older DVD are also included plus trailers and a still gallery.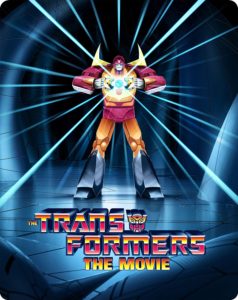 Also new from Shout this week is NO MAN'S LAND (115 mins., 2019, PG-13), a contemporary western-drama set on a ranch settled on the Texas/Mexico border, where a rancher's son accidentally kills a Mexican immigrant boy. He sets off south of the border to seek forgiveness in a none-too-obvious drama by star/writer Jake Allyn and director Connor Allyn; Shout's Blu-Ray (2.40, 5.1/2.0 DTS MA) is now available featuring the trailer.
TRANSFORMERS: THE MOVIE 4K UHD (85 mins., 1986, PG; Shout Factory): Aaah, growing up in the '80s. For those of us fortunate enough to do so, we were treated to a handful of afternoon cartoons that often resembled toy commercials as much as they did actual animated entertainment. Marvel Productions teamed with Sunbow Ltd. to produce a pair of those highly successful cartoons based on the hottest Habro toys of the period: G.I. Joe, which rocked in its '80s incarnation with a motley crew of members (like Snake Eyes, Duke, and Sgt. Slaughter!), and the Transformers, big robots with the possibility to change into other cool vehicles.
The success of both properties on the small-screen lead to the creation of a pair of big-screen "movies," though only "Transformers: The Movie" received a theatrical release, through Dino DeLaurentiis' fledgling DEG Studios. The 1986 effort boasted voices by the likes of Eric Idle, Leonard Nimoy, Robert Stack, Judd Nelson, and Orson Welles, along with a hugely popular score by Vince DiCola that became a hot commodity among fans. If you were – or are – into Transformers at all, you'll love the look and feel of this PG-rated effort, which comes off as a slightly more "adult" version of the Sunbow-Marvel daytime TV cartoon with a few semi-raunchy lines and animated comic-book violence.
Shout Factory's 4K UHD/BD Steelbook piggybacks off their terrific 2016 Blu-Ray and includes the 4K remaster of the movie, complete with Dolby Vision grading in 1.85 widescreen with 1.33 again offered as an alternate option on the accompanying Blu-Ray disc (the 1.33 rendering is far less cramped, the 1.85 tighter but arguably more "cinematic"). In either case, the 1.85 transfer is even more colorful and striking here with Dolby Vision, while the same 5.1/2.0 DTS MA soundtracks are carried over from the previous disc. In addition to the deluxe Steelbook packaging, Shout has included — for the first time — storyboards featuring deleted/alternate scenes plus a Fathom Events 30th Anniversary featurette. Previously-released and reprieved extras include "'Til All Are One," a comprehensive feature sporting interviews with composer Vince DiCola, voice cast members, story consultant Flint Dille and others. There's also the 2016 commentary with director Nelson Shin, Dille and voice actor Susan Blu, archival featurettes, trailers and TV spots. Highly recommended for Transformers fans!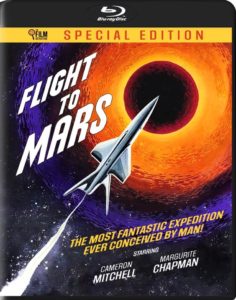 THE MONSTER COLLECTION Blu-Ray (Doppelganger Releasing/Music Box): Special effects/make-up aficionados will love this 3-disc Blu-Ray Collector's edition featuring two feature-length documentaries: Phil Tippett: Mad Dreams and Monsters (83 mins., 2019), a terrific profile of the Lucasfilm vet featuring Paul Verhoeven, Joe Dante, Dennis Muren and many others; and The Frankenstein Complex (107 mins., 2015), a lengthy examination of big-screen creatures and their creators, sporting Guillermo Del Toro, John Landis, Rick Baker and many more. Both of these loving documentaries from producer Alexandre Poncet come to Blu-Ray in a features-packed release from Doppelganger and Music Box, the set also including exclusive commentaries, behind-the-scenes interviews and additional shorts from Tippett, comprising hours of extra content all told.
FLIGHT TO MARS Blu-Ray (72 mins., 1951; The Film Detective): "Rocketship X-M," "Destination Moon" – those are a couple of the more fondly remembered early '50s sci-fi adventures from the pre-NASA era. Released alongside those were several imitators including this Monogram Pictures cheapie from enterprising producer Walter Mirisch, who was about to produce a series of hits at his own, UA-affiliated company. Not so much "Flight to Mars," which is a ridiculous and forgettable, low-budget tale of the first expedition to the Red Planet, where our human heroes meet a group of Martians who aren't as benign as they initially appear.
Though not something I'd recommend as a movie, The Film Detective has done a superb job as usual remastering this early "Cinecolor" work (1.37) in a 4K restoration from the original 35mm separation negatives. The source is a little worn and battered but it's quite watchable, with extras including two documentaries (on Mirisch and the '50s cinematic "Space Race," respectively), a booklet and commentary from Justin Humphreys.
---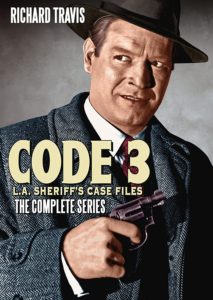 TV on DVD
MPI has given Golden Age TV fans another rousing release with the Complete Series DVD package of CODE 3 (1957). This early police procedural stars Richard Travis as an LAPD Sheriff with Denver Pyle and Fredd Wayne joining him on a series of true crime cases that end with L.A.'s real-life Sheriff, Eugene W. Biscailuz, appearing to recap the show that just concluded. A massive array of familiar stars, both veterans and up-and-comers alike, include Dick Sargent, Russell Johnson, DeForest Kelley, Mike Connors, Claude Akins, Guy Williams and others. MPI's DVD includes 39 B&W episodes mastered from the UCLA Film & Television Archive and streets this week.
At some point, nearly every character in the Batman universe is going to have their own show – case in point being PENNYWORTH (542 mins., 2020; Warner), a series focused on the Dark Knight's loyal butler. This one is a period prequel set in the 1960s, where the former SAS soldier (Jack Bannon) goes to work with Thomas Wayne (Ben Aldridge) before he fathers the young Bruce. This Epix-broadcast Warner production offers enough reasonable intrigue – well performed by the cast – to satisfy hardcore "Bat" devotees, with this second season of the show debuting this month on Blu-Ray from the Warner Archive. The set includes 5.1 DTS MA soundtracks and attractive 1080p (2:1) AVC encoded transfers. Apparently, a third season may or may not happen, and may also move over to the fledgling HBO Max platform when it does.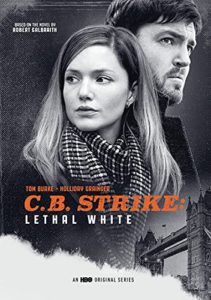 New from Warner on DVD is C.B. STRIKE: LETHAL WHITE (240 mins., 2020), the second season of HBO's adaptation of Robert Galbraith's bestselling novels. This season adapts the fourth of those books – actually written by J.K. Rowling under a pseudonym – with Tom Burke and Holliday Grainger reprising their roles of PI Cormoran Strike and Robin Ellacott, this time out to uncover the connection between two baffling cases. Warner's DVD includes 16:9 transfers and 5.1 soundtracks.
Warner also brings fans of the long-running Showtime series SHAMELESS its 11th and Final Season (669 mins., 2020-21) on DVD this month. This "last call" for the Gallagher clan deals with COVID, Frank's own mortality, and Lip's struggles of becoming the new main patriarch of the group. The raunchy series' final 12 episodes are included here in a two-disc Warner set with 16:9 transfers, 5.1 soundtracks, unaired scenes and a "Shameless Last Call" featurette.
STAR TREK: DISCOVERY Season 3 Blu-Ray (11 hours, 2020-21; CBS): If the future of Paramount's Star Trek franchise is going to rely on the work of producer Alex Kurtzman, the prognosis is grim indeed. This third season of the Paramount+ streaming series continues to chart the voyages of Sonequa Martin-Green's Michael Burnham, who here has fallen into a wormhole that the Discovery crew follows — leading them all 1000 years into the future. There, Starfleet is hanging on by a thread after "The Burn," but a pair of mysterious allies may hold the key to the Discovery being able to find out how that catastrophic event happened and save the future galaxy. Continuing some heavy-handed preachiness with lots of talk about Starfleet's ongoing mission with plots that seem more like Star Wars than Star Trek itself, "Discovery" continues to be something of a perplexing mystery that's divisive (understandably) amongst Trek fans. Season 3 of the series is new to Blu-Ray this week from CBS featuring 1080p transfers (16:9), 5.1 DTS MA soundtracks, and over two hours of special features: deleted scenes, interviews and featurettes among them.
---
Quick Takes
New from RLJE Films: Suki Waterhouse plays the new girl at the posh Edelvine Academy For Girls who inherits the room of a fellow student who just ended up dead as part of a prank gone wrong – or was it? A mix of horror, mystery and lite teen drama, SEANCE (93 mins., 2021, Not Rated) offers a game performance from Waterhouse and a few surprises even as it unceremoniously works its way to the finish line. RLJE's Blu-Ray (2.39, 5.1 DTS MA) is out August 3rd sporting commentary from writer-director Simon Barrett, outtakes, deleted scenes and featurettes…From AMC and RLJE comes Season 1 of GANGS OF LONDON (9 hours, 2020), a new show set in the city's criminal underworld after London's top crime lord is gunned down. While his son hunts for the killer, the young man struggles to fend off other clans hoping to keep their illegal activities going and stake their own claim to the criminal throne. AMC's Blu-Ray includes 1080p (2:1) transfers with 5.1 DTS MA soundtracks and plenty of behind-the-scenes featurettes and interviews.
THE BIRTHDAY CAKE Blu-Ray (93 mins., 2020, Not Rated; Screen Media): Awkwardly handled mafia drama stars Shiloh Fernandez as a vengeance-seeking young man who decides to bring a birthday cake prepped by his mom (Lorraine Bracco) to a memorial – for this late father – being held by a Brooklyn mafia boss (Val Kilmer). Ewan McGregor must've really been hard pressed for work to agree to appear in this labored mob drama that turns out to be a drag at even 93 minutes. Screen Media's Blu-Ray (2.35, 2.0/5.1) is out this week.
Film Movement New Releases: Kyra Steckeweh and Tim Van Beveren's documentary WOMEN COMPOSERS (53 mins., 2021) follows pianist Steckeweh as she searches through "lost' female-written piano pieces from the 19th and early 20th centuries. Film Movement's DVD (1.78, 2.0 setereo) is now available featuring a Q&A with the filmmakers and Steckeweh performing Mel Bonis' "Ophelie"…Coming August 3rd on DVD is TAILGATE (86 mins., 2020, Not Rated), a Dutch thriller about a family man who loses his mild-manneredness on the road and choses the wrong driver to rage with — one who pursues him throughout this exercise in fear from director Lodewjk Crijns. Film Movement's DVD includes a 16:9 (2.39) transfer and 5.1/2.0 sound in Dutch or a dubbed English track.
NEXT TIME: More of the latest reviews! Until then, don't forget to drop in on the official Aisle Seat Message Boards and direct any emails to our email address. Cheers everyone!