Message Board (open 24 hours!)
Twitter - @andredursin (for everything else!)
Reuniting the "Pretty In Pink" tandem of Molly Ringwald and Andrew McCarthy might've sounded like a good idea on paper, but FRESH HORSES (103 mins., 1988, PG-13) was quickly dismissed as a misfire and died a fast death at the autumn '88 box-office. That being said, this is an atmospheric and extremely well-crafted drama that reunites several key personnel behind "Hoosiers," including director David Anspaugh and cinematographer Fred Murphy, who make this a curiously memorable view.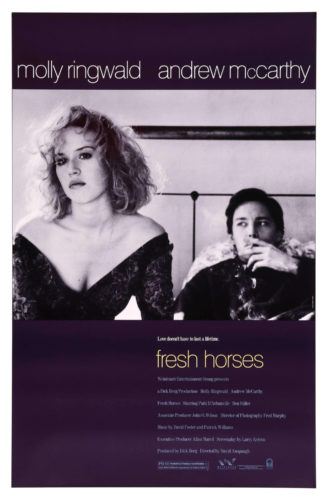 McCarthy plays a Cincinnati college student engaged to a beautiful, wealthy WASP. Ben Stiller plays his carefree friend, who drags him out into the middle of the midwestern countryside for a final single fling. Naturally, she comes in the form of "Jewel," a girl from the wrong side of the tracks played by Ringwald. Their meeting soon develops into a full-blown romance, with McCarthy torn between the future laid out in front of him by his parents and fiancee, and a more unpredictable course that Ringwald's character represents.
Filmed on location in Kentucky, Ohio and Indiana, "Fresh Horses" has a really curious power to it. Sure, this is a youth soaper with one especially miscast lead, yet with Anspaugh and Murphy making good use of the location shooting, the picture still works, mostly due to its evocation of time and place – not to mention its superb set of craftsmen behind the scenes.
David Foster and Patrick Williams' lovely score, Paul Sylbert's production design, Murphy's cinematography, and Anspaugh's sensitive direction result in an underrated film that had two strikes against it in re-teaming Ringwald and McCarthy in parts far removed from their popular roles in "Pretty in Pink." The youth audience that had already started to move away from John Hughes' teen pictures (along with Hughes himself for that matter) rejected the casting right off, with Ringwald being the major problem: trying to convey a weary free-spirit just seemed beyond the grasp of the actress, as she ineffectively strove to abandon her "girl next door" heroines from the Hughes era.
That alone had to have been most of the reason for the movie's poor reception from critics and audiences, but the passage of time has made it less of an issue now. By contrast, McCarthy and his low-key earnestness fills his part with conviction and Larry Ketron's script (adapted from his play) is simultaneously compelling and a bit melodramatic. All told, if you're in the mood for a polished soap opera, "Fresh Horses" works (also be on the lookout for Viggo Mortensen in one of his earliest roles).
Currently, "Fresh Horses" is hard to track down. The movie was last seen on DVD in a full-screen presentation that was cropped in the U.S. but was later remastered for high-definition – a master that was available on Amazon Prime but has since disappeared. That 1080p (1.85) version looks and sounds splendid, carrying the soft tones of Foster and Williams' soundtrack, which was a replacement for a surprisingly similar score by David Mansfield that's lovely in its own right (and was likely removed just to "change something" after test screenings I'd imagine).
NEXT TIME: Arrow's sensational SHAW SCOPE Volume 1! Until then, don't forget to drop in on the official Aisle Seat Message Boards and direct any emails to our email address. Cheers everyone!