Both "The Train Robbers" and "Cahill, U.S. Marshal" include recent, highly detailed 1080p (2.40) AVC encoded transfers from Warner, in line with their typically strong catalog presentations of late. Fine grain, warm colors and a lack of noticeable DNR grace both transfers, while DTS MA 1.0 mono audio and light supplements, including trailers and archival featurettes (plus McLaglen's "Cahill" DVD commentary), are on-hand for both titles.
The first film in John Ford's celebrated "cavalry trilogy" (which would be followed by the superb "She Wore a Yellow Ribbon" and "Rio Grande"), FORT APACHE (***½, 128 mins.) is a straight reprise of its earlier Blu-Ray, which was marked by a 1080p (1.37) transfer that crisply delivered the film's original B&W cinematography.
John Wayne, Henry Fonda, John Agar, Pedro Armendariz and Shirley Temple starred alongside a number of familiar faces from Ford's stock company in this 1948 western classic, which features an interesting script by Frank S. Nugent that portrays Fonda's arrogant West Point grad, newly assigned to commandeer the isolated outpost of Ford Apache, in at times unflattering terms. The film is rich with humor and action, yet also paints Native Americans with a sensitivity few other movies did in the '40s, and seeing Fonda and Wayne play off each other, and against their usual 'type,' makes the film a certified classic.
Warner's Blu-Ray includes a commentary from F.X. Feeney and the featurette "Monument Valley: John Ford Country" that was included on the prior DVD release. Again, the high-def transfer on-hand here is superb, while DTS MA audio renders the original monophonic soundtrack as best it can be replicated. The trailer is also on-hand.
This quintessential western offers a textbook genre script, with Wayne the noble sheriff who teams with a gimpy deputy (Walter Brennan), the town drunk (Dean Martin), and a young "whippersnapper" (Ricky Nelson) to ward off an attempt at springing a criminal from the town jail.
Angie Dickinson and Ward Bond star in this highly-regarded Hawks film, one that I've always respected but never been a particular fan of. True, all the performances are engaging, but the picture is slow-going and overlong at 141 minutes, and what might have seemed fresh in the Jules Furthman-Leigh Brackett script at the time comes across as being a little cliched and predictable today. "Rio Bravo" is a film that western fans consider one of the genre's finest, and is unquestionably an influential picture (leading to works like "Assault on Precinct 13," whose director, John Carpenter, talks on the disc's commentary track), but it does, admittedly, take an awfully long time to reach its destination.
Warner's original Blu-Ray of "Rio Bravo" has been out of print for a few years, commanding a fair sum on the secondary market. This re-issue offers a technically upgraded soundtrack (1.0 DTS MA mono versus the plain Dolby Digital from the earlier release, though it's hard to discern any difference between them), but otherwise is a straight reprise, including the same VC-1 encoded (1.85) 1080p transfer and a good array of special features. The latter boast commentary with Carpenter and critic Richard Shickel; three featurettes examining the film, Hawks, and its shooting locales; and a trailer gallery for other Wayne productions.
Fans should note all five titles are available for purchase outside the box-set, including "Cahill," "The Train Robbers" and the new pressing of "Rio Bravo."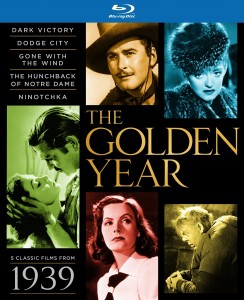 Another terrific Warner Blu-Ray box-set, available June 9th, is THE GOLDEN YEAR: 5 CLASSIC FILMS FROM 1939, which celebrates that legendary year at the movies with the debut of four classics new to Blu-Ray.
In addition to reprising the previously available single-disc Blu-Ray of GONE WITH THE WIND, the set boasts the brand-new high-definition debuts of Charles Laughton's brilliant performance in THE HUNCHBACK OF NOTRE DAME (117 mins.); Bette Davis' turn in the quintessential tearjerker DARK VICTORY (104 mins.); Errol Flynn saddling up for the first of his eight westerns in the influential genre outing DODGE CITY (104 mins.); and Greta Garbo in the comedy classic NINOTCHKA (110 mins.).
In addition to 1080p B&W (1.37) AVC encoded transfers, the set is packed with extra features, mostly carried over from each film's prior DVD release.
Among the supplements are "The Lone Stranger & Porky" cartoon and "Drunk Driving" MGM short subject on "Hunchback" plus a Maureen O'Hara interview and the trailer; vintage shorts, the Lux Radio Theater broadcast, featurette and commentary on "Dark Victory"; the "Warner Night at the Movies" (newsreel, shorts, featurette) presentation on "Dodge City"; the 1939 MGM cartoon "The Blue Danube" and MGM short "Prophet Without Honor" on "Ninotchka"; and a bonus disc, "1939: Hollywood's Greatest Year," sporting a documentary narrated by Kenneth Branagh. As with the Wayne box-set, each film is available to own separately as well.
---
THE WIRE (59 hours, 2002-08), the highly acclaimed HBO original series about life on the tough inner-city streets of Baltimore, seems to have been perfectly timed for its Blu-Ray release – given the Freddie Gray case and the recent rise of crime in the city, which culminated last week in the bloodiest Memorial Day weekend in Baltimore's history. Creator-producer David Simon's series is well-acted (kudos to an ensemble cast lead by Dominic Cooper and Idris Elba, who established their American careers thanks to the program), taut, compelling, somewhat convoluted but highly rewarding – a program that demands your attention throughout its five seasons, but ranks as highly satisfying and gripping all the way through.
The high-definition version of "The Wire" has been in the works for some time. Previously available only in a 4:3 standard-definition broadcast version, HBO has remastered the entire "Wire" and configured the aspect ratio for 16:9 HDTVs, resulting in a genuine 1080p image that looks night and day compared to its prior presentation. There's a graininess inherent in the image that adds some texture to the cinematography, while detail is appreciably heightened as you'd expect. It's a splendid, satisfying HD transfer, though viewers accustomed to its 4:3 framing may still prefer the earlier, grimy "low fi" standard-def look. The 5.1 DTS MA audio is finely engineered and extras, mostly carried over from the DVD, include four behind-the-scenes documentaries; 22 cast/crew commentaries; three prequels; and an all-new Paley Center reunion.
---
THE POPE OF GREENWICH VILLAGE (***, 120 mins., 1984, R)/DESPERATE HOURS (**, 105 mins., 1990, R; Shout Factory) Double Feature Blu-Ray
A movie that's attained a definite cult status, "The Pope of Greenwich Village" is a seriously good – and not just a nostalgic – '80s film that Shout! debuts on Blu-Ray this month along with a far lesser Mickey Rourke outing: Dino DeLaurentiis' forgettable remake of "Desperate Hours" from director Michael Cimino.
In director Stuart Rosenberg's "Pope," Mickey Rourke and Eric Roberts star as downtrodden Italian cousins who get themselves in too deep with a failed scheme to steal mob money and waste it on a "sure thing" race horse.
I hadn't seen this film all the way through in years, but I'll be damned if it wasn't thoroughly entertaining – flavorful, funny, heartbreaking, suspenseful, filled with atmosphere and the best use of Sinatra's "Summer Wind" on a soundtrack ever. Roberts and Rourke are both over-the-top at times – and there are moments when you can see why Roberts' status as a leading man was deservedly short-lived – yet even the most egregious overacting (smashing chairs, hysterical tear-filled conversations) only adds to the picture's appeal. The leading duo aren't exactly DeNiro and Pacino, who were once set to star in the movie, but as a pre-"Goodfellas" type of character-driven study, you can see why this adaptation of Vincent Patrick's novel – scripted by the author – has attained a certain level of popularity among devotees. And rounding it off, Daryl Hannah, looking vibrant in a performance the same year as her breakout role in "Splash."
The other half of Shout's double feature, "Desperate Hours," finds Rourke playing opposite a pre-Hannibal Anthony Hopkins and a fine supporting cast (Mimi Rogers, Lindsay Crouse, Shawnee Smith) in a flaccid box-office bomb that cemented Michael Cimino's downward filmmaking spiral.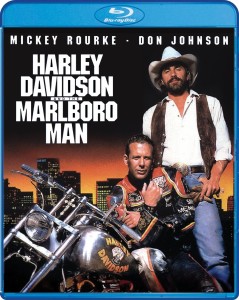 Each film is contained on its own platter in Shout's package: the 1080p (1.85) transfers are generally pretty good, with each transfer showing its age at certain points. In general, detail is decent and an appreciable upgrade on DVD. The DTS MA mono soundtrack on "Pope" is clear while DTS MA stereo track on "Desperate Hours" includes an overbearing David Mansfield score. Extras include trailers and vintage EPK materials on "Pope."
Available separately from Shout is HARLEY DAVIDSON AND THE MARLBORO MAN (*½, 98 mins., 1991, R), a charmless MGM bomb from the summer of '91 that couples Mickey Rourke's biker Harley with a futuristic cowboy named Marlboro (Don Johnson) in a disappointing action misfire from director Simon Wincer, who was coming off the triumph of "Lonesome Dove" and the underrated Tom Selleck western "Quigley Down Under." Fans of the film (where's the convention?) will at least appreciate Shout's Blu-Ray sporting a typical 1080p (1.85) transfer licensed through MGM, 2.0 DTS MA stereo soundtrack, vintage featurettes and the trailer.
THE LAST UNICORN: Special Edition (***, 1982, 93 mins., G): This 1982 Rankin/Bass adaptation of Peter S. Beagle's book (scripted by the author for the screen) was a troubled production that received scant distribution before becoming widely available on video in the heydey of VHS. Over the years the movie has developed a strong cult following in spite of its turbulent origins, and this second Blu-Ray edition of "The Last Unicorn" from Shout! Factory offers a new commentary with Beagle and members of the production team, along with a fresh 45-minute exclusive documentary, footage from its worldwide screening tour, digital copy, DVD and storyboards. On the downside, the 1080p (1.85) transfer has been notably DNR'd from Lionsgate's still in-print Blu-Ray, with added compression artifacts making for an inferior technical presentation in comparison with its predecessor. The 5.1 DTS MA audio still does justice to Jimmy Webb's tuneful, mellow score (with America performing the memorable title song), but fans may want to stick with the Lionsgate disc for its superior visual presentation. Either way, the film is a poetic, surprisingly mature fantasy with a superb cast providing the vocal articulation for Beagle's characters (Mia Farrow, Jeff Bridges, Alan Arkin, Christopher Lee, Angela Lansbury and Rene Auberjonis among them), and remains one of the more satisfying non-Disney animated films of the 1980s.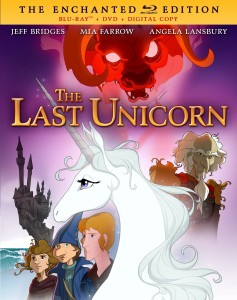 SCARECROWS Blu-Ray (**½, 1988, 83 mins., R): Low-key, effective, late '80s horror outing from writer-director-producer William Wesley follows a group of criminals who hijack a plane heading to Mexico and run afoul of some supernatural shenanigans once they land in the countryside. "Scarecrows" is no great shakes, but the movie's leisurely pace and moody atmosphere make it a far more satisfying concoction than most late '80s direct-to-tape movies. Shout's Blu boasts a fairly good looking 1080p (1.85) AVC encoded transfer, 2.0 DTS MA stereo audio, and extras ncluding a new commentary with co-writer Richard Jefferies, cinematographer Peter Deming and Terry Plumeri; a DVD commentary with director William Wesley and producer Cami Winikoff; an interview with make-up effects artist Norman Cabrera; a talk with star Ted Vernon; storyboards, still gallery, and the original trailer.
THUNDERBIRDS: 40th ANNIVERSARY COLLECTOR'S EDITION (1965, 30 hrs.; Timeless Media Group):Gerry Anderson's classic '60s sci-fi series in "Supermarionation" receives its first U.S. Blu-Ray release from Timeless Media Group, and it's a winner for the mere fact that it preserves the show's original 1.33 aspect ratio. Whereas other international releases have included a reframed-for-16:9 presentation, Timeless' presentation goes back to the proper aspect ratio of the series and looks dynamic with strong colors and enough detail that the character wires are more visible than ever. The six-disc Blu-Ray set also includes the "Launching Thunderbirds Documentary" and a printable publicity brochure if you can access it. A must for all Anderson fans!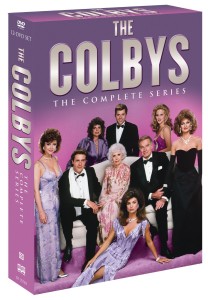 Also coming this June from Timeless is THE BOLD ONES: THE SENATOR (520 mins., 1970-71), which starred Hal Holbrook in an Emmy-winning performance as Senator Hays Stowe in a short-lived, but fondly remembered, political drama from the early '70s. Timeless' DVD includes the complete series plus a new interview with Holbrook, a 1971 interview featuring Holbrook on the Dick Cavett Show, and an anti-drug PSA…Available June 23rd is THE CAMPBELLS: THE COMPLETE SERIES (2400 mins.), a Canadian series that follows a Scottish family who crosses the Atlantic in search of a new beginning. This Canuck "Little House" is presented complete – all four seasons, with 100 episodes total – in Timeless' DVD box-set with 4:3 transfers and mono soundtracks licensed through ITV.
DYNASTY II: THE COLBYS: The Complete Series DVD (1985-87): During the heyday of the prime-time soap opera hit "Dynasty," producer Aaron Spelling and ABC network executives decided to spin off the property with "The Colbys." This two-season series starred Maxwell Caulfield, Emma Samms and a number of guest stars (Charlton Heston, Katharine Ross, Ricardo Montalban, Barbara Stanwyck) as it attempted to offer the same kinds of intrigue and cat fights as "Dynasty." Unfortunately, the end result didn't quite live up to its namesake, as "The Colbys" was canned after just a couple of seasons. Still, there's a cult following for "The Colbys" out there who will appreciate Shout's 12-disc DVD set, presented in association with CBS. Mono soundtracks and 1.33 uncut episodes are on-hand with extras including interviews with stars John James, Stephanie Beacham and Maxwell Caulfield.
Also new from Shout on the TV on DVD front this June: THE FACTS OF LIFE Season 6 (aprx. 10 hours, 1984-85) preserves the sixth season of the classic '80s NBC sitcom, with the former Eastland girls splitting time between working at Mrs. Garrett's "Edna's Edibles" and learning more life lessons. Shout's set includes broadcast-length episodes and full-screen transfers…HART TO HART: The Final Season (17 hours, 1983-84) wraps up the adventures of Jonathan and Jennifer Hart (Robert Wagner and Stefanie Powers) in the fifth season of the popular '80s romantic-adventure series. All 22 episodes are included with 1.33 transfers in excellent condition from the Sony vaults.
---
FOCUS Blu-Ray Combo Pack (**½, 105 mins., 2015, R; Warner): Will Smith stars as a con man who opts – and why not – to tutor fledgling thief Margo Robbie in "Focus," a mostly pedestrian character drama from "Bad Santa" writers Glenn Ficarra and John Requa that gets by due to the star power of its leads. The appealing Robbie works well opposite Smith in a film that mostly offers few surprises and veers uneasily between the type of "edgier" fare the writers usually dabble in and the confines of a standard studio vehicle – but it's not bad for a night's rental, and the ending is satisfying enough. Warner's Blu-Ray combo pack also includes a DVD and digital copy; "Masters of Misdirection," "Will Smith: Gentleman Thief," and "Margot Robbie: Stealing Hearts" featurettes plus deleted scenes and an alternate opening. The 1080p (1.85) transfer and 5.1 DTS MA audio are each top notch.
JUPITER ASCENDING 3D Blu-Ray Combo Pack (*, 127 mins., 2015, PG-13; Warner): Have the Wachowskis run out of dirty pictures yet? Amazingly, the "Matrix" creators continue to not only make films for Warner Bros., but keep receiving huge budgets every time out to do so. Their latest misfire, "Jupiter Ascending," is their third cinematic strike following the failure of "Speed Racer" and the incoherent "Cloud Atlas." Certainly it's the worst of the lot – a borderline incomprehensible sci-fi fantasy that manages to make its leads (Channing Tatum and Mila Kunis) completely uninteresting as it spins an unappealing story of Kunis' "ordinary Earth girl" finding out she's galactic royalty and has to save the universe. If you took "The Fifth Element," drained away its humor and charm, then added in an array of bland, boring characters and stilted dialogue – penned by the Wachowskis and directed with all the energy of any routine, modern CGI green-screen affair – then you'd have this dud, an obvious DOA release at last winter's box-office (following a postponement from last summer). A slew of fluffy featurettes are included in Warner's 3D Blu-Ray combo package, which does include a marvelous presentation of the movie's stereoscopic theatrical release – one that's graced with depth of field effects. That technical brilliance is the sole reason to check out the film, which also includes a standard Blu-Ray, expertly engineered Dolby Atmos soundtrack (it goes without saying this release may be a must-have for owners of the new audio format), DVD and digital copy.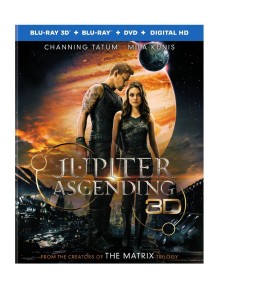 PRETTY LITTLE LIARS: The Complete Fifth Season DVD (1082 mins., 2014-15; Warner): ABC Family's "Pretty Little Liars," based on Sara Shepard's best-selling book series, has become a long-standing hit for the network, recently beginning its sixth season and generating solid ratings among its target demo. In Season 5, the girls find out that Alison and Ezra are alive, requiring some adjustment as they return home, while "A" threatens the liars with two more, fresh corpses that ignite a new season of mysteries throughout the series' 25 fifth-season episodes. Fans of the series will want to check out Warner's newly-released, Season 5 DVD edition, which includes 16:9 transfers and 5.1 soundtracks, as well as a number of extras: four new featurettes (Celebrating a Pretty 100th; Christmas in Rosewood; The Guys are Back!; Good Girls, Bad Lies) plus deleted scenes and the "fan appreciation" special episode "We Love You to DeAth."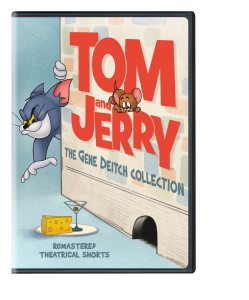 Also new from Warner on the TV on DVD front is the Complete Fifth Season of RIZZOLI & ISLES (757 mins., 2014-15), TNT's highest-rated series that also bows on DVD this week. This adaptation of Tess Gerritsen's novels again chronicles the adventures of Boston detective Jane Rizzoli (Angie Harmon) and medical examiner Dr. Maura Isles (Sasha Alexander) as they pursue a series of cases. Still the #1 scripted drama on basic cable with over 8 million viewers per episode, "Rizzoli & Isles'' fifth season hits DVD with 18 episodes in 16:9 (1.85) transfers and 5.1 soundtracks. Extra features include unaired scenes, a gag reel, and "Stepping Through the Stunt: The Burden of Proof Bridge Sequence" featurette.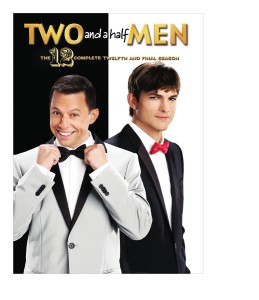 TOM AND JERRY: THE GENE DEITCH COLLECTION DVD (95 mins., Warner): Animation fans have been disappointed that MGM's classic Tom and Jerry shorts have received a series of piecemeal DVD anthologies and not comprehensive box-sets. This week's latest compilation from Warner does include an enjoyable assortment of vintage shorts paying tribute to the animated stylings of the great Gene Deitch. The single-disc DVD includes Switchin' Kitten; Down and Outing; It's Greek to Me-ow; High Steaks; Mouse into Space; Landing Stripling; Calypso Cat; Dicky Moe; The Tom and Jerry Cartoon Kit; Tail in the Trap; Sorry Safari; Buddies Thicker Than Water; and Carmen get It. Two featurettes – Tom and Jerry…and Gene; Much Ado About Tom and Jerry; complete the package along with remastered 4:3 transfers and mono sound.
TWO-AND-A-HALF MEN: The Complete 12th and Final Season DVD (336 mins., 2014-15; Warner):Angus T. Jones and Charlie Sheen may have long since departed, but it's amazing how much stamina this CBS sitcom had, going on without two of its main stars for several seasons after the fact. The 12thand final season of "Two and a Half Men" sports Ashton Kutcher's Sheen fill-in, Walden Schmidt, asking for Alan Harper's hand in marriage, not for any physical attraction but so that he can adopt his own child. Thus, it's shenanigans as usual in Chuck Lorre's sitcom's swan song, brought to DVD June 16th from Warner. All 16 final-season episodes are included here on DVD but the set is surprisingly light on extras – those looking for a series retrospective will be let down by a sparse supplemental package that includes only a gag reel.
---
Olive's June Blu-Ray releases include a smashing assortment of black-exploitation efforts – several from the American-International stable – as well as the infamous teaming of Meryl Streep and Roseanne (Barr) in the late '80s Orion box-office disappointment "She-Devil."
Not exactly "Rocky" but a likeable enough genre exercise just the same, HAMMER (91 mins., 1971, R) stars Fred Williamson as a former Philly boxer working on the docks of Los Angeles. "Hammer" promptly gets involved with the mafia, who uses his boxing prowess to score some loot in the ring – but when Hammer's asked to throw a fight, he takes his fists to the mob in a suitably rousing conclusion. Bernie Hamilton, Vonetta McGee and William Smith starred in this Essaness Pictures production, which was released by United Artists and made a genre star out of its lead. Olive's 1080p (1.85) transfer is just fine, with the expected nicks and scratches turning up in the MGM licensed print.
A trio of Pam Grier favorites from American-International also make their way onto Blu-Ray this month from Olive.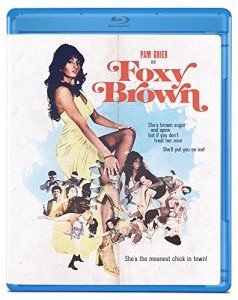 The most entertaining of the '70s lot is FOXY BROWN (92 mins., 1974, R) starring a sultry Grier as a badass babe who wants revenge for the death of her boyfriend, and finds herself infiltrating a modeling agency that's a front for a sex trafficking ring. The outstanding genre supporting cast includes Antonio Fargas, Peter Brown, and Terry Carter, while exploitation veteran Jack Hill handles the material in a fast-moving manner. Willie Hutch's score is another plus. Olive's Blu-Ray offers a noticeable upgrade on the prior MGM DVD (with a perfectly acceptable 1080p 1.85 transfer and DTS MA mono audio), though the audio commentary has not been ported over.
"Foxy" was predated by another Grier-Hill collaboration, COFFY (90 mins., 1973, R), which scores points for offering one of the first action heroines, though truthfully, it's not as much fun as its follow-up. Here, Grier stars as another vigilante who tracks down the thugs who got her sister hooked on drugs. Booker Bradshaw, Robert DoQui, William Elliott, Sig Haig and Rallan Arbus co-starred in this AIP release, here given another crisp 1080p (1.85) transfer from the MGM vaults courtesy of Olive.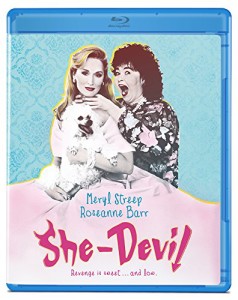 Grier later starred as FRIDAY FOSTER (90 mins., 1975, R), the comic strip photojournalist whose friend is murdered after she witnesses the assassination of a black politician. R-rated but not as violent – and decidedly more lighthearted – than the likes of "Coffy" and "Foxy Brown," "Friday Foster" finds Grier playing off an excellent supporting cast, including Yaphet Kotto, Godfrey Cambridge, Eartha Kitt, Ted Lange, Scatman Crothers and Carl Weathers. The 1080p (1.85) transfer is in fine condition and a DTS MA mono soundtrack rounds out the disc.
Last but not least, the combination of actress Meryl Streep with then red-hot TV comedienne Roseanne Barr had many experts pegging the 1989 summer comedy SHE-DEVIL (89 mins., PG-13) as a sure-fire box-office smash. Those commercial receipts, however, proved to be more tepid than impressive in a film that finds housewife Ruth Patchett (Roseanne) wanting to exact revenge after she finds out her milquetoast accountant husband Bob (Ed Begley, Jr) is carrying on an affair with the lovely Mary Fisher (Streep). Director Susan Seidelman was, briefly, a hot commodity in Hollywood after turning out the Madonna comedy "Desperately Seeking Susan"; that her career thereafter tailed off quickly was due in no small part to this commercial letdown, which is by-the-numbers and only gives its stars so much to do. Olive's Blu-Ray includes a good looking 1080p (1.85) transfer and 2.0 DTS MA stereo sound from the Orion/MGM vaults.
---
Two late '80s Warner releases have been newly reissued by the Archive in widescreen for the first time.
The breezy HER ALIBI (94 mins, 1989, PG-13) is one of the more enjoyable of star Tom Selleck's '80s leading man outings, directed by Bruce Beresford prior to his Oscar triumph with "Driving Miss Daisy." This Charlie Peters-scripted farce stars Selleck as a mystery novelist who falls for Paulina Porizkova's mysterious femme fatale, who's been accused of murder. This Warner Bros. release has quality in every facet of its production, from an ace technical crew (production designer Henry Bumstead, cinematographer Freddie Francis, editor Anne Goursaud) to William Daniels and James Farentino gracing the supporting cast. It's silly escapist fun, capped by a tuneful Georges Delerue score. Warner's 16:9 (1.85) presentation easily bests its non-anamorphic 4:3 retail DVD with 2.0 stereo sound also on-hand…Also newly remastered is producer Irwin Winkler's pet project GUILTY BY SUSPICION (105 mins., 1990, PG-13), the disappointing blacklist drama starring Robert DeN iro as a director pressured to testify against his friends – suspected communists – during the HUAC hearings. Annette Bening, George Wendt and Sam Wanamaker (himself blacklisted during the era) co-star in a well-acted and intentioned film that never comes to life under the direction of Winkler, who also wrote the script. As with "Her Alibi," the 16:9 (1.85) transfer marks the movie's debut on DVD in its original aspect ratio.
SPENCER FOR HIRE buffs can rejoice with the Archive's DVD release of the second season of the fan-favorite series (1986-87, 1060 mins.), which brought some controversial changes to the program – not the least of which involved the arrival of Carolyn McCormick's Assistant DA, Rita Fiori. The female lead switch didn't sit well with most viewers, yet devotees typically remained loyal to the show, once again shot on-location in Boston with a wonderful array of guest stars, including Samuel L. Jackson, Laurence Fisburne, Ed O'Neill, Marg Helgenberger and others. The 4:3 full-screen transfers and mono soundtracks appear as healthy as the source material allows.
---
If you anticipated that a reunion between "Silver Linings Playbook" stars Bradley Cooper and Jennifer Lawrence going straight to video – bypassing a theatrical run – was indicative of a cinematic lost cause, then, sadly, you'd be right. That's what happened with SERENA (*½, 110 mins., 2015, R; Magnolia), a good-looking but dramatically inert period piece starring Cooper as a North Carolina logging magnate fighting for his business and falling for a woman (Lawrence) whose parents were killed working in the same industry out west. Susanne Bier's film, a European production shot in the Czech Republic doubling for North Carolina (!), was once intended to be a Darren Aronofsky project before it became a film the stars shot inbetween cranking out David O. Russell projects. The resulting film is a mess, though it retains a certain fascination through the performances of its leads.
"Serena" was shot in 2012 but is just making its domestic Blu-Ray debut. Magnolia's HD presentation includes a crisp 1080p (2.39) transfer, numerous Making Of featurettes and a 5.1 DTS MA soundtrack.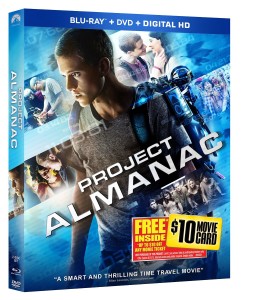 THE SPONGEBOB MOVIE: SPONGE OUT OF WATER 3D Blu-Ray Combo Pack (***, 92 mins., 2015, PG; Paramount): Sponge Bob and friends have to surface in the real world in order to tackle Burger Beard (Antonio Banderas), who's stolen the recipe for the "Krabby Patty," in this fitfully amusing – and technically impressive – feature adventure for the popular Nickelodeon animated character. Backed with an effective mix of animation and live-action, this is a zesty comic brew for kids and adults alike, thanks to the work of director Paul Tibbitt, a long-time vet of the series, who came up with the original story for the movie with Spongebob creator Stephen Hillenburg. Those with a predisposition for Spongebob's humor will naturally get the most mileage out of the film, but the fast-moving pace makes it a welcome family film for general audiences also. Paramount's 3D Blu-Ray is a dazzling affair with its marvelous 1080p MVC encoded transfer, though the 2D presentation is no slouch either. DTS MA audio, a deleted scene (in 3D), ample bonus features (featurettes, other deleted scenes, music videos), a DVD and digital copy round out the package.
PROJECT ALMANAC Blu-Ray Combo Pack (**, 106 mins., 2015, PG-13; Paramount): Director Dean Israelite's picture focuses on a high school student who follows through on constructing his late father's time travel device, a decision that's fun while it lasts before the inevitable "Butterfly Effect"-like repercussions follow.
It's hard to fully judge the finished film of "Project Almanac" – an initially intriguing, finally frustrating teenage "found footage" fantasy that was held up for months due to reported reshoots and re-edits. The Jason Harry Pagan-Andrew Deutschman script offers a welcome time travel twist on well-worn genre cliches, but the movie runs much too long for its handheld cinematography (which really does this story no favors) and, ultimately, few surprises as it fizzles out near the finish line. Paramount's combo pack includes a 1080p (2.35) transfer, 5.1 DTS MA sound, a DVD, digital copy, a couple of alternate endings, an alternate opening, and deleted scenes.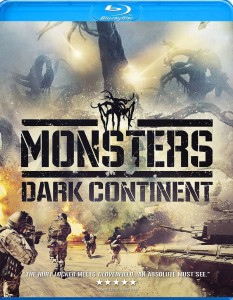 MONSTERS: DARK CONTINENT Blu-Ray (*½, 119 mins., 2015, R; Anchor Bay): Weak sequel to the cult movie that made a name out of director Gareth Edwards, who followed "Monsters" with "Godzilla" and the forthcoming "Star Wars: Rogue One" spin-off movie. "Dark Continent" is set years after its predecessor, where the "infected zones" of extraterrestrial titans have increased and an American squad is sent to take on a new breed of aliens in the Middle East. Director Tom Green wrote this overlong sequel with Jay Basu, which is light on action and long on military-movie cliches and talky, dull stretches where our characters learn humanity harbors the most vile monsters of all (gee, I've never heard that one before!). A few impressive FX flourishes (given the modest budget) are all that's noteworthy about this pedestrian affair, which Anchor Bay brings to Blu-Ray this month sporting a 1080p (2.39) transfer with 5.1 DTS MA sound. Extras include a Making Of and teaser trailer.
MAGICIAN: THE ASTONISHING LIFE & WORK OF ORSON WELLES Blu-Ray (94 mins., 2014; Cohen Media Group): Ace montage editor Chuck Workman directed this overview of the master auteur's life and times. Covering the bases from his most well-known works and the triumph of "Citizen Kane" to his lows and various, unfinished projects, "Magician" is entertaining and accessible for both Welles devotees and casual viewers alike. Cohen's Blu-Ray includes an EPK featurette interview, 1080p transfer and DTS MA 5.1 audio. Recommended.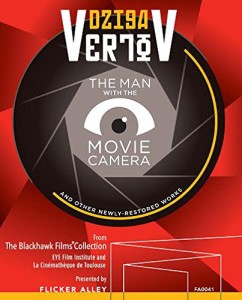 DZIGA VERTOV: THE MAN WITH THE MOVIE CAMERA Blu-Ray (Flicker Alley): Flicker Alley's newest Blu-Ray is a fascinating historical release, highlighted by a fully restored presentation of groundbreaking Russian filmmaker Dziga Vertov's 1929 documentary "The Man with the Movie Camera." This fascinating picture was not only highly influential, but essentially served as a textbook in cinematography – what it can do, what it can see, and how much power the art of cinema can have when applied to moving images.
A 35mm print – the only known complete version of Vertov's masterwork – was used as the partial source for the high-def restoration present in Flicker Alley's Blu-Ray, enabling devotees and newcomers to see the film in its entirety for the very first time. It's accompanied – as is Vertov's 1924 "Kino-Eye" – with scores by the Alloy Orchestra and Robert Israel, respectively, while a series of other Vertov works include "Three Songs About Lenin" (1934), "Enthusiasm: Symphony For the Donbass" (1931), a 1925 newsreel ("Kino-Prava #1") and a booklet housing extensive notes about Vertov's works. Highly recommended.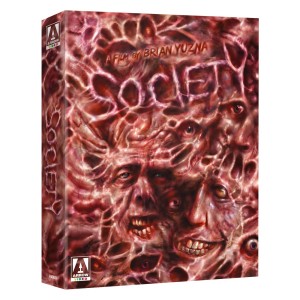 SOCIETY Blu-Ray (**½, 90 mins., 1989, Not Rated; Arrow Films): Arrow Films' latest Blu-Ray/DVD is a limited-edition of make-up expert Brian Yuzna's gross-out 1989 genre exercise. "Baywatch" star Billy Warlock stars as a Beverly Hills teenager who doesn't seem to fit in with the high society types surrounding him and his family; his suspicions are confirmed when he hears the audio from his sister's "coming out" party (coming out in the 1989 sense), which sounds like a murderous orgy has been staged. And that's just the least of what Warlock uncovers!
Buoyed by a mass of grizzly make-up effects in a garish climax, "Society" has never been a film for everyone, not even horror fans. That being said, the picture's aficionados will want to savor each and every second of the blood-drenched Blu-Ray Arrow has assembled here. This definitive presentation includes a new 2K digital transfer of the movie supervised by Yuzna with uncompressed PCM stereo audio; a new commentary by the director; a new interview with Yuzna; "The Masters of the Hunt," a new documentary with cast members Billy Warlock and others; conversations with make-up artists including Screaming Mad George; a 2014 Celluloid Screams Festival Q&A with Yuzna; a Screaming Mad George music video; Yuzna in conversation backstage at the movie's world premiere; plus limited-edition Digipak packaging and an official comic book sequel, presented in a book-styled wrapper inside another terrific Arrow U.S. release.
WILD TALES Blu-Ray (122 mins., 2014, R; Sony): Acclaimed Best Foreign Film Oscar nominee from Argentina offers six stories set in and around its native country, focusing on various tales of revenge and deception with a darkly humorous tone – both in the present and the past. Director Damian Szifron's film is freewheelingly directed, offering a contemporary commentary on humanity, its failures and our inability to interconnect, spread across distinct characters and time frames. Sony's Blu-Ray, out June 16th, includes "An Evening at the Toronto Film Festival" with the director, "Wild Shooting: Creating the Film," a 1080p (2.39) transfer and 5.1 DTS MA Spanish audio with English subtitles.
WELCOME TO ME Blu-Ray (87 mins., 2014, R; Alchemy): Kristen Wiig heads down the indie circuit again – this time working along the lines of her prior, "wacky" Saturday Night Live characters in her portrayal of an off-kilter woman who wins Mega Millions and proceeds to blow it turning herself into the next Oprah. Wes Bentley, James Marsden, Joan Cusack, Tim Robbins and Linda Cardellini co-star in this Will Ferrell and Adam McKay production, which taps into Wiig's comic sensibilities but eventually overstays its welcome, feeling like an extended sketch the star would've performed during her SNL tenure. A featurette is included in Alchemy's Blu-Ray, along with a 1080p transfer and Dolby TrueHD soundtrack.
---
RECTIFY – Complete Second Season DVD (451 mins., 2015; Anchor Bay): Sundance Channel original series stars Aden Young as Daniel Holden, a man convicted for the death of his girlfriend. He spends nearly two decades in jail before DNA evidence overturns the sentence – what happens thereafter forms the basis of this atmospheric dramatic series that balances Daniel's attempts at returning to normal life with individuals angered by the reversed verdict. Anchor Bay's DVD of "Rectify"'s second season includes 16:9 (1.78) transfers, 5.1 Dolby Digital soundtracks and a Season 2 featurette.
Coming June 16th from Anchor Bay is the complete first season of SURVIVOR'S REMORSE (164 mins., 2015), a six-episode, half-hour Starz comedic series about a young man who signs a multi-million basketball contract and heads to Atlanta – carrying his entire entourage of family and friends along with him. Anchor Bay's DVD includes one featurette, 16:9 (1.78) transfers and 5.1 Dolby Digital soundtracks.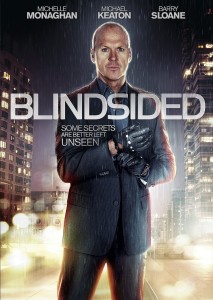 HEALING DVD (112 mins., ,2014, R; Anchor Bay): Don Hany plays a convict who's spent 18 years in prison and eventually learns to rehabilitate birds in a minimum-security prison overseen by a sympathetisenior officer (Hugo Weaving). This earnest Australian drama won't score any points for originality, but enough of the true story upon which it's based shines through – as do the performances of Hany and Weaving. Anchor Bay's DVD includes a photo gallery, trailer, deleted scenes and a Making Of featurette, plus a 16:9 (2.35) transfer and 5.1 Dolby Digital sound. (Available June 9th)
WITH THIS RING DVD (88 mins., 2015, Not Rated; Sony): Regina Hall, Jill Scott and Eve Cooper play three single ladies who make a pact to get married in a year. Each faces their own obstacles – one tries to break up her ex's marriage, another loves her son's father, and a third is still hung up on her former boyfriend – in this TV-movie co-starring Stephen Bishop, Jason George, Brian White with a special appearance by Deion Sanders. Sony's DVD, out June 2nd, includes a 16:9 (1.78) transfer with 5.1 Dolby Digital sound.
BACK TO THE JURASSIC DVD (85 mins., 2012; Alchemy): Animated adventure for young viewers sends a trio of kids back in time, where they're adopted by a dino mom at the same time their parents try and find a way to rescue them. Silly stuff animated overseas that children who find "Jurassic World" too intense might enjoy. Alchemy's DVD, out June 9th, includes a 5.1 Dolby Digital soundtrack and 16:9 widescreen transfer.
COMEBACK DAD DVD (88 mins., 2015; Alchemy): UP TV original film stars Tatyana Ali as a music teacher who has trouble accepting the motives of her alcoholic father (Charles S. Dutton) after he cleans up his act and wants to come back into her life. Loretta Divine co-stars in "Comeback Dad," which comes to DVD on June 16th from Alchemy featuring a 16:9 transfer and 5.1 Dolby Digital sound.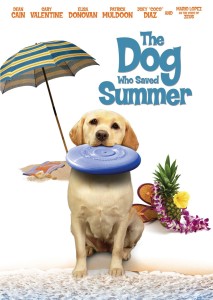 THE DOG WHO SAVED SUMMER DVD (89 mins., 2015, PG; Anchor Bay): Zeus the dog – the former K-9 police veteran – is back, sentenced to spend time in obedience school after breaking up a party. However, a new heist planned by returning thieves Dean Cain and Patrick Muldoon enables Zeus to save the day in another appealing family film co-starring Elisa Donovan, Gary Valentine, Joey Diaz, and Mario Lopez as the voice of Zeus. Adding to the fun for parents: "Karate Kid" alumus Martin Kove co-starring as the obedience school instructor, whose own K-9 dog, Apollo, is voiced by his old "Cobra Kai" student William Zabka. Anchor Bay's DVD is a no-frills affair sporting a 16:9 (1.78) transfer and 5.1 Dolby Digital sound.
From MPI: FREE THE NIPPLE (79 mins.) documents the efforts of a pair of feminist activists crusading to make topless nudity a reality in public. A semi-satiric tone permeates through this documentary, which includes appearances by Lola Kirke, Zach Grenier and Janeane Garofalo. MPI's DVD includes the trailer, a 16:9 transfer and 5.1 audio…The weak horror outing ASMODEXIA (81 mins., 2014, Not Rated) follows an exorcist roaming the country with his granddaughter, trying to eradicate the world from evil. You've heard – and seen – it all before in this indie offering brought to DVD this month from IFC offering the trailer and a 16:9 (2.40) transfer.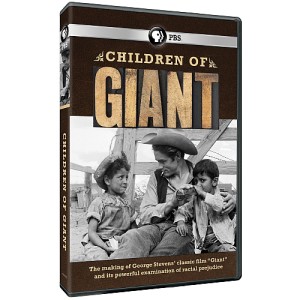 Lionsgate New Releases: After Dark's latest, ASYLUM (93 mins., 2015, R), stars veterans Stephen Rea and Bruce Payne in an above-average genre exercise about a hostage negotiator who has to take into mind supernatural considerations when stopping inmates from committing atrocities at an insane asylum. Lionsgate's DVD includes a digital copy, 16:9 (1.78) transfer and 5.1 Dolby Digital sound…Katt Williams headlines AMERICAN BAD BOY (96 mins., 2014, R), the story of a hip-hop artist with a heap of problems. Lionsgate's DVD includes a music video, 16:9 (1.78) transfer, 5.1 Dolby Digital sound and a digital copy…Lionsgate's Lifetime Double Feature DVD pairs Salli Richardson-Whitfield and Michael Beach in the heart-tugging drama PASTOR BROWN (90 mins., 2009) with Jill Scott and "Sleepy Hollow"'s Nicole Beharie in SINS OF THE MOTHER (90 mins., 2010). Both films are included on a single platter DVD with 16:9 (1.78) widescreen transfers and 2.0 stereo audio…POWER RANGERS SUPER MEGAFORCE: SKY STRIKE (115 mins., 2014) boasts five episodes from the new Saban series on DVD: In the Driver's Seat, All Hail Prince Vekar, Vrak is Back (Parts 1 and 2) and Emperor Mavro, along with a digital copy.
Cinedigm New Releases: Michelle Monaghan plays a blind journalist who has to take on a thief and his associate (Michael Keaton, Barry Sloane) in the decent thriller BLINDSIDED (85 mins., 2012, R), a film that reunites "Dreamscape" director Joseph Ruben with writer David Loughery. This Dimension production, which has been sitting on the shelf since 2012, makes its way to DVD sporting a 16:9 (1.85) transfer and 5.1 Dolby Digital sound.
PBS New Releases: The superb new PBS documentary CHILDREN OF GIANT (90 mins., 2015), looks at the changing fortunes of Marfa, Texas – the location used as the filming of George Stevens' 1955 classic "Giant." Hector Galan's documentary recounts the star-studded making of the picture, its thematic material, and most significantly, how the population of the town reflected – then and now – the movie's themes of segregation and race. PBS' DVD contains a 16:9 (1.78) transfer and 5.1 Dolby Digital sound.
THE BEGINNER'S BIBLE Volume 2 DVD (Sony Wonder/Starvista): Three stories from the Bible (Noah's Ark, Creation, David and Goliath) are animated here in an appealing compilation DVD for young viewers, coming June 9th from Starvista.
TEENAGE MUTANT NINJA TURTLES: PULVERIZER POWER DVD (70 mins., 2013; Nickelodeon): Three episodes from the 2013 Teenage Mutant Ninja Turtles (The Pulverizer; The Pulverizer Returns; Mutagen Man Unleashed) are included in this single-disc DVD edition from Nickeoldeon. 16:9 widescreen transfers and Dolby Digital sound comprise the tech specs of "Pulverizer Power," which streets June 9th.
NEXT TIME: The Video Vault opens up for POLICE ACADEMY! Until then, don't forget to drop in on the official Aisle Seat Message Boards and direct any emails to our email address. Cheers everyone!